Angel Gomes came on the pitch in the 66th minutes. About 12 minutes later, England had a free-kick right outside the Chile penalty area, after keeper Julio Borquez pole-axed Rhian Brewster to deny a goal-scoring opportunity and was duly red-carded. Chile had already used their three substitutions, so midfielder Branco Provoste had to stand under the bar. Gomes bent the free-kick into the top corner.
Moments before England's fourth goal, Gomes had a brilliant interplay with Phil Foden. But such is the depth of this England U-17 team that the Manchester United prodigy didn't find himself in the World Cup starting XI for this game.
The lad preferred ahead of him, Callum Hudson-Odoi, played like a seasoned box-to-box midfielder, scored his team's first goal and left the pitch to a standing ovation from about 47,000 fans. His goal came in the fifth minute, when the imperious Jadon Sancho turned two Chile defenders and set up his team mate for a cool finish at the far post. The young Lions took control and schooled their opponents.
Sancho to Panzo, they all click
Three days ago, the England senior team had been booed at Wembley despite beating Slovenia and securing a 2018 World Cup finals berth. The big boys' performance reeked of sterility. Today in Kolkata, the colts played beautiful football. Sancho, the quicksilver, mesmerised with his skill on the left wing. George McEachran was immense at the heart of midfield. Marc Guehi and Jonathan Panzo were well organised in defence. And then there was Foden, a deep-lying midfielder in a 4-2-3-1 formation — the Manchester City kid was simply outstanding. The 17-year-old always looked ahead of the game. He set the tempo, displayed fantastic close control and almost always found the right man with a brilliant peripheral vision.
England, at times, played 10-12 passes at a stretch. It felt like poetry in motion. England of the earlier vintage, across age groups, used to revel in kick-and-run and the long ball. There has been a refreshing change of late, mainly because of an influx of foreign coaches in the Premier League. England U-17 coach Steve Cooper said training methods at St. George's Park also deserved some credit.
"I think it's a bit of both. First and foremost, we are very much clear now at St. George's Park about the way we want the England teams to play. The academies back in England are doing a great job to help players develop. We played in the style that we want our England teams to play with. We got the result that we intended to get. So, lot of positives from the game. We have scored some great goals but equally we kept a clean sheet," Cooper said, adding: "I think the biggest plus tonight is that sometimes we forget the age of the players and on an occasion like this the way they handled it and got the result, great credit to them."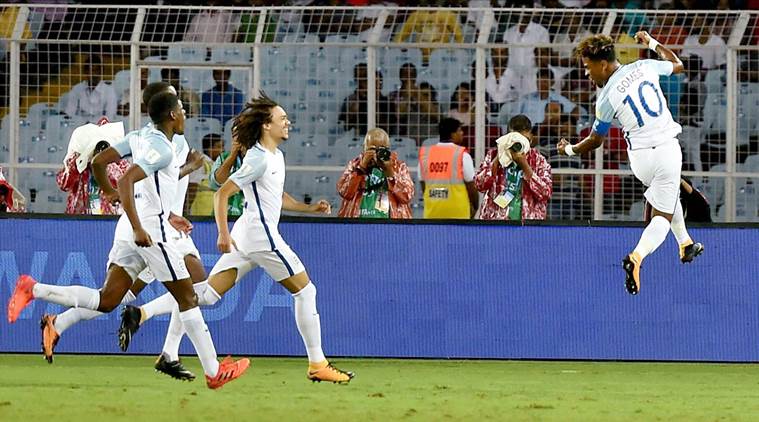 England scored their second goal on 51 minutes. Brewster sent a cross from the right and Chile keeper Borquez made a hash of a simple collection. Sancho was in the right place at the right time to tap in. Then, McEachran started a mazy run from midfield, skipped past one, dribbled another, turned the third and found Sancho unmarked inside the area. The latter did the rest.
England were unlucky not to bag a fiver when substitute Morgan Gibbs White's shot following another beautiful move came back off the upright.
Chile 19, England 71
Chile failed to show up. Maybe, the young players got intimidated by the big occasion. They didn't have a single shot on goal against England's nine. They had 36 per cent ball possession compared to their rivals' 64 per cent. More strikingly, their actual playing time was 19 minutes.
"England were great tonight. We did not expect this big result. Individually, we need to work more with players. We still have two matches and we have the time to recover. It's been many years since we played our last World Cup. We will work on our mistakes and perform better in the next matches," Chile coach Hernan Caputto said.
The Salt Lake Stadium pitch was the other winner on the night. It hosted its first competitive match after a Rs 120-crore renovation. The synthetic turf was overhauled to hem in Bermuda Riviera grass. The surface played perfectly.
"This is an outstanding stadium. Not only inside but outside as well," Caputto said.