Virat Kohli, after an indifferent outing in the home series against Australia, was back among the runs as the Indian skipper scored a brisk hundred in the second innings against Sri Lanka. The right-hander scored his 17th hundred in the format and was happy to have a positive outing when the team needed it.
"I wasn't looking at things from people's point of view. I think people on the outside start counting the number of innings when a batsman doesn't score well. But for us as batsmen or anyone playing in the eleven, it's about what the team wants in that particular situation," said Kohli at the post match presser after India thrashed Sri Lanka by 304 runs in the first Test.
"I think the second innings required us to play a bit more positively and I am glad I was able to do that along with Abhinav Mukund. It helped to get us enough time to get the opposition out and put enough runs on the board for us to feel comfortable.
"I mean I certainly wasn't looking at how many innings I haven't scored, because when you are playing all formats you are not thinking which format you have not scored runs in how many innings. You cannot utilise so much energy in that but it always feels good to score runs especially when the team wins," Kohli added.
Kohli termed team's performance as clinical but felt there were some areas to improve on.
"Yes, we would like to think we ticked all the boxes with this win. There are still some areas that we can look back and try to improve on. Especially when you get 4-5 wickets, we need to not let the lower order get away with a few runs in the latter half of the innings. It is something that we can identify and work on in the next two games as well.
"All in all, playing Test cricket after February when we played last, from then having played so much one-day cricket and not having the time to prepare so much in between I think it was good to get back in the groove and do the things that are supposed to be done to win a Test match," said Kohli.
"From that point of view I would say that we had a pretty good game. As I mentioned we always look for things that we can still improve on, but very happy with the first game."
Galle wicket was no where close to the one India got back in 2015. After the win, Kohli was pleased with the teams show and their art of winning matches on flat tracks.
Kohli expressed pleasure that his team had become adept at the art of winning Test matches on flat tracks.
"The last time when we played here on this surface, it offered much more to the bowlers. It kept the bowlers in the game throughout, both the quicks and the spinners more so. This time it was good to bat on even till today, and if you applied yourselves well you could easily score runs on this.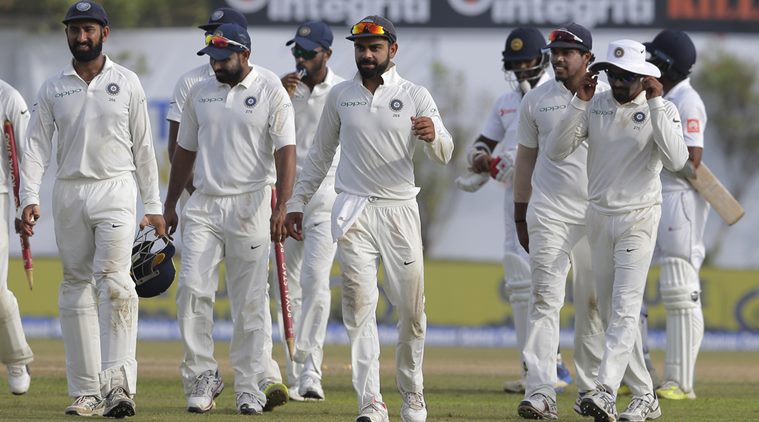 "So we had to work hard to get all the wickets that we did. I think the bowlers came up with different plans and they persisted long enough to get those breakthroughs. That is something that always helps at the beginning of the series if you get a victory like that on a surface that is not offering much," explained the skipper.
Kohli lauded the team's bowlers for performing consistently in the last two years. He even praised his batsmen for reading the game well and playing according to the situation.
"Plus they know what they have to do on the pitch to get people out now which is the most important factor. Especially in Test matches, if you are not getting wickets, then how to contain runs or how to create opportunities to get wickets.
"Even batsmen have become smarter now. You don't need to necessarily tell someone how to bat or how to plan an innings. They understand, they prepare themselves really well, so guys have become more professional in the last two years and they understand how Test matches are won. That understanding of the game is something that has come a long way in the last three years," he said.
(With PTI inputs)
📣 The Indian Express is now on Telegram. Click here to join our channel (@indianexpress) and stay updated with the latest headlines
For all the latest Sports News, download Indian Express App.