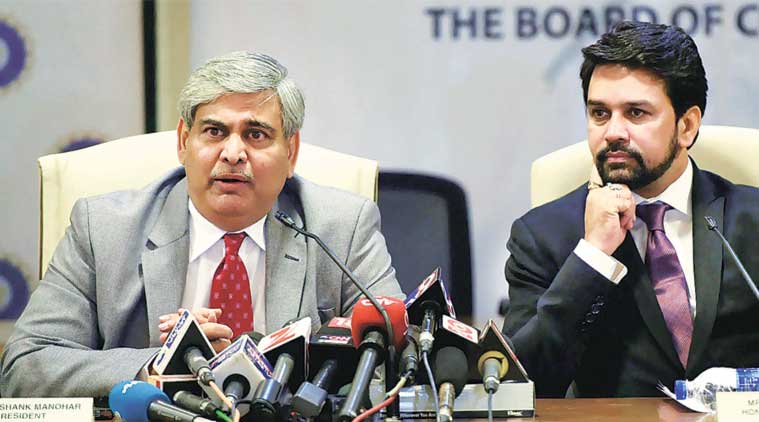 Speaking at the Express Idea Exchange in Delhi on Thursday, Thakur said that Manohar's comments were made in "his personal capacity."
The BCCI secretary Anurag Thakur has disagreed with president Shashank Manohar's recent comments that pointed to the flaws in ICC's new revenue sharing model that favoured the Big Three — India, Australia and England. Talking about the new arrangement that would have seen BCCI getting close to `4,000 crore in the 2016-2023 period, Manohar, who is also the ICC chairman, had said "you cannot make the poor poorer and the rich richer, only because you have the clout." Speaking at the Express Idea Exchange in Delhi on Thursday, Thakur said that Manohar's comments were made in "his personal capacity."
"He made it very clear that it was his personal opinion on that. You have to understand that India plays a very, very important role in world cricket. The Indian subcontinent contributes close to 70 per cent of the ICC revenues, and taking 21 per cent out of that is not much. That was the position with Australia and England earlier and no one objected to that. If this happens to India today, we shouldn't object to it," he reiterated.
Stressing that India was the only country among the cricketing nations to heavily invest in infrastructure like stadiums and grassroot development, Thakur explained that India deserved its share of the pie, and that the money was being spent well. "It's only India which has a stadium in virtually every state. The money we have been generating in the last so many years has been spent on the ground. We have the very best stadiums in every state. In many states like Himachal Pradesh, Andhra Pradesh, Kerala, the states that were very small and could not do well in the past have created 5-6 grounds, running 2-3 academies in a year, and the entire cost is borne by the state cricket associations. The teams are doing well and the money that is distributed is being spent at the grassroot level," he said.
Thakur accepted that there could be a difference of opinion within the board but the final decision would be taken keeping in mind the welfare of all of BCCI's individual units. "I think we have to look at the overall picture, and individual opinions could be different. I may disagree on that but the final call has to be taken by the BCCI because it is not only in the interest of one association, it is in the interest of the 30 units of the BCCI," he added.
Thakur said that India, by touring other nations, was in a way helping them. "When we visit Bangladesh, Zimbabwe, England, South Africa or Australia, they get 10 times more amount than what they usually get from other countries. So you can't say that because others are coming to India, we earn more. India will get the same amount whether we play against Australia or Bangladesh. But when we go to other countries, they get much more value than they get when they play against other countries. That's the position of the BCCI, and everyone understands that in the entire world it is because of BCCI that the Indian cricket team gets more value," Thakur said.
However, Thakur insisted that the BCCI was open to varied opinions. "We have a very democratic set-up wherein anybody in the BCCI during the meeting can raise any kind of question and we are ready to answer all those kinds of questions," he said.
For all the latest Sports News, download Indian Express App