This is not easy for me. Believe you me…believe you me…" Those are the words I hear before the door opens. After six years and three trips to the Caribbean, searching and scouring the entire Jamaican island for Patrick Patterson, the moment has finally arrived. I'm outside his residence and he's just about to step out. But somehow, I'm not sure of what to expect.
For years now, I've only heard grave and dire speculations about Patterson's present state — that he's lost in the bush or is in an asylum; maybe, even roaming the streets as a destitute. Patterson has only added to the ambiguity. Earlier in the day, he had sounded rather cryptic over the phone. "I find moving around tough and I struggle with my daily functioning," he had said. At some point, Patterson also mentioned not having his own shelter. And, as I stand near the gate of this rather spacious but slightly unkempt one-storey house, which I later realise has been home the former fastest-bowler-in-the-world-turned-recluse for nearly 25 years, it's difficult not to fear the worst.
Those fears are put to rest, though, as soon as I see him walk out. Patterson, 55, is tall as ever, but a lot frailer than before — almost gaunt. He walks out wearing a loose, long shirt, khaki shorts, a cap and a disarming smile. The eyes still have the twinkle of yesteryears and the middle tooth is still conspicuously absent.
He agrees to pose for a picture outside the house in Kingston that he's confined himself to ever since he disappeared from the scene in the late 1990s. But he politely refuses to let you in. "I wish I can call you in, but I can't. I simply can't," he says.
In a cab, en route to the waterfront bar close to the airport that he frequents, the 55-year-old tells you about the area we are in and how it went from being a once-posh locality to a lower middle-class suburb, before slowing regaining its social status. There's barely a hint of what the world has been saying has happened to Patrick Patterson. If anything, I'm taken aback by how normal it all seems.
The next four hours are spent by the Marina, sipping beer — Patterson insists on having a milder, imported one — and sharing a massive snapper with some fried bammy. It is over these four hours, as we talk about everything from the heady heights of his cricketing career to the "dark days that were as dark as midnight" as he calls them, that you realise why the Caribbean and the cricketing universe doesn't quite know what really happened to Patterson. For, even he has been struggling to make sense of it.
As the evening progresses, I get a sense of why that might be the case. While Patterson is, at times, lucid, his mind seems to be in a state of flux, swinging between reality and imagination, between what happened and what he presumes had happened. One moment, Patterson says he doesn't know women played cricket at the highest level, the next moment he asks why the Indian Prime Minister has visited Israel after so many years. He insists that he wants to take me on a drive to show me Kingston the next time we meet, but then he reveals that he has a car that hasn't been used for 10 years and is rotting like everything else inside his home, including its sole occupant.
Last year, during a "legendary wicket-keepers dinner" organised by the Lord's Taverners in London, Jeffrey Dujon made a revealing statement. Asked who among the plethora of outrageously quick bowlers that he kept wickets to was the fastest, his answer surprised everyone present. "Patrick Patterson was the quickest of the lot," said Dujon, who had the unwelcome job of facing up to everyone from Andy Roberts and Michael Holding to Malcolm Marshall and Curtly Ambrose from behind the stumps. But Dujon, even if the most qualified, isn't the only one to say so. Former English cricket captain Graham Gooch once spoke about the mortal fear and concern for one's physical well-being while facing Patterson. There is no dearth of YouTube videos that testify to that fact, where batsman after batsman are seen having their stumps shattered or edging deliveries while clearly not looking keen to get their bodies in line with the ball. There's one video in which South African batsman Andrew Hudson's bat flies out of his hand after it's struck by a seemingly harmless length delivery from Patterson. The ball is just too quick for both the batsman and his bat.
Many other such anecdotes have turned into fast-bowling folklore in the Caribbean. The day I finally meet Patterson, I hear about the one time when Jamaica and Barbados faced up to each other in the late 1980s in what was referred to as a mini-Test. The game is supposed to have been the cricketing version of a demolition derby, a face-off between the fastest bowlers in the Caribbean. Barbados had Joel Garner and Malcolm Marshall. Jamaica had Michael Holding, Courtney Walsh and Patterson. The one memory that stands out for many who were at the Kensington Oval that day, is of a Patterson delivery that slammed into Gordon Greenidge's chest. They recall a puff of the starch on Greenidge's shirt flying up and the rare instance of the legendary opener being staggered by the blow. There's a consensus that the country boy from Portland had won that test of pace single-handedly.
In Jamaica, locals recall Sabina Park turning into a cauldron every time their beloved "Rambo", as they called him here, would come galloping down from the George Headley Stand. As part of that same lecture last year, Dujon talks about the one time an enraged Patterson walked up to the Australian dressing-room after being sledged while batting at the Melbourne Cricket Ground and pointed at some of their batsmen saying, "You, you, you, you. I'll kill you all tomorrow." Needless to say, Patterson finished them off for 114 with a five-wicket haul.
Unfortunately, none of these incidents ring a bell for Patterson. He looks at you, nodding, like he's hearing about his own feats for the first time. "I'm just so far from all of that, nothing around me to remind me really of the whole journey. It's been like that for 20-odd years. I've just been at that address," he says, almost apologetically. "I can remember the atmosphere at that match you talk about. It was electrifying. Like a Test atmosphere. But that's all I remember. I hope you understand," he repeats.
For India, he was the menace who arrived with the West Indies team in 1987. He blew them away in Delhi, his foot intimidatingly pointing at the batsman as he exploded into his delivery stride, ball after ball, as if to say, "you're next". Patterson nods and giggles when he hears about the fear that he had generated with his spells, like he is hearing about it for the first time. But then, out of nowhere, he tells you that his highest score in Test matches came at Mumbai's Wankhede Stadium — 21 not out — during that tour. And, all of a sudden, it's like someone has switched on the recall button in his mind.
He starts rattling off about the memorable time he had in India on and off the field. "I remember Arun Lal — I got him out. Kris Srikkanth, what a dangerous fellow he was! If you didn't get him out early, he would punish you. He and David Boon bothered me the most as batsmen. And I also developed a great friendship with Azharuddin. What is he up to now? Coaching?" he asks. When informed about the turn of events in the former Indian captain's life since the last time they met, Patterson shakes his head in disbelief.
I press him about his bowling action — his unique footwork, in particular — and he just laughs. "It was natural. But after a point, only the foot was going higher and higher. Everything in my life was going the other way," he says.
I first started looking for Patterson in 2011 when India toured the Caribbean for 45 days. Jamaica was the third stop and hosted the final ODI and the first Test. That left me with 10 days to find him. But few believed that he was still in the country or that he was of a sane mind. It was like the West Indies had not just given up on, but forgotten, one of their superstars of yore. And, of course, there was no sign of him.
I returned to the Caribbean in 2013 for a tri-series, and, this time, I decided to expand my search beyond Kingston. Patterson grew up in the village of Hector's River in the Portland region in central Jamaica. It takes three hours to get there if you take the ragged roads winding through the hills. The roads are lined with shacks where locals play dominoes. I would stop at each one of them, asking whether they had any information about Patrick Patterson. The answer was generally either a "no" or "oh, me thought him lose it". It was almost at the 15th or 16th stop that I accidentally bumped into his cousin, who led me to his parents' house. However, they, too, insisted not knowing exactly where he was or what he was up to.
Finding him had become such an obsession that it was the first thing I mentioned to my bed-and-breakfast owner, Courtney, a former US marine who gave up watching cricket after Garry Sobers retired. The name was unfamiliar to him, but he insisted that he was also in the business of "finding people". I laughed it off. But, by the next afternoon, Courtney not only had a number but also an address for the man who the rest of the Caribbean insists had gone AWOL for good. It was serendipity.
Courtney would later reveal that he had contacted one of his friends, Fred Locks. A 67-year-old reggae star from the 1970s, Locks continues to record music and is a dedicated Rasta with locks that stretch well beyond his feet. He lives in the same area where Patterson was assumed to be living. It was Locks who would inform the former pacer about an Indian cricket writer who had been on his lookout for years. "He told me he has been mentally disturbed for 20 years. Why do you want to meet him so badly?" Locks asks, when I meet him.
Patterson doesn't sound too keen on giving an audience when I call him first, insisting that he will need some time to sort himself out. Eventually, upon incessant prodding, he agrees to meet after two days. When I call him on the appointed day, though, he has gone back to being reluctant about the meeting, telling me how difficult it is for him to do this. It takes 45 minutes to convince him to tell the world his story. This is the day of the fifth ODI in the India-West Indies series and Patterson changes the topic to inquire about the score, insisting that he barely knows anyone who plays for West Indies these days. He hangs up, requesting to be given an update about the match later.
When I call him later and reveal that Virat Kohli — who he has heard of and speaks of in the same breath as Sachin Tendulkar (who he bowled to in Sharjah, he says) — has scored yet another ODI ton, he agrees to meet me that evening. At 6 pm, I am outside his gate. This time, he is waiting for me. "The only reason I agreed to meet you was because I was touched when you said you went all the way to Portland to look for me the last time," he tells me.
Patterson's recollection of his early days in cricket is rather vivid. He recalls having caught a fancy for cricket by watching villagers in Portland play the sport during weekends. Though he always wanted to bowl, he also fancied himself as a batsman, even opening in one game for his high school. The bowling action, too, was natural. "I suppose when I grew, the leg also grew a bit too much," he says, as an explanation of his high leg-lift. His talent with the ball got him attention even as a country boy, but it reached new heights when he moved to Kingston.
It's here that he met a fellow fast bowler and long-term friend, Courtney Walsh. After two years at the local Wolmer's High School, Patterson and Walsh teamed up at Excelsior High School for a year, forming a fearsome new-ball pair — a duty they would share for West Indies in the years to come. Patterson was getting faster and his leg was starting to go higher, and, before long he was debuting for Jamaica.
But it's at this point, just after his first-class debut, that, he says, he underwent a life-altering experience. He was roped in to play in the Saddleworth League in England, a lower-tier league based in Lancashire, where Patterson claims he was playing alongside 60 and 70-year-olds. He was being paid a pittance and pretty much left to fend for himself. He remembers a one-off visit to Pakistani cricketer Wasim Akram's residence. "It was a fancy house on a hill. He was a wonderful host, but I couldn't stay for long. It made me feel awkward. At the same time, I was bunking with a bunch of reggae musicians in a low-income area of Manchester," he says. His growing disenchantment led to differences with the captain and Patterson recalls how he stood at the top of his bowling mark once and just couldn't bring himself to bowl.
Matters grew worse, he claims, when he finished the season there and joined Tasmania in Australia as an overseas professional in the Sheffield Shield. The treatment there was equally humiliating, he reveals, with the state team refusing to provide him with any sort of formal accommodation. "I was pretty much just staying with whoever would offer me a residence, man or woman. And often, when we went out of Hobart to play matches, my luggage would be in the reception the moment we returned after the last day's play," he says.
Patterson, of course, would go on to higher honours soon after with the West Indies and gain notoriety as one of the most menacing fast bowlers in the world. But, he keeps harping on how those early "misadventures" left an overriding impact on him, and, eventually, "took me to places that nobody should go". He claims to have written "injustice" in bold, capital letters across his living room wall, but he has no memory of when he had done so.
Patterson's international career was largely without incident till the very end, when he was unceremoniously dropped after the 1992-'93 tour of Australia on disciplinary grounds. He never played again. But, even while he ran roughshod through opposition line-ups, he insists on having felt uncomfortable and ill at ease in his own dressing room. He recalls the time he made life miserable for Desmond Haynes and Gordon Greenidge with a barrage of bouncers in a regional match. But he also says he often felt like he was being singled out. "When I was playing, there was no fun either, because of the treatment," he says.
During the 1991 tour of England, he says, he came to be called Terry Alderman after the Australian cricketer of the same name, for his accuracy. He had picked up the skill to move the ball around in addition to his fiery pace. There was one training session, he tells me, where he had Viv Richards, on his farewell series, in all sorts of trouble. So frustrated was the legendary batsman, Patterson recalls, that he threw his bat at the net and walked away. "That taught me something. It was like I wasn't expected to be doing this, troubling the master with my bowling. That wasn't my job," he says.
Within two years, Patterson was out of the picture. Around the same time, he moved into his home, where he has remained ever since, except for a handful of one-dayers he showed up for Jamaica in the 1997-'98 season. "Since I stopped playing, it's been a 360 degree turnaround. It's so far away from all I knew growing up that that in itself could send you places you aren't prepared to go to without notice. Cricket wasn't supposed to have done that to me," he says.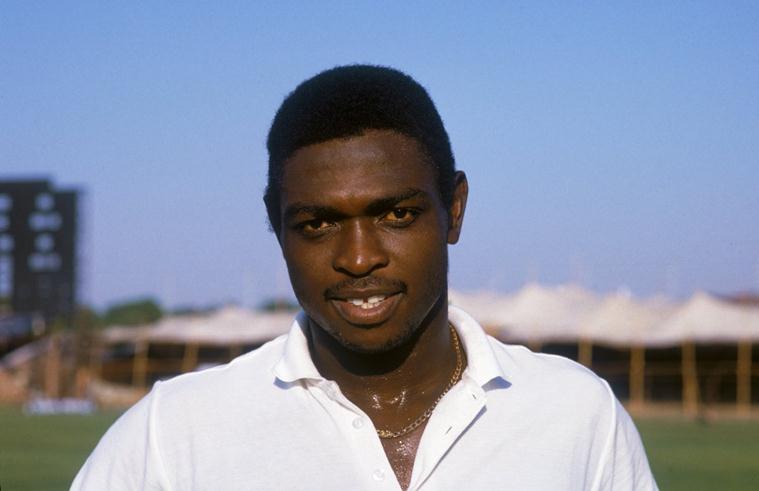 So what has Patrick Patterson been doing over the last 25 years? "Absolutely nothing. Nothing that promotes good living," he replies. At some point during the conversation, Patterson talks about certain "external forces" who are out to get him, or, at least, ensure that he stays where he is. He first refers to them as "gods" and then simply as "they". "They wanted me to be here and they are responsible for this," he says, but denies knowing who they are or what they want from him. He also blames "them" for all the rumours about him across the Caribbean, mostly to do with him having lost his way, if not his sanity. "One time, I heard a fellow convincing everyone that I was already in Bellevue (a mental asylum in Kingston). That day, I just hit the pits. I couldn't move when I heard it. I was scared that that's where they wanted me to be," he says, his voice quivering. "They said they couldn't find me, but I was right here. But they kept speculating and tarnishing my image and I couldn't do anything about it because I had more basic things to worry about, like food," he adds.
The sudden transformation in his life affected all his relationships and turned him into a recluse. The raging speculation over his condition only aggravated Patterson's manically depressed state and fed his paranoia about what might happen to him. It's even convinced him over the years that those trying to help him are putting themselves in harm's way. "I am always scared for whoever reaches out to me, that they'll get to them too and ensure that I'm stuck here. You should be careful too," he says. It takes nearly two hours to somewhat get him to believe that there might not have been any "external forces" out to get him, that he might have ended up becoming his own enemy. He reluctantly agrees as we are about to get done.
Patterson admits to have gotten out of his shell slightly of late. He can go to the supermarket without worrying about what people might say. Over time, his estranged family has patched up with him, too. His children, a 27-year-old daughter and a 24-year-old son, who live in Canada, now visit him often. Last year, he even took them to meet their grandparents in the country. The children provide him with basic provisions every month to keep him afloat.
We get picked up by Locks that night. As he's about to get out of the car, Patterson holds my hands and says, "I haven't spoken like this to anyone from the time I can remember. I'm so glad I came. Money can't buy this. I'm so glad I came…"
I meet him on a couple of occasions more. The second time was over dinner again, but this time in Port Royal, in the company of his friend of over three decades, Fozzie. The two get into a banter with the serving lady about her singing capabilities, and, for once, Patterson's just like any other jolly, old guy, enjoying his retired life with some fish and beer. "They know how to kill a career and leave someone for dead," Fozzie tells me when I ask him about his memories of Patterson's cricketing days. He doesn't divulge anything else about how he has dealt with seeing a friend turn from a superstar to a near-outcast. It's clear from seeing them together that they still remain as close as ever. Patterson even perks up enough to recall more about his career, talking about the time he got Javed Miandad out in Pakistan, and, how, during that tour, an ODI had to be suspended briefly, and then, abandoned, when someone threw a boot that narrowly missed his face. He also talks about playing at Arundel and how Curtly Ambrose would jovially tell Richards before every game that "I know where your kids live" in case he didn't give him a long bowling spell.
Our final meeting is just before I head to the airport — again, outside his gate. Patterson, for once, doesn't have a cap on and his hair is sticking out. For once, it's like seeing the cricketer whom the world feared many years ago and not the man who has since lived in fear of the world. I get to see the front-yard, basking in the shade of a massive mango tree. "I planted it myself and the ones you see are all Julie mangoes. I want to plant some East Indian ones too," he says. He thanks me again for having pushed him to step out of his self-imposed exile and spend some time in the real world. But, when I tell him that I'll stay in touch even once I'm back home, his smile vanishes and his face turns serious. He comes close, holds my hands and says, "But don't forget, they'll be listening. They tap my phone, you know. This is not easy for me. Believe you me. Believe you me…"
The Indian Express website has been rated GREEN for its credibility and trustworthiness by Newsguard, a global service that rates news sources for their journalistic standards.