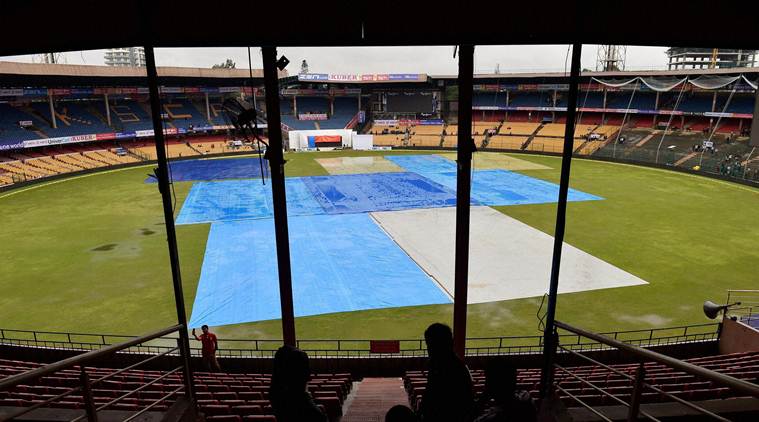 India-South Africa second Test has seen two days of continuous rains in Bangalore and not a single ball has been bowled after Day 1 on Saturday. Rains made sure that the fourth day's play see the same fate too. After several inspections, the decision was made that play will resume at 1400 hrs IST, but the heavens opened prior to that forcing cancellation of day's play. 
Cricket Scorecard: India vs South Africa
As it happened:
1438 hrs IST: That's it! Day 4 is called off due to rain and we haven't seen live action for the third straight day.
1424 hrs IST: The drizzle has stopped and the covers are coming off much to the delight of the crowd.
How often have we seen this? The umpires announce a 1400 hrs start and on cue, the drizzle begins……….

— Harsha Bhogle (@bhogleharsha) November 17, 2015
1358 hrs IST: Bad news for the fans, it has started to drizzle again at Bengaluru.
1315 hrs IST:  Minimum overs of the day are 45. Stay tuned, live action shortly
1st session: 2:00 to 3:30 PM Tea: 3:30 to 3:50 PM 2nd session: 3:50 to 5:15 PM Extension till 5:45 PM Minimum 45 overs in the day #IndvsSA

— BCCI (@BCCI) November 17, 2015
1310 hrs IST: And, some good news. Play to resume in less than one hour
1300 hrs IST: Umpires out for the inspection, third of the day
1138 hrs IST: Umpires and match officials still not convinced with the conditions. Next inspection at 1 pm
1017 hrs IST: However, India players are out there, Ajinkya Rahane was seen having a go at the nets.
Update: Start delayed due to wet outfield. Next inspection at 11.30 am IST. #IndvsSA pic.twitter.com/QgFrOMEHpO

— BCCI (@BCCI) November 17, 2015
1011 hrs IST: So it seems there would be another inspection at 11.30 AM IST, so we won't see any play from the opening session for the third straight day.
1009 hrs IST: Covers are off as the inspection is reportedly on right now.
0915 hrs IST: So an inspection is due at 10.00 AM IST. Any further decision will be taken after that and hopefully we will have a start by 11.00 AM IST.
It looks much better at the M Chinnaswamy Stadium today. It's stopped raining. Awaiting the official word. #IndvsSA pic.twitter.com/MkFQCPmH4I

— BCCI (@BCCI) November 17, 2015
0851 hrs IST: So it's confirmed, no play before 10.00 am IST after which there would be an inspection.
0850 hrs IST: The pitch curator says, if there is no rain, then we can 'prepare the pitch' by 10.00 AM IST and we can have play by 11.00 AM IST.
0834 IST: No rain but no signs of sun in Bengaluru either.
Recap
I have increased my bowling load: Ishant Sharma
Not the least bit concerned about the storm he kicked off due to an overtly aggressive demeanour during the Sri Lanka tour, Indian pacer Ishant Sharma says he does not even think about the outburst which led to a one-match ban on him.
Aaron, top of off; Umesh, off top
THERE'S a primitive joy in seeing a fast bowler send a stump cartwheeling that probably has no match. You can think of a bouncer zooming past a batsman's head, Jonty Rhodes flying without wings at backward point, or Shane Warne deceiving a batsman with a magic delivery. But nothing quite sends the rush running through your veins like a stump doing a somersault. It's a charm that never goes away. It's also a sight though that still remains a novelty in Indian cricket. Not many Indian fast bowlers have really been of the hell-raising variety.
Kumar needs to swing ball more consistently: India bowling coach
Despite the fact that Day Two of the second Test was washed out, Indian team's bowling coach Bharath feels the home side can force a result here if they put up a good total in their first innings. Addressing the media, Arun spoke on issues ranging from Ravindra Jadeja's grand comeback to Bhuvneshwar Kumar's loss of swing and form.