Half-centuries by Virat Kohli, Cheteshwar Pujara and Ravichandran Ashwin kept India on course for a first innings lead after England made a spirited comeback on day two of the third Test on Sunday. Having bowled out England for 283 earlier in the morning, India looked in charge at 148/2 at tea before Adil Rashid's double strike jolted the hosts who lost three wickets in 19 balls to slump to 156-5. Ashwin enhanced his new-found batting reputation with an unbeaten 57 while all-rounder Ravindra Jadeja was batting on 31 at stumps with India trailing by 12 runs.

India vs England: As it happened in Mohali
Stumps: India, after bowling out England for 283 in the morning session, end Day 2 at 271/6; just 12 runs behind the visitors' total.
1644 hrs IST: Ashwin brings up his 9th Test FIFTY, this one coming off 77 balls. And he follows the raise of the bat with a beautiful straight-drive off Anderson. Class written all over that shot by the all-rou
1639 hrs IST: Short, and top shot by Jadeja to bring up the FIFTY-run partnership with Ashwin. The left-hander finds the gap on the off-side and it had enough legs to travel to the ropes
First 50 stand between the spin twins (Ashwin & Jadeja) with the bat!#IndvEng

— Mohandas Menon (@mohanstatsman) 27 November 2016
1632 hrs IST: Slightly short from Batty and Ashwin dabs it to the third-man ropes. He takes his score to 44 – crucial runs for India lower down the order. They were struggling after the post-Tea collapse earlier in the day
1629 hrs IST: Jadeja gets one his slot now, and hits Rashid all the way for a six. Clean hit by the left-hander
1628 hrs IST: Jadeja goes over the ring and gets a boundary. Over the bowler's head is the safest part of the ground to target. India 235/6
1617 hrs IST: 10 overs left in the day's play. Survival will be on both Ashwin and Jadeja's mind now
1614 hrs IST: Ashwin's run with the bat has given India a lot of solidity in the batting lower down the order. He continues to make useful contributions, and continues to frustrate the opposition
1606 hrs IST: Ashwin drives one beautifully through the covers region for another boundary. He takes his individual total to 37, off 47 balls. India move to 225/6 in the 72nd
1600 hrs IST: India will now look to bat the remaining period of play. Ashwin and Jadeja are in the middle and the deficit now is 63 runs. Jayant Yadav to follow, and he is capable of spending time in the middle
1542 hrs IST: Ashwin has looked good but he needs some company now. Not much batting to follow, and it could get very interesting if England manage to get rid of the Indian lower-order cheaply
1534 hrs IST: WICKET! England with the big wicket of Virat Kohli! The Indian captain has edged one behind. Outside the off-stump and Kohli tries to just run it down to third man. Faint edge and Bairstow with the catch. Stokes puts hand to his mouth. India in trouble at 204/6
1524 hrs IST: The partnership between Kohli and Ashwin is worth 38 now, and these runs have come at a brisk pace. India can't afford to lose another wicket now
1520 hrs IST: Smart tactics by India. Playing the waiting game against the seamers, but collecting runs off the the England spinners. The hosts are now 90 behind, and recovering with Kohli-Ashwin stand
1515 hrs IST: FIFTY for Virat Kohli, a very patient hand by the Indian skipper. This is his 14th FIFTY in the format. India move to 181/5 in the 61st over
1509 hrs IST: Kohli waits for the slower one, and hits it for a boundary. The right-hander moves to 48, just two short of another solid fifty
1507 hrs IST: With 44 from 104 balls, Kohli has been very patient in the innings. Not flirting with deliveries outside the off-stump, and doing a solid job for his side
1500 hrs IST: Kohli and Ashwin are the two men in the middle for the hosts and they need a steady stand after the mid-innings collapse. England would fancy lead if they manage to pick one more wicket at this stage of the game
The last Indian run-out on Test debut before Karun Nair – Anil Kumble at Manchester in 1990#IndvEng

— Mohandas Menon (@mohanstatsman) 27 November 2016
1450 hrs IST: WICKET! Both players ball watching and Nair is run-out for just four on Test debut. India falling apart after a solid Pujara-Kohli stand. Brilliant effort by Buttler in the ring. 156/5
1447 hrs IST: Debutant Karun Nair is the new man in, and he's away with a boundary. India in desperate need of a steady stand after two big wickets post the Tea interval
1445 hrs IST: WICKET! England pick another one after Tea. Rashid picking both of them as he now traps Rahane in front, for a duck, with a googly. The ball hit the right-hander in line of the stumps, and no bat involved meant it was an unsuccessful review by the right-hander
1442 hrs IST: Loud shout by Rashid, the finger goes up but Rahane goes for the review. First impression shows the right-hander was hit in line of the stumps
1434 hrs IST: Ajinkya Rahane, who has had a quiet series so far, is the new man in the middle. England get they wanted – a wicket after Tea. One more could make this contest very interesting. Debutant Karun Nair and R Ashwin to follow after the pair of Rahane and Kohli
1430 hrs IST: WICKET! Pujara (51) is out in the first over after the Tea break. Poor delivery by Rashid but the right-hander, eyeing a maximum, hits it to Woakes in the deep. Woakes was alert near the fence and covered decent ground to take a sharp low catch. India 148/3
1415 hrs IST: Tea has been taken in Mohali. India head into the interval at 148/2. Pujara 51*, Kohli 40*
1410 hrs IST: Kohli gets a couple of boundaries now. Very ordinary bowling by the England spinners. India skipper moves into the 40s, and it's not looking good for the visitors now
1406 hrs IST: Pujara gets a single and brings up his 11th Test fifty. His impressive run against Englnad, and in the series, continues
1404 hrs IST: After the drop, England gift runs to Pujara. Two poor deliveries from Batty and Rashid, and the right-hander dispatches them to the ropes. Takes his individual score to 49
1400 hrs IST: Spin in operation from both ends as Batty bowls with leg-spinner Rashid. England desperately need a wicket, this Indian pair can take the game away from them. Pujara is already in control as he inches closer to another fifty
1358 hrs IST: After a quiet period post Lunch, scoreboard is moving along nicely for India as they move to 124/2, 159 behind England's total
1352 hrs IST: DROPPED! Pujara looks to run one down fine on the leg-side, gets an edge, diving Bairstow gets hands to it behind the stumps but it pops out of the gloves. The right-hander gets a life. Cook won't be pleased with this effort
1344 hrs IST: Pujara moves into the 30s and is looking good for his third hundred of the series. England operate with spin-seam combination of Rashid and Woakes. Both the India players have been very patient and not doing anything silly in the middle
Elsewhere, Australia beat South Africa by seven wickets in the third Test. After a hard summer, the Aussies finally get a result in their favour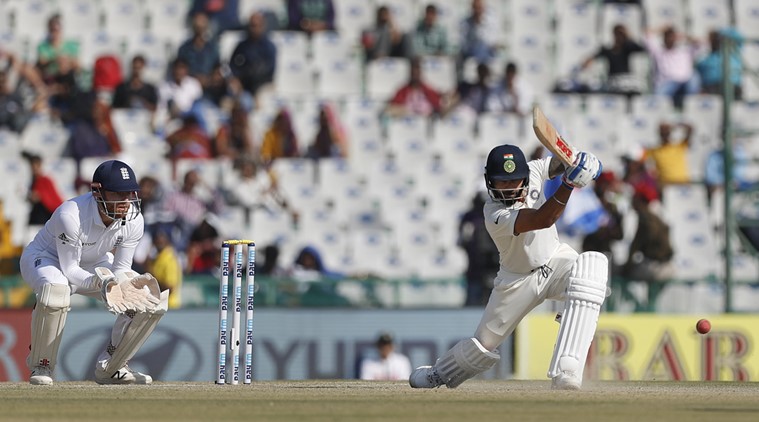 1330 hrs IST: Kohli gets a single and brings up the 100 for India in the 40th over of the innings. The hosts are off to a decent start and the platform is set for the middle-order to capitalise on
1324 hrs IST: End of a long Anderson spell. Rashid into the attack now, and he gets some turn straight away. In the afternoon session, spinners would hold key for the visitors
1318 hrs IST: Kohli and Pujara – the top two run-getters in the series so far – are looking good in the middle. If they survive till Tea, England are in for some hard days in the middle
1312 hrs IST: Two boundaries on the trot for Kohli, this time on the other side of the wicket. The right-hander flicks one off his pads to take his individual score to 15
1310 hrs IST: After patiently leaving deliveries outside the off-stump, Kohli gets one close to his body and drives it in the gap for a boundary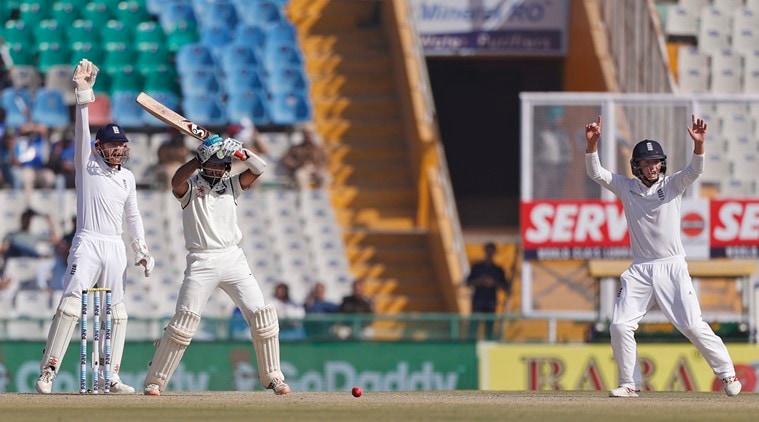 1304 hrs IST: Pujara opens the face of the blade and helps the  Anderson delivery to the ropes. Much needed boundary for India after some tight overs by both Anderson and Woakes. Pujara is the man in form for India. The right-hander has hit two hundreds in the first two Tests of the series
1301 hrs IST: Woakes tests Kohli with a brilliant over. Persisted with that off-stump line but the Indian skipper was happy to shoulder arms. Test cricket at its best
1259 hrs IST: India trail by a little over 200 runs now. It's a crucial period now. If India survive this, they would fancy a big total. England give Anderson and Woakes extended spells. Cook is hoping for some reverse
1250 hrs IST: Virat Kohli vs James Anderson will be an interesting contest. India's Test skipper doesn't enjoy a good record against the seamer but conditions are different here
1245 hrs IST: Single from the Woakes over and that single is by Pujara. India move on to 80 for the loss two wickets. James Anderson is back into the attack. England will like a wicket or two wickets from him. Pujara on strike
1240 hrs IST: Six runs from the over from Rashid. Kohli with all the runs including a boundary. India still trail by 204 runs. Woakes will continue as he bowls his seventh over. India are 79 for the loss of two wickets
1236 hrs IST: Maiden over from Woakes. India need to rebuild again. Kohli and Pujara are two men in form for India. The crowd is getting behind Kohli. Loud cheers for him. Rashid continues to bowl for England
1230 hrs IST: WICKET! England appeal for a LBW but ump says not out. Bairstow asks Rashid to review. England take their time but then review. No bat there, pitching in line. Parthiv is down the pitch but that has spun back. And it is spinning enough to hit the stumps. Parthiv has to go. Good review from England
1226 hrs IST: One more run for India in that over from Stokes. They move on to 68 for the loss of one wicket. Excellent stuff from Pathiv as he continues going strong against the bowlers. Playing a lot of domestic cricket on similar pitches helping now
1222 hrs IST: Only two runs from the Adil Rahisd over. Pujara has been watchful so far in his innings. The pitched hasn't helped the bowlers a bit. Chris Waokes will be operating again. Pujara on strike for India
1218 hrs IST: Five runs from the over of Woakes. Excellent drive from Pujara on the last ball of the over. Adil Rashid will be bowling from the other end after Lunch. Joe Root is the stand-in after Cook is off the field
1210 hrs IST: Players are back on the field for the second session of play on the second day. Chris Woakes has the ball in hand. He will resume after Lunch. Parthiv Patel is on strike for India. Here we go with the play
1155 hrs IST: 15 minutes before play starts in Mohali. This will be an important session for India as they trail by 223 runs with nine wickets in hand. Parthiv Patel and Cheteshwar Pujara are capable of playing big innings and India will need one today
1145 hrs IST: India's Rio Olympics silver medallist PV Sindhu is playing her Hong Kong Superseries final and you can catch it live here
1140 hrs IST: India will be very happy with the first session. They would have liked Murali Vijay to not lose his wicket but still, this has been a good from Parthiv Patel. India have not given any chances to England
1133 hrs IST: Stokes gave only one run from his and then Anderson comes back to bowl the last over before Lunch. He also gives only on run off his over. India reach 60 for the loss of one wickets at Lunch. Parthiv Patel being the mainstay
1127 hrs IST: Anderson with only one run from his over. This has been a better hour for England. Though they haven't picked up a wicket but they have stopped the run slow. India continue to be solid. Stokes back
1123 hrs IST: Maiden over from Ben Stokes. India remain at 57 for the loss of one wicket. Two overs may be possible before Lunch in Mohal. James Anderson will bowl the next over for England
1119 hrs IST: Two fours from the Anderson over as Parthiv Patel continues his good form. He has been exceptional with the foot-work. Chris Woakes will be bowling to Cheteshwar Pujara now. This will be the 19th over of the Indian innings
1113 hrs IST: Adil Rashid give only one run off his over and then Ben Stokes goes for a boundary only. Parthiv is looking in good touch here. England bring back Anderson to bowl with Lunch just 15 minutes away. Parthiv on strike
1104 hrs IST: Ben Stokes finishes his over and India are 43 for the loss of one wicket. Cheteshwar Pujara is the new man in for India. Change of ends for Adil Rashid as he comes on to bowl. Parthiv Patel will be on strike for India
1102 hrs IST: WICKET! Murali Vijay is caught behind. Ben Stokes has given England the breakthrough. Extra bounce on that bowl as Vijay tried to reach it away from the body. Umpire did not give it out but Vijay decieded to walk off
1056 hrs IST: DROPPED! Jos Buttler puts down Murali Vijay at mid-wicket. It was a bit wide but catchable. Vijay survives. End of the 14th over and India are 39 for no loss. England with a bowling chance. Ben Stokes to replace Adil Rashid.
In other news: Injured Hardik Pandya released by India while KL Rahul is expected to be fir for the fourth Test in Mumbai
1054 hrs IST: Good over for India as they get seven runs from it. A four for Murali Vijay as well. After 13 overs, India are 37 for no loss. Moeen Ali will continue to bowl his off-spin from the other end
1050 hrs IST: Adil Rashid will continue from the other end after Moeen Ali finishes his over. Pathiv Patel will on strike. He took a single on the last ball of the previous over. India are 30 for no loss. Trail England by 253 more runs
1046 hrs IST: A decent over from Adil Rashid. India take a run from that. As far as this match in concerned, India will like a lead of around 100 runs. Anything above it will be a boost but less will be very dangerous. Moeen Ali continues
1040 hrs IST: Two dry over for India as they manage only three runs from them. Moeen and Adil Rashid restricting the run flow for India. Players head for drinks after the Moeen Ali over with India on 28 for no loss
1032 hrs IST: Parthiv with another gorgeous drive through covers for four! Moeen Ali bowls a high full toss which was called a no-ball for height. India are 25 for no loss and that is after eight over. We have another change in bowling as Adil Rashid is brough on. Vijay on strike
1030 hrs IST: Single run from the Anderson over and India move on to 20 for no loss. Parthiv Patel has played some super shots this morning. Murali Vijay has struggled but done well so far. Okay! We have a change in bowling from England. Moeen Ali is brought on
1025 hrs IST: England appeal for a caught behind and umpire gives it out. Parthiv Patel reviews it straight away. Ultra-edge shows no bat invovled. Parthiv survives. Only a single from the Woakes over. Anderson to continue
1019 hrs IST: Two runs from the Anderson over! India move on to 18 for no loss. Another good over from Anderson. Woakes will continue from the other end with Parthiv Patel on strike. There is no moment for the fast bowlers yet
1015 hrs IST: Couple of boundaries for India in that over from Chris Woakes. Parthiv with a gorgeous drive. India move on to 16 for no loss. Anderson to bowl again as England search for an early wicket
1010 hrs IST: Murali Vijay plays a big pull shot and that goes for four. On the last ball, Anderson throws it back in the follow through and Vijay stands his ground. Ball hits the pads and England appeal for a run-out or an obstruction in field. Vijay didnot move though. Umpires are having a chat and it has been decided that that is okay! But Vijay was out of the crease. That would have been interesting if they had gone upstairs
1006 hrs IST: India are away with a boundary. Parthiv Patel with a dab on the leg-side that goes quickly to the ropes. End of the Woakes over and India are 4 for no loss. James Anderson to continue with the new ball from the other end
1001 hrs IST: Anderson starts with a maiden. No big movement for him in the air or the ball. Chris Waokes will be sharing the new ball with him and the comeback man Parthiv Patel is on strike for India. India trail by 283 runs
0955 hrs IST: England players out in the middle for the Indian innings. Murali Vijay and Parthiv Patel also walking out. Indian openers have to see the new ball. There will be some movement as it is still early in the innings. James Anderson will bowl the first over for England
0946 hrs IST: WICKET! Mohammed Shami has struck again! Batty hit on pads and umpire give it out. Batty reviews. It's a fair delivery that is hitting the pads with no bat invovled. Tracker shows the ball is going on to hit the stumps. Good decision and England have been bowled out for 283.
0942 hrs IST: Three runs from the Ravindra Jadeja over. Some interesting shots from Anderson. Jadeja induced the outside edge off Batty's bat but it didn't carry to the slip fielder. England still nine down. Shami to continue
0939 hrs IST: James Anderson gets off the mark in this match after a King Pair in the last. Six runs from the Shami over and England are 274 for the loss of nine wickets. Jadeja to continue. India are bowling the 93rd over of the England innings
0934 hrs IST: WICKET! Adil Rashid c Parthiv Patel b Mohammed Shami. What a delivery from Shami! That is a dream ball. Pitches it at good length with a perfect seam position. Upright seam after pitching and it gets the outside edge of Rashid's bat. Wow!
0933 hrs IST: Maiden to start with for Ravindra Jadeja. England remain at 268 for the loss of eigth wickets. Mohammed Shami will be sharing the ball from the other end. He has been very impressive in this series. Rashid on strike
0930 hrs IST: Ravindra Jadeja has the ball in hand and he will bowl to Batty who is on strike for England. A slip and short-leg in place. India need to pick these two wickets early. England resume at 268/8. Here we go
0925 hrs IST: We are five minutes away from start of play in Mohali. It will be interesting to see how the pitch behaves. There is still some grass on the pitch but in patches. Rashid and Batty are making their way out to the middle
0915 hrs IST: England must thank Jonny Bairstow for the situation they are in. Had he not scored the 89 runs on Saturday, England would have been in a much worse condition. Bairstow has done the rescue act for England quite a few times this year and has been Cook's go to man. That also makes him the leading run-scorer this year. Here's Sandip G on Bairstow – Jonny Bairstow: Alastair Cook's all-weather player 
0900 hrs IST: India may have taken eight wickets on day one but there were four chances they let slip and could have taken. The fielding has been a real cause of concern for India in this series. Apart from that, it was a good day for India and Sadip G from Mohali sums it up here – India drop chances, England gift
0845 hrs IST: Welcome to the second day's coverage of the third Test between India and England from Mohali. India will be happy with the first day's score of England, who finished at 268/8. The pitch doesn't seem to assist the bowlers yet but is likely to take turn. England suffered a batting collapse and the batsmen played some poor shots. India were also sloppy in the field, dropping four catches and had a really bad day in the outfield.
On day one of the match, England won the toss and elected to bat on a cool morning in Mohali, which is in the northern part of the country. The decision to bat first proved to be a good one as Haseeb Hameed and Alastair Cook saw off the new ball. The former was dismissed after a delivery took off after pitching and hit the batsman on the gloves. England collapsed after that losing Cook, Joe Root and Moeen Ali before Lunch. Ben Stokes and Jonny Bairstow stabilised the innings before the former was stumped. Jos Buttler then put on a 67-run stand with Bairstow and kept England going. But Bairstow fell to Ravindra Jadeja and then Jayant Yadav dismissed Bairstow to put England in trouble. At the end of the day, England losst eight wickets.
India used five bowlers in the day and each of them picked up at least a wicket. Jayant Yadav and Umesh Yadav picked up two wickets each. Ravindra Jadeja also picked up two wickets. R Ashwin and Shami picked up a wicket each. India picked up three wickets in the final session as well to push England pack
📣 The Indian Express is now on Telegram. Click here to join our channel (@indianexpress) and stay updated with the latest headlines
For all the latest Sports News, download Indian Express App.
The Indian Express website has been rated GREEN for its credibility and trustworthiness by Newsguard, a global service that rates news sources for their journalistic standards.