India put up another all-round performance to outplay the hosts Zimbabwe by eight wickets, and take unassailable 2-0 lead in the three match series.
Scorecard: India vs Zimbabwe, 2nd ODI (Click here)
As it happened!
1745 hrs IST: Pandey scores the winning runs, India beat Zimbabwe by eight wickets
1739 hrs IST: WICKET! Nair sweeps, misses and is trapped in front by Raza
1726 hrs IST: 100 up for India in the 22nd over as they head towards another comprehensive win over Zimbabwe
1720 hrs IST: Rayudu has been very positive today. With consecutive boundaries, he moves to 23 off 26
1710 hrs IST: A quiet phase as Zimbabwe keep India batsmen under check. Only seven runs have been scored off the last 22 balls
1658 hrs IST: Rayudu is away with consecutive boundaries. One down the ground and second one a cut off the back-foot
1655 hrs IST: Ambati Rayudu, who scored an unbeaten FIFTY in the last game, joins Nair in the middle
1652 hrs IST: WICKET! Rahul inside-edges the Chibhabha delivery back on to his stumps. India 58/1. The right-hander got into a poor position for the drive
1648 hrs IST: FIFTY up for India in the 14th over of the innings. Rahul 27*, Nair 21*
1645 hrs IST: India openers are out in the middle to complete the chase. They will resume the innings at 48/0 in the 14th over
1555 hrs IST: India 48/0 after 13 overs, and players head for the innings break. Rahul and Nair doing a fine job for the visitors
1545 hrs IST: Nair and Rahul have run well today. Zimbabwe players are low on confidence. With not many runs to play with, shoulders are dipping
1534 hrs IST: Required runs under 100 now. Both Rahul and Nair will like to see the side home
1531 hrs IST: First change as Chibhabha replaces Chatara
1526 hrs IST: The right-hander makes most of the free hit as he powers one overs the bowler's head for a boundary
1520 hrs IST: Nair with the flashy square cut, edges but Chatara overstepped on that occasion. The opener survives
Cricketing karma for you. Nair gets a reprieve for not waiting for the umpire's decision and walking #ZIMvIND #INDvsZIM @IExpressSports

— Bharat Sundaresan (@beastieboy07) 13 June 2016
1509 hrs IST: Rahul has begin strongly in the chase. The opener is timing the ball sweetly in the middle. It, however, is a crucial game for his partner
1505 hrs IST: India opener out in the middle for the modest chase. Rahul was among the runs in the last game, Nair, who was out cheaply, will like to make most of the opportunity
1454 hrs IST: S Williams is injured and won't come out to bat. Zimbabwe bundled out for 126 in Harare
1452 hrs IST: WICKET! Muzarabani is out LBW off Axar. That was crashing into middle-leg. Zimbabwe 126/9
1441 hrs IST: Zimbabwe collapse after Sibanda's fifty. They were looking good with the Sibanda-Raza stand but their departure triggered a lower-order collapse
1439 hrs IST: WICKET! Chatara misses a straight Kulkarni delivery and is bowled for 2. Zimbabwe 115/8
1432 hrs IST: WICKET! Bumrah gets one sharply into Mutumbami and Dhoni takes a sharp catch. Zimbabwe 112/7
1428 hrs IST: Dhoni introduces seamer to clean up the Zimbabwe lower order. Cremer and Mutumbami are in the middle for the hosts
1420 hrs IST: WICKET! Sibanda perishes while playing the big shot off Chahal. Zimbabwe 107/6
1418 hrs IST: The right-hander safely plays the tossed up delivery to deny Chahal a hat-trick
1417 hrs IST: Mutumbami is the new man in, and he will face the hat-trick ball
1415 hrs IST: WICKET! Chigumbura is out for a golden duck as Chahal traps him in front with a flipper. 106/5
1414 hrs IST: Chigumbura walks out to the middle after Raza's needless shot ended a stubborn Zimbabwe stand
1413 hrs IST: WICKET! Raza perishes while trying to clear the ropes off Chahal. Didn't time it well to clear the ropes. Zimbabwe 106/4
1411 hrs IST: FIFTY for Sibanda, off 58 balls. He has held the Zimbabwe innings together
1407 hrs IST: 100 up for Zimbabwe in the 24th over. Sibanda and Raza in the middle for the hosts
1400 hrs IST: Sibanda and Raza are building a steady partnership for the hosts
1350 hrs IST: Sibanda goes after Chahal and clears the ropes with ease. Ten coming from the over. Zimbabwe 80/3
1344 hrs IST: Raza, 4 off 17, is on his toes against Bumrah who continues to extract steep bounce from the good-length spot
1340 hrs IST: Sibanda is looking solid in the middle. It's important one Zimbabwe batsman bats most of the remaining 34 overs. India have their nose ahead with three early wickets and will come hard with the two spinners and Bumrah in the middle overs
1330 hrs IST: Change from both ends now as Dhoni introduces Axar Patel into the attack in the 14th over of the innings. Zimbabwe 48/3
1324 hrs IST: Bumrah is the first change bowler for India. He was impressive in the last game, returned with figures of 4/28
1316 hrs IST: Again, not an ideal start for Zimbabwe. They have lost three wickets inside the first ten overs. Raza is the new man in for the hosts
1314 hrs IST: WICKET! Kulkarni hits Chibhabha in line of the stumps. Zimbabwe 39/3 after 10 overs
1300 hrs IST: Replays suggest the bounce would have taken the bowler over the bails. Noor unlucky on that occasion. Sibanda is the new man in the middle
1258 hrs IST: WICKET! Sran gets one to come into Noor, traps the right-hander in front. Zimbabwe 21/2
1254 hrs IST: Kulkarni is generating a nice shape away from the right-hander. Bowls a maiden, Zimbabwe 20/1 after six overs
1250 hrs IST: Moor is the new man in the middle. India, like the last game, manage to make early inroads
1248 hrs IST: WICKET! Masakadza throws his bat at the full delivery but hits it straight to Bumrah at third-man
1244 hrs IST: Masakadza times one through covers for his first boundary. It's getting slightly brighter than the start
1240 hrs IST: India's new-ball bowlers have been on the shorter side so far. Need to get it right up there to make most of the conditions on offer
1235 hrs IST: Kulkarni pitches it up, and Chibhabha has no problems in flicking it to the ropes. Zimbabwe are away with a boundary
1232 hrs IST: Kulkarni to bowl from the other end. He will enjoy bowling in these conditions. Ideal for swing bowling
1231 hrs IST: Masakadza survives a close shout as Sran gets one to come back sharply into the right-hander
1230 hrs IST: THe players are out in the middle. Masakadza and Chibhabha the two openers for Zimbabwe, Sran with the new ball for visitors. He's operating with two slips
Let's Play #TeamIndia #ZIMvIND #2ndODI pic.twitter.com/5e2ccVdj8U

— BCCI (@BCCI) 13 June 2016
1215 hrs IST: The team sheets are out. Here's a look at the two XIs
IND XI: K Nair, L Rahul, A Rayudu, M Pandey, K Jadhav, MS Dhoni, A Patel, J Bumrah, D Kulkarni, B Sran, Y Chahal
ZIM XI: P Moor, C Chibhabha, H Masakadza, S Williams, V Sibanda, S Raza, E Chigumbura, R Mutumbami, G Cremer, T Chatara, T Muzarabani
1214 hrs IST: Zimbabwe make a forced change as injured Sean Williams makes way for Craig Ervine
1213 hrs IST: The visitors are unchanged for this contest
1210 hrs IST: India win toss, elect to bowl first against Zimbabwe in Harare
1207 hrs IST: It suddenly gets dark. Groundsmen rush to the middle to cover the main square now
1206 hrs IST: Jumpers and sweaters are out! Can't do without them. Temprature flirting with the 4-5 degree mark
#TeamIndia captain @msdhoni sharing a laugh with @RayuduAmbati #ZIMvIND pic.twitter.com/FZCM2dLj3A

— BCCI (@BCCI) 13 June 2016
1204 hrs IST: Toss has been delayed by ten minutes in Harare. Covers coming on. Tap for live updates
1201 hrs IST: There are plenty of cracks on the pitch. Not expected to open up due to lack of sunshine
1200 hrs IST: It's freezing cold in Harare. Conditions are cloudy and overcast, looks rainy
The build-up
Fresh from his exploits in the recently concluded IPL , Chahal appears to have comfortably made the switch to international cricket.
In short format, KL Rahul shows long-term potential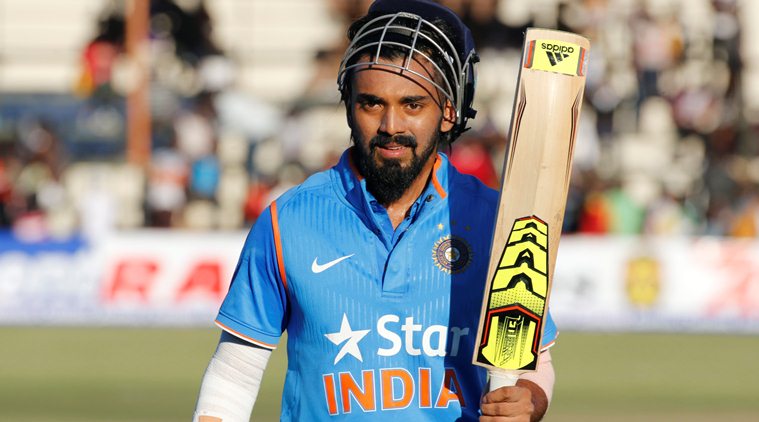 It was a dream debut for opener Lokesh TILL THAT point, no batsman had managed to clear the boundary on Saturday. Far from it. Nobody had even come close. It wasn't that kind of a day. It wasn't that kind of a match. If anything, the action for a major part of the day seemed like a throwback to a much gentler epoch of ODI cricket, when ball actually beat bat as often as the other way around and sixes were a novelty.
For all the latest Sports News, download Indian Express App