Delhi Daredevils, put in to bat, changed four key personnel and after a slow start, managed to finish on the high to set a target of 162. In defence, Delhi were on the backfoot with Ajinkya Rahane amassing runs. Imran Tahir, Amit Mishra clawed things back by sucking up runs but Mohammad Shami's spell of 3.1-0-50-0 hurt Delhi in the end.
IPL 2016, DD vs RPS, SCORECARD (click here)
AS IT HAPPENED:
2324 hrs IST: Rahane finishes it with a four. RPS win by seven wickets.
2323 hrs IST: UH-OH! Shami starts with a no ball and the dismissal of Perera won't count. Single taken too. 2 needed
2321 hrs IST: 14 from the over. 4 runs needed from the final over.
2320 hrs IST: Third ball for Perera, another SIX! Not very good line this. Keeping it too close to the left-hander.
2320 hrs IST: Perera starts his innings with a SIX!
2318 hrs IST: Thisara Perera the new man in.
2315 hrs IST: Tahir bowls on the leg stump and Dhoni wacks it aside. And Billings takes a very good catch on the ropes. 
2314 hrs IST: After 10 runs in the last two overs (Tahir, Mishra), Shami concedes 20.
2312 hrs IST: SIX! Length delivery by Shami and MS Dhoni steps aside and thumps it straight for a big one.
2310 hrs IST: FIVE RUNS FOR RPS! Shami tries to follow Rahane towards the leg side but ends up keeping it wide and four byes too!
2307 hrs IST: MISSED! Mishra removes the bails without the ball and another chance missed for DD.
2303 hrs IST: 16 overs gone, RPS are 120/2. They need 43 runs from 24 balls. Very economical stuff from Imran Tahir – 3-0-12-1.
2258 hrs IST: SIX! Dhoni comes down the track to Pawan Negi and it is punched into the first tier at Kotla.
2256 hrs IST: FIFTY FOR AJINKYA RAHANE. 50 runs from 38 balls. Fifth half century for 'Jinx' this IPL.
2253 hrs IST: Tahir with a googly and Tiwary slaps it straight to Billings who takes a low catch. RPS are 104/2.
2247 hrs IST: Poor line by Brathwaite. Going away from Rahane on the leg side and he has the easy task of heaving it away for a four.
2238 hrs IST: On the free hit, he bowls a full toss over the waist and another free hit!
2238 hrs IST: Uh-oh! No ball and a Free hit!
2237 hrs IST: Saurabh Tiwary comes down the track to Amit Mishra and smacks it big for a six!
2235 hrs IST: After 10 overs, RPS are 75/1. Need 89 runs from 60 balls.
2226 hrs IST: STUMPED! Khawaja comes down the track but misses it completely. Samson takes off the bails and Mishra celebrates.
2215 hrs IST: Mohammad Shami goes for 12 runs as RPS close the Powerplay on 50/0.
2159 hrs IST: New man Usman Khawaja opening the innings with Ajinkya Rahane. So far, so good. RPS are 15/0 in the third over.
2136 hrs IST: A single to end things then. 13 runs from the final over and DD finish on 162/7.
2133 hrs IST: Dinda is bowling the final over of the inning. Negi with a good finish – six from the second ball and four from the fifth.
2125 hrs IST: Very good fielding by Tiwary. His throw on the bowler's end is a direct hit and Jayant Yadav exits. 
2121 hrs IST: RUN OUT! Clean take and dismantling of the bails by MS as JP Duminy walks back.
2119 hrs IST: OUT! Brathwaite departs! Slow bouncer by Boland and he can only hit it to Perera who takes it on the second attempt.
2114 hrs IST: M Ashwin bowls and Brahtwaite swings and the ball disappears once… disappears twice!
2109 hrs IST: Billings once again tries to go for reverse hit but can only find Rahane on the boundary. DD are 110/4
2101 hrs IST: M Ashwin starts off the over by being belted straight down for a four but comes back strongly with perfect variations. DD are 107/3 after 14.
2058 hrs IST: SIX! AND SIX! Sam Billings on the charge with two back to back huge hits to end DD's thirst for boundaries.
2055 hrs IST: DD moving very slowly. 83/3 after 12. 39 balls since last four…
2044 hrs IST: TAKEN! Perera with a very good catch! Nair looks to play over extra cover but Perera keeps moving right to take a running catch. DD are 65/3.
2042 hrs IST: After the strategic time out, DD are 63/2 with nine overs gone.
2030 hrs IST: And with that, DD are 48/2 after Powerplay.
2027 hrs IST: WICKET! Sanju Samson tries to play it down the leg side but doesn't time it properly to hand a leading edge to R Ashwin.
2023 hrs IST: Another good over for DD as Dinda goes for 13.
2016 hrs IST: Scott Boland with poor line. After a superb cover drive by Karun Nair, Sanju Samson smacks one for a four on the leg side.
2009 hrs IST: DINDA STRIKES! Pant plays across the line and has the off stump removed! DD are 13/1
2005 hrs IST: Good start for Delhi. Rishabh Pant and Sanju Samson in the middle. 12/0 after two overs.
1937 hrs IST: Team:
RPS XI: A Rahane, S Tiwary, U Khawaja, G Bailey, MS Dhoni, T Perera, R Bhatia, S Boland, R Ashwin, A Dinda, M Ashwin

— IndianPremierLeague (@IPL) May 5, 2016
DD XI: S Billings, R Pant, S Samson, K Nair, JP Duminy, P Negi, C Brathwaite, J Yadav, A Mishra, M Shami, I Tahir

— IndianPremierLeague (@IPL) May 5, 2016
1930 hrs IST: CHANGES: 
DD: Big change up front, Zaheer Khan out and JP Duminy is the skipper. Pawan Negi, Carlos Brathwaite, Jayant Yadav and Imran Tahir are in.
RPS: Usman Khawaja and George Bailey come in. Steve Smith (injured), Peter Handscomb out.
1930 hrs IST: TOSS: Pune win the toss and MS Dhoni opts to bowl first.
BUILD-UP
# Pune's IPL in danger of early finish as MS Dhoni struggles to get grip
MS Dhoni doesn't seem to wield the same power in the indigo blue of Pune like he used to in CSK's yellow.
# I just played my natural game against Gujarat: Rishabh Pant
Promoted to the opening slot, Rishabh Pant smashed 69 runs off 40 balls with nine fours and two sixes in DD's comfortable win against Gujarat.
# You can't judge a team at this stage: Rajat Bhatia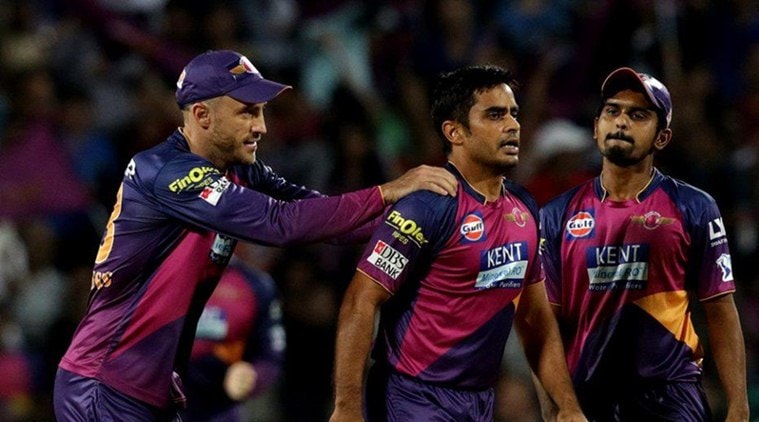 Grappling with injuries to key players, the Mahendra Singh Dhoni-led side has managed to win only two of its eight games so far.
📣 The Indian Express is now on Telegram. Click here to join our channel (@indianexpress) and stay updated with the latest headlines
For all the latest Sports News, download Indian Express App.