NOT LONG ago in a land not too far from the Chinnaswamy Stadium, a hotly-contested mega T20 final entered the last over with the favourites needing 19 runs to win the title. On Sunday in Bangalore, the favourites on this occasion needed 18. Chris Gayle had played a minor role in getting his team to that juncture that night in Kolkata. At Chinnaswamy, he had played a monumental role. Eoin Morgan was on the field that balmy April evening with no control over proceedings. Morgan sat on the sidelines in Bangalore with well, no control over proceedings. A nervous Ben Stokes had the ball in hand at the Eden Gardens. It was a nerveless Bhuvaneshwar Kumar who was on the hot-seat at the Chinnaswamy.
Batting brawn had triumphed that famous night at Eden as we know now with Carlos Brathwaite smashing four of the most talked-about sixes in cricket history and it was the T20 Goliaths-even though Darren Sammy might have thought otherwise-who stood tall as world champions. It was also a moment where the bat well and truly established its vice-like grip in terms of supremacy over ball in a format that has always advertised that status quo.
But somehow you simply knew that Bhuvneshwar had the edge this time around, that he would not let Sachin Baby or Chris Jordan get their team anywhere close to the target. That's the kind of confidence he has spawned in everyone including his Sunrisers captain. And he not only ensured that the bowlers club got one back for a change, his outstanding final over also made sure that the team with the best bowling unit -one that their captain had put all his trust on by opting for a left-field option in batting first after winning the toss-that reigned supreme. And it was David, or a team led by one bearing that famous name anyway, that climbed on to the podium as champions of the IPL. Kumar kept landing yorker after yorker on the right spot, leaving the RCB lower-order haplessly out of depth, and even though the final ball went for four, the Sunrisers dug-out had emptied on to the ground and David Warner had screamed C'Mon more than a dozen times already by the time the ball reached the boundary.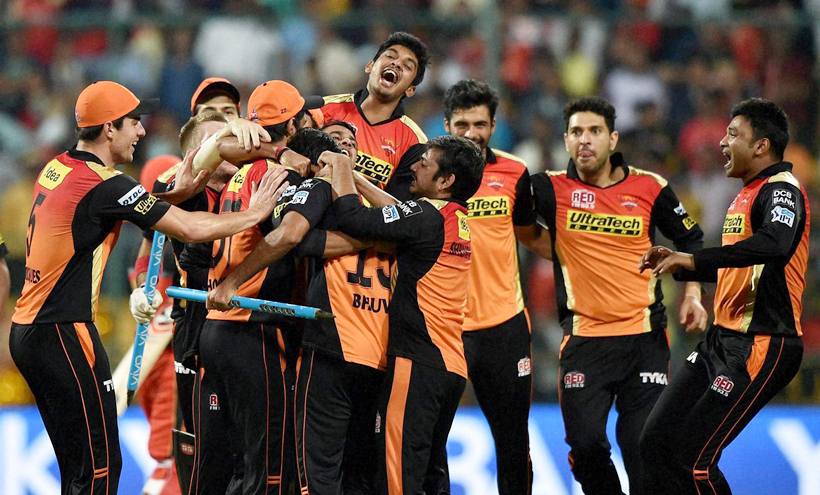 PHOTOS: Pacers bowl SRH to maiden IPL title win
As for RCB, they had been thwarted by a Hyderabad-based team led by a destructive left-handed opener from Australia for the second time, leaving them now as the Goran Ivanasevic of the IPL world. While Bhuvneshwar hammered the final nail into the coffin, the match had turned on its head an over before the slender Uttar Pradesh swing bowler and his partner-in-crime Mustafizur Rahman could even don their armour for the death overs.
Cutting makes the difference
For the umpteenth time in the evening, that pendulum-shift was engineered by Ben Cutting. "You're pretty much there for the entertainment aren't you?" is what Cutting had said in an interview a couple of years ago when asked about his batting contributions in the shortest format.
Big, tall and muscular, the Queensland pacer has always turned heads with his nip off the wicket in Australian domestic cricket, and has been on the fringes of national selection for years now. But he's never quite delivered that one big performance that will get tongues wagging on the big stage. This was his biggest stage yet-yes he has played for his country on a handful occasions but this was the IPL final. And somehow every time it was time for him to take centre-stage on Sunday night, his team needed him to bail them out of a pickle.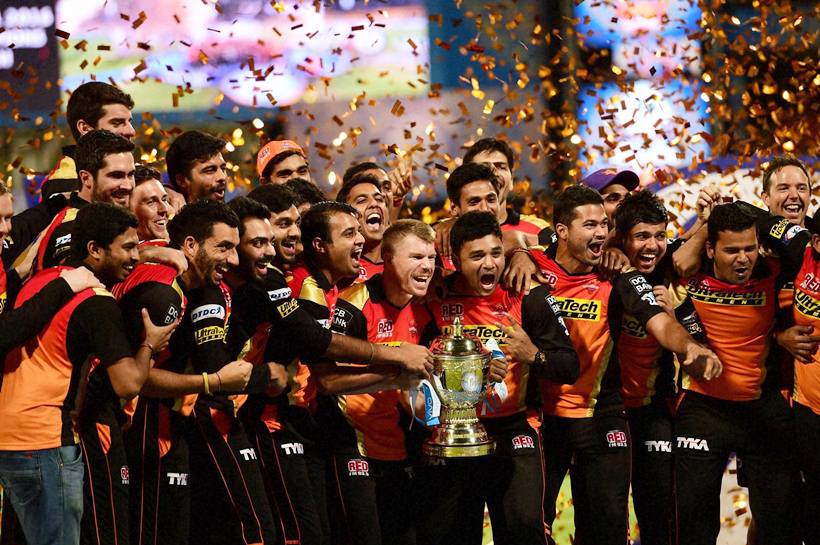 PHOTOS: SRH celebrate maiden IPL title win
After a spectacular start from Warner and Shikhar Dhawan, the Sunrisers had slipped and lost momentum. They no longer looked on par for a 200+ total, especially when a well-set Yuvraj Singh-who turned back the clock to play a couple of cover-drives laced with that characteristic relish and flourish-was dismissed by Jordan. In walked Cutting.
A 'cutting' is what you call a half-cup of tea in Mumbai, which is had when you don't feel like having an entire cuppa. But there were no half-measures with Cutting in Bangalore. He simply kept clearing his left-leg and smashing the ball out of the ground-once literally of a high full-toss from Shane Watson, which was one of three he connected in the 20th over. His 15-ball 39 not only gave Hyderabad the boost they required it also ensured that 52 runs were scored in the last three overs taking the total to 208 for 7 and making RCB's task a lot tougher than they had imagined. And yes, Cutting had entertained.
READ: Who said what about Sunrisers Hyderabad's win
But again it was he who got rid of a rampaging Gayle who seemed in the mood to finish the game off on his own, and also then returned to bowl the crucial 15th over, where he conceded just four runs and dismissed KL Rahul. That over pretty much set the match up for Mustafizur and Bhuvaneshwar to do what they do best, carry out the final rites for the opposition. But before Cutting came Warner. From the moment he announced into the mike that he wanted to bat first and put a total on the board in the final, you simply knew what Warner had in mind.
He simply wanted to charge out and take the match by the scruff of its neck. That's exactly what he did too, going after the RCB new-ball from the very first over. If Kohli hadn't had the kind of magical season he has with the bat, Warner's performance in this IPL with both bat and as captain would have been the stuff of legends. It probably still is. The history of sport is riddled with episodes of leaders setting examples for their teammates. Here, Warner was setting one for the entire world. For, he was showing how to back up your confidence in terms of action. It was a sublime innings in more ways than one, for he never made it look like it was a final. He went about his hitting like he usually does, with calculated aggression, and raced to 69 before falling anticlimactically to a catch at short third-man. By then, he had evened out the odds for his team.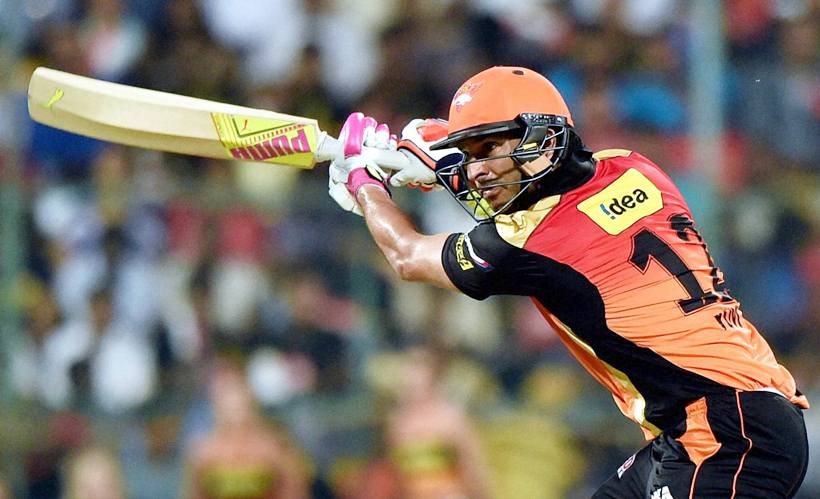 A target of 209 in a way seemed fair for RCB. If any team could even come close it had to be them. And as always it was a case of let's see what Gayle does, and then start talking about the rest. As it turned out, the big Jamaican decided that it was time to show why he is the Universe Boss, and for 40 minutes or so, he held court and the world watched in awe. For the first time this season, not many wanted Kohli on strike. It looked like even he wasn't too keen on coming in the way of the Gayle show. Like is the case when Gayle generally goes about his carnage, the white ball kept flying into the various corners of Chinnaswamy-even though the first six came off a thick edge-and there was little the Sunrisers could do about it. Yes, they got their lengths wrong often. But what do you do when your opponent is as unforgiving as Gayle. He hit eight sixes in all, and it looked like RCB were well on their way before Cutting came in the way.
Post Gayle's dismissal, Kohli decided enough was enough and looked keen on showing up Mustafizur in particular, hitting him for a six and a four to bring up his 18th half-century in 26 T20 innings this year. But as he attempted a wild hoick, for once the ball didn't bounce over the stumps but took the bails on its way to stop Kohli in his tracks, and yet again leave him to be contended with coming second best.
The Indian Express website has been rated GREEN for its credibility and trustworthiness by Newsguard, a global service that rates news sources for their journalistic standards.