India vs West Indies (Ind vs WI) 1st Test Highlights: India have finished Day 1 of the first Test in Antigua at 203/6. Rishabh Pant and Ravindra Jadeja were the unbeaten batsmen for the visitors when rain forced play to be called off prematurely. West Indies put India in a spot of bother after electing to field first. A terrific opening spell on a lively pitch by seamers Kemar Roach and Shanon Gabriel left India reeling at 25/3 in 8 overs. Ajinkya Rahane (81) then combined with KL Rahul (44) and Hanuma Vihari (32) to steady the ship thereon. However, West Indies struck back in the Tea session to again put India in a bit of trouble. Rain came down in the 69th over to stop play.
A win in the opening Test will be the 27th for Kohli as skipper and will put him on an even keel with his predecessor Mahendra Singh Dhoni. A century in the game (19th as captain) will place him on par with Ricky Ponting. On paper, a batting line-up that has Kohli, Cheteshwar Pujara, KL Rahul, Rohit Sharma and Rishabh Pant in the ranks should be termed clear favourites but this West Indies team, led by Jason Holder, is no pushover. See the highlights of Day 1 here.
India in West Indies, 2 Test Series, 2019
Sir Vivian Richards Stadium, Antigua 22 September 2019
West Indies

222

(74.2)

&

100

(26.5)
vs
India

297

(96.4)
&
343/7
dec
Match Ended ( Day 4 - 1st Test ) India beat West Indies by 318 runs
Live Blog
India vs West Indies, 1st Test, Day 1 Highlights:
Play called off for day
The umpires run off the field as more rains come down. Graeme Swann says on air that play has been called off for the day. That's the third time rain has come down today and the umpires think enough is enough. So, at the end of the day, India are on 203/6.
The first session was definitely West Indies' today as Kemar Roach and Shannon Gabriel threw down thunderbolts one after another. The second session belonged to India, with Rahane combining well with Rahul at first and then Vihari. West Indies made some inroads again in the third session. Rishabh Pant and Ravindra Jadeja will resume batting for India on the morning of Day 2.
That will be all from Day 1 of the 1st Test with Pant & Jadeja at the crease. Join us tomorrow morning for Day 2 #TeamIndia #WIvIND pic.twitter.com/xbiadkzhDb

— BCCI (@BCCI) August 22, 2019
Rain break
That's it! The players are galloping off. The ground staff are galloping in with the covers. India are 203/6 at the break in 68.5 overs.
There was a bit of comedy just before the players went off. The ground staff started running in with the covers before the umpires had stopped play. They were then told to go away. Going away from the ground with billowing covers (the wind was very heavy at this point) is not as easy as it sounds and so they took a while to return behind the ropes, as the players waited. However, the wind had picked up even more by the time the groundsmen had gone off the field, and so by the time they had eventually managed to go off, umpire Richard Kettleborough decided enough was enough and knocked the bails off.
200 comes up for India
We are nearing to the point where West Indies can go for the new ball. Chase and Holder and bowling, with the batsmen also batting like they are waiting for the end of this stage of proceedings. Worryingly, there are some dark clouds making an appearance in the skies now. The ground staff are waiting in readiness beside the ropes. There's no rain at the moment though.
Pant finds rythm
Jadeja is still batting circumspectly, but Pant is looking to get a move on to his innings now. Fours in consecutive overs for him as he moves into the 20s. He is getting a better sense now of which balls to leave and which balls to go for. The drive has been his most productive shot so far.
Pant and Jadeja letting balls go
Pant and Jadeja taking the cautious route at this stage. They are letting more balls go than not. The last time a run came off the bat was 20 balls ago. The session run rate is still 3.54, but not too long ago, India had a session run rate of 6! Pant breaks the spell. He drives Holder on the off side for four. Finally runs off the bat for India.
Pressure on Indian batsmen
India are living dangerously now. Pant gets a nick but that falls just short of Roston Chase at third slip. Next ball is also bowled almost at the same spot, a little wider. Pant, with better sense, lets it go this time. There's an LBW appeal the next ball. India are suddenly under big time pressure once more. Can Pant weather this storm? West Indies will be looking to get India all out by 250 or thereabouts.
Jadeja overturns decision
Another wicket for West Indies! This would put India into a huge spot of bother. They have gone for the review straightaway. And it is overturned. The umpire had given him out lbw but replays show there is a massive inside edge. No further checks required on that. Jadeja survives.
Rahane is out!
What disappointment for Rahane and India. He is gone for 81. Does all the hard work and then goes out. Gabriel gets another wicket - this one of the big fish, the set batsman, the highest scorer in this innings by far - as Rahane manages to get an inside edge on to his stumps. India 190/6 after 60 overs.
Pant doing what he does best
Gabriel got a ball to jag away from Pant at the last moment. That looked like an edge but luckily for the batsman, he did not get anything on that. The last ball of the Gabriel over is clipped wide off mid-on for four by Pant as the young man gets his first boundary of the day.
Wicket!
Vihari is out. Vihari is caught behind for 32 off the bowling of Roach. Roach has his third wicket of the day. Rishabh Pant comes in at No.7. Will he be able to give Rahane some company?
40 runs in 6.4 overs
India have been maintaining a run rate of 6 since the Tea break. Kemar Roach, who bowled such a good opening spell, is going for runs now. Squares up in front of Rahane after bowling a short ball to him. This is getting frustrating for the Windies bowlers. The ball is still swerving about wildly from time to time, but with the Sun having beaten down on the pitch for a while, the pitch looks much better to bat on now.
India get a move on
50 runs have come off the last 10 overs! Rahane and Vihari, not the two most attacking batsmen in Indian domestic cricket, are suddenly getting runs in double quick time here. Rahane moves into his 70s, Vihari into his 30s.

132 vs Sri Lanka, August 2017 - that was Rahane's last Test 100. He is 26 runs away from clinching another one today.
Runs
There has been a frantic passage of play at the restart of play. Vihari has got two edges flying off for boundaries in this over from Cummins. 20 runs have come in 2.4 overs since the restart.
Ready for restart
We are ready to see the third session. Vihari taking strike. Rahane at the other end. Miguel Cummins continues his over. The players had to go off in the middle of his over when rains came down before Tea.
Restart in 20 minutes
There's word on when we can restart. Looks like there has been some (very little) damage to the ground from the downpour and we shall need around 20 minutes to get a repair job done.
Delay in restart
The scheduled tea break is over. But, as we had feared, we are not restarting straightaway. The umpires are out there but the covers are still all on.
Tea
The tea break is taken early. India are 134/4. Rahane (50*) and Vihari (18*) batting for India. The umpires have signalled close of this session because the breeze has picked up. Covers are brought on. There's a heavy breeze. Let's hope we don't lose any time because of this and we can resume after a 20-minute break.
The groundsmen are marching to the ground with covers expecting some rains. Rain has indeed halted play here. Rahane 50*. #TeamIndia 134/4 #WIvIND pic.twitter.com/kOjIBYVvbp

— BCCI (@BCCI) August 22, 2019
50 for Rahane
50 for Rahane! That's a classic knock from him. Will he end his 2-year Test 100 drought today? He came in when India were at 25 for 3. They have now gotten much closer to safety. This is Rahane's 18th half-century in Tests. Today's 50 has come in a stop-start fashion but he has put a price on his wicket and he has anchored this fightback.
Rahane stands tall
There was a time when VVS Laxman was known as India's crisis man. He did not usually come good when the others were performing but would always bring his A-game when the chips were down. Rahane plays that role in this team. Today, everybody seemed to have problems. Today is when he has stood tall. He is now the highest scorer in this innings, as he takes a single off a pull off Holder. Moves to 45.
Interestingly, the last over from Chase had a big chance. Rahane, in much the same manner in which Rahul went out, got a feather of a touch on the edge off an attempted flick. The ball brushed the keeper's gloves on the way. That could have been it for Rahane. He survives, and with him India's hopes of a 300+ total.
Four for Vihari
With Chase faring quite well so far, one has to wonder if the WIndies missed a trick by not playing Cornwall. Spin from both ends would have been interesting to see. Miguel Cummins has bowled just 5 overs so far and might be brought back into the attack sooner rather than later. On the other hand, India have seemingly agreed with the Windies' estimation of the pitch in leaving out Ashwin and Kuldeep from the XI.

Meanwhile, Vihari cuts Chase for four runs. Good confident shot from him. That's his first boundary as well.
Rahane rolls on
Another divine flick of the wrist from Rahane against Holder gets him four runs on the leg side. Rahane moves into his 30s. The pitch has seemed to ease a bit as the day has gone on in North Sound, Antigua. Could Roston Chase do some more damage maybe? He is not your everyday frontline spinner, but he has some tricks up his sleeve.
Rahul out for 44
Spin does the trick for West Indies! KL Rahul is out for 44 in the first over of spin we have seen in this Test so far. Talk about inspired bowling changes. Roston Chase was just brought on. Rahul got the tiniest of edges off an attempted flick to go through to Hope. India lose their fourth. Hanuma Gade Vihari the new man in.
Blows to the body
Rahane is struck on the upper thigh pad as Holder goes up in appeal. Not given. Rahane and Rahul have taken some blows to the body today, with the ball veering in dangerously from time to time. Gabriel, especially, has looked lethal at times. The good thing for these two is that they have taken those blows and carried on regardless. They're getting the rewards for time spent on the crease now.
Slump in scoring
The Indian pair had started off strongly but there is now a slump in the scoring. Only 5 runs have come off the last 23 balls. Holder brings himself back into the attack in place of Gabriel. Roach is driven down the ground by Rahene for 3 runs. Rahul then pierces the gap on the offside off Roach. He moves to 44.
Short stuff
The West Indies bowlers are pounding in the short stuff to Rahane and Rahul. That could be a good strategy to Rahane especially. He is driving the full deliveries with ease. He is prone to losing his cool and playing a few rash shots when pounded with the short stuff. Gabriel has been the faster of the two, he is consistently bowling in the 140s (kph). Roach is comparatively slower, often even dipping below the 130s.
Steady partnership
Rahul and Rahane have done well to steady this Indian innngs. They bring up their 50 partnership after the lunch break. Their stay worth 56* now. Rahane, who was in single digits for a long while, has also looked to play a little freer since the break. Hits fours off consecutive overs of Gabriel and Roach. And there's one for him in the next over as well. Simply timed down the ground. Pumps fists with his partner after that four. IND 85/3 after 28 overs
Play resumes
The play resumes after luch with Kemar Roach restarting the proceedings here. And it's a maiden over against Rahane, who is on 10* after 49 balls. IND are still 68/3 after 25 overs.
Lunch at Antigua
KL Rahul and Rahane stick till lunch to help Team India recover from the early loss of wickets. Will the hosts exert more pressure or will the duo go on to dominate? Find out in the 2nd session. IND- 68/3 in 24 ovs
Injury Updates
Here is the latest update of Dowrich's injury-
🚨 INJURY UPDATE 🚨What happened to Shane Dowrich?! :s

Dowrich was ruled out with an ankle injury so Hopie had to glove them today.

Jahmar Hamilton and Chemar Holder have also been called into the squad as cover. #MenInMaroon #ItsOurGame #WTC pic.twitter.com/5trE2Dncfa

— Windies Cricket (@windiescricket) August 22, 2019
FIFTY up for India
Ajinkya Rahane and KL Rahul have steadied the ship after early jolts from Roach and Gabriel. At one point it seemed like the Indain ship could sink in Antigua but both the batsmen have dug deep and kept the scoreboard ticking. Rahane is batting on 2 but has consumed 31 deliveries. Rahul has a better strike rate with 27 from 55 balls. Meanwhile, Jason Holder has sent down four overs- all of them are maidens.
JUST IN:
Vikram Rathour replaces Sanjay Bangar as India's new batting coach. Bharat Arun and R Sridhar retain their positions. The new appointments will take effect from India's home series against South Africa.
Will Windies repent?
Your thoughts?
A seriously early call...even with India 34/3...which justifies bowling first.
But I still don't think bowling first will look like a wise decision on Day-5. Neither would India's decision to go a spinner short. #WIvIND #WTC

— Aakash Chopra (@cricketaakash) August 22, 2019
Drinks on field
So its time for drinks! What an hour of play we have had after Holder won the toss and elected to field. Roach and Gabriel have been spitting fire and the Indian batsman have been all at sea. Most importantly Pujara and Kohli are back in the hut. Will KL Rahul and Ajinkya Rahane step up and save the day? Stay tuned.
Scorecard:
Not a happy sight for team India-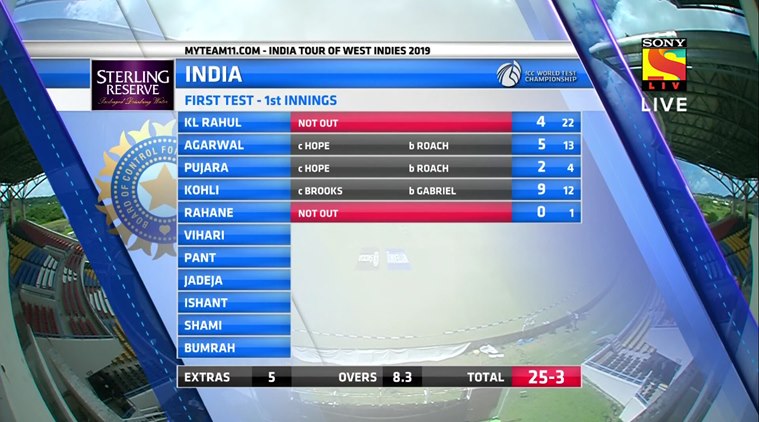 Gabriel gets Virat Kohli
Shannon Gabriel has the big, big wicket of Virat Kohli, who fends one to gully! He is gone for 9. India have now lost 3 wickets with just 25 runs on the board. What a start for West Indies. IND- 25/3 after 8 ovs
Kohli breaks the shackles
Kohli breaks the shackles! With a beautiful cover drive on the off-side. Shanon Gabriel is dissapointed because he knows this was a let off. Windies can't afford to let India get off the hook in this period. IND- 14/2
Double Blow
Two wickets within a span of five deliveries. Kemar Roach is on fire and India are in serious trouble at 7/2. Edged and gone! Roach has got the big fish- Pujara is gone for 2. It was pitched up and went away. Pujara is guilty of pushing at it and all he gets is an edge. No mistake from the keeper The last time India were 2-down in first 5 overs against West Indies was in Kingston, 2006 (both the innings).
WICKET
Kemar Roach gets the early breakthrough! Mayank Agarwal nicks and is OUT for 5. A successful review for West Indies. It seemed like an edge and Windies go up in unison. However, the umpire says no. Time for a review. UltraEdge suggests that it came from the bat. OUT! decision is reversed. What a start! IND- 5/1
Firs boundary of the day
After a maiden over first up, India are up and running. First boundary off the day from the bat of Mayank Agarwal. Slightly overpitched and outside off, the batsman plays a wonderful straight drive- reminiscent of Sachin (because of the timing). Solid start for India. IND 5/0 ( 3 ovs)