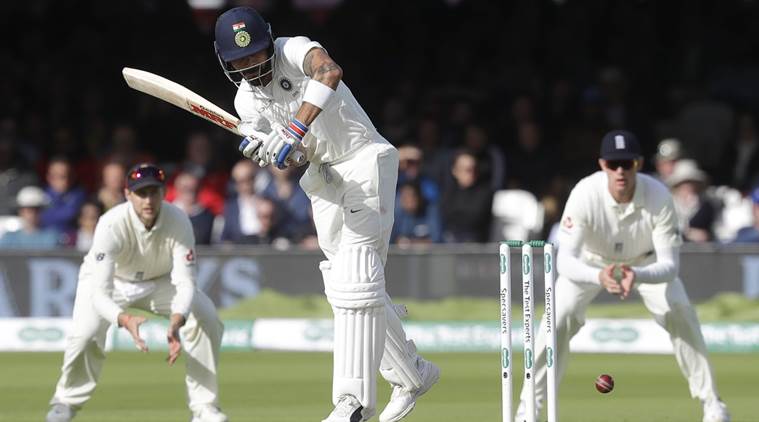 India skipper Virat Kohli was dismissed on 23 on the second day. (Reuters)
England seamer James Anderson on Friday romped out India's batting order, picking up five wickets to cut short India's 1st innings to just 107. On the rain-affected day, Indian batsmen slumped to the conditions, with only skipper Virat Kohli and Ravichandran Ashwin scoring runs in twenties. After the match, Anderson said he is enjoying the competition against India skipper Virat Kohli. Speaking to reporters at the press conference, the fast bowler said, "I was thinking why can't he (Kohli) edge them like everyone else. I have really enjoyed the contest between him and myself. He is number one in the world for a reason. For me I love playing against the best players in the world, testing yourself and seeing whether you can get the better of them. It is a really thrilling thing to be a part of, and unfortunately, I have not got the better of him yet, but I will continue to try my hardest throughout the rest of the series."
On being asked whether India too dependent on Kohli, Anderson said other batsmen have also scored runs against them in the past. "I don't think you can think like that (dependency) because we've played against all of them before. There are some real quality players in there. I think Kohli is important because he is captain, a leader and he is their best player — number one in the world. But 90 percent of their top seven have scored runs against us in the past so we can't look just as Kohli as a big wicket," the 36-year old said.
Anderson took his 27th Test fifer and credited the conditions for helping him in achieving the feat. "I think that if we bowled like that today, with those conditions, we'd bowl most teams in the world out because I think we were that good. We hardly bowled any bad balls, didn't give them much to hit and when you build pressure like that all day, no matter who you are around the world, it is difficult. We exploited those conditions as well as anyone in the world. I don't think it's just the Indian batsmen that would have struggled," he said.
The right-armer added that if he had messed up in such conditions, it would have made him feel bad about his bowling. "Honestly, I would have been so disappointed if I had messed up today because they were the ideal conditions to bowl in, I find it so much fun when like that. You don't often get conditions like that in England anymore, when the ball does that much through the air and off the pitch. The biggest thing is not trying to do too much, too many different things, just keep focus, try and bowl good balls and keep hoping they nick them eventually," he said.
Anderson further went on to add the decision to bowl first after winning the toss helped them in getting an advantage in the match. "The rain yesterday certainly made the decision for us at the toss and with a day missing as well, you need to bowl first. We didn't think it would do that much, it looked a good pitch, dry with a bit of green grass on top but not too much. Thought it might do a bit early on, but the moisture around all day helped it do a little bit more, and through the air as well. It was not particularly warm, but warm enough and that moisture that is in the ground just helps it move around. The four of us bowled really well," he said.
On being questioned how long he intends to continue playing cricket, the bowler said, "I don't think about numbers or my age, I feel like, I won't say 28, but 32. I don't feel old. I feel like I can still throw myself around in the field as well as anyone else so as long as I feel like that I'm just going to keep playing as long as possible. Hopefully the wickets will keep coming as well and I can help this team keep winning."
For all the latest Sports News, download Indian Express App