A mysterious viral outbreak with hallmarks of an ancient and evil strain of vampirism ravages the city of New York. It's the plot of the horror-drama series 'The Strain' that the latest Indian Test debutant Jayant Yadav is watching these nights at his hotel. It's a storyline that could well describe the way England's plight at Vizag.
After a good week in Rajkot, the horrors of an ancient evil strain of spin vampirism has hit them. There was some turn and variable bounce but their minds were shot more than anything else. There wasn't any demonic bounce or exaggerated turn; but the panic in the English camp was unmistakable. No wonder they collapsed to 103 for 5. Now trailing by 322 runs, they are staring at follow-on.
Their assistant coach Paul Farbrace termed it "meek, mild and soft". He also neatly summed up England's batting: "Cooky got a good ball, a daft run-out, then frenetic period of play where it looked like something was going to happen every ball… No point bleating and making excuses. Players have to adapt quickly if they are going to have long international careers."
Before we get into 'Cooky and the daft run outs', let's turn to the debutant. Jayant is an interesting character in love with the game. The sort who goes back to the hotel after day's play and finds himself running up and down bowling in the room. He is learning how to switch-off better, and that's where the TV shows come in. It was Narcos last September, now it's Guillermo del Toro 's The Strain. For a spinner, he sure likes these adrenaline-rushers.
READ: R Ashwin leads way, India take Jayant Yadav leap
On Friday, he pitched in with a fine responsible knock to support Ashwin and help India extend their total. He has often done well with the bat for the Haryana Ranji team. Their coach last term Surendra Bhave talks about a 97 he hit on a turner at Rajkot, after going in as a nightwatchman, though he likes talking about a hundred in Mysore as his partner that day was Virender Sehwag, who blazed a hundred. He had helped Sehwag get the correct lyrics of Tu Jaane na song from Ajab Prem ki Gasab Kahaani. So, his batting wouldn't have surprised those who watched him at the Ranji level.
However, this was a Test match and England were squeezing in the pressure on India, having removed Virat Kohli, Wriddhiman Saha and Ravindra Jadeja in quick succession. Luckily for Jayant, he had his mentor of sorts, R Ashwin, with him. For the first 10 minutes or so, Ashwin was across almost every ball, constantly chatting and guiding the young man. The two have a nice history, as Ashwin mentioned in the press interaction after stumps.
READ: Virat Kohli scores fourth highest Test score against England at home
"Me and Jayant go a long way back actually. Two-three years ago, he came down to Chennai, he was staying near my house for about two weeks. He practised with me and I know the boy really well. He is someone who can really understand what I say and we have a very, very good rapport. I felt really happy for him, the way he came out and batted positively. His body language was great. Every bit of communication between us was auguring into the partnership getting deeper, so I kind of enjoyed it." So no humming of songs, then.
His batting is uncomplicated just as his bowling, which perhaps have been more keenly watched by most as he had replaced Amit Mishra. He came on at a good time, with England already four down, but didn't let the Indian grip slip. He bowled both round and over the wicket, and got a nice rhythm going. Eyes down at the ground when he starts, he runs almost straight before he hops to get into a side-arm position at release. As the overs went by, his control increased, he stared to finish his action that much better and soon had his special moment. From round the stumps, he got one to drift in with the angle, and turn just about enough to beat the defensive prod of Moeen Ali. He had to wait a bit for his moment, as Indians opted for DRS, and huddled together waiting for the verdict to come in.
They all erupted with high-fives and back-slaps.
PHOTOS: England with mountain to climb in Visakhapatnam
It's best to hear from him on his bowling from a chat late last year. "I like to optimise side spin and top spin as a spinner. Only side spin would mean there won't be much bounce and only top would mean no great turn. I like to use my natural height for the bounce, and really like to turn the ball. There are days when I get a good feeling about my bowling. I know that today is going to be my day; it's just the way the ball comes out of my hand. I love that," he had told The Indian Express.
He must have loved the way the ball came out on his debut day and also enjoyed the moments he spent with Ashwin with the bat, and later bowling in tandem. Ashwin had another one of those days that we have come to expect of him. He got the ball to drift in and turn, and he also felt that he got the ball to "hang in the air" a bit.
It all synced up nicely for Ashwin with the bat and the ball. After yet another responsible knock in a semi-crisis for India, it was Ashwin who ensured India had enough runs to apply pressure and think about follow-on. As ever, the balance at the crease was top-class, and his hands and wrists ensured the runs kept coming.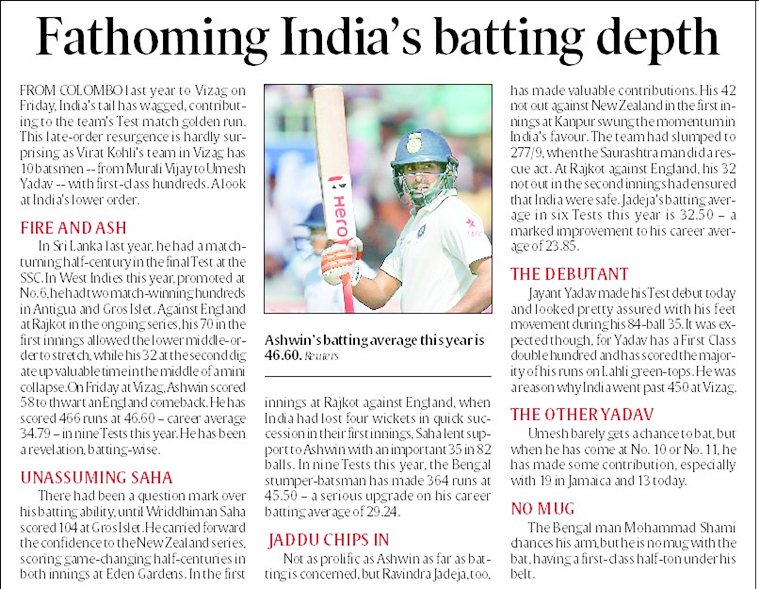 England up-Rooted
It was Ashwin again who was at the centrestage of the period of play that Farbrace termed frenetic. He got a couple past the inside and outside edges of Joe Root, who got to his fifty but decided to take on Ashwin. "We had the mid-on in for him," Ashwin said later about how he lured Root to go big. Off he went down the track but ended up slicing it to left of mid-off where Umesh Yadav pouched it safely.
Ashwin vs Ben Duckett was a no-contest. It seemed an inevitability, almost. With Duckett's iffy technique of pushing his front leg outside the leg-stump line that forced him to chase most deliveries away from his body, he seemed a sitting duck. It wasn't a surprise when the ball came with his name on it, he was so far away that he couldn't get any bat on the off break that spun away to hit the off stump.
The manic phase was triggered by the "daft run out" of Haseeb Hameed. And it featured sharp efforts from Jayant and Saha. Jayant moved swiftly to his right at deep square-leg, slid to stop the ball, and somehow managed to throw a pretty decent throw from that position. Meanwhile, Root decided against the second, sent back Hameed who slipped as he turned half-way down the track, and would still have hoped he might make it but Saha decided to morph into MS Dhoni. He not only collected the ball well in front of the stumps but also accurately back-flicked it at the stumps.
It came at the most importunate time for England who appeared as if they were just about recovering from the Cook dismissal to a good ball from Mohammad Shami. It rushed through with the seam slightly tilted towards off, and Alastair Cook's bat started to come through a touch away from him, covering for the angle, but the ball landed on the seam, wobbled, straightened a touch, and gatecrashed through the bat-pad gap. It was the beginning of the horror show.