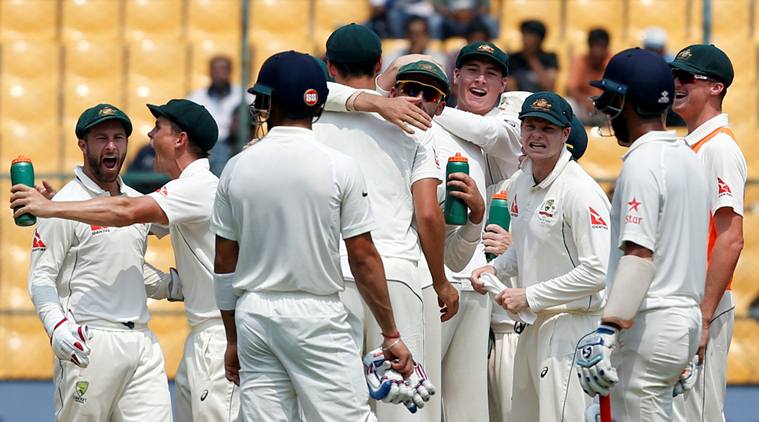 There were some insults traded by the Australians, particularly during the drinks break. (Source: Reuters)
Recently former Australian wicket-keeper Ian Healy was in the news when he said that he is 'losing respect' for Indian captain Virat Kohli for his constant sledging of the Australians.
Ironically, on Day 3 of the ongoing Test, it was the Australian team which took its chance to try and get under the skin of the Indian batsman by delivering verbal volleys. It was a hard day of Test cricket and the Aussies were clearly having a go at the Indians when they were struggling to get wickets. There were some insults traded, particularly during the drinks break.
It all began in the sixth over of the innings when Abhinav Mukund top edged Mitchell Starc for a six and a visibly frustrated Starc used some of his choicest expletives on Mukund. Mukund, being the true gentleman, only smiled back.
A similar incident happened in the 9th over of Nathan Lyon's spell as he bowled one more of his off-spinning deliveries. However, KL Rahul who was the batsman moved away because once again some person decided that it was the best time to walk across the sight-screen. But the Australian skipper Steve Smith was not amused and seemed a bit irked at the sequence of events and had a few things to say to Rahul.
In another incident Steve O' Keefe's celebration after getting the wicket of KL Rahul also seemed a bit too much. Rahul was playing well before he edged a nicely tossed up outside off stump. Steve Smith at slip flew full length to his right and took it behind his body. An overjoyed O' Keefe went overboard with his celebrations and gave Rahul an earful, which clearly did not please the Indian opener.
For all the latest Sports News, download Indian Express App