Ind vs Aus 1st Test Day 1 Highlights, India vs Australia Test Highlights: The first day of the opening Test between India and Australia belonged to the hosts but from 19/3 at one stage, Cheteshwar Pujara's 16th Test century has kept the visitors in it. At stumps, India are 250/9 with Pujara the last wicket to fall thanks to brilliant fielding from Pat Cummins. While the top order threw their wickets away, the middle and lower order was largely patient with things getting easier. Pujara found support from Rohit Sharma and then R Ashwin for fifty run stands. At close, Mohammad Shami is unbeaten on 6 with Jasprit Bumrah yet to join in.
For Australia, there was equal contribution from all main bowlers with Mitchell Starc, Josh Hazlewood, Pat Cummins and Nathan Lyon all taking two wickets each. The hosts, however, would be pleased with the job done as they didn't allow any chances to go waste and were efficient in the field with bowlers sticking to good line and length for the most part.
Border-Gavaskar Trophy, 2018/19
Adelaide Oval, Adelaide 22 October 2019
Australia

235

(98.4)

&

291

(119.5)
vs
India

250

(88.0)
&
307
(106.5)
Match Ended ( Day 5 - 1st Test ) India beat Australia by 31 runs
Live Blog
India vs Australia 1st Test Day 1 Score and Updates: Follow in Tamil
Stumps!
That is also the final act of the day with India finishing day one at 250/9. India were 19/3 at one point, ambled to 143/6 at Tea and finish the day at 250/9 with Pujara the key figure in the comeback.
RUN OUT!
WHAT A RUN OUT! Breathtaking bit of fielding from Pat Cummins and that is possibly the only way one could have stopped Pujara today. Cummins has one stump to aim at from short midwicket. Pujara tries to steal a single but is undone by sheer athleticism. Cummins moves to his right, picks it up one-handed and hits the bulls-eye while falling to the ground. Pujara is short and has to walk back on 123 from 246 balls.
FOUR! SIX!
Mitchell Starc hasn't been all that effective with the new ball bar that Ishant wicket. Full on Pujara's pads and it is whipped away as he bisects long leg and fine leg for a four. Next ball and this is sent away for a six. Second six for Pujara. Short and wide by Starc, Pujara lashes it away through backward point and it just about clears the rope
Whattey Stat!
Plenty of similarities in technique, style and attitude between Rahul Dravid and Cheteshwar Pujara - but this is getting quite interesting.
Do you know?

Dravid and Pujara have reached their milestones of 3000 runs, 4000 runs and 5000 runs in Tests in SAME number of innings.

3000 runs in 67 innings
4000 runs in 84 innings
5000 runs in 108 innings

Heights of coincidence! #AusvInd

— Bharath Seervi (@SeerviBharath) December 6, 2018
CENTURY!
Cheteshwar Pujara tucks it away on the leg side for a double and brings up his 16th Test hundred, third against Australia and first in Australia. On the pads by Starc and plays it away. Completes the double and punches the air in celebration. Gets the applause from the dressing room. But not before telling his partner to run for a two - team before personal milestone indeed.
FOUR!
Next ball is hit for a four. This one is a controlled shot - much more like Pujara. This pull is sent towards the square leg boundary. Does well to get on top of the bounce. On to 99 now
SIX!
Cheteshwar Pujara is moving towards his century and this is a rare mistimed effort from him but enough on it to clear the ropes. Pulled away and it goes past the fine leg boundary. Takes him to 95
WICKET!
Ishant Sharma is bowled by Mitchell Starc and it was only a matter of time. Ishant is dismissed for 4 and Starc leaves India eight down with Pujara on the verge of being stranded at the other end. Full, pacy and swinging back in at the stumps, cleans him up! India are 210/8
LBW? India review
Ishant Sharma offers no shot to a Mitchell Starc delivery and it hits him on the knee roll. Decision on-field is out. Ishant Sharma goes upstairs to review. It had pitched in line, impact was in line but it was going over the stumps. NOT OUT! India retain their review
New ball taken
Australia have taken the new ball immediately as it became available. Mitchell Starc to use it with Ishant Sharma on the batting end
Caught behind? Australia review
Tim Paine the only man interested in a caught behind on Ishant off Lyon. He opts to review with others not looking overly enthusiastic about it. Keeper's gut? There's no bat involved with nothing on Snicko or Hotspot. Decision stands. Australia lose their review
WICKET!
Pat Cummins gets Australia the breakthrough and the 62 run partnership is broken with Ashwin departing for 25 runs. Length delivery around off by Cummins, rises up and Ashwin pushed at it but is undone by the bounce. Gets the splice and goes flying to second slip where Handscomb takes a sharp catch. India are 189/7
FOUR!
First boundary for India in 65 balls and it comes from Ashwin's bat. Pat Cummins with width on offer and Ashwin uses his hands to play it for a boundary. Opens the face of the bat to steer it through backward point
Harsha Bhogle with smart advice
Commentator Harsha Bhogle with some smart advice with Cheteshwar Pujara emodying it perfectly. 50-run partnership between Pujara and Ashwin now
This match is telling us what we have been told for years. And what will remain true in the years to come. Hang in and the runs will come. But hang in when the bowlers are rampant.

— Harsha Bhogle (@bhogleharsha) December 6, 2018
FIFTY!
A well-played fifty for Pujara. He has taken 123 balls to get there. Has played both the seamers and Lyon well. His 20th Test fifty, seventh against Australia and second Down Under. Length ball from Starc on the pads and it is flicked to fine leg for a single
Run out?
Ashwin plays a Lyon delivery to square leg and the attempt at stealing a quick single almost backfires for India with a Pujara wicket. A desperate dive keeps him alive. Third umpire doesn't take long in deciding his fate
TEA!
TEA! India lose two wickets in the session while scoring 87 runs. They go into the break at 143/6. Cheteshwar Pujara unbeaten on 46 alongside R Aswhin on 5
WICKET!
Rishabh Pant's eventful stay in the middle ends. Prematurely? Maybe not. Umpire Kumar Dharmasena takes his time in raising his finger and as he does, no questions asked from Rishabh Pant who is dismissed for 25 from 38 balls. Nathan Lyon gets his second. Off-break delivery from round the wicket, perfect length and takes a feather behind to Paine. India are 128/6
Pant flirting with luck
For three straight balls, Rishabh Pant has come close to being dismissed and he's, somehow, survived. Starc had beaten him in the last over and toying this time too. First ball of the over, Pant loft this down the ground but gets the timing horribly wrong but lucky in the end. Next ball, is a SIX! Pant not holding back and sends this over deep backward square leg. Used the pace to perfection but had luck by his side with fine leg in place. Next up: It is edged but through the cordon!
WICKET!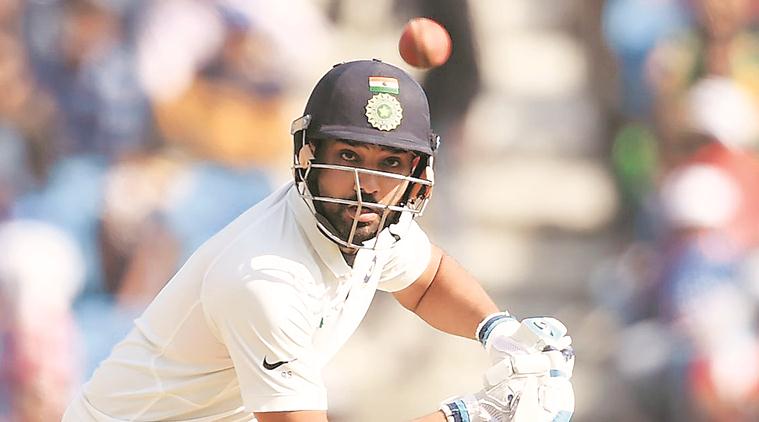 Absolutely silly from Rohit Sharma and he pays for it. Got a good start, looked set for a big total and has now thrown away his wicket. Poor shot and Lyon strikes. Rohit walks back for 37 and India are 86/5. Rohit uses his feet and then tries to slog sweep this over deep square leg. The ball turns away from him and gets the top edge that goes way up. Harris has no trouble in catching it this time.
SIX!
Rohit Sharma with his third six of the inning. Swept and Harris takes a catch near the ropes but the momentum has taken him past the boundary rope. Tries to throw it back into safety but looks like his foot was still on the ground when he released the ball
Pujara getting the runs
Last over Cheteshwar Pujara got his first runs of the partnership, first after 30 balls and first run in over an hour and now he's got a boundary as well. Short and wide from Starc, slashed hard over slip cordon by Pujara and it races to the third man fence
SIX!
WHAT. A. HIT! SIX! That is sweetly timed and this comes out of nowhere. From the sweet spot of the bat and this has gone well past the boundary rope. Pat Cummins bowls outside off and Rohit with a lofted front foot drive over deep cover for a six!
Second session underway
Pat Cummins has the ball first up right after the Lunch break. Rohit Sharma on the batting end. Second ball is pitched up, quite full and outside off, Rohit is on to it quickly to cream it through the covers for a four. Poor delivery but beautiful shot
LUNCH
LUNCH! The morning session belongs to Australia with India 56/4. Rohit Sharma on 15 and Cheteshwar Pujara on 11
SIX!
Rohit Sharma with the second six of the day for India. Pat Cummins with a delivery banged in short and Rohit stands up tall to it for the pull. And the pull clears the deep square region. Cummins with a little lip service right after with a smile.
FOUR!
India bring up their fifty with a boundary off Rohit Sharma's blade. Finds the gap on the off side with a lovely drive. Leans into the shot against Lyon and pierces the fielders at cover and extra cover
WICKET!
Absolutely dreadful this from Ajinkya Rahane. India have lost four wickets in the morning now to deliveries outside off and this is the worst of the lot. Full and wide by Hazlewod, Rahane goes for the drive only to send a booming edge to Handscomb at second slip. The delivery was way outside off stump. Australia are not letting any chance go and India are helping by throwing it all away. Rahane walks for 13 and India are 41/4
SIX!
Lovely use of the feet from Ajinkya Rahane and it brings up the first six of the Test series. Rahane doing a good job of taking the attack on to the Australian bowlers and on to the spin. One step, two and bang! Gets to the pitch of the ball and spanks it over mid-wicket for a lovely hit.
CHANCE!
Ajinkya Rahane comes down the track to Nathan Lyon and adjusted late on to bring his wrist into play. Went to clip it off his pads and just gets this past Peter Handscomb at forward short leg. Harris got his fingertips to it but doesn't manage to hold on. He should have ideally carried through with his hands but drops away at the end. Could have been first wicket for Lyon in the first over and India four down... Should have maybe.
WICKET!
Third ball, wicket for Pat Cummins! What a catch by Usman Khawaja and this is the big fish. Virat Kohli walks back after scoring just 3 and India are now in serious trouble at 19/3. Another India batsman fails to the drive outside off. Full and wide of off from Cummins, Kohli goes in with hard hands on the drive and the ball was flying. Khawaja flew to his left and takes a stunner! A catch that may well make the difference in the end.
Catches win matches. That from Usman Khawaja was good enough to win it. India have started badly in Australia with Kohli gone

— Harsha Bhogle (@bhogleharsha) December 6, 2018
Bowling change
First bowling change of the Test series Pat Cummins replace Starc. Three slips and a gully in place as he comes charging in to bowl to Virat Kohli.
Virat Kohli early in to bat
Virat Kohli scored his maiden Test century at Adelaide. Made his captaincy debut (albeit as a stand-in) at Adelaide. And now he comes in to bat early at Adelaide. But will he be able to lead India to a win at Adelaide? Remains to be seen. His record here:
Tests: 116, 22, 115, 141
ODIs: 18, 15, 107
T20I: 90*
WICKET!
And now the other India opener perishes. The misery at the top of the order and for Murali Vijay just doesn't end. Another poor start for India and Mitchell Starc gets the wicket this time. Murali Vijay walks back after scoring 11 runs and India are 15/2. Another teaser just outside off by Starc, brings out another drive played with hard hands and the chance is taken gleefully by Paine behind the stumps
FOUR!
First boundary of the Test series and it comes off Murali Vijay's bat. Not a comfortable shot, didn't have full control of it but went hard at it enough to clear the infield. Error in line by Hazlewood, Vijay throws his bat at the delivery well outside off, slices it in the air and over backward point
KL Rahul-Murali Vijay opening stands
KL Rahul and Murali Vijay's opening stands outside India: 0, 48, 4, 3, 28, 11, 7, 0, 0 and 3
Avg partnership: 10.4
WICKET!
Josh Hazlewood strikes in just his first over of the Test series. KL Rahul goes back after scoring 2 runs. Ball pitched up, well outside off stump, KL Rahul goes after it but only ends up getting an outside edge which is taken by Aaron Finch in the slips. India are 3/1
Big start for Australia. Cracking over from Hazlewood who could be the quiet achiever of the series. Rahul needed a good game.

— Harsha Bhogle (@bhogleharsha) December 6, 2018
Song. Anthems. PLAY!
The anthems are done after a traditional song. Lovely setting for Test cricket. Ready for play to get underway. Mitchell Starc has the ball and the first ball is bang on the money, down the centre and returned back on the defence by KL Rahul. Murali Vijay is with him at the other end
Whattey stat!
This will be Australia's first Test on home soil without either David Warner or Steve Smith in the playing XI since 2010 at Adelaide
TEAMS
Australia playing XI: Marcus Harris, Aaron Finch, Usman Khawaja, Shaun Marsh, Peter Handscomb, Travis Head, Tim Paine(w/c), Pat Cummins, Mitchell Starc, Josh Hazlewood, Nathan Lyon
India playing XI: Murali Vijay, KL Rahul, Cheteshwar Pujara, Virat Kohli(c), Ajinkya Rahane, Rohit Sharma, Rishabh Pant(w), Ravichandran Ashwin, Jasprit Bumrah, Ishant Sharma, Mohammed Shami