Ind vs Aus 4th Test Day 5 Highlights: Play was called off on the final day and that meant that the four-match Test series ended 2-1 in favour of India. India's first ever Test series was against Australia in 1947/48 and it was played in the latter's backyard. 71 years later, on January 7, 2019, India's first ever Test series win Down Under was confirmed.
The team did a lap of honour at the Sydney Cricket Ground and Virat Kohli went on to rank this as the greatest achievement of his career. Cheteshwar Pujara was the man of the match and player of the series.
Border-Gavaskar Trophy, 2018/19
Sydney Cricket Ground (SCG), Sydney 17 October 2019
Australia

300

(104.5)

&

6/0

(4.0)
vs
Match Ended ( Day 5 - 4th Test ) Australia drew with India
Live Blog
Ind vs Aus 4th Test Day 5 Highlights:
That's it then
India's away Test season ends. They showed what they are capable of by winning the third Test of the South Africa series on a treacherous pitch and later in England through their performances in Birmingham and Nottingham. But it all came together beautifully in Adelaide and more notably in Melbourne, where the much-maligned Indian batting lineup finally showed up. We leave you with links to what Virat Kohli had to say in the post-match presentation (this win is above the 2011 World Cup for him!!) and some images of Indian players celebrating at the SCG. Watch more Test cricket, keep it alive, it is a precious commodity indeed. Ciao!
Fifth team to win Down Under
India join England, New Zealand, South Africa and the legendary West Indies teams of the 20th century in an elite group of sides that have given Australian players some miserable days in their careers. MORE STATS
The President of India sends his wishes
That is how big this series win is. We have a report ready for you and a lot more stuff will be coming this way so stick around.
Congratulations to @imVkohli and his team for reaching one of Indian cricket's final frontiers and winning a test series in Australia for the first time. Gritty batting, marvellous fast bowling and a fine team effort has done us proud. Let's make a habit of it! #PresidentKovind

— President of India (@rashtrapatibhvn) 7 January 2019
A lot of love for India
Ravi Shastri has been part of the teams that won the 1983 World Cup and the 1985 World Championship and he rates this victory as "equal or bigger" because it has come in the truest format of the game. It is a landmark for Indian cricket and Twitter is gushing over it. READ
India lift the trophy
"I have tears in my eyes," says Sunil Gavaskar, who is in the studio and not on the presentation dais.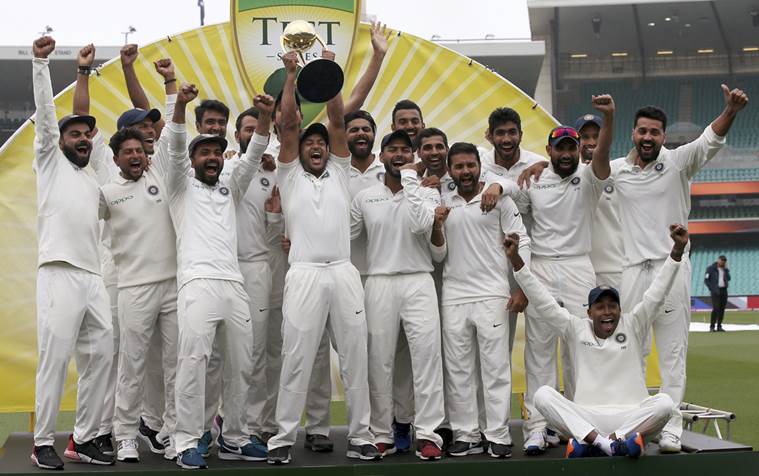 Virat Kohli
Captain, superstar, best batsman in the world, and this, according to him is his greatest achievement:
"Firstly, I want to say I've never been more proud of being part of a team, than this one right here. The culture we've built, our transition began right here, where I took over as captain, and I can't believe that after four years we've won here. Just one word to say, 'proud', to lead this team and it's an honour and privilege. The boys make the captain look good.
By far, this is my biggest achievement. It's at the top of the pile. When we won the 2011 World Cup, I was the youngest member of the side. Saw everyone emotional there, but I didn't feel it. Here, after coming three times, this win means something else. The series win will give us a different identity, and what we've been able to achieve... something to be proud of.
We spoke about our batting as a team, wanted to do the basics. The old, hard grind. Special mention to Pujara, he's been outstanding in the series, especially after his last time out in Australia. He's one guy willing to accept things, he works on his game, he's the nicest man around, and we feel happy for him. Special mention to Mayank Agarwal too, he stood up as a champion on Boxing Day. Speaks highly of his mindset, but as a batting group we all contributed. It's something that augurs well with the team.
The way the bowlers have dictated and dominated, not here but also in England and SA, it's something I haven't seen before. Hats off to them, the way they've prepared, their fitness levels, and their mindset. They discuss how to take wickets, and then they dictate their plans to me. It's a revelation in Indian cricket, and something for the bowlers at home to learn. These guys will be looked up to for a long, long time, and they deserve to break the record of the great West Indian fast bowlers.
This is just a stepping stone for us. The average age is quite low, but most importantly we had the belief. We had that in SA and in England, and when you're working in the right direction then God knows you're honest. We want to do the best for Indian cricket, and this is outstanding, but it's just a stepping stone. Australia are always going to be competitive. Every team goes through a transition, and their dominance kept world cricket exciting for so many years. I'm sure they'll regroup as a side and play some exciting cricket in the future. We all deserve to enjoy.
The celebrations, I assure you, will run long. The boys are physically and mentally drained, and we have no more alarm clocks in the morning. And I want to mention about the crowd as well. They've been outstanding. They never let us feel we're playing away from home. And they deserve this feeling as much as we do."
Tim Paine
His tactics may have been questioned in this Test in particular, but Paine was given a fractured squad and he has stood tall in the face of the defeats. "Have to tip our hat to India, we know how tough it is to win in India so congrats to Virat and Ravi because it's a huge achievement. Disappointed, definitely over the last two Tests. We had our chances in Adelaide, in Perth I thought we played some good cricket, but in Melbourne and Sydney, we've been outplayed. There's been some positives: some talent in this team, and it was good for our top six to play against potentially the world's best bowling line-up. We have Tests against Sri Lanka and then the Ashes, so this series was important. The message to everyone in domestic cricket is to keep scoring runs. We know there are guys outside of this group who want to come in. No illusions, we need to keep working hard. Cricket's a funny game and it can turn very quickly. I'll go home for a couple of days, and most of the guys will be going to the Big Bash for a bit. And then, we'll have an eye on for the series against Sri Lanka."
Cheteshwar Pujara, man of the series
521 runs scored, 1258 balls faced, Pujara has been Herculean in this series: "It's a great feeling for all of us. We've been working hard to win a series overseas, and winning in Australia has never been easy. And really pleased with my contribution. For me, the first hundred was special. Scoring a ton at Adelaide and going 1-0 up is what we were aiming for. As a batsman, I was just getting used to the pace and bounce, and apart from that, playing in South Africa and England has helped me improve my technique. For me, it's all about preparation and I was very well prepared. This is the best Indian side I have been part of. And I would also like to congratulate all our bowlers. We've had four bowlers, and it's not easy taking 20 wickets, so credit goes to all our fast bowlers and spinners..remarkable. I'll be playing some first-class cricket back home, and I'll play some county cricket during the IPL. But the next Test series is some 6-7 months away, it'll give me some time to prepare. I would like to play white-ball cricket, but Test cricket is my priority, and it always be so."
PLAY CALLED OFF, HISTORY FOR INDIA
2-1 it is! India become the first Asian team and the fifth overall to win a Test series on Australian soil. 72 years it's been since India started playing Test cricket and finally, the day has come when at the end of a series, it is the Indian team with all the smiles. Virat Kohli's men have shown flashes of brilliance throughout 2018 in the away series that they have played in England and South Africa but they have truly come to the fore here. This may not be the greatest of Australian teams but make no mistake, the performances that India have put in Melbourne and Sydney are as close to perfection as you would see in Test cricket. An extraordinary achievement.
Match officials to meet ground staff at 2.30 pm local time
Which translates to 9 am IST. It's been nearly an hour past the scheduled start time for the second session. It looks like this series is going to end 2-1 in India's favour.
Second session delayed
We are nearly half an hour past the scheduled time for the second session to start, the covers are still on at the SCG and so the weather is still eating overs away from this Test match. Michael Clarke had said on Day 3 after India's brutal first innings that it is only rains that can save Australia now. Well...
Second session
The earliest that play can start post-lunch is 1.10 pm local time or 7.40 am IST.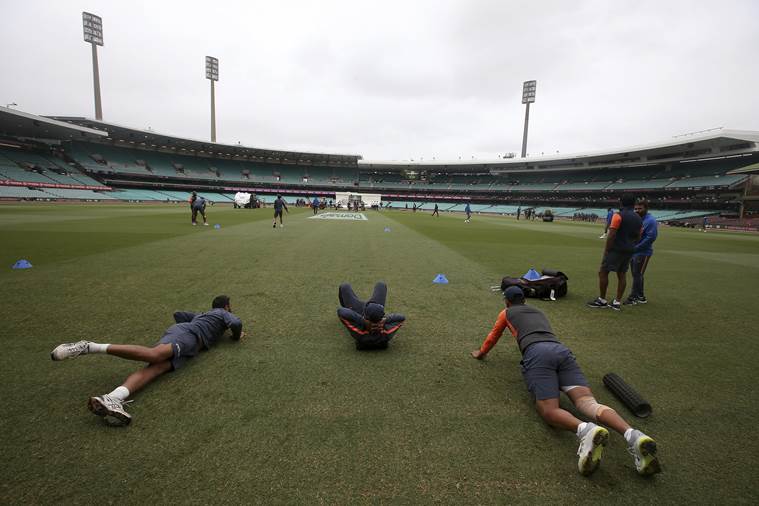 Reverend Bull
Steve Smith and Cameron Bancroft have been almost as visible as the members of the Australian team during this Test series and the one thing they both did is leave David Warner to hang out dry. His reputation has not helped him at all but his stoic silence has shown that there may be more to Warner than the snarling aggressor he has been perceived as for the majority of his extraordinary career. READ MORE
Paine
An interview with the Australian skipper is being aired on Sony. He reckons today presents a great opportunity for the Aussie top order to prove themselves and that this has been a good series for the battered hosts despite the fact that they have been outplayed. He says he is personally disappointed with the way he batted in the first innings and he was making his way to the nets while giving the interview. Michael Clarke later says that Paine is a "lovely guy and a brilliant wicketkeeper." He was in the process of retiring, says Clarke, when he was suddenly picked for the Ashes. He has earned a cult following in India because of his duals with Rishabh Pant and his wife certainly helped him on that front. He is a rare thing, Tim Paine - a likeable Australian player.
Gloomy days
Another first session of the Sydney Test has been washed out. A lot of ridicule came the officials' way when the play was abruptly stopped yesterday because of bad light.
Lunch to be taken at 12.30
It was announced that Lunch would be taken as scheduled; 12.30 pm local time or 7 am IST. We are going to have another washed out first session here.
Pettering away
It is still raining at the SCG and it doesn't look like we are going to see a start any time soon. No official word has come yet but this could be a good time to start thinking about an early lunch.
Still raining
No updates on when play will start. If you are deciding to stick around, then you can pass the time by reading about India's Million Dollar Arm.
History nonetheless
Virat Kohli was a relaxed, jovial figure in the dressing room as he waited for the play to start during the second delay. Only they can win this match from this point but even if they don't, they are leading the series 2-1. This means that a first ever series win in Australia is on the cards and this is also the first time ever that an Asian team will be winning a Test series Down Under. It's all good for India.
And finally...
...the BCCI realised that it could use its twitter handle to tweet updates from the SCG too. All those umbrellas in the pics don't augur well at all.
Covers are on. Begun to rain here. The start has been delayed #AUSvIND pic.twitter.com/KjPxppMMAE

— BCCI (@BCCI) January 6, 2019
Confirmation
Apart from the fact that we are 15 minutes past 4.30am, here is Cricket Australia's tweet about the delay. The BCCI twitter page is as responsive as a log.
Confirmation of a delayed start to day five at the SCG... #AUSvIND https://t.co/CaiEbSjKbT

— cricket.com.au (@cricketcomau) January 6, 2019
Hello and welcome!
The forecast for Day 5 is not one that India would have wanted to see. It is expected to rain and so interruptions are bound to happen and it seems it is drizzlin in Sydney already. Covers are on and the early start, whch was supposed to be at 4.30am is in a bit of a jeopardy. Yesterday play had to be called off due to bad light and the decision attracted anger and ridicule from fans and experts alike. Cricket Australia announced earlier today that despite cloudy conditions, play is expected to start at 4.30am but in all probability, we will be having a delayed start.