Ind vs Aus 4th Test Day 4 Highlights: Marcus Harris and Usman Khawaja held on to ensure that Australia get as close as possible to the end of the second session as possible before some of the more excentric rules of Test cricket came into play. The umpires had to call off the players for an early Tea after an already washed out first session and no cricket was played since.
In the little window of action that we got on the fourth day, Kuldeep Yadav got a fifer in his very first Test match in Australia and Jasprit Bumrah put up an incredible display of fast bowling in his final over of the day.
Border-Gavaskar Trophy, 2018/19
Sydney Cricket Ground (SCG), Sydney 25 May 2019
Australia

300

(104.5)

&

6/0

(4.0)
vs
Match Ended ( Day 5 - 4th Test ) Australia drew with India
Live Blog
Ind vs Aus 4th Test Day 4 Highlights:
Play called off!
That's it, nothing to see here folks. Weather-watch/play on Day 5 will begin at 4.30am on Sunday. Australia end 6/0 (f/o), trailing India by 316 runs. Similar forecast tomorrow so it very much looks like the clouds above Sydney have salvaged a draw for Australia.
Brickbats are coming out
This is a perfect example of how full of itself Test cricket can be at times. The game is facing trouble drawing in crowds, there is a good number of people at the SCG today despite the fact that the first session was washed out and now this. By all accounts from the stadium, the light is good enough. Perhaps the players should wear torches on their caps whenever they are allowed to come out. There is still officially one hour left for play to be called off.
Just 25.2 overs today. I know there is a protocol to be followed with light metres, and umpires are bound by that, but test cricket needs as much play as possible. Think you must play till as late as possible.

— Harsha Bhogle (@bhogleharsha) January 6, 2019
Looks like we'll have to wait for Monday morning for a possible 3-1 in Sydney.. ok then, Back to bed... #DadCricketGuy #IndvAus pic.twitter.com/RgOqL9drtJ

— Jatin Sapru (@jatinsapru) January 6, 2019
No issues with the light in the games being played outside the SCG. pic.twitter.com/4A7gWLLEP7

— Steve Cannane (@SteveCannane) January 6, 2019
The umpires taking the players off for bad light when the lights are burning bright is rediculous. Cricket is too precious. Communication can solve this. With all the advancements of other sports, this infuriates viewers and loses eyeballs. It is a crazy situation. #AUSvIND #SCG pic.twitter.com/T2H7uyzjaD

— Mike Haysman (@MikeHaysman) January 6, 2019
Will I need to bring my torch to the @SCG tomorrow?

— Rick Eyre on cricket (@rickeyrecricket) January 6, 2019
The SCG crowd, clearly bored of these shenanigans, are 'helping' by shining their phone flashlights into the middle.

Anyone who came by car, please park facing the pitch and turn your full beams on.#AUSvIND ??????????

— Guerilla Cricket (@guerillacricket) January 6, 2019
I was gonna take a happy photo to show how pumped I was to finally go to the SCG, but rain and bad light means you can have a sad one instead. pic.twitter.com/XIhd6g01dG

— Giles Dexter (@GideyDexter) January 6, 2019
Play delayed @scg. Bad light delaying the start of play. Perhaps not good for bringing in the crowds pic.twitter.com/7RyrWwKrn9

— Dan Paine Stapleton (@Dan_Stapo) January 5, 2019
Warne and Kuldeep
There were visuals yesterday of Shane Warne giving some advice to Kuldeep Yadav before the start of play.
Well bowled & congrats on your 5 wicket haul @imkuldeep18 also, thankyou for your very kind words - it's been a pleasure to work with you & watch you bowl my friend ! 👍 pic.twitter.com/35vNtL8qp5

— Shane Warne (@ShaneWarne) 6 January 2019
Absolute rubbish
Michael Clarke is tearing into the umpires in the studio. He points out to the fact that there are day-night Tests and ODIs and T20Is, how can it not be safe now? The covers are coming on now.
And they go back
They came out without their hats on. Just hung out on the pitch, chatting about the weather. In normal parlance that would mean a mundane conversation but in this case, the entire day's play hinges on it.
The umpires taking the players off for bad light when the lights are burning bright is rediculous. Cricket is too precious. Communication can solve this. With all the advancements of other sports, this infuriates viewers and loses eyeballs. It is a crazy situation. #AUSvIND #SCG pic.twitter.com/T2H7uyzjaD

— Mike Haysman (@MikeHaysman) January 6, 2019
Umpires are walking out
Harsha Bhogle says on Sony that it is clear as day (haha!) at the SCG. The BCCI had tweeted that play was to start at 4.03pm local time which means it should start in about five minutes.
Bumrah and Shami alternating
Harris had ducked right into a delivery that stayed down from Bumrah. India made a half-hearted appeal. The openers have found the going tough so far.
India enforce the follow-on
Australia's second innings will start at 3.24 local time which translates to around 9.55am IST. They trail India by 322 runs now. It is the first time since 1988 that Australia have been asked to follow-on in their own backyard.
A fifer for Kuldeep! #TeamIndia enforce the follow-on #AUSvIND pic.twitter.com/i1ELzcDbPp

— BCCI (@BCCI) 6 January 2019
OUT! Kuldeep gets his fifer
Australia 300 all out. Hazlewood reviews the LBW decision, no inside edge, wickets is umpire's call and a 42-run stand ends. Kuldeep holds the ball aloft and leads his team back into the dressing room, no indication yet as to whether India will enforce the follow-on.
Starc and Hazlewood
They have put up 41 runs for the final wicket and it is now the third highest partnership of this innings.
Bumrah spitting fire
147 kph, 147 kph and 148 kph and somehow Hazlewood survives that barrage. Jadeja bowls the next and Kuldeep follows up so Bumrah clearly knew this would be his last over for the time being. This was Handscomb's wicket.
Bumrah was fired up after this one!#AUSvIND | @toyota_aus pic.twitter.com/8uy8LPbTp7

— cricket.com.au (@cricketcomau) January 6, 2019
HAZLEWOOD DROPPED!
Kuldeep has been denied a fifer. He can't believe it. Hazlewood skies a sweep, Vihari is underneath it at mid-on and he tries to get a reverse cup the ball, it bounces off.
Bumrah's variations
Bumrah bowls a yorker that was below the 115kph mark. Starc digs it out and the two pacers share a smile. The next ball is cranked up to 142kph and Starc smashes it through mid-off for four. Who knew we would have an interesting competition between these two.
OUT! Lyon trapped by Kuldeep
Ace spinner gets ace spinner. Lyon tries a sweep on a full toss, misses it completely and takes it full on the toe. As plumb as they come. Australia are 258/9 now. They need 165 runs to avoid follow-on.
BOWLED HIM! BUMRAH GETS HANDSCOMB!
BUMRAH FINALLY GETS HIS FIRST WICKET OF THE MATCH! Delivery on off stump climbing up to Handscomb's hip and seaming back in, Handscomb inside edges it to his legs and the ball ricochets to the stumps. Australia 257/8.
Kuldeep brought in...
...to take out the tailender but Handscomb keeps strike and hammers him for two fours. Handscomb is known for his ability against spinners. Australia 257/7.
Session timings
The current session will go on till 10.20 AM IST. The final session will start at 10.40 AM and will go on till 12:30 PM. Play can be extended till 1 PM.
Updated session times:

Session 2: 1:50-3:50pm
Session 3: 4:10-6:00pm

A minimum of 58.3 overs to be bowled today. The latest play can go through to is 6:30pm #AUSvIND https://t.co/CaiEbSjKbT

— cricket.com.au (@cricketcomau) 6 January 2019
OUT! CUMMINS GOES!
The new ball is only two deliveries old and Shami has struck with it already! The ball keeps low, hint of a shape into the batsman and it beats him completely. It hits the lower half of the off stump.
We have cricket!
Jadeja finishes off the 84th over that was left halfway yesterday. Handscomb holds off and India take the new ball.
Play to begin at 8.20 am IST...
Drizzling again
Word from the middle is that it has started drizzling again and the groundstaff is bringing back the covers. Stay tuned for further updates on this cricket blog/live Sydney weather report. Meanwhile, you can check out today's Eye story in which Saina Nehwal and Parupalli Kashyap spill the beans on the greatest match of their life.
The forecast
was that there was to be rains on the morning of Sunday and it will move away as the day wears on so we may have a washed out first session but that won't be the case for the rest of the day. In fact, we could have two full sessions still today.
Lunch to be taken at 7am IST...
... or 12.30 local. Covers are still very much so that means that we can safely assume that the first session has been washed out.
And on the third day...
No, Australia did not rise like Jesus Christ would according to the Biblical prophecy. They sat up for some time though with Marcus Harris, who has been one of the few positives for the Aussies out of this series, and fellow opener Usman Khawaja getting their side off to a fluent start but the latter was soon dismissed by Kuldeep Yadav. The Australian middle order then fell to the rejuvenated spin pair of Jadeja and Kuldeep while Labuschagne was done by a piece of collective brilliance by Kohli, Rahane and Shami. Paine also fell and now we have come to the current stage of the game.
Recaping
India had won the toss and elected bat first. In fact, considering how the innings went, there was chatter on Twitter that Kohli may have elected to bat "only" in this match. For India went on to plunder the Aussies over a good part of the first six sessions of the match. The indomitable Cheteshwar Pujara was the protagonist of the innings for most of it. By the time he was dismissed by Nathan Lyon, Pujara had batted 373 balls and scored 193 runs. Then came Rishabh Pant and Ravindra Jadeja. Pant scored 159, Jadeja made 81 and the pair contributed 204 for the last wicket. In fact, only two stands contributed less than 50 runs throughout the innings while three put in more than 100 runs each. India declared at 622/7 in the final session of Day 2.
SCRATCH THAT!
It has started raining again and so the 11am local time/5.30am IST start is no longer possible. The groundsmen take centre stage once again.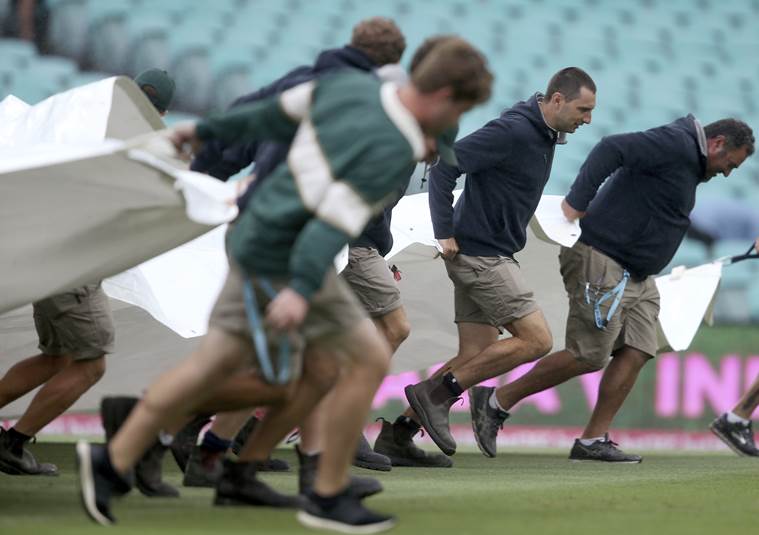 Covers have come off
Word from the middle that if there are no further rains, play will begin at 11am local time i.e., 5.30am IST.
Update: The covers are off. The umpires have done their inspection. If there is no further rain, play will commence at 11:00AM (local) #AUSvIND pic.twitter.com/s2bOQWBbAf

— BCCI (@BCCI) January 5, 2019
Bum…rah…rah…rah
If you are a person who is familiar with western rock music over the past thirty years, you would know a song called Zombie by The Cranberries. If not, listen to it for some time and replace the "Zombie" part with "Bumrah" and you would understand what the Aussie supporters sang for India's superstar pacer in Perth. READ MORE
Start delayed!
The early start is in jeopardy. The pitch has been covered. Honestly, though, unless the clouds turn the SCG into a water bowl over the next two days, Australia always stand a chance of getting all out at least once. They are 386 runs away with just four wickets left and Jasprit Bumrah is hungry for his first wicket of the match. Anyhow, they have their first series win sealed now. If Australia manage to win from here, it will be the cricketing equivalent of a train robbery with toy guns for weapons and bicycles for getaway vehicles.
Bad light has delayed the start of play on day four at the SCG #AUSvIND pic.twitter.com/MhFHdcWbmd

— cricket.com.au (@cricketcomau) 5 January 2019
Hello and welcome!
There were visuals of Richard Kettlebrough was looking at the light metre and then looked at his companions in the middle with a rather amazed expression. Murky and overcast but little chance of rain is the verdict at the moment and it seems the pitch remains a good one for the batsmen. Australia are six down but they have their most solid batsman - Pat Cummins - and Peter Handscomb in the middle. Let's see what they can get up to today against an Indian attack that is smelling blood.