India A vs West Indies A, Ind A vs WI A 5th ODI Highlights: India A beat West Indies A by 8 wickets in the final unofficial ODI of the five-match series at Coolidge Cricket Ground, Antigua on Sunday.
Ruturaj Gaikwad (99) and Shubman Gill (69) came up with a blistering start to the chase and Shreyas Iyer and Manish Pandey saw the chase through. In the first innings, Navdeep Saini (2/31) was the pick of the India A bowlers. He took two wickets and had the best economy rate. The Chahar brothers picked up two wickets each too, while Krunal Pandya was at his economical best. Khaleel Ahmed, the other pacer in this match who will have a role to play in the series between India and West Indies, returned disappointing figures of 1/41 in 6 overs.
India A had won the first three matches batting first. They were put under pressure of a target of 299 in the fourth ODI. Axar Patel stood out in the narrow loss with his unbeaten 67-ball 81 in that defeat, the only defeat for India A on this tour so far. The two teams will now meet in the first unofficial Test on July 24.
Live Blog
India A vs West Indies A, Ind A vs WI A 5th ODI Highlights:
India A win by 8 wickets
The winning runs are hit in the 33rd over. Handshakes all around. India A have won the five-match series 4-1. They just brushed aside the West Indies A bowlers today. Ruturaj Gaikwad (99) and Shubman Gill (69) came up with a blistering start to the chase and Shreyas Iyer and Manish Pandey saw the chase through. All the Windies bowlers have suffered economy rates above 6 today. Not the best day in office for them.
Gaikwad out for 99
Heartbreaking for Ruturaj Gaikwad! The 22-year-old is crumpled on his crease for a few seconds in disappointment. Flicked to midwicket, just needed one run to complete his 100. The fielder was posted there exactly for that shot. Gaikwad is out for 99. Gets a loud reception from the dressing room. Manish Pandey walks in at No.4. Pandey sees out two dot balls, then smashes the ball over the bowler's head for four. Every India A batsman has looked good today!
Ruturaj, Iyer racing to respective landmarks
Ruturaj Gaikwad and Shreyas Iyer are racing to their respective landmarks. Gaikwad nearing his 100, Iyer is nearing his 50. India A are on course to completing this chase in the wink of an eye. West Indies A look dejected, the match just a matter of formality now. The pitch looks so different from the first innings, when West Indies A could only manage 236. Had they been allowed to bat their full quota of 50 overs, India A might have reached 400 today. The score 221/1 after 31 overs.
50 partnership between Iyer and Gaikwad
Iyer has taken a little bit of time to settle in after Gill's wicket but he is getting into his groove nicely. Gaikwad is hitting drives for joy. Ends the 22nd over with two consecutive fours to move to 80. India A 173/1 after 22 overs. Just 64 to get off the next 28 overs. This match is over as a contest, it would seem.
Run rate dips below 8
For the first time in this chase, the run rate has come down below 8. West Indies A are trying to pull things back, but the start that Gill and Gaikwad have given India A will be hard to overcome. 150 comes up. India A 150/1 after 19 overs. Shreyas Iyer is starting to find the gaps with aplomb as well. Gaikwad moves to 72, he is now the highest scorer in this match.
50 for Gaikwad
Gaikwad gets to his 50 as well. Gets there in 38 balls. Has played some fine strokes and could be looking to stay out the rest of this chase. Six fours and two sixes, both off Pierre over extra cover, by him so far. The score 126/1 after 15 overs.
For the third time in the match, Gaikwad makes room, advances and goes the inside out route over extra cover for six off Pierre's bowling. Gaikwad moves to 62 off 42 deliveries.
Gill is out
Shubman Gill is out! That's a tragedy for the neutral fan. He was looking so entertaining today. Goes for 69 off 40 balls. Three sixes and eight fours in his stay. This is the third fifty for Gill in the four matches he played in this series. Shreyas Iyer comes out at No.3. The score 111/1 after 12 overs. Gaikwad finds the gap on the offside with a drive to move to 45. He has been in such good touch in this series as well.
100 up for India
Did someone tell Gill this is a T20 match?! 100 comes up in the 11th over as Gill steps out and smashes Roston Chase over his head for four. Every time the ball is flighted, Gill steps out. He has raced to 67 off 38 balls here. West Indies A and Roston Chase have no idea how to deal with Shubman Gill. Ruturaj Gaikwad is content to take the backseat for the moment, he is finding the gaps occasionally but is leaving the big hitting to Gill.
50 for Gill
50 off 29 balls for Shubman Gill! 7 fours, 3 sixes. Batting with a point to prove! West Indies A are in shambles here, courtesy this blitzkrieg from Gill. The India A team have taken control of this chase. The score 78/0 after 9 overs.
Another six from Gill's bat to end the 10th over. India A are 96/0 after 10 overs. They are rampaging towards this target like they have an urgent Caribbean beach party to attend.
Exquisite wrist work from Gill
Keemo Paul, who had been the pick of the Windies bowlers in the last match, is brought on into the attack to force a change in these early phases of the chase. However, he goes for runs as well as Gill and Gaikwad continue to find the gaps with ease. The score 43/0 after 6 overs. Rahkeem Cornwall is brought on as Roston Chase looks for a breakthrough. But Gill is unbeatable today! Steps out and smashes the ball over Cornwall's head for six. The score is moving at a rapid rate here. Cornwall goes for 11 runs in that over. The score 54/0 after 7 overs.
Ruturaj goes big as well
Six! Steps out of his crease and goes the inside out route! Ruturaj Gaikwad joins the party with six runs down the ground. These two openers have gotten off to a blistering start. Fielding change forced now. Slip moved to short third man to save the single. IND A 33/0 after 5 overs. Both batsmen batting at strike rates in excess of 100.
Six from Gill
Shubman Gill, who might be feeling a tinge of disappointment for not having made it to the India squad for the West Indies tour, slams the first ball of the third over for a six over long-on. A little later in the over, he pulls a short ball to the fine leg fence for four. Shubman Gill is in a fiery mood today! Quickly moves to 14 off 13 balls. Ruturaj still on 1.
Chase begins
Ruturaj and Shubman begin the second innings. 237 to get. Left arm spinner Pierre opens the bowling. Interesting move by Roston Chase to throw the new ball to the spinner. How India A's batting order looks today: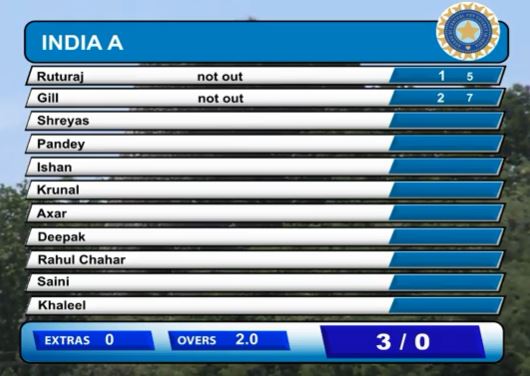 India's bowling figures
Navdeep Saini was the pick of the India A bowlers today. Took two wickets and had the best economy rate. The Chahar brothers picked up two wickets each too, while Krunal Pandya was at his economical best. Khaleel Ahmed, the other pacer in this time who will have a role to play in the series between India and West Indies, returned disappointing figures today.
The chase will commence at 11:12 pm (IST).
Chahar ends last-wicket partnership
A spot-on yorker from Deepak Chahar ends the first innings. Jordan had no idea how to play that one. He was trying to whip that one away but the ball went through and uprooted the stump. Good comeback from Windies A. From 124/7 in 25.3 overs they managed to put 236 on the board. If only the middle order batsmen showed more application, they would not have been bundled out in the 48th over. Khary Pierre remains not out for 35 runs from 33 balls. WI A - 236 all out in 47.4 overs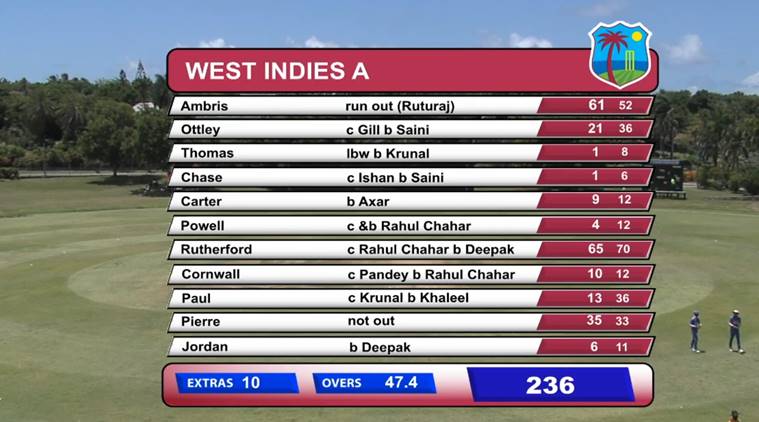 Rutherford departs
A stellar inning under pressure from Sherfane Rutherford under pressure. Rutherford gets out for 65 from 70 deliveries. 250 looks unlikely now with just one wicket left. WI A - 215/9 in 43.5 overs
50-run partnership
A crucial partnership in context with the bat. Sherfane Rutherford was left stranded on the non-striker's end before this partnership but Khary Pierre took the pressure off him. The 50-run partnership came off just 38 deliveries.
200 up
Sherfane Rutherford goes for an all out attack after reaching his half-century. Rutherford moves to 65 after the 43rd over. An expensive over from Rahul Chahar. WI A - 206/8 in 43 overs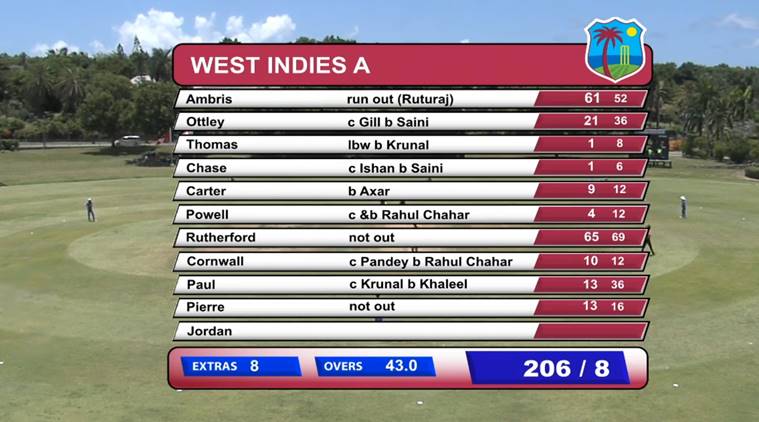 FIFTY!
A tremendous inning from Sherfane Rutherford under pressure. He came in to bat when WI A were 103/5. Rutherford held on to one end and rescued his team. He has done what Windies middle-order batsmen should have done. We might just see his name in Windies' squad against India. WI A - 186/8 in 40.2 overs
10 overs to go
Shane Rutherford edged the ball but gets lucky as Ishan Kishan could not get his glove to it despite the dive. Khary Pierre is batting well and providing the much-needed support to Rutherford. WI - 179/8 in 40 overs
WICKET!
Keemo Paul finally succumbs to the pressure of dot balls. Paul tries to take on Khaleel Ahmed but could not time it the way he wanted to. The ball goes up in the air and Rituraj Gaikwad takes the catch without any fumbles. Paul falls for 13. Rutherford running out of partners. WI A - 163/8 in 37.2 overs
150 up
Shane Rutherford and Keemo Paul have done well so far to help their team recover from the batting collapse. It will be a moral victory for them if they manage to get the total past 250. Also, Rutherford will make a statement ahead of the selection for the India series. WI A - 150/7 in 33 overs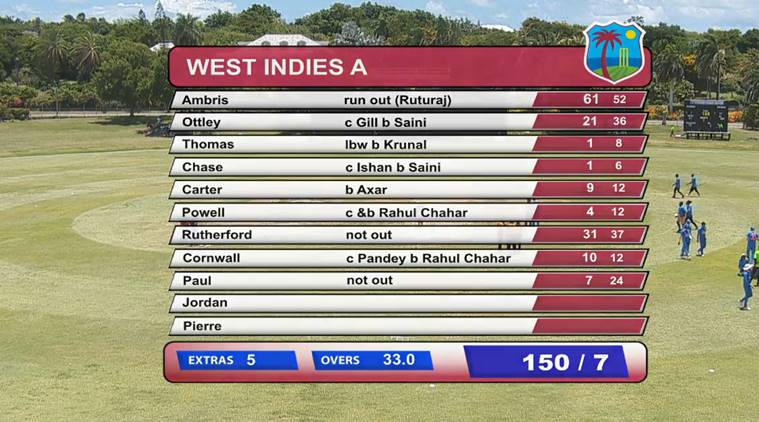 DROPPED!
Sherfane Rutherford mistimes the shot towards square leg. Manish Pandey almost pulled off a stunner to dismiss him. Rutherford survives. Keemo Paul and Rutherford are trying to stitch a partnership and play as many overs as possible. WI A - 141/7 in 31.1 overs
Cornwall falls
Rahkeem Cornwall falls prey to Rahul Chahar. The leg-spinner invited Cornwall to go after him. Second wicket for Rahul. The hosts fear getting bundled out. WI A - 124/7 in 25.3 overs
Counter-attack
Instead of just knocking the ball around for singles and build a partnership, Rahkeem Cornwall and Sherfane Rutherford hit sixes off Axar Patel's over. 17 runs from the 25th over. It is quite clear, the Caribbean batsmen know only one way to bat. WI - 123/6 in 25 overs
ANOTHER ONE!
This is a collapse of gigantic proportions. From 77/0 to 103/6, a huge disappointment! Rahul Chahar gets his first wicket, caught and bowled. Rovman Powell departs for four. WI A - 103/6 in 21.4 overs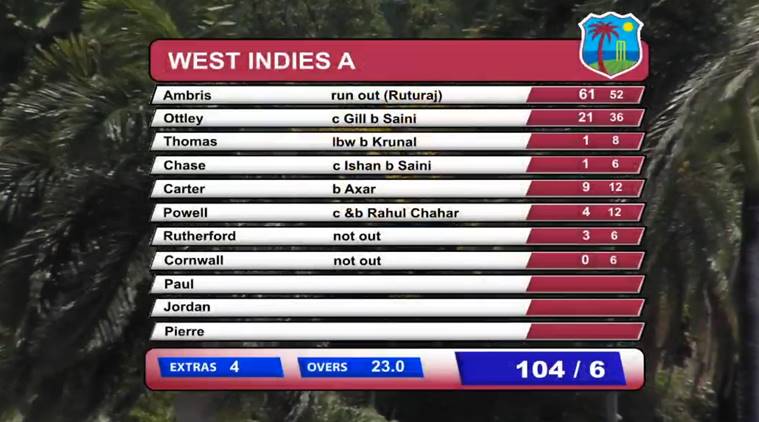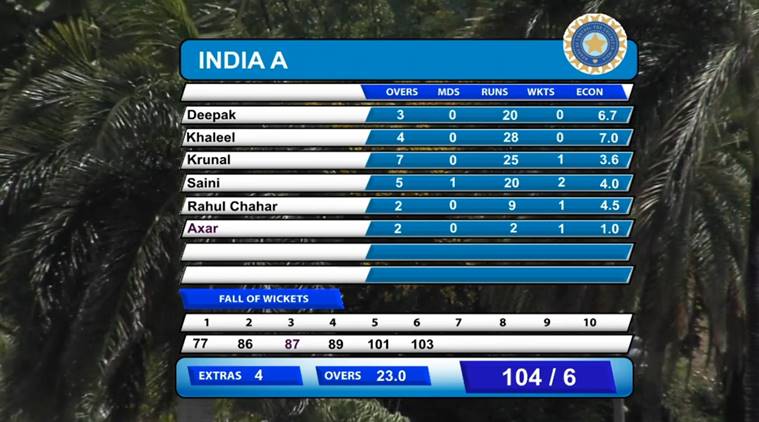 Axar Patel strikes
Into the attack and Axar Patel strikes in his first over. Jonathan Carter plays an irresponsible shot, a reverse sweep against the spin. The ball goes on to hit the leg stump. West Indies A are in deep trouble with half the batsmen back in the hut. WI A - 101/5 in 20.4 overs
100 up
Leg spinner Rahul Chahar comes into the attack. Eight runs from the over. Rovmann Powell and Jonathan Carter are the two new batsmen in the middle. WI - 101/4 in 20 overs
Flurry of wickets
Skipper Roston Chase departs. An outside edge off Chase's bat as Navdeep Saini takes his second wicket of the day. A regulation catch for Ishan Kishan. The hosts are in trouble here having lost four wickets for just 12 runs. WI - 89/4 in 17.1 overs
LBW
Krunal Pandya traps Devon Thomas in front of the stumps. That was plump as Thomas goes on the back foot and misses the ball completely. Thomas scored a half-century in the previous match. It's a big wicket for India A after the opening partnership of 77. WI A - 87/3 in 16.2 overs
RUN OUT!
Shreyas Iyer pulls off a spectacular run out to dismiss West Indies A opener Sunil Ambris, Huge wicket of India A. Ambris was at fault as he called for a single but could not make his ground on time. WI A - 86/2 in 15.4 overs
WICKET!
Navdeep Saini bowls a short ball and left-handed batsman Kjorn Ottley tries to pull it away for a maximum but finds Shubman Gill on the boundary. India A get the much-needed breakthrough. Devon Thomas comes to bat. WI A - 77/1 in 13.3 overs
Fifty for Ambris
Sunil Ambris reaches his half-century from 42 balls. Ambris has been exceptional, not letting the bowlers settle. WI A - 73/0 in 12 overs
🌴v 🇮🇳
50 off 42 for Sunil Ambris
WI 73/0 (12 ov) pic.twitter.com/rxv7Wj1Vi7

— Windies Cricket (@windiescricket) July 21, 2019
SIX!
Kjorn Ottley hits his first maximum of the innings. A short ball from Krunal Pandya and Ottley pulls it away for a huge maximum. Seven runs from the over. WI A - 67/0 in 11 overs
End of first powerplay
Navdeep Saini into the attack. West Indies A have got off to a solid start. India A are in a desperate need of a breakthrough. WI - 60/0 in 10 overs
50 up for West Indies A
A solid opening partnership for West Indies A. Sunil Ambris and Kjorn Ottley have done well against the new ball bowlers. Ambris has taken on the bowlers whereas Ottley has looked to play himself in. WI A - 54/0 in 8 overs
Krunal Pandya into the attack
Sunil Ambris welcomes Krunal Pandya with a boundary. Ambris does not want Pandya to settle like he did in the previous game. Six runs from the over. WI - 48/0 in 7 overs
Ottley's first boundary
An exquisite cover drive from left-handed batsman Kjorn Ottley's bat. His first boundary of the day. Just four runs from the over. WI - 42/0 in 6 overs
Ambris continues to attack
Sunil Ambris is targetting both new ball bowlers. A four and a six from Deepak Chahar's over. Ambris moves to 34 runs from 24 deliveries. WI A - 38/0 in 5 overs
SIX!
Sunil Ambris is trying to hit Khaleel Ahmed out of the attack. Khaleel's second over turns out to be an expensive one. Ambris hits two fours and one six in the over. WI - 27/0 in 4 overs