India A vs West Indies A 4th ODI, IND A vs WI A Highlights: West Indies A beat India A by 5 runs in the fourth unofficial ODI at Coolidge Cricket Ground in Antigua on Friday. West Indies A posted 298/9 in their 50 overs. Roston Chase top-scored with 84 while Khaleel Ahmed took four wickets for 67 runs. In reply, India A lost a flurry of early wickets and were always against an uphill climb. Axar Patel (81) came up with a brave rearguard effort, batting with the tail, as the match was taken to the last ball for a result to be had.
So far in the five-match series, Manish Pandey-led India A had dominated Windies A, winning the first three matches. In the previous match, they won by a huge margin of 148 runs. The series is now 3-1 in India's favour. The two teams will now meet for the final match of the five-match series on July 21.
Live Blog
India A vs West Indies A 4th ODI, Ind A vs WI A Highlights:
West Indies A win by 5 runs
Axar Patel came up with a whirlwind 81 off 63 balls to take the ball to the last match. Great effort from the lower order batsman after the side's batsmen had gone out cheaply. He is the top scorer from India A. Roston Chase is named as the Man of the Match for his first innings 85.
Washington Sundar is out
With Washington Sundar's wicket, India A can say farewell to their hopes of a comeback in this match. Khaleel Ahmed is in for India A with the equation now 72 runs needed from 42 balls. Axar Patel is looking to ramp up his scoring rate. Has moved into his 30s.
200 up for India
Required run rate has climbed above 9. India have put up 200. It comes up in the 40th over. Washington Sundar and Axar Patel are batting. Last 10 overs will need to see a big effort from these two.
Sundar survives
With chances of victory seeming further and further away, Sundar goes for it! Swivels and pulls. Ball falls just short of a diving Rovman Powell. Sundar moves to 30 as India A move to 191/6. West Indies A are bowling out their overs of spin. Pierre returns figures of 1/41 in his 10 overs.
Required run rate climbs above 8
Sundar and Patel are keeping the scoreboard ticking with singles. India A will need more than that from them. The equation is getting difficult now. Keemo Paul has been asking all the difficult questions off the batsmen. India A need 116 to win from 85 balls now.
Look who popped in for some commentary! 🙌🏾 @ambrose_curtly #WIAvINDA pic.twitter.com/DxbNTIy3ID

— Windies Cricket (@windiescricket) July 19, 2019
Keemo Paul bowls the perfect yorker
Keemo Paul bowls the perfect yorker and makes Washington Sundar fall all over himself. Toecruncher! Loud appeal for LBW. Paul was sure he had got his third wicket. Umpire thinks Sundar got some bat on it though and says NOT OUT.
Sundar moves into his 20s
Washington Sundar is the one who must shoulder the huge responsibility of this chase now. Axar Patel is with him. It's the tail to come after this. India A now need 133 to win from 102 balls. India A are now 166/6. At the same stage of their innings, West Indies A were 157/3. It's all down to the extra wickets the Indian side has lost.
Ishan Kishan is out!
Another wicket! And India A sink deeper. Keemo Paul, just brought back into the attack, gets his second wicket. Was a short delivery, was around Kishan's waist. Kishan tried to flick it but could not time it very well, there was some top edge about that as Rayman Reifer settles under the catch in the deep. Axar Patel is the new batsman. India's score now 163/6 after 31 overs.
Roston Chase has bowled out his 10 overs. Returns figures of 1/42 in his 10 overs. Would be pleased with the shift he has put in today. Chase could play a big role in the upcoming India series as well.
Runs and wicket comparison
India are well ahead in terms of runs scored at this stage but have lost three more wickets than West Indies at this stage. Ishan Kishan and Washington Sundar will have to bring out all of their fight to make a game of this. A long way to go in this match still. The score 147/5 after 29 overs. There have been so many starts in this innings but nobody has carried on to get a big one. Krunal Pandya the highest scorer, with 45 runs, so far.
Manish Pandey is out
Two quick wickets! West Indies A are now in control as India A skipper Manish Pandey is caught and bowled. Ishan Kishan is joined by Washington Sundar. India A are in a full-blown crisis. Will take something special from Kishan and Washington Sundar to rescue their side from this situation. Sundar is not done yet though! Inside out and smashed for four. Great shot! 136/5 after 27 overs.
Krunal is out
Krunal falls! Five short of his 50. A diving catch by the short midwicket fielder. Pierre the bowler. Big blow for India A after Pandya and Manish Pandey had done well to get the Indian chase back on track. The partnership was worth 41. Ishan Kishan comes out at No.6. The score now 123/4.
WICKET
Chase and Rayman Reifer have done brilliantly to put on the shackles on the Indian scoring rate. Vihari, who was struggling to get going, tries to take the aerial route but perishes in the deep. He is gone for 20. Manish Pandey, the captain, the new man in at No.5. India struggling, three wickets down. The score 82/3 after 18 overs.
Dip in scoring rate
With the ball going softer, fielding restrictions being lifted and West Indies A going to their slower balls, there has been a dip in the scoring rate. Pandya and Vihari are still out there, building a patient partnership. Runs are harder to come by now, but they are biting the crease. Manish Pandey and Ishan Kishan to come after this, they can go for the strong finish if a platform can be built by these two. India A 73/2 after 15 overs.
Roston Chase brings himself on
Some more spin on offer as skipper Roston Chase brings himself on. Vihari and Pandya are starting to build a steady partnership. India 66/2 after 12 overs. There's a break in play as the umpires want a change of ball. Keemo Paul has been the best bowler in this innings so far. Took the wicket of Ruturaj with a brilliant outswinger, but he has also been the most economical bowler so far.
Vihari on the charge
Vihari does not go the Pandya way. In fact, he lets Keemo Paul bowl a maiden over. Change of gear in the very next over though, steps out to the spinner and smashes it back over the bowler's head. One bounce and into the fence. Two balls later, Vihari dances out again. This time it's a maximum! Six runs! India A 57/2 after 10 overs.
Krunal sweeps for four
If you thought the Indians would look to play risk-free cricket after those two early wickets, think again! Krunal Pandya goes down on his knees and sweeps extravagantly. Four runs! India 44/2 after 8 overs.
OUT!
India lose another wicket! Ruturaj Gaikwad, after a great start, is guilty of tentative batting as he edges one onto the keeper. Keemo Paul with a great outswinging delivery. India A, for probably the first time in this series, are in a spot of bother. Krunal Pnadya comes on at No.4. The score now 39/2 after 7 overs.
Vihari the new No.3
Shreyas Iyer has played the No.3 role so far in this series. Can Vihari take his chance today? Keemo Paul replaces Romario. West Indies are persisting with spin from one end and bowling their pace bowlers from the other end.
Run out!
India lose their first wicket. Great throw by Rutherford. Direct hit! Anmolpreet is out. Hanuma Vihari comes in at No.3. And there's another run out attempt. Gaikwad survives narrowly. Roston Chase the fielder this time. This is good aggressive fielding by the Windies side in these early periods.
Spin introduced in the 4th over
Left arm spinner Pierre is brought on very early on. Windies looking to surprise the Indian openers maybe. The ploy backfires though, Anmolpreet Singh siezes on the first ball, smashes it for a four to the long off fence. Follows it up with five dot balls though. India 23/0 after 4 overs.
Shepherd rattles Anmol, Gaikwad
Anmolpreet Singh is rattled by a quick bouncer by Romario Shepherd. He went for the pull but missed the ball. The bouncer struck him flush on the helmet. He's all right though. Two balls later, he strikes Ruturaj with another bouncer. The Windies pacers, Romario in particular, are peppering the Indian openers with the short stuff. Ruturaj ends the over with an exquisitely timed and placed shot through the off side field. India 19/0 after 3 overs.
How the Indian batting order looks today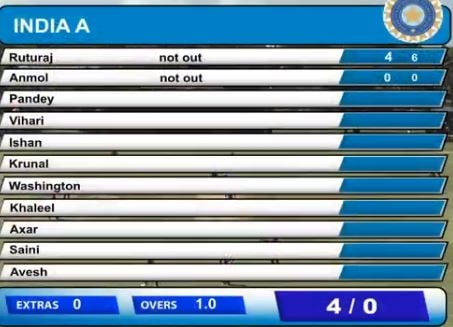 Keemo Paul is partnering Shepherd with the new ball.
Ready for the chase
Ruturaj Gaikwad is taking strike for India A. Anmolpreet Singh is on the non-striker's end. Romario Shepherd has the new ball. After five dot balls, the last delivery is stroked nicely down the ground for the first boundary of the innings.
Second innings in 20 more minutes
End of first innings
Romario Shepherd's cameo helps West Indies A post a total of 298/9 in the first innings, highest innings score in the five-match ODI series. Shepherd helped his team get close to the 300 mark with his 8-ball 21 after the hosts suffered a batting collapse losing six wickets in a matter of 35 runs.
WICKET!
After an expensive penultimate over from Khaleel Ahmed leaking 14 runs, Avesh Khan gets a wicket off the first ball of the final over. Keemo Paul tries to hit a six but finds the fielder at long on boundary. Third wicket for Avesh. WI - 289/9 in 49.1 overs
Ishan takes a stunner
Wicketkeeper Ishan Kishan takes a stunner diving to his left. Avesh Khan gets his second wicket of the match as Rayman Reifer gets out for a golden duck as he tries to guide the ball towards the third man. WI A - 274/8 in 47.5 overs
Khaleel on a roll
Khaleel Ahmed is getting wickets in the death overs. West Indies A batsmen are going after the bowlers but finding fielders in the deep. Khaleel has got four wickets now. West Indies A have lost four wickets for just 11 runs here. With Jasprit Bumrah rested for the Caribbean tour, Khaleel may make it to the senior team. WI A - 265/7 in 47 overs
Back-to-back wickets
Back-to-back wickets in death overs for India A. Rovman Powell and Jonathan Cartner throw their wickets away trying to hit a six. Khaleel Ahmed adds another wicket to his tally. Avesh Khan gets a wicket too. Carter falls shortly after hitting a half-century. WI A - 263/6 in 46.1 overs
Pandey's spectacular catch
Manish Pandey pulls off a spectacular catch on the boundary. The India A skipper made it look like a jog in the park. He threw the ball in the air as soon as he realised that he may step outside the boundary on the followthrough. An amazing catch to dismiss Roston Chase. The skipper scored the highest individual score for West Indies A batsman in the five-match series. He departs for 84 from 100 deliveries. Khaleel Ahmed gets his second wicket. WI A - 254/4 in 44.3 overs
HUGE SIX!
Skipper Roston Chase hits Krunal Pandya for a huge maximum. Chase struck that one against the breeze but still managed to hit the ball outside the stadium. West Indies A are looking at a big score here. WI A - 253/3 in 43 overs
Chase, Carter's all out attack
The intentions are clear now. Jonathan Carter and Roston Chase are trying to score at a brisk rate in the death overs. Carter is nearing his half-century. West Indies A have recovered well after being pushed back in the middle overs. WI A - 238/3 in 43 overs
Fifty for Roston Chase
The West Indies A skipper reaches his fifty in 79 deliveries. He helped his team rebuild the innings in the middle overs along with Devon Thomas. Chase will look to accelerate now. WI A - 195/3 in 39 overs
🌴v 🇮🇳
Half century to Chase!
WI 200/3 (40.0 ov)#WIAvINDA pic.twitter.com/juILQLHVmp

— Windies Cricket (@windiescricket) July 19, 2019
Sundar strikes
Bringing Washington Sundar back into the attack works. Sundar gets the breakthrough as Devon Thomas tries to take him on and finds the long-off fielder. Thomas misses out on a chance to score a century. WI A - 157/3 in 32.4 overs
150 up
150 up for West Indies A in the 31st over. Devon Thomas has shifted gears after getting to his half-century. Manish Pandey has brought back Krunal Pandya back into the attack looking for a breakthrough. Roston Chase is still looking to knock the ball around for singles. The skipper is trying to play the role of an anchor here. West Indies A will be aiming for a score in excess of 280 with lots of big hitters still to come. WI A - 150/2 in 31 overs
FIFTY for Thomas
Devon Thomas gets to his half-century from 83 deliveries. He gets to the 50-run mark with a boundary. Next ball, he plays an uppercut and gets a maximum. Thomas has stitched two crucial partnerships with opener Sunil Ambris and skipper Roston Chase. WI A - 139/2 in 29 overs
🌴v 🇮🇳
Half Century for Devon Thomas!
WI 156/2 (32.1 ov) #WIAvINDA pic.twitter.com/RfyfiRTHME

— Windies Cricket (@windiescricket) July 19, 2019
Halfway through the innings
Roston Chase and Devon Thomas are trying to knock the ball around for singles, waiting for the odd ball to hit for a boundary. The run rate has come down considerably but with wickets in hand Caribbean batsmen can do the damage in the death overs. WI A - 109/2 in 25 overs
100 up
100 up for West Indies A in the 23rd over. Both left-arm spinners Krunal Pandya and Axar Patel are getting through their overs quickly. They are making the West Indies A batsmen take risks.
WI 'A' 94/2 (20)
Thomas 35* Chase 7*#WIAvINDA #ItsOurGame pic.twitter.com/BtB9zkxsHh

— Windies Cricket (@windiescricket) July 19, 2019
Pandya strikes
Krunal Pandya continues his good form as he gets the much-needed wicket of opener Sunil Ambris in his third over. Ambris gets out on 46, misses out on his half-century. Pandya gets the result after drying up the boundaries and not letting him take easy singles. Meanwhile, skipper Roston Chase has come to bat. WI A - 76/2 in 14.3 overs
End of first powerplay
Manish Pandey has persisted with fast bowlers despite Sunil Ambris dominating them. He has waited for the conclusion of first powerplay to introduce the left-arm spinner Krunal Pandya with two right-handed batsmen. WI - 62/0 in 10 overs