Written by
Sriram Veera
|
Updated: February 11, 2018 7:33:50 am
Dean Elgar was hurt. The ball from Jasprit Bumrah on the third evening of last month's India-South Africa Jo'burg Test had burst through the helmet. Even as he tried to take a few deep breaths, thoughts about Phil Hughes, the Australian batsman who died after copping a blow on his head, entered the mind of Louis Klopper, Elgar's long-time coach.
"I got a real fright," Pierre, Louis' son and Elgar's friend says. WhatsApp messages would be exchanged that evening. All Elgar would say was "I am fine", the same text that he sent to his father Richard that evening. "Typical Dean," Richard laughs. "No fuss. I didn't even call him that evening; just a WhatsApp text and all he says is he is fine. He has always been like that: tough nut."
Elgar played two great knocks in the Test series: 61 in the second innings of the second Test on a pitch that seemed more Nagpur than Centurion, and an unbeaten 86 on the grassy knoll at the Wanderers in the third Test. The first, compiled over 45 overs of batting, helped South Africa win the series, and the second, the boy-on-burning-deck knock, nearly dragged them to a whitewash. You would assume that this dogged bullfighter of an opening batsman, who has even captained South Africa once and piled so many runs in the last year that he made it to ICC's World XI, would be a well-loved and respected figure among South African cricket fans. But the reality is something else.
"In my past, I haven't been given a lot of credit for what I have done. I don't think there is a big relationship between me and South African cricket fans. A lot of time, what I have done has been brushed under the carpet. People forget that you need cricketers like me in every team," Elgar tells The Indian Express. "I think myself and Pooji (Cheteshwar Pujara) are potentially in the same boat. We are very similar players. He also, I reckon, can make batting look ugly at times but he is really effective and may be back home he isn't really cherished as much as the others. Because he is not seen as someone who hits every ball for four.
"I have found a way of dealing with the reactions, and creating a vibe around myself. Because I don't play in the IPL. IPL players get a lot more credit and so be it. They deserve it. So I am not a big person to really let go and enjoy people kissing my arse for doing something what I am supposed to do!"
A lengthy chat with Elgar, and conversations with people close to him, give the feeling that he is someone who can be hard on himself. Someone out to prove a point to the world, and to himself. Elgar doesn't disagree when that perception is put across.
"I think it's both. You are trying to prove a point to people, and also fighting your own battle. You need to develop a system that helps you to get better. Each guy deals with it in his own way: whether to prove a point to others or to yourself. I try to think of what my team needs me to do, not fuss about myself, and the rest looks after itself."
No one questions Elgar's spirit and value to the team, though. In 2014, during the Test series against Australia, Morne Morkel had captured Elgar's character to the world: "He's a staffie". It's short for Staffordshire terrier, and it's the most apt adjective to settle on for Elgar's bulldog spirit.
Telford Vice, a South African cricket writer, nails the personality for us: "He is interesting – always grumpy, never wastes an opportunity to get into an argument, about absolutely anything."
It isn't a sentiment that's necessarily shared by his family, coach, and friends – and we will come to their views shortly, but no one disputes his innate stubbornness. "If he sets his mind to something, he does it," is their common refrain.
***
An early glimpse of that stubbornness came to fore when Elgar was 14. He wasn't all that keen on academics and one day, his English teacher asked him in front of the class: Do you think you can earn money from cricket? "Yes, of course. I will one day earn money from cricket. I will be a professional sportsman for South Africa".
It wasn't an empty boast. Elgar, who was a far more free-flowing batsman in those days before he matured and knuckled down to the demands of being a Test opener, was rated highly by his coaches. When he was just 9 or 10, his coach Louis, who was also his principal at school, remembers sharing his views with Elgar's dad Richard. "I told him, one day Dean is going to play for South Africa, and he will play at Lord's. When that happens, you and I will go down to watch him."
Fast forward to a few years, and Richard and Pierre would find themselves at the Lord's pitch for a photograph after the match, where Elgar incidentally led South Africa in the absence of Faf du Plessis. Richard felt proud, Louis was emotional, and Elgar slotted it as one of the "top two moments" of his career. The other one was his debut.
Not that it was a great debut for him personally. He found himself facing a ferocious Mitchell Johnson, and collected a pair of ducks. "When Dean came in to bat, Johnson just revved up a gear and had a full go, bowling at his body. It broke my heart to see him get two ducks. I knew that he would fight and make me proud," his coach says.
When Elgar was about to take the field, Allan Donald, the bowling coach then, entrusted him with a job.
"Allan pulled me aside, and said it's my responsibility to keep the energy going, and I need to get stuck into (Michael) Clarke when he comes to bat. Allan said,' Clarke would absolutely hate that a guy playing his first Test, and who has had a pair, is giving him the lip'. It worked out perfectly for us, it didn't take us too long to get him out."
"You are a cocky piece of shit," Elgar recalls Clarke telling him at the end of that game. Said with a smile, the assessment was meant as a compliment. During the game, Elgar was the man under the helmet at short-leg, and had got stuck into Clarke. "How does it feel to be the Australian captain who is set to lose another series to South Africa, and at home?" More such snubs and verbal stabs were made, and Clarke wasn't amused. At the end of it all, though, Elgar recalls Clarke acknowledging his effort at mental disintegration. "He said, 'That was fair play. I didn't expect a guy who scored two ducks to come after me in such style but it was fair play.' The respect factor was obviously there — he was an amazing player and he could sense that I respected that after the game, and that I was just doing my job to keep the energy levels up on the field."
Elgar has always ended up riling opponents, something R Ashwin would testify to. During the 2015 home series against South Africa, Ashwin was the tormentor-in-chief, and had several verbal battles with Elgar. Unhappy with Elgar's criticism of the Nagpur pitch during the game, Ashwin had sent him off the field after dismissing him: "That's a bad shot, not a bad pitch. This is not Jo'burg, you can't slog sweep here".
Elgar chuckles when it's brought up. "Oh yes, I remember him saying all that. That series didn't go well for me. I had high expectations from myself ." Coach Louis Klopper recalls one shot in particular from that Indian tour: A reverse sweep.
"I used to always tell him – You reverse sweep only after you get a hundred. But he played one shot there and later told me that he thought of me straightaway — that he shouldn't have played it!"
Richard remembers his son returning from the trip, and the man who usually doesn't talk much about his game telling him, "I need to do something about it".
In Richard's mind, Elgar wasn't prepared for the Indian conditions. "He was caught with his pants down. He wasn't ready for that kind of big spinning pitches. When he came back, he said to me that he has to do something about it. He has now found a way."
***
Elgar's way hasn't always been attractive. It's apt here to quote England batsman Nick Compton's conversation with Gary Kirsten. "I'll never forget one particular day," Compton wrote. "First he asked me: 'Compo – how do you define playing well?' I answered confidently: 'Timing the ball well, feeling at ease and dominating'. His response astonished me. 'Really? Well, do you want to know what playing well is for me? It's about scoring runs irrelevant of how well or badly it comes off the bat'."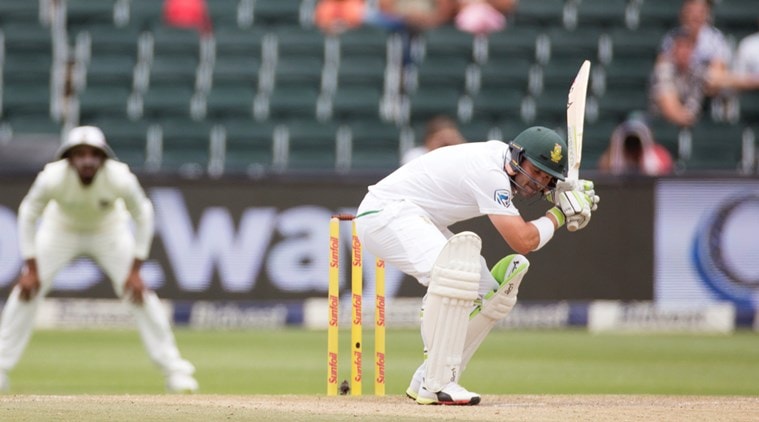 Elgar would agree. When he resumed batting on the 4th day at the Wanderers, the morning after he was left bruised, the morning after he had texted his dad that he was fine, he knew he was in for another searing test. Those who know him well, weren't that worried. His coach recalls telling his son that "Dean would get a hundred today".
The father was equally confident that his son would "fight back because that's what he does best".
His batting that day remains a blur in Elgar's mind. What stays in his mind is the time spent batting with Hashim Amla, the jokes they shared, and the urge to fight he felt within him.
"You had to put mind over matter. As nasty as it looked, (the Bumrah incident), it was part of the game. You just have to knuckle down and you have a job to do. Message is sent from the captain and coach that we have to shake off what happened, and try to win. As proud South Africans, we had to do it. And we realised, as the play progressed next day, that the wicket was actually playing better. It settled my mind."
It was with the exit of Quinton de Kock that he felt that the Test was slipping away. "You can't expect the bowlers to come and get 60-70 runs."
Elgar has great respect for the way Virat Kohli led India, and how the team responded to the series loss by winning that last Test. "It was one of the toughest Test series we have had in South Africa. The way they adapted during the series, especially their bowlers who seemed to grow every game they played. The competitive spirit is driven by Virat. He is very competitive, and we can see that he is trying to change the culture there. They didn't just want to play the series but wanted to win. That was awesome."
***
Elgar is obsessed with winning. His friend Pierre – who incidentally is now the cricket and hockey coach at St Dominic's College, Elgar's alma mater – shares what sports means to the 30-year old opening batsman.
"When he was eight, he would come to our house to play garden cricket. Me and his brother are older than him, and he would get really angry that he couldn't get us out!" Pierre laughs. "Even now, when we play golf, he isn't a happy loser – always wants to hammer me, and win."
Pierre shares an incident when Elgar was 14 that changed his outlook to the game. "He had always played with older guys, and probably that has really helped in the making of him as a tough nut. You have to grow up quickly when you are playing with adults. You can't sulk around, or take it easy.
"I remember his first year with the U-19s, he was probably 14, and his coach Russell Domingo had called him out for his extra weight."
Elgar recalls that he had quit playing squash in the winter due to an injury, and had put on a bit of weight as a result. Pierre says he came back from the camp, and lost 20 pounds in no time.
"He worked on himself like a maniac. If I had any doubt about his career, it ended in that phase."
The father has a funny memory attached to that phase. "Well, he was eating a lot of rubbish. He was fond of McDonald's burgers. After his coach's warning, he quit!"
Elgar's attitude to winning is shaped by the fact that a sportsman will lose a lot more than win in his career. "You fail so many times in sport – the failure and achievement ratio is so different that you need to get over losses as quickly as possible. I have failed many many times before, and how you bounce back is all that matters. Bear in mind, you might have another game in 2-3 days. You need to put away what has happened and carry on. I have played 12 years of professional cricket and have failed a lot more than succeeded."
As the chat rolls on, he talks about how the public view him, and how he incorporates that factor by building a bubble around him. It then hits you that he is pretty hard on himself. And when it's put across to him, he reiterates that feeling.
"You need to be (hard on yourself), I think. If you fail and you don't care or aren't hard on yourself, you are playing the game for wrong reasons. The media criticise a lot these days but the one criticism that you need to really take seriously is your criticism."
The family and close friends couldn't be prouder or happier about the way Elgar has lived his life. "Under all that tough-nut exterior, he is quite an emotional man," says his coach. "He surprised me on my 60th birthday by not only visiting me but also presenting me with a South Africa T-shirt. He has always treated me with respect – he has been a gentleman. He has a bit of white-line fever when he gets on to the cricket ground."
His friend Pierre talks about Elgar off-the-field: "He is quite a chilled-out guy, someone with a dry sense of humour, and who likes his braai."
A year filled with runs has surely made Elgar feel that he owns his spot in the team. But has it mellowed the man they call the Staffie?
"The moment I believe that I have done it, and it's my position for the taking, that's the danger area for me. I must always try to better myself, and tell myself that I need to still keep getting better. That's who I am. You can't worry about what other people say about you: I tend to think how my team views me, what they want from me, and the rest takes care of itself."
Start your day the best way with the
Express Morning Briefing
For all the latest Sports News, download Indian Express App