World Cup 2019, West Indies vs Pakistan (WI vs Pak) Highlights: Riding on a superb show by the bowlers and a brisk half-ton by Chris Gayle, West Indies thrashed Pakistan by seven wickets in their opening World Cup match at Trent Bridge. Mohammad Amir remained the only positive for Pakistan in the game who took three wickets.
Earlier, asked to bat first, Pakistan were bundled out by West Indies for just 105 runs. This was Pakistan's second-lowest total in World Cup. For West Indies, Oshane Thomas took four wickets while skipper Jason Holder dismissed three Pakistani batsmen. Fakhar Zaman (22) and Babar Azam (22) top-scored for Pakistan.
Sheldon Cottrell gave Pakistan the first blow removing Imam ul Haq (2) in the third over. Andre Russell then added to Pakistan's worry by bowling out Fakhar Zaman (22), who was looking in fine touch, in the sixth over. The medium pacer struck again in the tenth over scalping Haris Sohail (8). Oshane Thomas then joined the party in the 14th over scalping Babar Azam (22). Holder then removed skipper Sarfaraz Ahmed, Imad Wasim, and Hasan Ali in the space of nine balls for just three runs. Some late hitting from Riaz took Pakistan over the 100-mark but the target remained too small for the Caribbean side.
ICC Cricket World Cup, 2019
Trent Bridge, Nottingham 18 August 2019
West Indies 108/3 (13.4)
vs
Match Ended ( Day - Match 2 ) West Indies beat Pakistan by 7 wickets
Live Blog
World Cup 2019, West Indies vs Pakistan: Highlights
Player of the match
Oshane Thomas has been adjudged as 'player of the match' for his 4/27 in World Cup debut match.
Stat Alert
This is Pakistan's biggest loss in World Cup matches in terms of balls remaining (218). The previous worst defeat came in World Cup 1999 when Australia beat Pakistan by eight wickets with 179 balls to spare.
West Indies beat Pakistan by 7 wickets
Nicholas Pooran finishes the match with a flourish. A huge six off Wahab Riaz. A comprehensive victory for West Indies with 218 balls to spare.
In a hurry to win the match
Hetmyer and Pooran are still in the IPL mode, going for a big shot on every delivery. 14 runs off the 12th over. WI 91/3 in 12 overs
WICKET!
Gaylestorm passes Nottingham. Amir puts an end to the carnage. WI 77/3 in 10.5 overs
50 for 'Universe Boss'
Chris Gayle starts off his World Cup campaign with a 33-ball fifty. He was barely able to take a single to complete his half-century. PAK 72/2 in 10.2 overs
Stat alert
Chris Gayle has now hit most sixes than anyone in World Cup history going past AB de Villiers previous record of 37 sixes. 40 sixes and counting for Gayle.
Chris Gayle has now hit more sixes than anyone in Cricket World Cup history! #CWC19 pic.twitter.com/j4SG3UCzBP

— Cricket World Cup (@cricketworldcup) 31 May 2019
Gayle targets Riaz
Hitting those big sixes takes a toll on Chris Gayle. After hitting the second boundary of the over, he is holding his back. He was barely able to take a single on the fourth delivery. WI 71/2 in 10 overs
Amir effect
Chris Gayle is not looking to hit big sixes now. Wahab Riaz starts off with a maiden. Mohammad Amir has had some impact on Windies batsmen's approach to the run chase.
Amir's double blow
Mohammad Amir is keeping Pakistan's hopes alive. Second wicket for him. Darren Bravo edges one to first slip fielder Babar Azam. WI 46/2 in 6.2 overs
Stand and deliver
Chris Gayle is not worried about the bowler, conditions or the total. He is just waiting to get underneath the ball and hit it for a boundary. two boundaries from the over. WI 46/1 in 6 overs
Hope gone
Mohammad Amir gets extra bounce off the length ball. Hope miscues it, first wicket for Pakistan. WI 36/1 in 4.3 overs
Glimpses of Gaylestorm
Chris Gayle is looking to hit every ball out of the park. Two sixes in Hasan Ali's over. Now, he is looking to finish it off in a hurry. WI 31/0 in 4 overs
Still hopeful
The Pakistan fans are getting behind their team despite the dramatic batting collapse. Just four runs from Amir's over. WI 16/0 in 3 overs
Chris Gayle gets lucky
Two back-to-back boundaries for Chris Gayle. He gets lucky as the edge goes past the wicketkeeper and the first slip fielder. WI 12/0 in 2 overs
Amir hitting the right lengths
Just two runs from the first over. Chris Gayle and Shai Hope are not looking to finish this in a hurry. WI 2/0 in 1 over
Second innings underway
Chris Gayle and Shai Hope to open the innings for West Indies. Mohammad Amir with the new ball for Pakistan.
West Indies fans waking up this morning 😀
West Indies fans after checking the score 😵#MenInMaroon #CWC19 pic.twitter.com/nsTyNKzm7V

— Cricket World Cup (@cricketworldcup) 31 May 2019
Stat alert
Pakistan register their second-lowest total in World Cup matches. Their lowest score in WC matches is 74 against England in 1992 World Cup.
MOOOOOOOOOOOOD 🕺🕺

Oshane Thomas takes four wickets as the West Indies obliterate Pakistan for 105 in just 21.4 overs. What a start to #CWC19 for the #MenInMaroon! pic.twitter.com/Sxa4QbMCLZ

— ICC (@ICC) 31 May 2019
Riaz goes big
Wahab Riaz has the license to go after the bowling now. SIX! Riaz hits the length ball over deep mid-wicket for a biggie. A Pakistani supporter takes the catch in the audience, maybe the only fond memory he will have of this match. Riaz is trying to score as many boundaries as he can. A boundary over covers followed by a huge hit over deep mid-wicket. PAK 103/9 in 21 overs
First Free Hit of the day
Not even a single run scored off the free hit. Nothing is going Pakistan's way. Wahab Riaz fails to get bat on the short ball from Thomas. PAK 86/9 in 20 overs
Short ball does more DAMAGE
Mohammad Hafeez ends up losing his wicket trying to score a few boundaries seeing wickets falling from the other end. Another victim of the short ball today. Thomas gets his third wicket of the day. PAK 83/9 in 19.3 overs
Hasan Ali throws his wicket away
Hasan Ali has only one gear and he takes the aerial route. Badly mistimed the ball goes as far as the mid off fielder. Third wicket for the Windies skipper. PAK 81/8 in 18.3 overs
Carnage at Trent Bridge! Three wickets in quick succession and Pakistan are now eight down!#WIvPAK LIVE 👇https://t.co/YTelzKYwRl pic.twitter.com/LkTU2aKYAH

— Cricket World Cup (@cricketworldcup) 31 May 2019
Wickets tumbling
Shadab Khan out for a golden duck. Oshane Thomas squares him up, trapped in front of the wicket. Pakistan innings is in all sorts of problem. PAK 78/7 in 17.3 overs
Imad Wasim makes a mess
Imad Wasim fails to play a pull shot off Jason Holder's short delivery. Gayle takes the catch at first slip. That's his second wicket in the 17th over. PAK 77/6 in 17 overs
Taking a leaf out of Du Plessis' book
Jason Holder seems to have taken a leaf out of Du Plessis' book. Holder has given short spells to his bowlers like the Proteas captain did in World Cup opener against England and it seems to be working.
Holder wins the skipper-battle
WICKET! Windies skipper Jason Holder brings himself back into the attack and straight away takes the wicket of Sarfraz Ahmed as DRS shows there was a clear edge. Pakistan in deep, deep trouble with five wickets down in the 17th over. PAK 75/5 in 16.2 overs
Hafeez off to a positive start
Two boundaries from veteran Mohammad Hafeez early on. Hafeez's role becomes crucial with four Pakistani batsmen already back in the hut. PAK 70/4 in 14 overs
WICKET!
In the next over, Jason Holder's plan works. Babar Azam edges one to the wicketkeeper. Excellent catch by Shai Hope. Oshane Thomas gets his first wicket. PAK 62/4 in 13.1 overs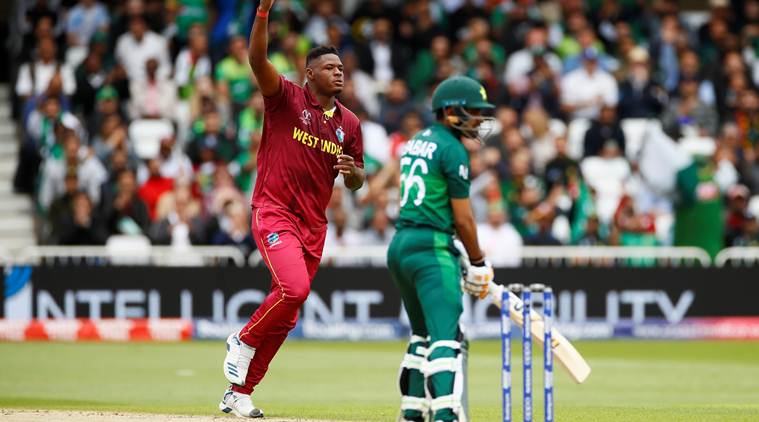 Jason Holder's interesting move
Surprisingly, Oshane Thomas has been introduced into the attack replacing Andre Russell who has taken two wickets already. His short ball doesn't trouble Babar Azam at all, eight runs from the over. PAK 58/3 in 12 overs
Hetmyer commits blunder
Playing his first World Cup, Shimron Hetmyer drops Babar Azam's catch at point. This might prove to be expensive for Windies. Carlos Brathwaite bowls a terrific first over barring the last ball to Sarfraz Ahmed going for a boundary. PAK 50/3 in 11 overs
Might seem to be a flat deck but the extra pace and bounce that the big West Indies quicks have is unsettling Pakistan.

— Harsha Bhogle (@bhogleharsha) 31 May 2019
Short stuff from Russell
Andre Russell gets the prize for persisting with the short ball strategy. WICKET! Haris Sohail edges it to the wicketkeeper. Pakistan in trouble. PAK 45/3 in 9.4 overs
Haris Sohail underway with a boundary
The spirited Pakistan fans are backing their players after two quick wickets. Haris Sohail, selected ahead of Asif Ali gets off the mark with a boundary. Babar Azam has the responsibility to anchor the innings once again. PAK 42/2 in 8 overs
Short Ball has been the story of the match thus far....and Oshane Thomas hasn't bowled an over yet. #MoreToFollow #CWC19 #PAKvWI

— Aakash Chopra (@cricketaakash) 31 May 2019
Andre Russell's bouncer does the trick
Whoa! What a bouncer that was, hurried on to Fakhar Zaman. His bat was nowhere near the ball as it hits the helmet grill and then drops on to the stumps. Jason Holder's decision to replace himself with Russell works. PAK 35/3 in 5.5 overs
Babar Azam picks off where he left
Cottrell is making it easy for Babar Azam to play himself in. A juicy full toss to Azam, all he had to do was open the full face of the bat. PAK 33/1 in 5 overs
Fakhar Zaman dominating
Danger-man Fakhar Zaman is timing the ball nicely today. He pierces the offside field twice in that over. PAK 27/1 in 4 overs
Cottrell draws first blood
Again, bowling to Asian batsmen on the pads is criminal. Fakhar Zaman hits another boundary. However, Cottrell clearly learns from his mistakes. WICKET! Cottrell bowls a short one, and Imam gives his wicket away. PAK 17/1 in 3 overs
Fakhar Zaman in fine nick
Windies skipper Jason Holder backs himself to open the bowling from the other end. Not a good start for him. Fakhar Zaman is not going to miss those, like a loose ball on the pads. You never bowl to Asian batsman on the pads. He is going to hit you for a boundary all day. PAK 11/1 in 2 overs.
Pace and bounce in the first over
Sheldon Cottrell with the new ball and he starts off with a wide. Imam-ul-Haq is being cautious at the start, so cautious that he defended a full toss. The Nottingham pitch has some extra bounce in it. Not a single scored off the bat in the first over. PAK 1/0 in 1 over
Fakhar-Imam ready to take the field!!!#WIvPAK Live Updates: https://t.co/tcW8gKyMCK #CWC19 #WeHaveWeWill pic.twitter.com/2NM0pEtKc0

— Pakistan Cricket (@TheRealPCB) 31 May 2019
Few minutes away from action
The players are on the field for their respective national anthems. Stay tuned. The second match of the World Cup 2019 will start shortly.
Don't look at past results with Pakistan cricket. Yesterday has little connection with today which means nothing when it comes to tomorrow. Just take what you get on the day.

— Harsha Bhogle (@bhogleharsha) 31 May 2019