India vs England Highlights: England thrashed India by 31 runs at Edgbaston as Virat Kohli's men registered their first defeat of the ongoing World Cup on Sunday. Chasing 338, India could score just 306/5 keeping England's semifinals hope afloat. For India, Rohit Sharma sored a patient 102 while Kohli made 66. The duo shared a 138-run stand for the second wicket to keep India in the hunt in the massive chase after losing opener KL Rahul early. Hardik Pandya and Rishabh Pant also chipped in with some decent contributions. But after their dismissal, MS Dhoni and Kedar Jadhav failed to bring the Indian chase back on track conceding an easy victory to England.
Earlier, riding on a sizzling century by Jonny Bairstow and a fiery knock from Ben Stokes in the death overs, England posted 337/7. Bairstow made 111 off 109 balls while Stokes scored 79 off 54. For India, Mohammed Shami starred with the ball finishing with 5/69.
Scroll below for Highlights
ICC Cricket World Cup, 2019
Edgbaston, Birmingham 14 November 2019
Match Ended ( Day - Match 38 ) England beat India by 31 runs
Live Blog
Man of the match
Jonny Bairstow wins 'Man of the match' for his maiden World Cup century, scoring 111 from 109 balls.
England beat India by 31 runs
The unbeaten side in the tournament has been beaten. England win the match by 31 runs. This win ends Sri Lanka's campaign which means tomorrow's game will be a dead rubber. MS Dhoni remains unbeaten for 42. This is India's first defeat against England in World Cups since 1992.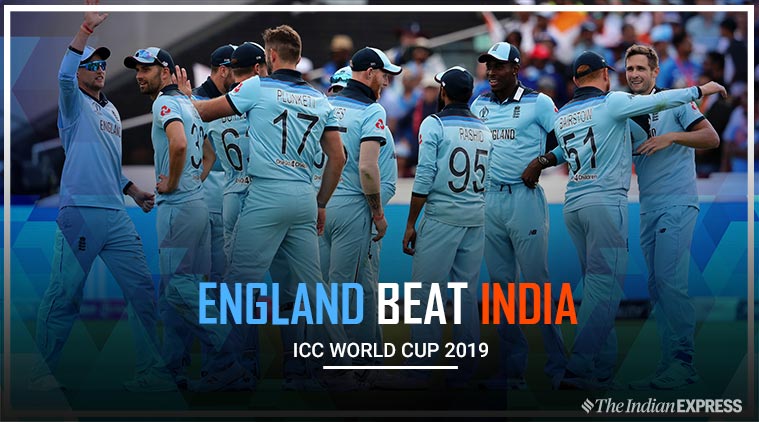 SIX!
The first six of India's innings comes in the final over. MS Dhoni hits a six off Chris Woakes short ball.
Sourav Ganguly is not happy
Sourav Ganguly does not seem happy with the way Kedar Jadhav and MS Dhoni have approached the run chase in the death overs. Just 7 runs from the penultimate over. IND - 294/5 in 49 overs
No boundaries in death overs
Not a single boundary in the last 15 deliveries. This is disappointing from Kedar Jadhav and MS Dhoni. 51 runs needed 12 balls. IND - 287/5 in 48 overs
No intent at all
MS Dhoni and Kedar Jadhav have not shown intent to go after the bowling, hit big shots and go down fighting. India need 57 runs from 18 deliveries now. IND - 281/5 in 47 overs
WICKET!
Hardik Pandya departs for 45. Pandya misses out on another half-century. Plunkett gets the wicket. IND - 267/5 in 44.5 overs
Archer increases pressure
Just five runs from Jofra Archer's over. Not a single boundary from the over. India need 78 runs from 36 deliveries. IND - 260/4 in 44 overs
Almost 12 runs per over
India need to score at almost 12 runs per over. Pandya is nearing his half-century whereas Dhoni is still struggling to time the ball. IND - 255/4 in 43 overs
Adil Rashid into the attack
Rashid does not let Pandya, Dhoni get a boundary from his sixth over. India need 90 runs from 48 balls. The required run rate is just over 11 runs per over. IND - 248/4 in 42 overs
Pandya keeping India in hunt
Pandya is constantly looking for boundaries. He is keeping India in the hunt. The target still looks achievable with MS Dhoni by his side. India need 95 runs from 54 balls. IND - 243/3 in 41 overs
10 overs left
Hardik Pandya looks in fine touch. He has been hitting the ball well but somehow Jonny Bairstow manages to save the boundary on the leg side. MS Dhoni comes to bat, he leaves the first ball. India need 104 runs to win from 60 deliveries. IND - 234/4 in 40 overs
WICKET!
Chris Woakes takes a spectacular catch diving to his left. Rishabh Pant's inning comes to an end. He scored 32 runs from 29 balls on debut. MS Dhoni comes to bat now. IND - 226/4 in 39.1 overs
Pandya hulks out!
Hardik Pandya is smashing everything on his way. He is doing what he did throughout the IPL 2019, just hang back and hit the ball with fierce power. Three boundaries in a row off Chris Woakes' over. 16 runs from the 39th over. IND 226/3 in 39 overs
200 up for India
Hardik Pandya smacks the first ball he faces. He gets three runs for it and India go past the 200-run mark in the 37th over.
Woakes gets the big fish
Chris Woakes strikes first ball of his second spell. Rohit Sharma departs for 102. Hardik Pandya comes into the middle. IND - 198/3 in 36.1 overs
Pant takes charge
Rishabh Pant has made his intentions clear now. With run rate climbing to 10 runs per over, he is going to flash his blade at every ball in his arc. Two boundaries from Wood's over. IND - 198/2 in 36 overs
CENTURY!
Rohit Sharma hits his third century of the tournament. He reaches the three figures in 106 deliveries. But the job is only half done as India need 150 runs from 15 overs. IND - 188/2 in 35 overs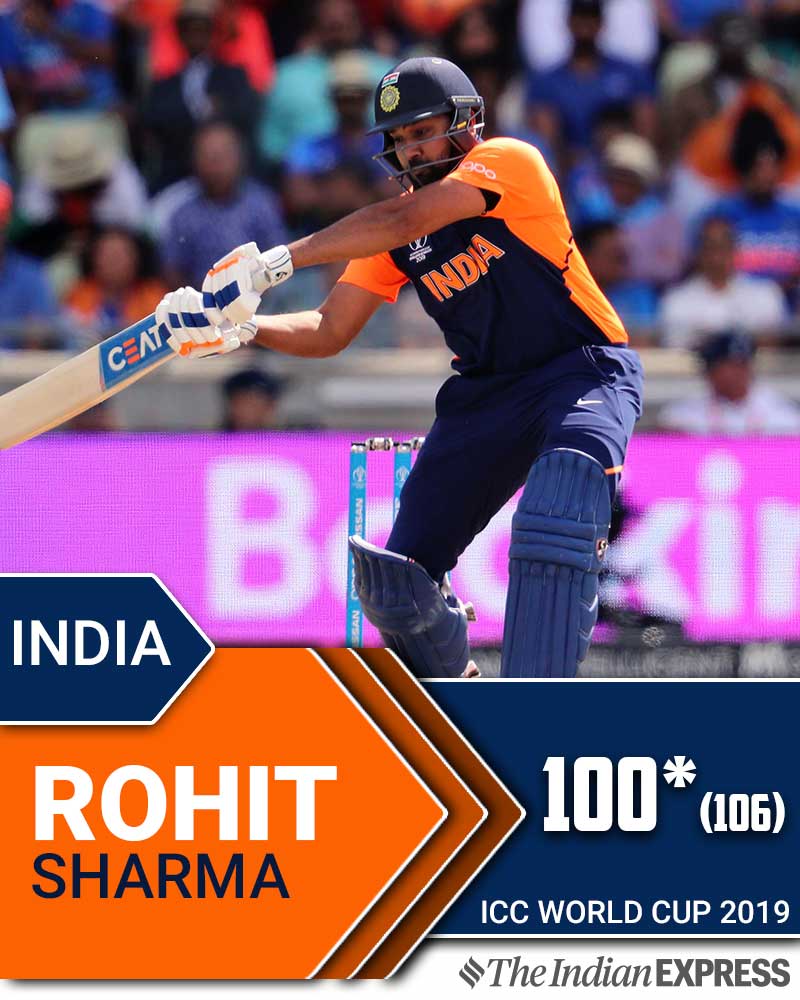 Pant smacks Plunkett
Plunkett comes in for his 7th over. Rohit and Pant show that they have developed an understanding between them, dealing in quick singles and twos. Pant eases his nerves by hitting Plunkett for his first four through the covers on the fourth ball of the over. IND are 177/2 after 33 overs.
Rohit maintains momentum
Mark Wood comes in place of Jofra Archer, and he is instantly punished by Rohit Sharma with two consecutive boundaries. Rohit is nearing his century and he knows that much depends on him now. 11 from the over. Rohit on 91. IND are 166/2 after 32 overs.
India on the backfoot
After losing the captain, India has gone on the backfoot for a while now. Pant is still unsettled swinging his bat with not the fullest of his confidence. Just the 7 runs from the last two overs. IND are 155/2 after 31 overs.
Pant quite shaky
Rishabh Pant, as soon as he is on the pitch, provides England with two run-out opportunities. Plunkett also had a LBW shout against him. The youngster seems shaky so far. IND are 149/2 after 29 runs.
CAUGHT!
THAT'S A WICKET! Liam Plunkett gets the big one as Kohli is caught after having scored 66. IND are 146/2 after 28.2 overs.
Archer slows down India
Replacing Stokes, Jofra Archer is brought in by Eoin Morgan to slow down the duo of Sharma and Kohli who have been on a boundary spree. Good over from the 24-year old as he concedes just four singles. IND are 144/1 after 28 overs.
Rohit's hat-trick of fours
Rohit Sharma is starting to look dangerous now. He hits three boundaries in a row off Stokes in three different directions. This run chase is still alive folks! IND - 133/1 in 26 overs
Halfway through the innings
India still need 218 runs from 25 overs. The partnership between Virat Kohli and Rohit Sharma can be threatening for England as the two batsmen have played themselves in and have the ability to manipulate the field and exploit the short boundaries. IND - 120/1 in 25 overs
Fifty for Rohit Sharma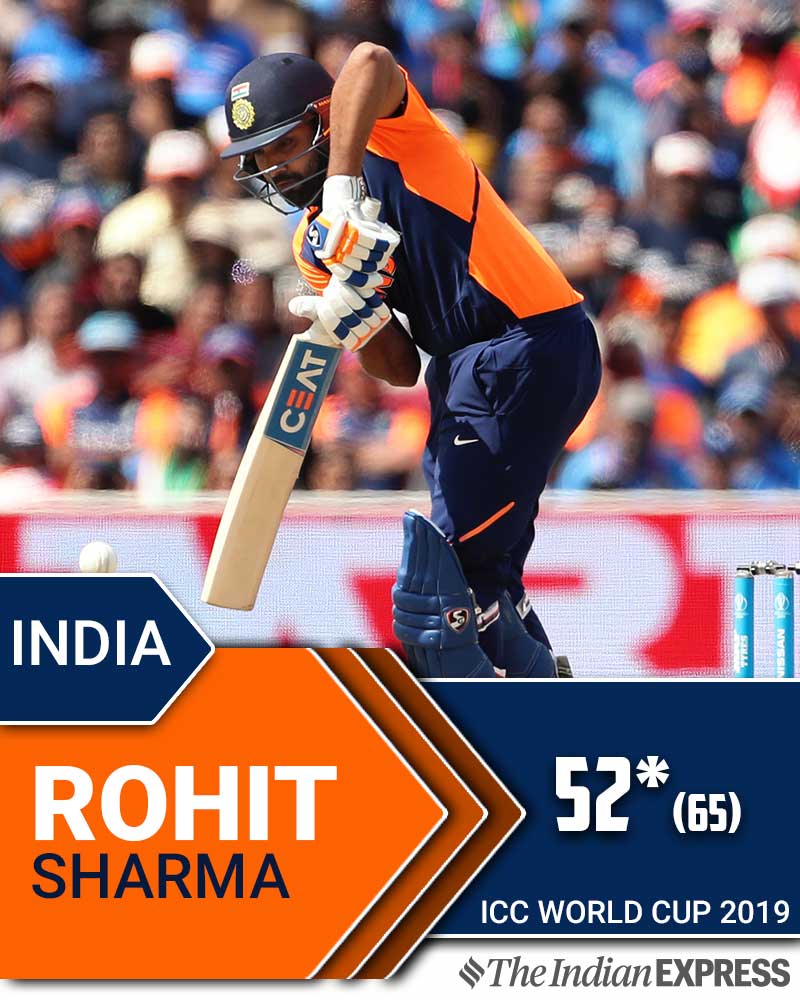 It has not been easy for Rohit Sharma in this run chase. He has struggled to time the ball but he has ensured he does not lose his wicket and tried to form a partnership with Virat Kohli. IND - 107/1 in 23 overs
100 up for India
The scoring rate is increasing now. India are getting a boundary in almost every over. 100 up for India in the 22nd over.
Rohit takes on Adil Rashid
Two boundaries from Adil Rashid's over. The message is clear now. Indian batsmen are looking for boundaries now. 10 runs from the 21st over. IND - 93/1 in 21 overs
Fifty for Kohli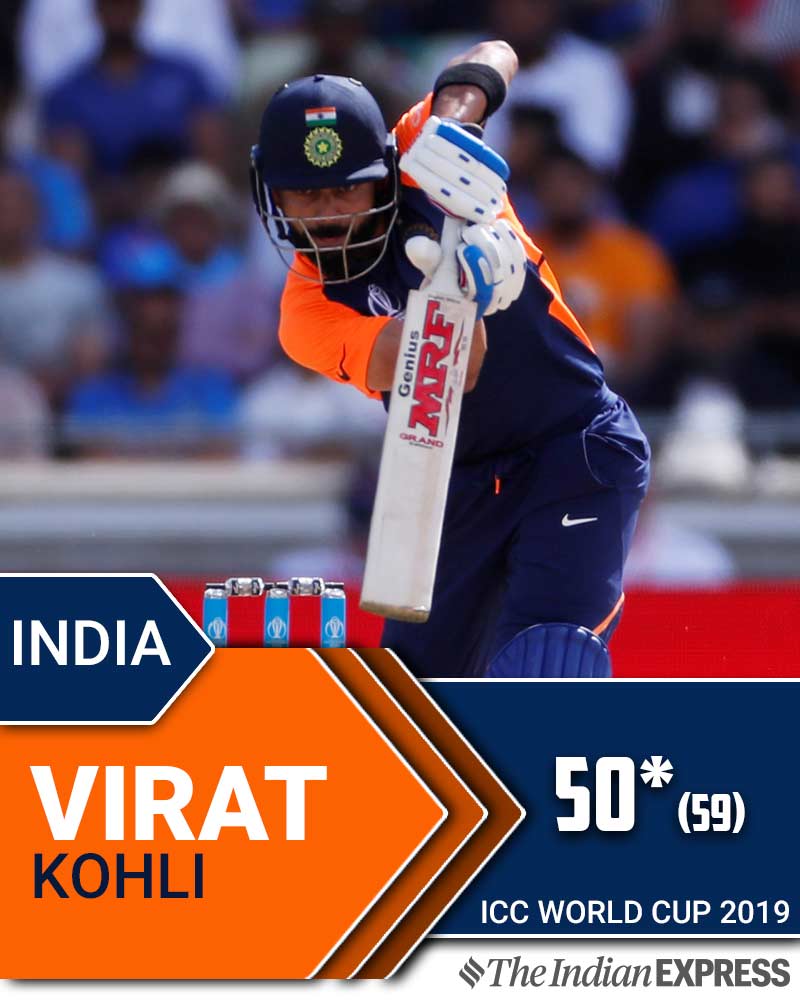 Virat Kohli reaches his half-century in 59 deliveries. This is his fifth half-century on the trot. IND - 87/1 in 20 overs
Adil Rashid into the attack
More frustration for Indian batsmen. It's visible on their face now every time they miss an opportunity to hit a boundary. A wicket might be around the corner. Just two runs from Adil Rashid's first over. IND - 74/1 in 19 overs
Drinks break
The current run rate is 3.94 whereas the required run rate is 3.84. Indian batting lineup need to switch on the T20 mode to keep up the required run rate. IND - 71/1 in 18 overs
Boundaries
Rohit Sharma and Virat Kohli manage to score one boundary each in the over. India need one boundary and singles from each over to stay on top of this run chase. IND - 67/1 in 17 overs
England bowlers tie up Kohli-Rohit
Virat Kohli and Rohit Sharma are getting frustrated as they are not getting loose deliveries from Mark Wood and Liam Plunkett. IND - 58/1 in 16 overs
Rohit getting frustrated
Rohit Sharma is struggling to score, he is throwing his wicket but has not been able to time the ball sweetly. He comes down the track on the first ball and takes a hit on the helmet as Liam Plunkett shortens his length. IND - 53/1 in 15 overs
Sweet sound of the bat
Virat Kohli plays a cracking shot on the offside for a boundary. That was beautifully timed from the Indian skipper. Meanwhile, 50 up for India in the 14th over. IND - 51/2 in 14 overs
Rohit Sharma looking to hit every ball
Rohit Sharma is throwing his bat at everything. The pressure is building up on him. Two pull shots get him the confidence he needed. 9 runs from Mark Wood's over. IND - 40/1 in 12 overs
Swing and a miss
Rohit Sharma is struggling to get going. He flashes his blade and misses twice in Liam Plunkett's first over. Good field positions from Eoin Morgan, he is playing on Indian batsmen's strength. IND - 31/1 in 11 overs
End of first powerplay overs
India still need 310 runs to win from 240 deliveries. The required run rate is 7.75. Virat Kohli and Rohit Sharma will look to increase the scoring rate after the first powerplay overs. This is the lowest score in the first powerplay in the tournament. IND - 28/1 in 10 overs
No easy runs
Just five runs scored off the last two overs. India need a few fireworks in the first powerplay overs otherwise the required run rate will keep climbing up. IND - 22/1 in 8 overs