England vs New Zealand: In a dramatic end to the Wolrd Cup finals, England defeated New Zealand with more number of boundaries to lift the coveted trophy for the first time at Lord's. As the 50-over clash ended in a tie, the match entered Super Over. In the Super Over, England batted first and the duo of Ben Stokes, who kept the hosts in the game with a brilliant 84 off 98 balls, and Jos Buttler made 15, and New Zealand also ended at the same score but for the loss of one wicket, paving the way for an English victory on boundary count.
Earlier, New Zealand scored 241 for eight after opting to bat and hosts England were all out for exact score in the last ball of their innings.
Catch live score and updates of ENG vs NZ
ICC Cricket World Cup, 2019
Lord's, London 24 October 2019
New Zealand 241/8 (50.0)
vs
Match Ended ( Day - Final ) New Zealand tied with England (England win Super Over by boundaries)
Live Blog
England vs New Zealand Live Cricket Score Online, World Cup 2019 Final LIVE Score:
Eoin Morgan credits Buttler, Stokes
I'd like to commiserate Kane and his team. The example that they lead is hugely commendable to him and his team. On a tough wicket where everyone found it tough to score. Buttler and Stokes put together a partnership, and I thought that would take us deep, and it did. This has been a four-year- journey - and we find it hard to play on wickets like that. To get over the line today means the world to us. I was being cooled down by Plunkett, which isn't a good sign. Some of the support staff - not only the best in our team, but in the world, they really helped. Full credit to the two boys who went out for the superover, given that they were there most recently. Archer just improves every time he goes out there. Really incredible - everyone in the changeroom today, Willey, Billings, whoever missed out on the squad - I'd like to mention them too.
Player of the tournament
Kane Williamson named 'player of the tournament' for his leadership and scoring 578 runs in the World Cup. His tally of 578 runs is the highest by a captain in a single World Cup. Williamson receives the trophy from Sachin Tendulkar.
"It certainly wasn't one extra run. There were so many moments that could've gone either way, but congratulations to England - they've had an incredible campaign and they deserve it. The pitches have been different to what was expected. No 300 totals as expected. The NZ side showed a great amount of heart to get us to this point, but it just wasn't meant to be. The guys are shattered at the moment - it is devastating. It's pretty tough to swallow at this stage. But a fantastic effort from our guys. We were thinking about the overheads. We thought runs on the board - we would have liked 10-20 more. But in a World Cup final this was a competitive total. The bowlers really put the batsmen under pressure. It had to go down to the last ball, and then the last ball of the next little match, but a great match all round. It was a shame that the ball hit Stokes' bat, but I just hope it doesn't happen in moments like that. I don't wish to nitpick, just hope it never happens in such moments ever again. The left-hand right-hand combination was useful in the superover, looking at the short boundary, but it's unfair to critique a match fought with such small margins."
Presentation Ceremony Begins
Man of the Match: Ben Stokes
Stokes: Pretty good innit? I'm pretty lost for words. All the hardwork that's gone on in these four years, and to execute with such a good game is unthinkable. Thanks to everyone for all the support. We just kept talking during the partnership with Jos, and the run-rate wasn't getting away, and in the last over when the ball hit the bat and went for four - I apologize to Kane for that. I definitely wasn't going to bowl the last over (laughs). It's fantastic, without the lads, the family, and the support, it's just been incredible
Player reactions
Jos Buttler: Unbelievable. Thought you've seen everything in cricket. That was ridiculous. Hard to put into words, what an unbelievable game. Wanted to take it deep. Didn't feel the run rate would be an issue if we (Stokes and him) stayed till the end. Just wanted to get a partnership going. Don't know what happened. Unbelievable.
Jofra Archer: Pretty sure I was going to bowl it. Just had a double-check with Morgs. Still racing (heartbeat). Probably the biggest thing (in his life). The way the guys started in this tournament from the beginning, would've been disappointing not to win. They've been a family to me.
ENGLAND WIN WC 2019
England win their first ever 50-over World Cup. It came down to the very last ball. For those who are wondering why England won despite tied scores in the super over, here is the answer. England had hit more boundaries than New Zealand in the final which helped them win the final.
Scores level in super over
Jofra Archer started off with a wide. A couple of runs off the next delivery. Next ball, Neesham goes for the big shot and he clears the boundary. That was a huge hit. That was followed a couple of runs. Fourth ball, another couple of runs. Fifth ball, a short ball from Jofra Archer. Just a single off that one. Martin Guptill on strike, two runs off the last delivery. Last ball, Guptill gets bat on it, he goes for a couple of runs but could not make his ground. The scores are level again! England win the World Cup. They have hit more boundaries than New Zealand in the final.
New Zealand's super over
Jofra Archer with the ball in hand. Martin Guptill and James Neesham have walked out to bat to chase down 16 runs in the super over to win the World Cup 2019.
Stokes shines in super over
First ball, Ben Stokes goes for a big shot but could not time it. The edge goes past the short third man, three runs off the first ball. Second ball, Buttler gets a single. Third delivery, FOUR! Stokes has been phenomenal for England in the final. Fourth ball, stopped inside the 30-yard circle, just a single. Boult bowls another yorker, Buttler takes a couple of runs. Last ball of the over, FOUR! Stokes hits another boundary. New Zealand need 16 runs to win in super over.
SUPER OVER!
The super over will proceed as any other super over we have witnessed in T20 cricket. However, if the scores are tied in super over as well, England will win as they have hit more boundaries than New Zealand.
DRAMA IN FINAL OVER!
After two dot deliveries, Ben Stokes his a six. The fourth delivery he gets a couple of runs but Martin Guptill hits Stokes' bat as he was trying to make his ground. Umpire Dharmasena awards them four runs. This is bizarre. We have never seen anything like this. A wicket off the next ball by run out and a single. The last ball of the over, two runs to win. The game gets tied as Mark Wood could not make his ground. WE WILL WITNESS A SUPER OVER HERE!
BOWLED HIM!
James Neesham's slower ball does the trick. Jos Buttler expected one in the slot but with more pace on it. Archer bowled for a golden duck. England need 15 runs from 6 deliveries. ENG - 227/8 in 49 overs
WICKET!
James Neesham has done a wonderful job under pressure. Neesham was brave to pitch it up right in the slot but did not give Liam Plunkett enough pace. Plunkett went for the big shot but did not get enough on it. ENG - 220/7 in 48.3 overs
Plunkett-Stokes fight back
Liam Plunkett and Ben Stokes took on Trent Boult and got 10 runs from his over. Boult went too full initially and then switched back to the back of the length deliveries. England need 24 runs from 12 balls now. ENG - 218/6 in 48 overs
Ferguson does his job
Lockie Ferguson has done his job in the death overs despite the boundary off Liam Plunkett's bat. He has got two wickets helping New Zealand get back into the game. NZ - 208/6 in 47 overs
WICKET!
Lockie Ferguson has been outstanding in the death overs. He bangs another one short and Chris Woakes goes for a big shot. All he could get was a top edge. He gets out for two. ENG - 203/6 in 46.1 overs
BREAKTHROUGH!
Lockie Ferguson gets the much-needed wicket of Jos Buttler. Substitute fielder Tim Southee takes an outstanding catch. GAME ON! New Zealand are not giving up here. ENG - 196/5 in 44.5 overs
Fifty for Stokes
Ben Stokes gets to his half-century in 81 deliveries. A patient inning from Stokes under pressure. He has been as solid as a rock in this run chase so far. ENG - 189/4 in 44 overs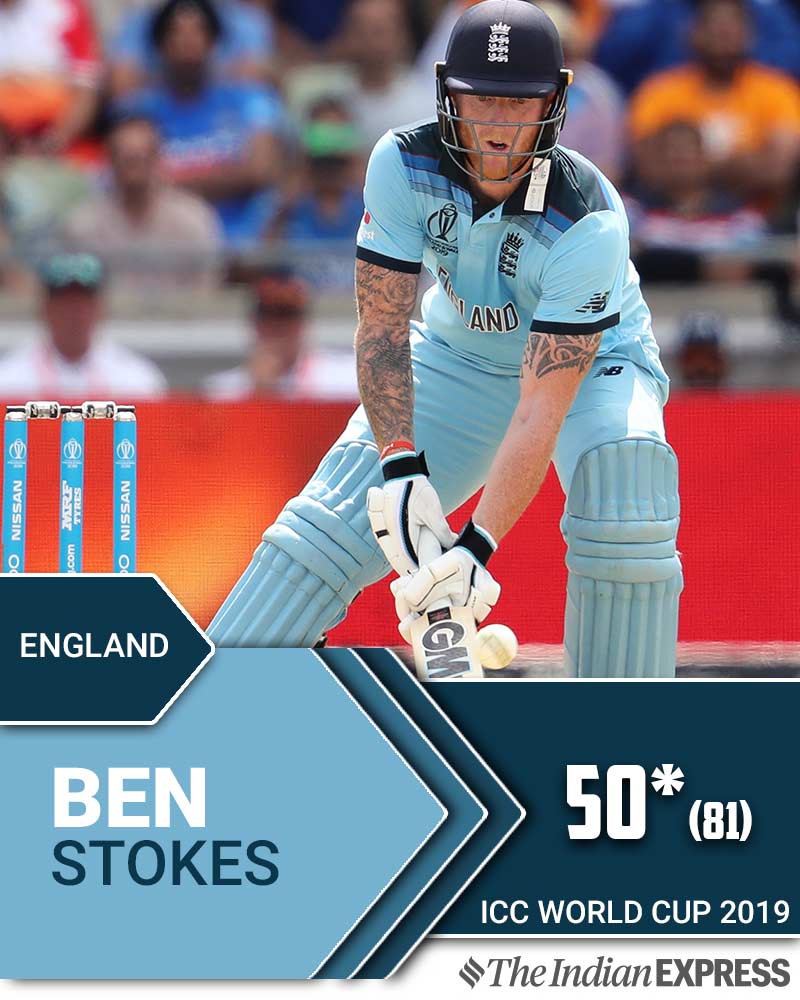 Fifty for Jos Buttler
Jos Buttler hits his second half-century of World Cup 2019. He has done it under immense pressure but the job is only half done.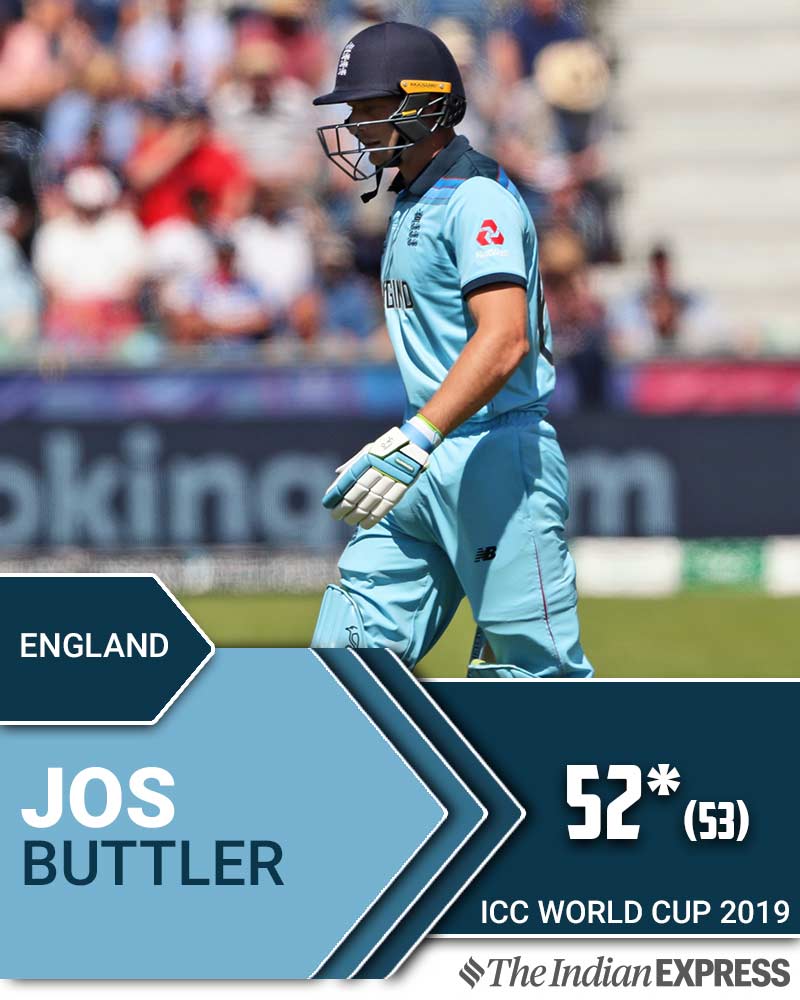 Neesham floors Stokes
Two back-to-back economical overs from New Zealand, not giving anything away. James Neesham almost bowled his version of the Mitchell Starc yorker flooring Ben Stokes. But this time Stokes managed to get his bat down in time. Just four runs from the over. ENG - 177/4 in 42 overs
Ferguson puts some pressure
Lockie Ferguson gives just three runs from that over. Ferguson banged the ball short and bowled with sheer pace to Jos Buttler and Ben Stokes. ENG - 173/4 in 41 overs
Cheeky shot from Buttler
Jos Buttler has turned on the T20 mode on. He knew Matt Henry is going to pitch it up. He plays the scoop shot for a boundary to end Matt Henry's quota of 10 overs. England need 72 runs from 60 deliveries. ENG 170/4 in 40 overs
Run chase on course
Jos Buttler and Ben Stokes are keeping up with the required run rate without taking any risks. They are trying to score one boundary every over. They are taking the game deep. New Zealand bowlers are lacking the conviction to get a breakthrough here. They need one desperately now otherwise the game will be over soon. ENG - 162/4 in 39 overs
Ferguson back into the attack
Williamson brought Ferguson back into the attack, the fastest bowler of the New Zealand side. Ferguson got off to a poor start as he pitched it wide of the off stump. Buttler went after it and got a boundary. Six runs from his over. ENG - 149/4 in 37 overs
50-run partnership
Ben Stokes and Jos Buttler have shared a crucial partnership for the fifth wicket in the final. They are looking for singles and doubles. They scored eight runs from Matt Henry's over including three twos. England need 105 runs from 96 deliveries. ENG - 137/4 in 34 overs
Buttler-Stokes stabilise run chase
Trent Boult's second spell has not been effective. Jos Buttler and Ben Stokes are scoring runs off him. Maybe Kane Williamson can bring back Lockie Ferguson for a few more overs against Buttler and Stokes. They have stabilised the run chase despite the game being delicately poised between the two sides. ENG - 126/4 in 32 overs
Trent Boult into the attack
Trent Boult has been brought back into the attack as Kane Williamson recognises that he needs to break this partnership before it gets threatening. Just four runs from his over. ENG 115/4 in 30 overs
Grandhomme's marathon spell ends
Colin de Grandhomme was introduced as a first change bowler by Kane Williamson and he bowled a marathon spell bowling 10 overs on the trot. He got the wicket of Joe Root and kept the scoring rate low. 25 runs in his quota of 10 overs. ENG - 111/4 in 29 overs
100 up for England
Ben Stokes is consistently coming down the ground in an attempt to reach for the ball and hammer it down the ground. He succeeded once in James Neesham's over hitting him for a boundary. Stokes might look to counter-attack now as the required run rate is going up. Eight runs from Neesham's over. ENG - 106/4 in 28 overs
Over 6 runs per over
The required run rate has now gone up more than six runs per over. New Zealand continue to build more pressure with Ben Stokes and Jos Buttler in the middle. England are in dire need of a partnership here. This is the last partnership they can depend on to chase down the total under pressure. A wicket here will almost end England's run chase. ENG - 98/4 in 27 overs
FERGUSON TAKES A BLINDER
Lockie Ferguson runs in from the deep, dives forward and takes a blinder to get rid of England skipper Eoin Morgan. James Neesham introduced into the attack, bowls a short ball to start his over. Morgan goes for the shot but did not have any control over it as he immediately shouted "NO!!!". Ferguson may have pulled the catch of the tournament here. England are in trouble now. ENG - 86/4 in 23.1 overs
What a catch from Lockie Ferguson!#CWC19 | #CWC19Final pic.twitter.com/g2ICxcWNJW

— Cricket World Cup (@cricketworldcup) July 14, 2019
Stokes' first boundary
Ben Stokes comes down the wicket, reaches for the balls and pulls it away for a boundary. Kane Williamson instantly asks Tom Latham to come up. Three dot balls to follow. Just one boundary from the over. ENG - 86/3 in 23 overs
Ferguson leaks runs
Lockie Ferguson his trying too hard to take a wicket. He is getting the better of Eoin Morgan on most occasions but five wides do not help his side. England batsmen still struggling to score. ENG - 82/3 in 22 overs
Grandhomme continues to trouble
Colin de Grandhomme is almost unplayable at the Lord's. The slower he bowls, the tougher it becomes for the batsman to get bat on it or time his shot properly. Ben Stokes struggling to get bat on the ball. ENG - 75/3 in 21 overs
HUGE WICKET!
Jonny Bairstow runs out of luck. Bairstow had almost inside-edged the ball on several occasions but survived but not this time. Ferguson gets the prized wicket. He departs for 36 runs from 55 deliveries. ENG - 71/3 in 19.3 overs
Some nervous faces on the England balcony 😬#CWC19 | #CWC19Final pic.twitter.com/RwjQ8gmhjJ

— Cricket World Cup (@cricketworldcup) July 14, 2019
Grandhomme delivers
Joe Root gets anxious and plays a few out of character shots to throw his wicket away. First, he went for a slog but missed. Then, he went fishing outside the off stump and edged the ball to Tom Latham. Colin de Grandhomme delivers. The game is wide open folks! ENG - 59/2 in 16.3 overs
Ferguson into the attack
The first over was not exactly the ideal start for Lockie Ferguson even though Jonny Bairstow as beaten off the first ball of the over. Three runs from the over. ENG - 59/1 in 16 overs
50 up for England
Welcome boundary for England as Jonny Bairstow puts away an overpitched delivery from Matt Henry. Next delivery, he almost chops it on to his stumps. England are surviving on the edge of a knife here. ENG - 51/1 in 14 overs
Root struggles to score
Joe Root is struggling to rotate the strike. He has scored just two runs from 19 deliveries he has faced. Three maidens in a row. This kind of pressure can trigger an erratic response from the English batsmen. ENG - 39/1 in 12 overs
Colin de Grandhomme into the attack
It will be a mistake to underestimate what Colin de Grandhomme can do in conditions helping the swing bowlers. He can do what Plunkett did for England in the middle overs. Bairstow almost got beaten by the pace but the ball did not carry to the mid off fielder. DROPPED! Grandhomme dropped a simple caught and bowled on follow through. A maiden over from him. ENG - 39/1 in 11 overs
A game of patience
It's an evenly matched contest between bat and ball at the Lord's. So far, Jonny Bairstow has been patient, waiting for the bad delivery to put away. Bairstow knows that it is important that he stays in the middle rather than dominating the Kiwi bowlers. Trent Boult and Matt Henry need to be patient too. They have been beating the English batsmen. They need to stick to their lines and lengths instead of trying to do something extraordinary. Lockie Ferguson, Colin de Grandhomme and James Neesham will have a major role to play here. End of the first powerplay. ENG - 39/1 in 10 overs