Australia vs England World Cup 2019 Semi-Final: Hosts England thrashed defending champions Australia by eight wickets in the semifinals to reach the World Cup finals for the fourth time. England now face New Zealand in the summit clash as they aim to fulfill the dream of winning their maiden World Cup trophy. England outperformed Australia in all departments as they first bowled them out for 223 and chased down the target with 17 overs to spare with Jason Roy and Jonny Bairstow's solid 123-run partnership for the first wicket laying the foundation of England's comprehensive victory. While Roy scored 85 off 65 balls before falling to an umpiring error of Pat Cummins delivery, Bairstow made 34. Joe Root and Eoin Morgan then made no error and ended Australia's campaign.
Earlier, after electing to bat, Australia got off to a disastrous start as they lost Aaron Finch (0), David Warner (9) and Peter Handscomb (4) with just 14 runs on the board. Smith and Carey then rescued the innings. But, after a solid 103-run stand for the fourth wicket, Adil Rashid once again rattled the Aussies. He got rid of Carey (46) and sent back Marcus Stoinis (0) in the 28th over. Smith and Glenn Maxwell then guided Australia past 150. But Archer struck in the 35th over to end Maxwell's challenge after a 22-run knock. Pat Cummins (6) became the third victim of Rashid. Mitchell Starc supported Smith in the death overs and took the score past 200. In the 48th over, Smith's challenge was ended by Jos Buttler's direct throw.
Catch live score and updates of AUS vs ENG 
ICC Cricket World Cup, 2019
Edgbaston, Birmingham 22 October 2019
Match Ended ( Day - 2nd Semi Final ) England beat Australia by 8 wickets
Live Blog
Australia vs England Semi-Final LIVE:
Morgan finishes it off in style
Eoin Morgan hits a boundary and finishes the run chase in style as England beat Australia by eight wickets. England reach the final of World Cup 2019 after a gap of 27 years. A comprehensive win for England as they chased down the target with 107 balls to spare.
Expensive Lyon
Another expensive over from Nathan Lyon. He has been smashed around the park today. 13 runs from his fifth over. He has leaked 49 runs from his five overs already. The current rate is now seven runs per over. ENG - 210/2 in 30 overs
A rare maiden over
Jason Behrendorff bowls a maiden over to Eoin Morgan. A golden over in these conditions when the English batsmen are hellbent to finish this off as soon as possible. ENG - 197/2 in 29 overs
Another expensive over from Lyon
Eoin Morgan hits back-to-back boundaries in Nathan Lyon's over. They are in a hurry to finish this off. 11 runs from Lyon's over. ENG - 197/2 in 28 overs
Jason Behrendorff into the attack
Aaron Finch is trying everything to get a wicket. Jason Behrendorff almost gets a wicket with a slower ball to Eoin Morgan but Finch could not get to it. Another good over for England, eight runs including a boundary. ENG - 186/2 in 27 overs
Lyon back into the attack
Like Nathan Lyon's first spell, his second spell does not look threatening at all. Seven runs easily scored from Lyon's over including a boundary off Eoin Morgan's bat. ENG - 178/2 in 26 overs
England continue to dominate
Either Joe Root or Eoin Morgan is hitting at least one boundary every over. The current run rate is almost seven runs per over. It's just a matter of time. Only a miracle can save Australia for a humiliating loss here. ENG - 171/1 in 25 overs
Root-Morgan look to rebuild
Six runs from 14 deliveries since Jason Roy lost his wicket. This is probably the last chance for Australia to make a comeback in this semi-final. Eoin Morgan and Joe Root are being sensible here. If England lose a wicket here, this run chase might get tricky. ENG - 153/2 in 22 overs
UMPIRING BLUNDER!
Jason Roy protests umpire Kumar Dharamsena's decision. Roy tries to pull Pat Cummins but gets beaten by the bounce. Roy gets furious at the Sri Lankan umpire for giving him out. The replay shows there was daylight between bat and ball, nothing on the snickometer. Another example of poor umpiring in World Cup 2019. Roy robbed of a century here, out for 85. He was on song. ENG - 147/2 in 19.4 overs
Ohh dear!! Umpiring blunder yet again in a semifinal!!! Yesterday not calling No Ball during Dhoni's wicket and today giving out with no touch from the batter's bat on Jason Roy's wicket. I hope the referees aren't too harsh on Roy's outburst though! #ENGvAUS #CWC2019 pic.twitter.com/CBMCKiNHPl

— bhavinkumar panchal (@9panchalbhavin9) July 11, 2019
Joe Root off to a fiery start
After getting beaten by a bouncer from Mitchell Starc, Joe Root puts pressure back on Australia. Three boundaries from Starc's over despite the wicket. ENG - 136/1 in 18 overs
Milestone for Starc
Mitchell Starc goes past Glenn McGrath to become the highest wicket-taker in a single World Cup edition. Starc has got 27 wickets in the tournament now.
WICKET!
Finally, something for Australian fans to cheer for. Mitchell Starc hits Jonny Bairstow's back pad and the umpire's finger goes up immediately. Bairstow uses the review but the hawkeye shows that the ball was hitting the wickets. England lose their review. ENG - 124/1 in 17.2 overs
Marcus Stoinis into the attack
Marcus Stoinis introduced into the attack in the worst possible situation. Eight runs from his over including a boundary off Jason Roy's bat. England have their one foot in the final. The atmosphere at Edgbaston is eccentric. ENG - 124/0 in 17 overs
Roy finesses Smith
Three huge sixes in a row. The last one went out of the stadium. Jason Roy at his absolute best. This is disheartening for Australian fans. The England fans in the stadium are elated. 21 runs from Steve Smith's over. Roy may have ended Smith's bowling career in just one over. ENG - 116/0 in 16 overs
Third fifty in a row
Jason Roy hits his 18th ODI half-century and third in a row in this World Cup. Roy is absolutely dominating Australian bowlers. The current run rate is now over six runs per over. Mitchell Starc comes back into the attack and gets hit for three boundaries in his over. 15 runs from his over. ENG - 95/0 in 15 overs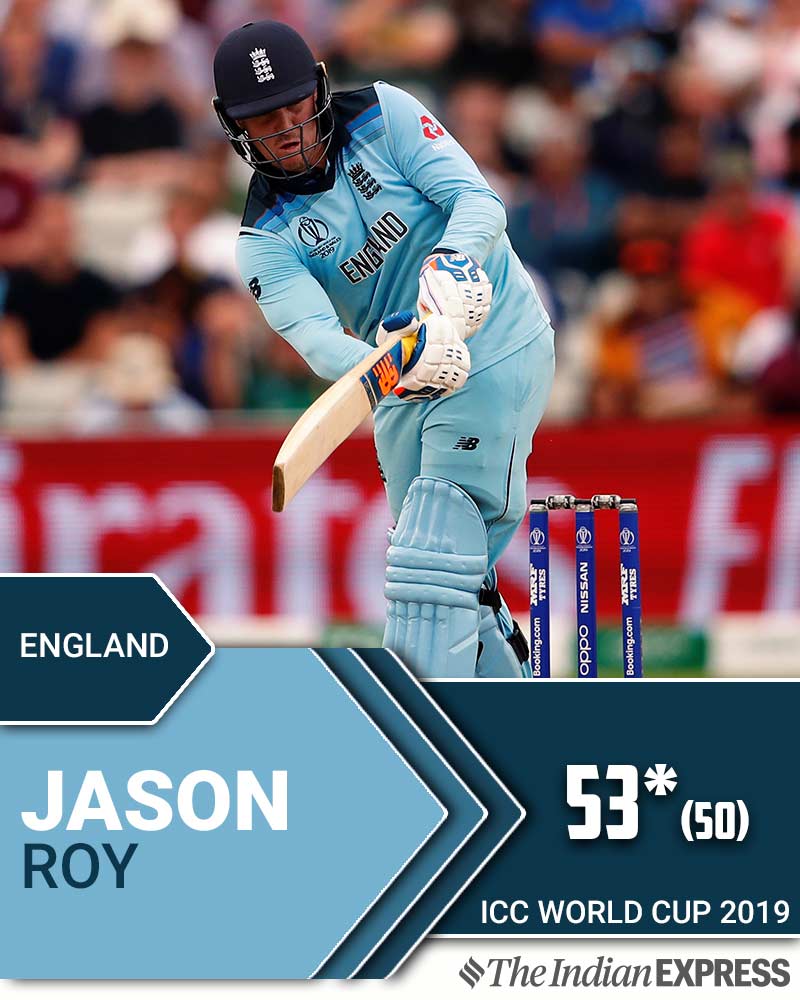 Third fifty in a row
Jason Roy hits his 18th ODI half-century and third in a row in this World Cup. Roy is absolutely dominating Australian bowlers. The current run rate is now over six runs per over. Mitchell Starc comes back into the attack and gets hit for three boundaries in his over. 15 runs from his over. ENG - 95/0 in 15 overs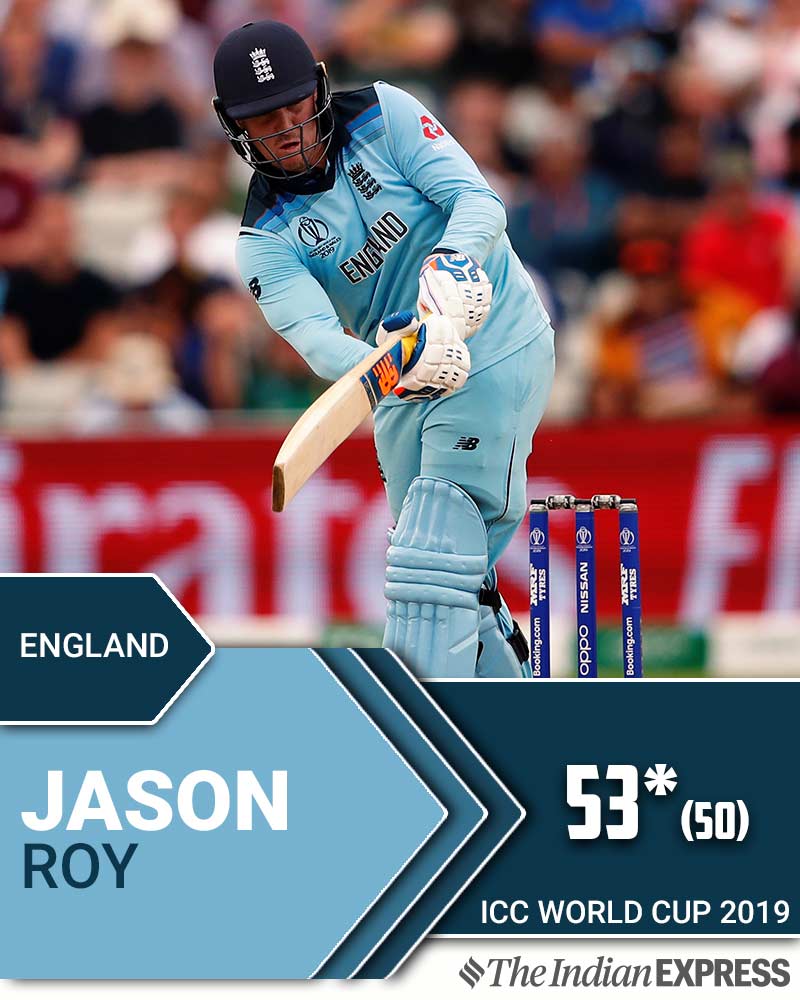 Bairstow gets lucky
Jonny Bairstow goes for a pull shot off Nathan Lyon but gets a thick outside edge off his bat that goes past the short third man fielder. Just four runs from the over. ENG - 76/0 in 12 overs
Bairstow is back and running
Jonny Bairstow may have done some damage to his ankle. But, after getting some medical attention he is back to the crease. AUS - 71/0 in 12 overs
Bairstow hobbles
Jonny Bairstow in need of medical attention as he may have pulled a muscle trying to turn for the second run. Bairstow completes the second run without any problem but asks for the physio straight away. ENG - 71/0 in 11.4 overs
Cummins loses control
Pressure is getting the better of Australian bowlers. The game is slipping away from their hands and they are trying desperately to get a wicket. Five wides as Cummins bowls too short that it flies over Alex Carey.
SIX!
Jason Roy is taking the game away from Australia. He is not letting any bowler settle. Nathan Lyon comes into the attack, pitches it up and gets hammered for a six over long on. He coverts Lyon's first over to an expensive one with a reverse sweep on the fifth ball of the over. 13 runs from the off spinner's first over. ENG - 63/0 in 11 overs
50 up for England
England get to the 50-run mark on the second last ball of the 10th over. The first powerplay belongs to England as they have not lost a single wicket and played out the new ball at a decent run rate. Jason Roy and Jonny Bairstow have once again provided England a great start. ENG - 50/0 in 10 overs
England start strong
Jason Behrendorff changes ends after Pat Cummins was introduced into the attack. Seven runs from his over including a boundary of Jonny Bairstow's bat. One can say that the game is already slipping out of Australia's hands if they do not put an end to this opening partnership. ENG - 40/0 in 8 overs
Pat Cummins into the attack
Pat Cummins hits the right lengths in his first over of the match. Cummins did not give Jonny Bairstow much room to work the ball into the gaps. A couple of runs from Cummins' first over. ENG - 33/1 in 7 overs
SIX!
Jason Roy hits the first maximum of England's innings. Mitchell Starc bowled that one on Roy's pads and he just flicks it away for a six over fine leg. 12 runs from Starc's third over. England off to a solid start. ENG - 31/0 in 6 overs
FOUR!
Jason Roy hits his first boundary of the innings. Roy hits it wide of the mid-off fielder for a boundary. He plays a similar shot of the last ball of the over. 10 runs from Mitchell Starc's second over. ENG - 16/0 in 4 overs
Mitchell Starc runs in hard
Good pace from Mitchell Starc in his first over of the innings. One delivery clocked over 150 kph. This is going to be a tough spell of fast bowling for the England openers. If they survive this, they are more likely to proceed to the final. ENG - 6/0 in 2 overs
Bairstow survives
A huge appeal from Jason Behrendorff in the first over, turned down by the umpire. The replay showed that the ball was clipping the off stump. Bairstow survives early. The first spell from both the fast bowlers is going to be crucial. ENG - 5/0 in 1 over
ALL OUT!
Mark Wood ends Australia's innings with a brilliant yorker. Too good to tackle for tailender Jason Behrendorff. AUS - 223 all out in 49 overs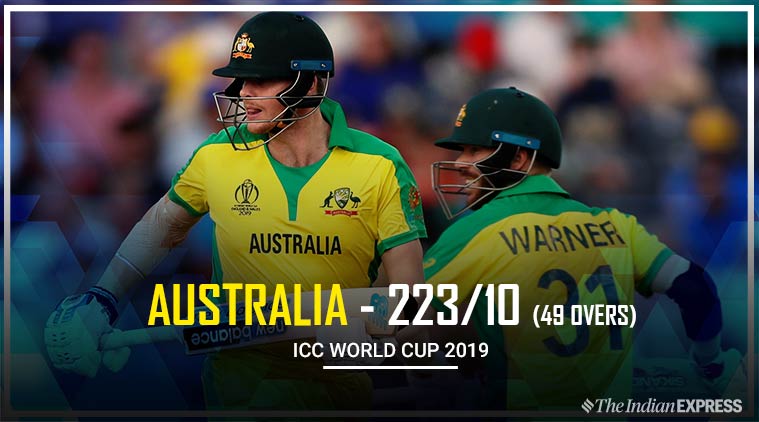 WICKET!
Mitchell Starc makes the mistake of taking on Chris Woakes and edges the ball to Jos Buttler. Two in two for England. Starc departs for 29 runs from 36 deliveries. Australia fear that they get all out here. AUS - 217/9 in 47.2 overs
Smith does a Dhoni
Steve Smith gets run out like MS Dhoni in the semi-final yesterday. Just a couple of inches away. Jos Buttler pulls off a spectacular run out. Smith out for 85. AUS - 217/8 in 47.1 overs
Woakes back into the attack
Finally, Chris Woakes is back into the attack. Eoin Morgan may have missed a trick there by bringing Woakes this late with four of his overs left. Just four singles from his over, smart bowling from Woakes. A review taken on the last ball of the innings. Umpire's call saves Steve Smith. AUS - 210/7 in 46 overs
SIX!
Mitchell Starc has turned on the attack mode. After getting a boundary in the previous over, he hits a maximum over long off. 200 up for Australia in the 45th over Steve Smith gets a boundary too. A good one for the Aussies as they get 14 from Liam Plunkett's over. AUS - 206/7 in 45 overs
FOUR!
Mitchell Starc hits his first boundary of the innings. Starc hits it straight past the bowler along the ground. Six runs from Mark Wood's over. AUS - 192/7 in 44 overs
Smith-Starc do damage control
So far, Mitchell Starc has stood by Steve Smith after Pat Cummins wicket. Australia need to play out the 50 overs and give them a chance to post a respectable total, something for their bowlers to put pressure on the English batsmen. AUS - 181/7 in 42 overs
Adil Rashid strikes again
Pat Cummins gives an easy catch for slip fielder Joe Root. He can take these catches all day. Adil Rashid has taken three wickets now. Steve Smith is just a spectator on the non-striker's end. AUS - 166/7 in 37.4 overs
Jofra Archer's knuckleballs
Jofra Archer is using knuckleballs with precision. He almost got the wicket of Pat Cummins with the slower ones. Smith is looking frustrated. He is running out of partners. AUS - 165/6 in 37 overs
No 'Big Show' today
Jofra Archer wins the battle against Glenn Maxwell. A slower ball gets the better of Maxwell, an easy catch for Eoin Morgan. He has to depart for 22. Archer gets his second wicket. AUS - 157/6 in 35 overs
First six of the day
Glenn Maxwell clears his front leg and hits Adil Rashid over long on for an 84 meter six. Maxwell is playing like Maxwell. See the ball, hit the ball. AUS - 142/5 in 32 overs
Maxwell survives
Glenn Maxwell edges the second ball of the over from Adil Rashid but it goes wide of slip fielder Joe Root. Maxwell is opening the face of the bat too early and playing it too square of the wicket. Australia need him to stick with Steve Smith to post a fighting total. AUS - 130/5 in 30 overs