Yes, neither we committed a typo here nor is it an error in judgement.
Team India meekly surrendered against Australia in the World Cup 2015 warm-up fixture but the defending champions have a couple of reasons to cheer about.
Positives? From a 106-run loss on a batting haven? Too many ifs and buts, but the MS Dhoni-led unit did find some answers during the course of addressing numerous questions. The skipper mentioned during a post-match interaction they wanted to try some things and were able to execute some out of the many.
While no one knows what the think-tank was upto, we spot some major developments from today's crushing defeat Down Under.
The Rahane summer: This phase belongs to this elegant Mumbaikar. Not once has he lifted the foot off the pedal and continues to drive in cruise mode. Knock after knock, the right-hander has exhibited a different side of his game. May it be the fighting stands in the Tests, little gems in the tri-series or the brutal assault in the warm-up.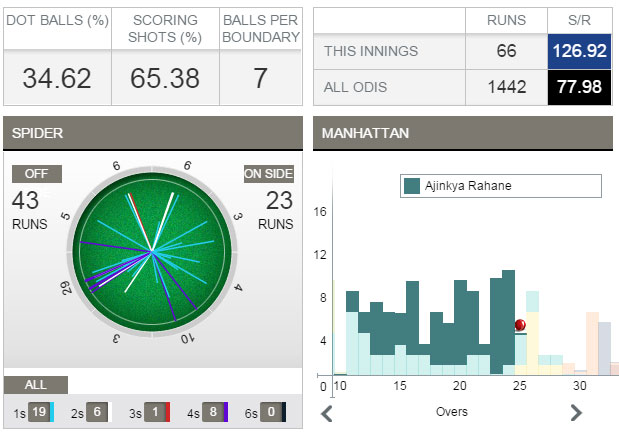 The question mark on his batting position continues to exist but Rahane, in many ways, showed his intention to dictate terms wherever he's asked to play. Coming into bat when the scorecard read a dodgy 59/2 in the 10th over, he was happy to see off the quicks and was severe on the slower bowlers.
With Rahane making a space for himself at the No.4 position, it gives the team management a much-needed relief of the openers' quandary. Rohit-Dhawan at top, Kohli at three and Rahane at four makes the Indian top-order wear a very formidable look.
Umesh sets the pace: On day where the bowlers kept the fielders on leather hunt, Umesh kept Dhoni interested with a fine exhibition of seam bowling on a not-so-helpful strip. The quick was the only Indian bowler to have stuck to an off-side line throughout the game. Out of the 55 deliveries he bowled, 40 were in the corridor outside or around the off-stump.
Maxwell's assault did affect his figures, but that over apart he was very effective. If the two fours and three sixes hit by Maxwell are ignored, Umesh only conceded one boundary during his spell and bowled as many as 29 dot balls. Dot is gold, they say.
The only question, a very pertinent one, left unaddressed was the new ball. With Stuart Binny not doing much on a unassisting strips, India need to experiment with pace up front. Not that they didn't in the matches gone by, but the way Umesh is shaping up he can be a handy option with the hard new ball.