CWG 2018, India vs Malaysia Mixed-team badminton: Indian mixed badminton team claimed its maiden Commonwealth Games gold medal, thrashing three-time defending champions Malaysia in the final in Gold Coast on Monday. The pair of Satwik Rankireddy and Ashwini Ponnappa claimed the mixed doubles match against Peng Soon Chan and Liu Yong Goh 21-14 15-21 21-15, before Kidambi Srikanth stunned three-time Olympic silver medallist Lee 21-17 21-14 in straight games. Men's doubles pair of Rankireddy and Chirag Shetty lost to Goh and Wee Kiong Tan 15-21 20-22. This led to Saina Nehwal helping India to the historic gold with a 21-11 19-21 21-9 win over Soniia Cheah in the women's singles match. Here are the highlights:
ALSO READ | CWG 2018: Twitterati rejoice over India's FIRST-EVER GOLD win in mixed-team badminton
Live Blog
CWG 2018, India vs Malaysia Mixed-team badminton:
India receive gold medals
And the Indian flag flies high as the Indian shuttlers receive their gold medals. Another good day at the CWG. India's gold medal-tally now reaches 10.
Medal-ceremony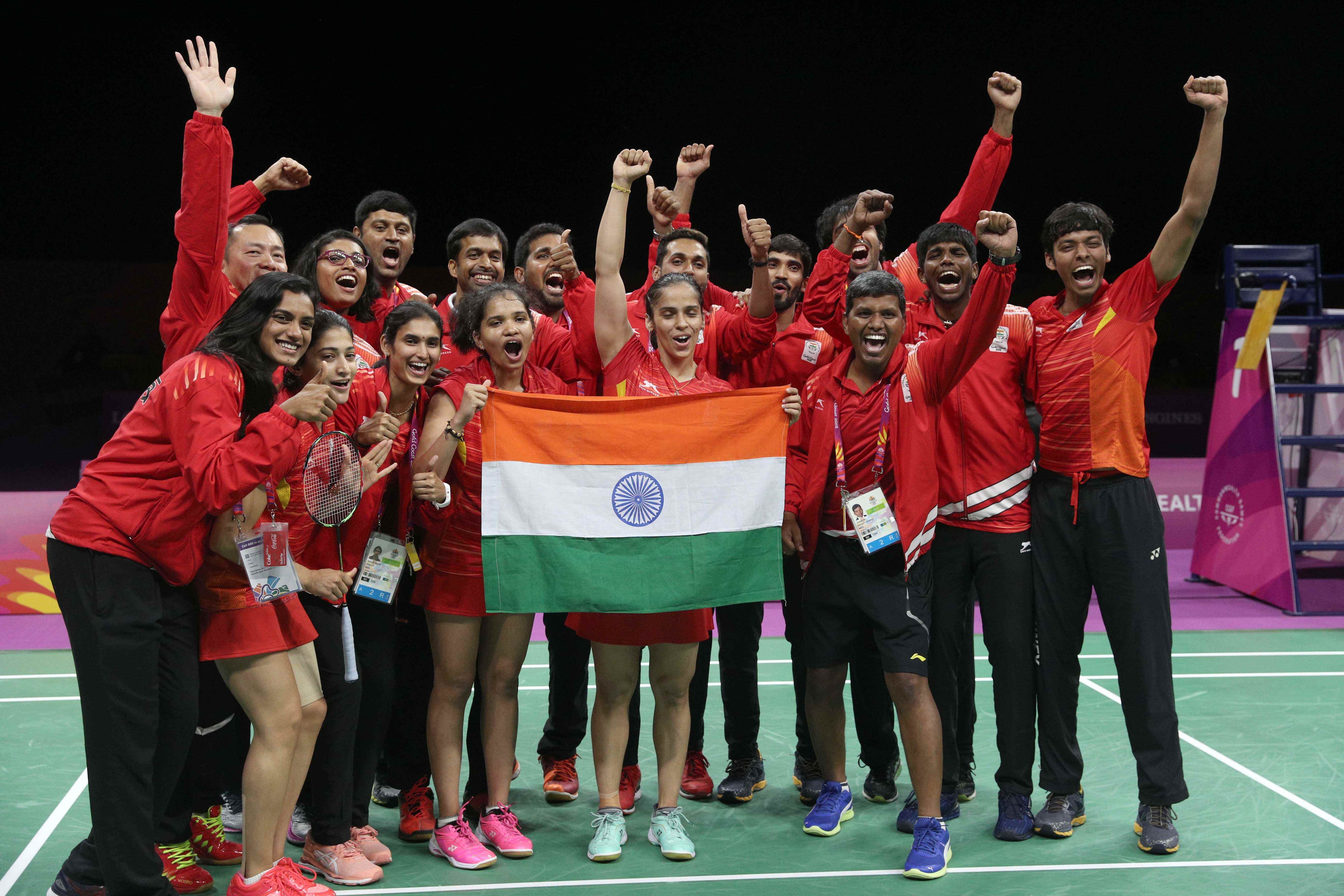 The shuttlers are walking in for the medal ceremony now. Proud moment for India
First badminton team gold
SAINA WINS, INDIA WINS
Saina Nehwal wins the super-intense, crucial women's singles match against Malaysia's Cheah 21-11, 19-21, 21-9. And with that India win their first badminton team event GOLD in the Commonwealth Games 2018.
Game point
What a rally! What a great rally! And with that she earns 20 points, more than 10-point lead and is a point away from winning the match.
Saina takes massive lead
And Saina is back in her no-mercy mode. She is now in a hurry to end this game, taking 16-9 lead. Oh Saina, you beauty!
Mid-game break
Saina goes to the mid-game break with 11-9 lead. Banking on Saina for her rich experience
Intense, neck-to-neck game
Saina makes it 7-7. Then Cheah makes it 8-8. The intensity of the match makes Saina smile as Cheah tests the Indian shuttler.
Cheah snatches lead back
Neither of the two are ready to let their opponent enjoy lead for a long time! Cheah steals the lead back from Saina after an amazing rally
Saina takes lead
Cheah's smash goes out! Saina takes 5-3 lead as thousands of Indians cross their fingers during the thrilling decider
Decider underway
Another intense game underway. Saina, Cheah are neck-to-neck at 2-2 in the decider. Cheah puts Saina to test.
Saina goes down 21-19 in second game
The super-intense game ends with Cheah winning 21-19 against Saina. Match goes into decider
India 19-19 Malaysia
The game is getting too intense. A great smash from India and the game is level at 19-19
India 18-18 Malaysia
Game level at 18-18 after Cheah took medical time-out. An intense match underway as both the shuttlers reply to a point with a point.
Cheah takes lead
Cheah takes lead after the medical time-out. She leads Saina by three points. Is this looking to go into decider?
Medical time-out
Cheah is being treated for a cut by the medical team. Both the players get some rest and the crowd gets reason to scream at the top of their lungs
Mid-game break
Saina Nehwal goes into the mid-game break with 11-10 lead. A couple of errors cost her crucial points. The Indian shuttler now needs to extend the lead.
Cheah's comeback
Great comeback from Cheah, who has found back her fighting spirit, as she bridges the point gap between them to one. India 9-8 Malaysia.
Saina leads 8-4
Saina is unleashing her merciless self! She has taken a 4-point lead after letting Cheah believe that the game was in her favour at the start.
Saina wins first game
Saina Nehwal is on fire! She earns 12 points in a row to win the first game 21-11 as Cheah looks clueless.
Game point
Saina confidently destroys her opponent. Like the commentator says, Saina Nehwal is on fire! Saina a point away from winning the first game.
Saina takes 15-11 lead
Saina Nehwal turns the game to her advantage. The Indian shuttler gets into her element to take a strong 15-11 lead as the crowd is roaring India's name!
Match level 6-6
Saina Nehwal pushes India's campaign for its first ever gold but faces a tough competition in Soniia Cheah. The game is level at 6-6 as the Malaysian sends smashes to keep the game level
Saina Nehwal takes the court
Malaysia wins men's doubles, India still leads 2-1
Malaysia does it! Wins the first match on the FINAL day in men's doubles, as Satwik-Chirag go down 21-15, 21-19. India still lead 2-1 in badminton mixed-team event
Game point
Trouble for India as Satwik-Chirag trail Malaysia by two points. Malaysia are just a point away from winning the match.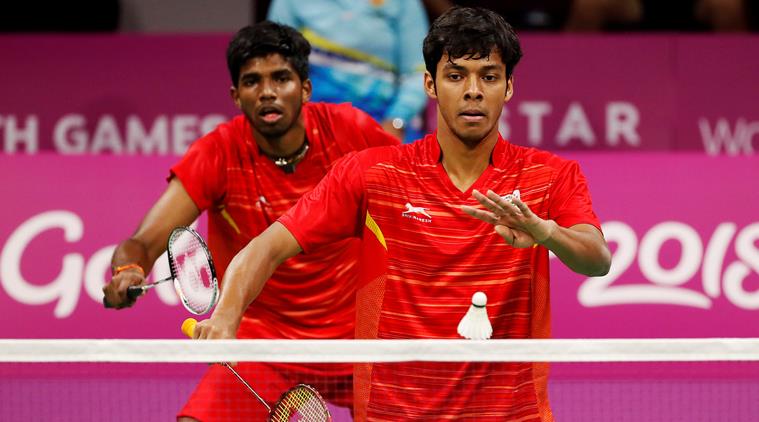 Game level
Malaysians make their way back into the game, leveling it at 17-17. If India lose this game, they lose the match. Can Satwik-Chirag hold their nerves?
India take 15-11 lead
Superb! India take 15-11 advantage, a four-point lead by Satwik-Chirag. The crowd is going wild!
Mid-game break
India go into the mid-game interval with 11-7 advantage. Satwik-Chirag not leaving anything to chance in this game.
Strong support leads to strong play
Look at the amazing support received by India in Gold Coast. India on its way to badminton team gold as the crowd constantly screams 'Go India'!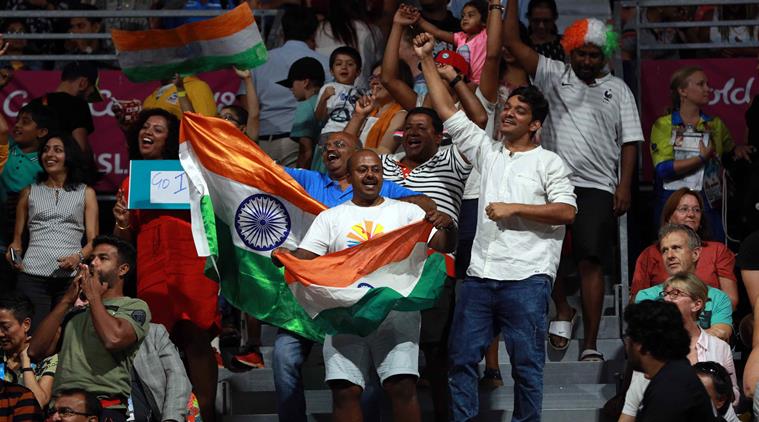 Satwik-Chirag start well
Second game begins and India approaches it confidently, taking 5-1 lead. India need to win this game to drag the match into decider.
Malaysia wins first game 21-15
India lose the first game today as Malaysia bag the first game of men's doubles 21-15
Game point
Malaysia are a point away from winning the first game as India trail the by six points. Can the Indian shuttlers do it? If not, this will be the first game India lose today.
Intense match
What an intense match underway. After feeling the heat, the Malaysians took matter in their hands to snatch India's lead. However, India are nowhere near giving up as they try to level the game. India 12-13 Malaysia
India trails
India trailing 10-8 as Malaysians understand how to work their game through and snatch the game from Satwik-Chirag. A point away from mid-game break
Game level
Malaysian boys level the game at 7-7 after trailing 5-3 in the first game. This looks like another thrilling encouter.
Indian shuttlers up for a good start
Indian men shuttlers Satwik-Chirag on a good start as they take 3-1 lead in the first game of men's doubles.