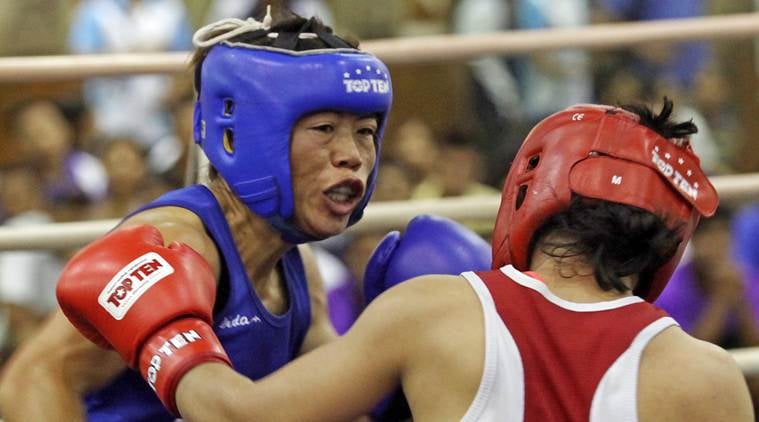 Three new weight classes have been added to women's boxing. (Source: Express Archive)
The Commonwealth Games schedule includes 10 core sports and eight optional ones. While the core sports remain largely unchanged, the optional sports vary from edition to edition. In the upcoming 2018 edition of the multi-sport event, two sports – women's rugby sevens and beach volleyball – will be making their debuts and basketball makes a return. Apart from this, seven new events for women have been added to the existing sports programme.
India is not represented by a team in women's or men's rugby sevens and also won't be taking part in beach volleyball due to the Indian federation being banned by the FIVB.
Basketball
The Indian men's basketball team is placed in Pool B alongwith England, Cameroon and Scotland. The women's team is also in Pool B with New Zealand, Jamaica and Malaysia.
The two teams have their three Preliminary matches on the same days. On April 5, the Indian men's team play Jamaica and the wome's team play Cameroon. Then on April 7, the women's team play Malaysia while the men face England. The men's and women's teams play their final preliminary matches on April 8 against Scotland and New Zealand respectively.
Indian Men's Basketball team: Ravi Bhardwaj, Joginder Singh, Aravind Annadurai, Justin Joseph Gnana Selvaraj, Amritpal Singh, Jeevanantham Pandi, Yadwinder Singh, Arvind Arumugam, Amjyot Gill, Arshpreet Bhullar, Satnam Bhamara, Akilan Pari
Indian Women's Basketball team: Anjana Prasannan Geetha, Barkha Sonkar, Raspreet Sidhu, Grima Merlin Varghese, Anmolpreet Kaur, Navaneetha Pattemane Uday, Rajapriyadharshini Rajaganapathi, Jeena Palanilkumkalayil Skaria, Shireen Limaye, Sruthi Menon, Bhandavya Hemmige Mahesha, Madhu Kumari
New medal events
Seven new medal events have been added this year to the women's roster which includes one weightlifting event, three boxing weight categories and three track cycling events.
Women's +90 kg is the new weight category that has been added to weightlifting program. Purnima Pandey, who won a silver in the Junior category of the same weight class in the 2017 Commonwealth Championships, will be representing India.
45-48 kg, 54-57 kg and +75 kg are the new events added to the women's boxing. While there are no Indians in the latter of the two categories, five-time world champion Mary Kom will be representing the country in the 45-48 kg. The Commonwealth Games medal is the only accolade missing in her impressive trophy cabinet.
Keirin, Team Sprint and Team Pursuit are the three events added to Women's Track Cycling. India will be represented as follows;
Keirin: Deborah Herold, Aleena Reji
Team Sprint: Deborah Herold, Aleena Reji
Team Pursuit: Deborah Herold, Aleena Reji, Amritha Geethakumari, Monorama Tongbram, Sonali Mayanglambam
For all the latest Sports News, download Indian Express App