It had been a phone call with specific instructions — down to the very last detail. This was national coach Pullela Gopichand in Hyderabad connecting to junior coach Mohammed Siyadath Ullah Siddiqui, who was in Male. It was on the day PV Sindhu, 15 then, — under Siyadath's watch — had beaten a certain Carolina Marin, 17 then, at the Maldives International Challenge. Now, Sindhu was facing PC Thulasi, another of Siyadath and Gopichand's gritty students, in the final.
The instruction ran thus: Sit in the first row with feet stretched out, crossed at ankles. Take a pen along, puff it like a cigar and experience contentment like the legend.
International badminton's most envied scene for years had been Chinese head coach Li Yongbo, sitting in Row 1, feet up on the railings, left ankle on right, holding a cigar and chilling like a smug villain while two Chinese fought in the finals. With India doing a China, Gopi wanted Siyadath to do a Yongbo.
This would be the first-ever all-India final of Siyadath's coaching career and also Sindhu's first-ever international title. In the days to come, he would on the sidelines, sit in for Gopichand, when Kidambi Srikanth won his first Super Series in China. Not quite in the 'feet up' pose, he would walk up to Srikanth in the break and give pinpoint instructions — don't smash hard in opening game, go for body smash at 20-19, don't smash from baseline in the second, increase hand-speed when in doubt.
It wasn't the first time a top Indian shuttler had blindly trusted Siyadath's tactics, and gone on to win the title. Trained by Gopichand in every aspect of coaching — from managing players' moods to analysing Lin Dan's game — the 33-year-old has played a key role to mould each of India's top shuttler.
Srikanth acknowledges Siyadath's contribution to the rise of several India stars. "He travelled a lot with our batch for tournaments and also trained us at the academy. So he knows how we play better than anyone. Over a period of time he improved his skills so much that he was the coach when I won my first junior state and also my first Super Series. He improved parallel with me. It could be multi shuttle in training, or in a big international tournament because he knows exactly how I am feeling that particular day," says Srikanth of the man who for the last 8 years has nursed players' confidence and propped up their belief.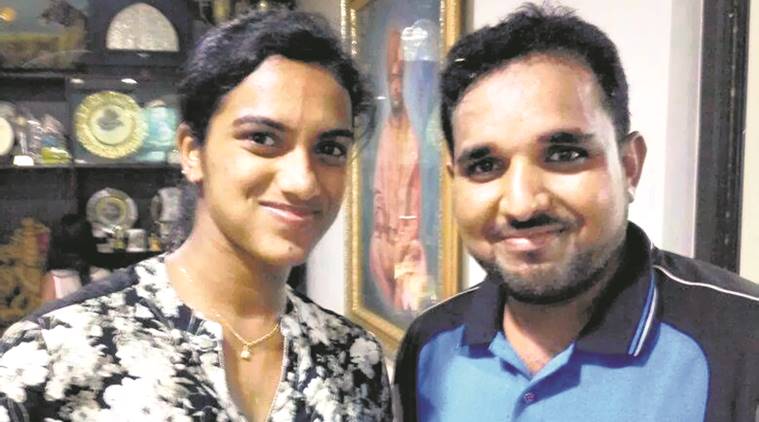 He recalls the exact moment the bond was struck: "During my juniors days, in one early round of a tournament, I was trailing against an unseeded player. Normally any coach would've scolded me but Siyadath told me to enjoy the first game. He said it's ok even if I lose. That day I was actually playing badly and lost the 1st game easily, but just his belief helped me win the 2nd and 3rd very comfortably."
HS Prannoy meanwhile recalls the times when Siyadath would fetch up to patch his game and confidence back together after one of the many injury breaks.
Every top player has seen their belief nurtured by the cool-headed coach. With Sindhu, he can sense her drooping shoulders if matches get tight, and Siyadath is known to summon the exact key-words that can turn things around for India's Olympic silver medallist. He once reminded her of a stiff 6-7 hour long training session, telling her the match was nothing compared to how she'd lasted that insane rigour. "He reads games well and just knows us inside out, it's the comfort level," Prannoy explains. Having travelled with everyone from Saina Nehwal to Kashyap to Sameer Verma and Sai Praneeth, Siyadath chuckles he wasn't surprised when his low key wedding had a high star value. "My wedding date was decided keeping in mind my players' tournament schedules. And they all came," he says.
So why hasn't the man who has overseen the phenomenal rise of India's golden generation of shuttlers — that has won two Olympics medals and several world titles — never considered for Dronacharya award? Gopichand's second hasn't got his due and it's unlikely that Siyadath's big moment of recognition is round the corner. What might automatically rule the coach out of contention this year will be the fact that it is his mentor Gopichand who heads the Dronacharya Award selection committee.
Badminton Association of India secretary Anup Narang, while asking for time to confirm / deny the shuttle body's recommendations, says various criterion have to be considered. "Look there are two points. Whether he has nurtured players, or whether his inputs have directly affected a performance and turned a player into champion. It shouldn't be that he has just assisted someone, so we send his name. We'll have to take a look at his performances. There are various aspects to a Dronacharya — a person's knowledge as a player as well as his ability as coach," he explains.
Siyadath, though not carrying the heft of an international expert or specialist or strategist, is widely acknowledged as the players' go-to man. It's been hard road but the love of the shuttle sport saw him stick around despite the injuries he suffered as a player. Siyadath joined Railways as 19-year-old, but he didn't see the sport as just a means to landing a job. Injuries were ending his career, but Gopichand sensed the enthusiasm of the youngster from Mahbubnagar district to be on court even as the 9-to-3 office hours started grating on his nerves. The son of a watch repair businessman, wondered if he ought to get his NIS diploma, but was persuaded into learning on the job. "Gopi said usse zyada main tumhe sikha doonga, and I didn't need telling twice," he recalls.
With time, Gopi's wisdom would rub on to his assistant. His transition from a helping hand to think tank member was unusual. This one time when Siyadath doubled as transport in-charge for an Asian Championship, he got an important coaching responsibility. "I had the bus schedules in my hand, and I could see Srikanth was due to play next. Gopi called me in and said 'get ready to sit for the match. Srikanth trusts you.' And just like that I was doing what I like best," he recalls.
His knowledge has gotten more nuanced and his coaching skills more layered — and he's is immunized to pressure when on the sidelines of big matches. "First lesson was — I can't look panicked, I need to be confident when explaining. Also, I never get bored on court. Gopi says if a coach looks 100 percent energetic at 5 am, then kids will follow."
The Dronacharya is reserved for high-profile names, but given shuttlers' success over the last two Olympics, and the sheer work-rate of this man — Siyadath will be an inspired choice. That's if the committee genuinely wants to peek behind the curtain, and look for the busybee inside the backroom of badminton.