India's final tally at the 18th Asian Games in Jakarta and Palembang, Indonesia read 69 medals – 15 gold, 24 silver and 30 bronze to surpass the medal count from 2010 Games in Guangzhou, China and match the gold medal tally from the first-ever Asian Games in 1951. The games saw India create new national records, register some firsts – first medal in sepaktakraw, Rahi Sarnobat became first Indian woman to win Asian Games gold in shooting and Vinesh Phogat became first Indian woman to win gold in wrestling. The Games got underway with Neeraj Chopra as the flag bearer at the opening ceremony, Ravi Kumar/Apurvi Chandela winning the first medal, India men's hockey team the last and culminates on September 2 with Rani Rampal as the flag bearer at the closing ceremony. (Asian Games 2018: Athletes who brought glory to India | Asian Games 2018 Medal Tally)
Here is how India fared in key sporting events and disciplines at the Asian Games 2018:
ATHLETICS
Athletics has been the biggest contributor to medals tally for India across the Asian Games. Track and field events have contributed to 233 medals for India at Asian Games and in Indonesia, that tally moved to 240 with 7 golds, 10 silvers and 2 bronze medals. This is better than how India fared at the 2014 Incheon Asian Games where they picked 13 medals in total. Take away Bahrain's Africa-born athletes, who finished second best in athletics, and India's count could have been even higher. Neeraj Chopra and Swapna Barman's gold medals in javelin throw and heptathlon went alongside India's continued dominance in women's team relay (gold). Jinsons Johnson winning gold was first 1500m medal in 20 years, Manjit Singh's 800m gold was after 32 years and Arpinder Singh's triple jump gold came after 48 years.
MEDALS: 17 (7 gold, 10 silver and 2 bronze medals)
ARCHERY
Archery remains a mixed-bag for India, despite the two silver medals. The powerhouse South Korea proved to be the agonising downfall of India's compound archers team. Poised to win the gold in Compound Archery, Rajat Chauhan, Aman Saini and Abhishek Verma, the India Men's team comprising of failed to grab the yellow metal after a rare stroke of bad luck. In a dramatic finale, it appeared for a moment that India have won the gold when the final scoreline read India 229-227 against South Korea. But the referee took a look at the shots again and revised the scoring, announcing the game to be tied at 229-229. The ensuing shootoff ended too finished with a draw, with a score of 29-29. It meant that the winner was decied by the team scoring maximum perfect 10s – it meant India getting away with only a silver.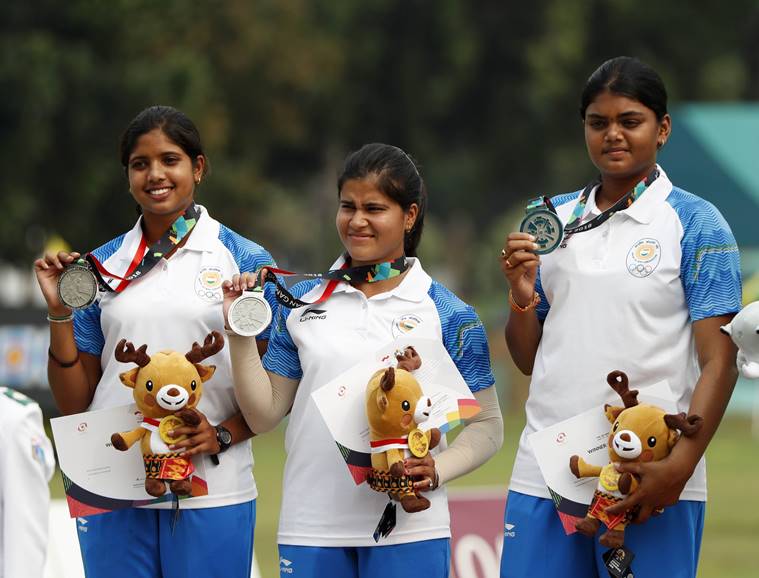 India Women's Team won the Silver in Compound Archery. India Women's Compound team, comprising Jyothi Surekha Vennam, Muskan Kirar, and Madhumita Kumari, too fought the good fight against the likes of top sides such as the Philippines and Chinese Taipei to set up a summit clash against South Korea. But the mighty Koreans went on to win the match 228-231 with relative ease, canceling out India's hope of adding an Archery gold. India did not win any medals in Recurve events, nor any in Individual Archery competitions.
MEDALS: 2 (2 silver medals)
BADMINTON
It was a historic badminton campaign for India at the Asian Games 2018 with two female shuttlers – PV Sindhu and Saina Nehwal – securing a medal each in the individual event. It is for the first time in Asiad history that female shuttlers won medals in the individual event at the Games for India. The last time any shuttler won a singles medal at Asiad for India was Syed Modi, who won the bronze in 1982 in Men's Singles. Both Nehwal and Sindhu lost to Tai Tzu Ying and failed to grab the yellow metal. While Nehwal lost 17-21, 14-21 against the World No.1 in the semifinal match and had to settle for Bronze, Sindhu suffered a 13-21, 16-21, in the semifinal and added an Asiad silver to her list of career achievements.
Misses: Apart from the two female shuttlers adding medals for India, the remaining badminton contingent, that featured the likes of Kidambi Srikanth, HS Prannoy disappointed. Both the experienced campaigners lost their opening matches at the Asian Games. Srikanth lost 21-23, 19-21 to Wong Wing Ki Vincent of Hong Kong while Prannoy went down to 12-21, 21-15, 15-21 to Thailand's Kantaphon Wangcharoen. India's women's double team of N Sikki Reddy and Ashwini Ponappa also failed to go past the quarterfinal stage and failed to grab a medal for India.
MEDALS: 2 (1 silver and 1 bronze medals)
BOXING
Indian boxers amassed nine medals at the Commonwealth Games in Gold Coast earlier this year. Move to the Asian Games and the tally has been dwarfed to two with Amit Panghal saving face on the final day. His gold medal, in the 49kg category, achieved India's milestone for best-ever medal count at Asian Games. His 3-2 win on split decision over reigning Olympic champion Hasanboy Dusmatov was a joy to watch for the sheer dominance on display. But the low count in the ring as compared to the Commonwealth Games highlights India have a long way to go when it involves pugilists from Kazakhstan, Uzbekistan or Mongolia.
MEDALS: 2 (1 gold, and 1 bronze medals)
HOCKEY
In all fairness, neither men's or women's hockey teams would be exceptionally proud of the outcome at the Asian Games. Women's team looked patchy in the gold medal match but can take heart from the progress made despite the coaches swap made at their expense. The women's team reached their first final in 20 years even as other Asian teams are on the rise. The men's team, and their bronze medal finish, can only be termed as a disaster. "They are by far the best team in Asia. It was surprising that they lost to Malaysia (in the semis). They should be disappointed," said former India and current Pakistan coach Roelant Oltmans. In the grand scheme of things, the result would do little to bolster their confidence with the World Cup later in the year.
MEDALS: 2 (1 silver and 1 bronze medals)
KABADDI
India's biggest disappointment at the Asian Games 2018 came in Kabaddi – a sport in which they have dominated since it was introduced for the first time in the tournament in 1990. India Men's team, who defeated Iran 44-26 to win the Kabaddi Masters not long ago, suffered a 27-17 defeat at the hands of the same opponents in the semifinal match and had to settle for the Bronze medal. It is for the first time India Men's team had not won the Gold medal in Kabaddi at the Asian Games. To add to the disappointment, India Women's team also failed to grab the gold and had to settle for a silver medal after losing 27-24 against Iran.
MEDALS: 2 (1 silver and 1 bronze medals)
Rowing
Rowing served India a mixed bag at the Asian Games 2018. Dattu Bhokanal, who was expected to win a medal in Men's Singles Sculls had a horrible final, in which he finished in the last position. Later, the rower cited health issues as the reason for his struggles in the event, but a brief controversy occurred when coach Nicolae Gioga said he was unaware about the health concerns. Luckily for India, the rowers bounced back on the final day of the sport to secure a Gold and two Bronze medals. While Dushyant won the Bronze in Men's Lightweight Single Sculls, Rohit Kumar and Bhagwan Singh won the same prize in Men's Lightweight Double Sculls. The team of Sawarn Singh, Dattu Bhokanal, Om Prakash and Sukhmeet Singh also secured the Gold in Men's Quadruple Sculls.
The medals did little to save the coach from scrutiny with reports suggesting that the "grueling" training methods employed by the 66-year old Romanian actually cos the team medals in some events. The Rowing Federation of India later admitted they made a mistake in hiring Gioga and should have stuck with an Indian coach.
MEDALS: 3 (1 gold, and 2 bronze medals)
SQUASH
The infighting and internal turmoil within the Indian squash contingent had already put them on the backfoot. The athletes questioned the presence of Cyrus Poncha and Bhuvneshwari Kumari as coaches instead of administrators. Former coach Achraf Karargui quit before the Commonwealth Games and since then, the players were on their own and that resulted in the team returning without a gold medal. The promise was there with Saurav Ghosal in singles and then women's squash team later but neither worked out to garner a yellow metal.
MEDALS: 5 (1 silver and 4 bronze medals)
SHOOTING
India delivered yet another strong performance in Shooting at the Asian Games 2018 with a total of 10 medals to the tally. There were a number of big surprises for India in the sport at the Games with teenagers Saurabh Chaudhary and Shardul Vihan making big strides. While the 16-year old Chaudhary won the gold medal in 10m Air Pistol, the 15-year old Vihan struck a silver medal in Men's Double Trap. Rahi Sarnobat secured the second gold medal for India in Women 25m pistol event. While Veteran shooter Sanjeev Rajput continued his form from the Commonwealth Games and managed to win a silver in 50m Rifle 3 Positions Men, while another CWG gold medalist Heena Sidhu secured 10m Air Pistol in Women. The team of Ravi Kumar and Apurvi Chandela won the bronze in 10m Air Rifle Mixed Team event, and the youngster Abhishek Verma won the bronze in 10m Air Pistol men. Lakshay brought a surprising silver for India in Men Trap while Deepak Kumar added a silver in 10m Air Rifle.
Misses: The biggest disappointment for India in Shooting at the Asian Games 2018 was the 16-year-old Manu Bhaker, who failed to win a single medal. The Asian Games gold medallist had a poor run throughout the tournament, not being able to qualify for the final in 10m Pistol Mixed Team final with Abhishek Verma. Later, she created an Asian Games record in 25m Pistol Qualifying round but finished in the 6th position in the final. She finished in the 5th position in 10m Air Pistol final, in which Heena Sidhu fought hard to secure bronze.
MEDALS: 10 (2 gold, 4 silver and 3 bronze medals)
TABLE TENNIS
After a successful stint in Commonwealth Games 2018, Indian fans were hopeful the Table Tennis contingent can end the 60-year drought of an Asiad medal. The squad, comprising the likes of Sharath Kamal, G Sathiyan and Manika Batra did not disappoint. India secured two medals in Table Tennis in Asian Games 2018 with Kamal, Sathiyan along with Manav Vikash, Anthony Arputharaj and Harmeet Desai winning the bronze in Men's Team event and Kamal combining with Batra to win the bronze in mixed doubles. The double podium finishes in Table Tennis is regarded as one of the biggest highlights of India in the multi-sport competition.
In singles' competition, the CWG gold medallist Manika Batra went down against world number five Wang Manyu 2-11, 8-11, 8-11, 11-6, 4-11 in the round of 16. The 23-year old managed to win a game, proving her mettle and her ability to make unexpected comebacks. But it was not enough in the end to beat the Chinese. Sharath Kamal too went down in the Round of 16 after losing to 14th ranked Chih Yuan Chuang of Chinese Taipei 7-11, 11-9, 10-12, 16-14, 9-11. Sathiyan's loss against Kenta Matsudaira in the Round of 16 finished India's stunning run in Table Tennis in Asian Games 2018.
MEDALS: 2 (2 bronze medals)
TENNIS
India's dominance in the men's doubles event continued with Rohan Bopanna and Divij Sharan. The medal count from tennis could have been higher but for Leander Paes opting out late due to his demand of a specialised doubles partner not being met. The late decision resulted in changes in team pairings and mixed doubles event getting the most affected. In singles, Prajnesh Gunneswaran won bronze medal while Ramkumar Ramanathan faltered early. The projection was of five medals and the Indian tennis team fell short.
MEDALS: 3 (1 gold, 2 bronze medals)
WEIGHTLIFTING
Another big disappointment for India at the Asian Games 2018 were the weightlifters. After bagging a total of 9 medals at the Commonwealth Games 2018, which included 5 Gold medals, much was expected from the weightlifting contingent. But things did not go as per planned at the Asian Games as Indian weightlifters failed to win a single medal. Sathish Kumar Sivalingam, who was one of the gold winners in CWG, finished in the 10th position in Men's 77kg Weightlifting event with a total lift of 314 kg (144 kg Snatch + 170 kg Clean-and-Jerk). Ajay Singh finished in the 5th position in the same event with a total lift of 327 kg. Vikas Thakur, who won the Bronze in CWG, finished in the 8th position in Men's 94 kg Weightlifting with a total lift of 335 kg (145 kg Snatch + 190 kg Clean and Jerk)
Female lifters did little to redeem with Rakhi Halder getting disqualified for the Clean and Jerk after failing to complete her Snatch attempt in Women's 63kg event.
MEDALS: 0
WRESTLING
With several big names from India's Wrestling contingent included in the squad at the Asian Games, India were expected to make it big in the discipline. But a series of unexpected results saw them winning only three medals in freestyle wrestling, while no medal came from Graeco-Roman format. Ahead of the 2020 Tokyo Olympics, India can take confidence from the fact that they secured two gold medals in the Wrestling, with Bajrang Punia winning the yellow metal in 65 kg Freestyle wrestling and Vinesh Phogat winning the top prize in Freestyle 50kg wrestling. While Punia defeated Japan's Daichi Takatani 11-8 in the final, Phogat outplayed Japan's Yuki Irie to take a 6-2 win and become the first Indian female wrestler to win an Asiad gold.  Apart from the two, Divya Kakran also won the bronze medal in Freestyle 68 kg wrestling for India.
Misses: The biggest miss for India in Wrestling was the gold medal prospect Sushil Kumar getting eliminated in the first round suffered a stunning 3-5 loss in the first qualification round bout against Bahrain's Adam Batirov in Men's 74kg category. The 2016 Rio Olympic Bronze medallist Sakshi Malik also failed to grab a medal after she lost to Korea's Rim Jong Sing 12-2 on technical superiority in the bronze medal match.
MEDALS: 3 (2 gold, and 1 bronze medals)
OTHERS
Bridge
Making its multi-sport debut at the Asian Games, the card game proved to be a handy one (excuse the pun) with three medals. The most popular card game in the world saw India winning medals in Men's Pair (gold), men's team and mixed team (bronze medals). Pranab Bardhan and Shibhnath Sarkar took India's gold medal count to 15 to match that of 1951 Asian Games. Away from the rags to riches that dominate other sports, bridge is played by the richie rich where the age is no bar. Just ask the 60-year-old Bardhan.
MEDALS: 3 (1 gold, and 2 bronze medals)
Equestrian
India delivered a strong performance in the highly unrecognised sport of Equestrian. Fouaad Mirza ended India's 36 years of wait to win an individual medal in the equestrian event since 1982. He won the silver medal in individual jumping with a score of 26.40, just four seconds behind Japan's Oiwa Yoshiaki. The Indian team comprising of Rakesh Kumar, Ashish Malik, and Jitender Singh, apart from Mirza, also claimed the Silver with a score of 121.30 in the team event.
MEDALS: 2 (2 silver medals)
Martial Arts (Kurash, Wushu)
In mixed martial arts events and disciplines of Kurash and Wushu, India picked up six medals with one silver and bronze coming in Kurash while four bronze medals arrived in wushu. Pincky Balhadra and Malaprabha Jadhav won silver and bronze respectively in Kurash women's 52kg event. In Wushu, Roshibina Naorem won bronze in women's Sanda 60kg; men's trio of Santhosh Kumar, Surya Bhanu Pratap Singh, Narender Grewal won in men's Sanda 56kg, 60kg and 65kg categories respectively.
MEDALS: 6 (1 silver and 5 bronze medals)