Sushmita Singha, founder of Udaipur Tales, an international storytelling festival, talks to us about the importance of storytelling for the next generation. Having worked extensively in the social sector, she believes stories have the power to not only heal but seed a thought or emotion that can open minds and force positive change.
How was the Udaipur storytelling festival conceived? Why did you pick Udaipur as the venue?
We are very interested in culture, behaviour and stories. Salil (Bhandari) and I (founders) were discussing how important intangible heritage is and we hit upon the idea of a storytelling festival. The idea of listening to stories is exciting and one gets to know of another world.  We felt everyone, especially the younger generation, should enjoy the magic of stories. We decided to create a platform for storytellers of all kinds and age to meet and spin their web.
Udaipur is romantic, a land of valour and sacrifice. We grew up on stories of Rana Pratap, Panda Dai. Udaipur is called the Venice of East, for the romance in the air, for the lakes and the water bodies casting a picturesque spell. We felt that no other place could be better than Udaipur for a storytelling festival.
Why the emphasis on storytelling?
Life is a story, everything around us is also a part of that story. Our present will also become a story for our future. There are some things we grow up with…some things that we never abandon. Like we still like to tell our children the stories about Diwali, Dussehra, Halloween, Christmas, Baisakhi, etc. Be it any culture or land, stories have been an essential part of our growing up. When we talk, we tend to tell stories about ourselves, our experiences…we narrate in our own manner.
I strongly feel that our values and cultural heritage are passed from one generation to another through stories. Grandparents talk of their younger days and pass on the memory of their elders and life to the third or fourth generation. We learn about struggles of freedom fighters, beauty of the world through stories as we grow up and carry the memories.
Certain nuances cannot be written but they can be passed on only through stories because our voices carry emotions while we narrate.
You have a special session for children. What can one expect there?
Yes, there is a stage dedicated to children, which will see various storytellers who are expert in storytelling sessions with the younger audience. They will dramatise the versions a bit, engage with them, while narrating life guiding stories. We have a Russian storyteller who will create Russian forests and animals through her words and folk tales. There will be an interesting mix of Indian stories for children with that of other countries.
Tell us about the storytellers participating at the festival and any interesting traditions being showcased.
We are an interesting mix of storytellers from Indian origin as well as international artists. To name some—Vipin Sharma, Shantanu Guha Ray, Shashwita Sharma, Faraz Khan, Goutam Mukherjee, Vaishali Bisht, Sanjukta Sinha, Durgah Devi, Stefan Kay, KC Shankar. They are all known names from different walks of life. Someone is an author, someone a business man, a danseuse, a singer, a musician, a journalist, a theatre artist and so on. We have them coming from different regions as well—Singapore, London, Russia, Ethiopia, etc.
What does storytelling do for children? Why is it important?
Stories are the building blocks for their mind and their hearts, their personality as a whole. Stories also contribute in how a child shapes up as an individual. Stories impart values, tradition, culture, and ways to live life. They become references for us when we grow up. They read us life experiences even before they happen to us. Look at the story of Ramayana; many of us swear by it, worship it, follow the preaching, and we narrate it to our next generation.
I dedicate my sense of adventure to my grandmother who always told me stories of Tarzan; it's a different matter that her Tarzan also visited Indian locales.
Who can attend the sessions? Is it open to the general public?
Yes, it is open for one and all, children of all age groups, adults, parents, grandparents…everyone is welcome.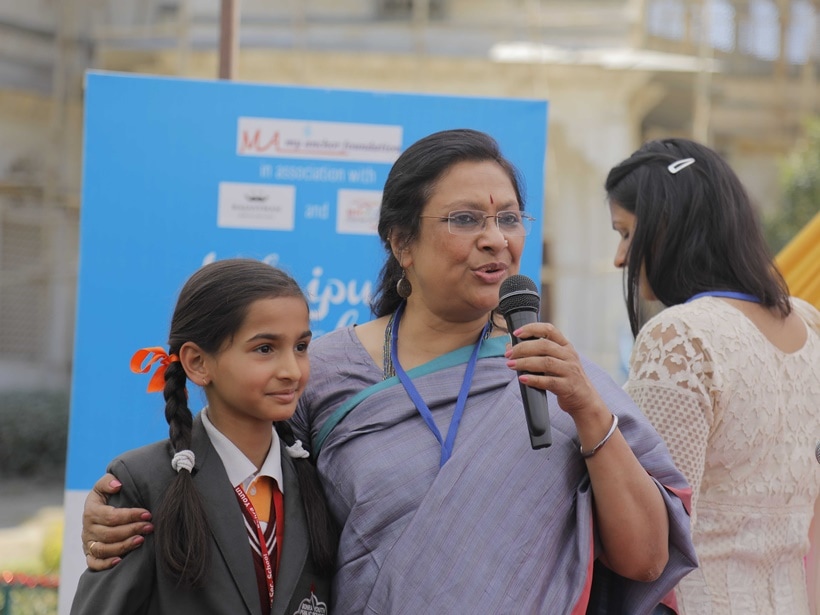 How have your own memories of listening to stories as a child influenced your path in life?
In our home, there was a lot of storytelling. My mother always narrated how her family, especially my grandmother, encouraged all to join the Independence movement, how Ma herself carried messages, written and sewed in the hem of her frock, how my grandfather (my father's father), who was a barrister, refused a government case against freedom fighters and lost out on work. There were so many stories of bravery, patriotism, naughtiness, love for art, sports and so on and so forth. We really were lucky because we grew up in a world of stories so beautiful. I am, to a large, what I am because of these stories. I must mention a few authors who have changed the course of my life in different ways and they are Munshi Premchand, Sharad Chandra, Daphne De Maurier, Ayn Rand, Paulo Coelho and Enid Blyton.
Tell us about some interesting storytelling traditions of India.
Well, where it is true that right from the Big Bang Theory to the current day, there are very many stories with every continent on this planet and even outside the planet, India stands strong with its extremely rich culture and heritage. To narrate them, we Indians have inculcated different forms of storytelling. The very first one which comes to my mind is narration of Ramayana. From centuries, Ramayana told the world about right and wrong, about the duty of a king and trials of a woman.
Ballads were sung by poets and Malik Muhammad Jayasi's Padmavati written in the 16th century had far reaching consequences when depicted on celluloid in 21st century. That is the power of storytelling. Dastangoi is a mix of two Persian words—"Dastan" meaning story and "Goi" meaning telling. A popular source of entertainment in Central Asian countries and Iran, this form of storytelling received patronage in the Deccan region in South India in 16th century. It is believed that during the Mughal era, Emperor Akbar was reputed to have been an expert dastango and popularised the art form. This form of storytelling involves telling tales of adventure, magic and warfare in Urdu.
Yakshagana, performed in a dance-drama style, blends together classical and folk dance with dialogue. A famous example of this would be the Raam Leela around Dussehra, which is widely followed. Harikatha is also another form of storytelling, which includes a lot of dance and drama mostly narrating stories of our mythical gods and goddesses. There are so many forms that it's difficult to speak of everything. People tell stories through song and dance stories in India and abroad.
Have modern families lost that connect with storytelling and how can we get it back?
We don't have the time to be with ourselves, with our thoughts and with our dear ones. We seldom tell stories out of memory or through imagination. We don't pass on our own happiness, imaginations to the children. We prefer reading or showing animated versions of stories. In the process, we miss out on being children again and on being part of a magical world. It is time we relived those moments by taking out time for the next generation and going to parks, waterfronts, night picnics and joy rides. It's pure fun.
The Indian Express website has been rated GREEN for its credibility and trustworthiness by Newsguard, a global service that rates news sources for their journalistic standards.