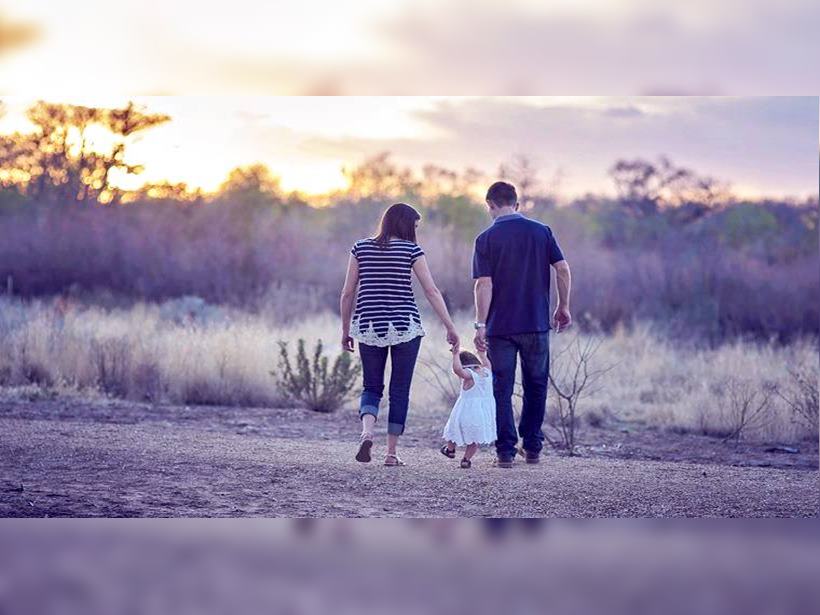 With the advent of the summer holidays, while most of us eagerly look forward to our much-anticipated family vacation, there are some of us who also dread the family vacation. Don't get me wrong. While it is great fun to travel with your children and explore new places and cultures, it can also be a frustrating and exhausting experience. As parents travelling with young children, we often look enviously at young couples without kids. They seem to be so carefree. Their belongings fitting into tiny suitcases, they are able to walk around with their hands-free at airports aimlessly perusing the duty-free shops. They look so clean and well put together. Is she actually wearing heels?
We, on the other hand, look bedraggled, wearing sneakers and the comfiest pair of clothes available, holding a mini competition between husband and wife on who can hold the maximum number of bags while trying to keep track of multiple kids, each whining, "I'm hungry, I'm thirsty, I'm tired" while simultaneously trying to keep their sticky and grubby fingers off a really expensive bottle of perfume that is balanced precariously on a shop counter.
*Travelling with children can be a challenging experience if one is not prepared. As each parent knows, those days of spontaneous travelling are behind us and if we want a relaxed, fun vacation, we need to prepare for it.
*Make your bookings in advance. Some hotels have fewer family rooms and they can get sold out quickly. Family rooms tend to be larger and can accommodate more beds. Check with the hotel on your specific requirements for a baby cot, special meals for children, laundry service or a babysitting service.
*Pack according to the weather. If it's cold, make sure you are carrying enough layers for your child to be cosy and comfortable outside. Similarly, if it's hot, make sure you carry a hat and flip-flops. If your child is dressed comfortably, he is more likely to want to stay out and about longer. Check on laundry services in or near your hotel. If you can squeeze in one round of laundry, it will help you travel lighter.
*Always carry a basic medical kit with first aid as well as medicines for fever, cough, cold and a tummy upset. Visit your local pediatrician for a general check-up before you go. Let them you know will be travelling and that you may need to get in touch in case of an emergency. Ask them to prescribe medicines and dosage in the event of your child falling ill.
*Carry a backpack with an extra change of clothes for both you and your child. Often, we carry a change only for our child, forgetting that in the event of an incident, we tend to be the ones that the child throws up on. Carry healthy snacks. Avoid sugary treats. A sugar-induced rush on a long flight or drive is a recipe for disaster.
*Carry mini toys, books, travel games, a scribble pad.. things that you can bring out at intervals during long travel days. Keep it small and light. Finger puppets, toy animals, small cars all work towards keeping them occupied. Older children can carry their own backpacks. Encourage them to pack their own backpacks with stuff that will keep them entertained. But, make sure you do a quick check before you leave. My younger son's backpack weighed a ton because he had decided to carry his pet rock along.
*Take it slow. When planning your itinerary, keep in mind that children get tired and hungry quickly. They need more rest and snack breaks. Pace yourselves. If you try to do too much in one day, you will have a cranky child and a stressed-out parent. If you have an evening activity, plan for the children to take a nap in the afternoon. If they are out the whole day, then have an early dinner and let them sleep early. Find a balance between their needs and yours to ensure that everybody gets the vacation they need.
*Take the time to explain to your child your expectations when in a crowded place. Set travel rules in place. One of our rules is that they must always walk next to or slightly ahead of us so they can be seen at all times. They are not allowed to lag behind. Make sure that they always carry some form of identification with contact details of phone numbers and addresses.
*Try and use public transportation whenever possible. Children love travelling in trains, buses, and boats. The age-old question of "Are we there yet?" rarely gets asked as they eagerly check the stations and stops for what comes next.
*If stuck driving in a car for a long time, keep some fun games up your sleeve. Ideas for travel games like I spy, road bingo, dunk your cows, license plate games can be found on the internet.
*Talk to them about the places they will be visiting, the people, the language, the food and customs and what they can expect. Do a little research and give them choices of what they might think is fun for them to do. Take their help in planning the itinerary. Teenagers can be encouraged to do their own research on the places you will be visiting.
*Encourage them to maintain a travel journal. They can record the places they visit with drawings or write a travel log. Older children can take pictures to record their travel.
Akhila Das Blah, aka The MOMster, is a proud parent of three bright, curious and engaging boys. An educational consultant with over 15 years of experience in teaching, curriculum development, teacher training and designing creative learning experiences, she combines her technical expertise of managing children in a classroom with the empathetic understanding of raising children in today's world. Wearing a combination of her teacher or parent hat, sometimes both, she shares her knowledge and expertise of children in a practical, fuss-free and implementable manner. Additional add-on: She was nicknamed the Momster by her cheeky six-year-old for her ability to go from Mom to Momster after 8:30 pm on a school night.
📣 The Indian Express is now on Telegram. Click here to join our channel (@indianexpress) and stay updated with the latest headlines
For all the latest Parenting News, download Indian Express App.
The Indian Express website has been rated GREEN for its credibility and trustworthiness by Newsguard, a global service that rates news sources for their journalistic standards.