Pakistan General Elections Results 2018 Live Updates: Initial trends have shown Imran Khan's PTI surging ahead to take the lead in 113 seats, leaving Nawaz Sharif's PML(N) a distant second.  PML-N president Shahbaz Sharif, Nawaz's brother, rejected the results, alleging "blatant" rigging.
The election comes amid an escalation in violence and also controversy surrounding former prime minister Nawaz Sharif, who recently returned to the country from London to face corruption charges even as he has sought to return his party, the Pakistan Muslim League, to power.
Follow | Pakistan election 2018 LIVE updates  
Meanwhile, hundreds of PTI supporters came out on streets in several cities, including capital Islamabad, to celebrate the party's imminent victory in the polls. News agency Press Trust of India reported massive traffic jams with jubilant supporters parking their vehicles on main roads and sidewalks and dancing to loud music.
Live Blog
Will Nawaz Sharif's PML-N return or will Imran Khan's PTI reign supreme. Follow live updates of Pakistan General Election results 2018 here
Trivia
Did you know that no prime minister in Pakistan's history had completed full tenure in office? Will Imran Khan or who so ever would become PM be any different?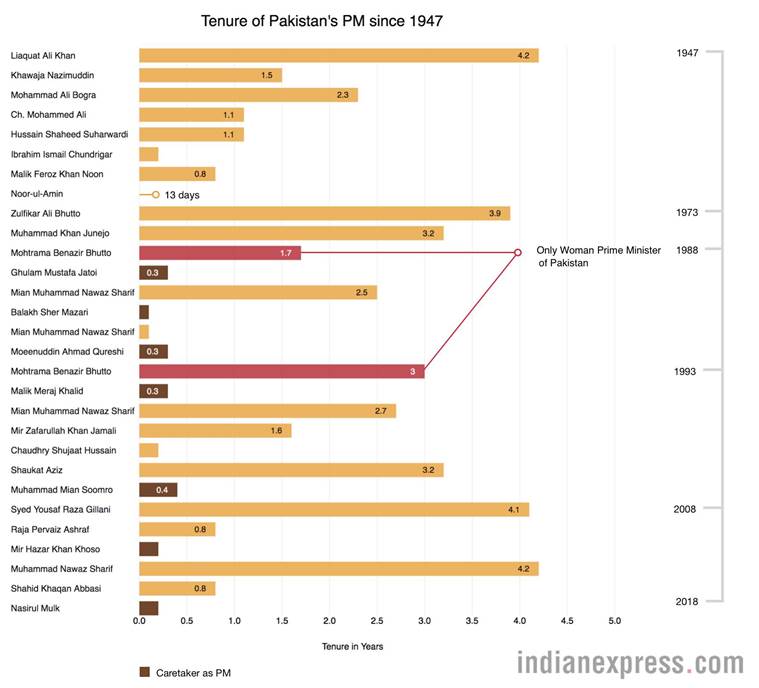 'Boom Boom' heaps praise on Imran Khan
Pakistan election results are likely to be declared by today evening. Meanwhile, congratulatory messages are pouring in for PTI chief Imran Khan. Here's former Pakistan cricket team captain Shahid Afridi, also known as 'Boom Boom', heaping praise on his predecessor.
Congrat PTI and @ImranKhanPTI on a truly historic victory! The 22 yr old struggle has finally paid off & deservedly. Pakistanis have a lot of expectations from u I really hope u lead from the front! I request all opposing parties& media to accept the result and help rebuild 🇵🇰

— Shahid Afridi (@SAfridiOfficial) July 26, 2018
Former Pakistan PM Shahid Khaquan Abbasi loses seat
PML(N)'s Shahid Khaqan Abbasi, who became PM after Nawaz Sharif was disqualified, lost in NA-57 Murree to PTI's Sadaqat Ali Abbasi, GEO TV reported.
Pakistan election results live: Candidates with extremist links fail to make an impact
Hundreds of candidates with links to extremist groups, some of them banned, contested in the Pakistan polls, but none of them have made an impact at the ballot. According to reports, only a few of them received a respectable number of votes. Among them was Maulana Muhammad Ahmad Ludhianvi, who was allowed to contest after his name was removed from a banned list. He received more than 45,000 votes, according to GEO TV, but is nowhere close to victory.
Pakistan election results: Snapshot of the results so far

The trends are according to Pakistan news network, Geo News.
Imran Khan's former wife congratulates him
The results haven't been declared yet, but the picture emerging from Pakistan shows Imran Khan's PTI in the driver's seat. His former wife Jemima Goldsmith, a British citizen, has tweeted her congratulations. Read what she said.
Five times Imran Khan appeared on Indian TV
Imran Khan, who founded the PTI in 1996, has come a long way in Pakistan politics. His views on the Kashmir issue, India-Pakistan relations and his prime ministerial ambitions have been widely dissected during his appearances on Indian television. Here are five such videos of his interviews: WATCH
BBC Newsnight confuses Imran Khan with Wasim Akram, gets trolled
A BBC news report on the elections inadvertently carried a clip of former Pakistan pacer and cricket team captain Wasim Akram instead of Khan, who also had played for Pakistan and won the World Cup in 1992.The gaffe was slammed by many, particularly Pakistanis, for the channel's "ignorance". By the time the channel realised their mistake and deleted the tweet, screenshots of the new segment flooded Twitter.Read More
Imran Khan wins Islamabad-2 with 92,891 votes
PTI's Imran Khan wins NA-53 Islamabad 2 with 92,891votes and Mehboob Shah wins NA-6 Lower Dir 1 with 54,723 votes: unofficial results from all polling stations: unofficial results from all polling stations.
Pakistan Stock Exchange bullish as Imran Khan's PTI looks set for victory

The stock market of Pakistan witnessed a bullish trend Thursday morning as early election results tipped the Pakistan Tehreek-e-Insaf (PTI) for victory. The Pakistan Stock Exchange saw a significant increase in activity during early trading, a day after the country voted for its second consecutive democratic transfer of power, as the benchmark KSE-100 index gained 767 points to reach 42,106 points. — Geo TV
Polling staff biased towards one party: Human Rights Commission of Pakistan
The Human Rights Commission of Pakistan (HRCP) observed that polling staff appeared biased in some places towards one political party, according to Dawn. The human rights body noted that voters who received slips from another party's stall were turned away on flimsy grounds. The commission received complaints that women were not allowed to vote in several areas.
Doubts raised in US over fairness of Pakistan elections
Meanwhile, political observers in the US expressed doubts over the fairness of the results. The Trump administration, according to a report, refused to declare the polls "free and fair". "We continue to monitor developments and have consistently emphasised our support for free, fair, transparent and accountable elections in Pakistan, as we do around the world," a State Department spokesperson told the Press Trust of India.
Former Pakistan ambassador to the US, Hussain Haqqani said Imran Khan's PTI operated with "complete freedom and establishment backing" while PML-N and PPP faced constraints. "It is unlikely that a prime minister Imran Khan will act decisively against jihadis, given his sympathy for their cause but miracles can happen," Haqqani said.
Pakistan election results LIVE: Why is there a delay in declaring results?
Here is why, according to Chief Election Commissioner Muhammad Raza Khan, there has been a delay in declaring the results: The Pakistan Elecction Commission has blamed the untested Results Transmission System, used to relay poll results directly from constituencies, for the slow pace in declaring results. "We were implementing it for the first time. Therefore, there was some delay," Dawn online quoted Khan as saying.
Pakistan election results live: Controversial televangelist and PTI candidate Aamir Liaquat in lead
Controversial televangelist and PTI candidate Aamir Liaquat is in a comfortable lead in NA-245 in Karachi, according to Dawn. Previously, he was banned by the Islamabad High Court from appearing in TV shows and using other forms of media such as print and social networks to publicize his sermons. This after he was found guilty of spreading religious discord and hatred. Liaquat is infamous for giving away abandoned babies to childless couples on his live show during Ramzan. He is also known for using profane language on air and making hateful comments against minorities. He once claimed he had completed his PhD in 20 days.
Pakistan results 2018 LIVE: UN Secretary-General condemns suicide bombing
UN Secretary-General Antonio Guterres Thursday condemned the suicide attack near a polling station in Quetta city in which at least 31 people were killed and another 70 injured. The so-called Islamic State claimed responsibility for the attack. Pakistan has witnessed violence across the country in the run-up to the parliamentary and provincial assembly elections held on Wednesday.
Pakistan results 2018 LIVE: PTI firmly in lead
After 47 per cent of the votes polled have been counted, Imran Khan's PTI is still leading in 113 seats, followed by the PML-N in 64 and PPP in 43. Meanwhile, hundreds of PTI supporters came out on streets in several cities, including capital Islamabad, to celebrate the party's imminent victory in polls. News agency Press Trust of India reported massive traffic jams with jubilant supporters parking their vehicles on main roads and sidewalks and dancing to loud music.
5 things that happened while you were asleep
Here are five developments since last night:
* Shahbaz Sharif held a press conference to raise questions about the counting process. Alleging "manifest and massive irregularities", Sharif said the PML-N rejects the results. "The mandate of the millions of people who came out to vote has been humiliated. Our democratic process has been pushed back by decades," he tweets.
* Sharif's allegations were backed by Zardari from the PP who tweeted, "My candidates complaining polling agents have been thrown out of polling stations across the country. Inexcusable & outrageous."
* The Chief Election Commissioner Sardar Raza Khan denied allegations of rigging. He said, "This election has been 100% fair and transparent."
* There are reports that technical glitches with the EC's Results Tranmission System (RTS) could delay results.
* Imran Khan will address the nation at 2 pm on Thursday.
Latest trends: PTI is leading in 113 seats, PML-N in 64 and PPP in 47.
Trends: PTI ahead in 113 seats, PML-N in 66
EC denies rigging claims, to announce first official result shortly
The first official results is likely within the hour, the Election Commission of Pakistan has announced. The Commission has rejected allegations of rigging, and said the issue of fraud can be discussed after ECP announces the results. A party needs to win at least 137 seats in the of the 272 directly-elected seats to be able to form the government on its own.
PTI celebrates as party widens margin over PML-N
Since midnight, workers of the Pakistan Tehreek-e-Insaf have been on the streets celebrating, as the party widens its margin over the PML-N in the general election. Hundreds of supporters are dancing to loud music, reports PTI. Traffic snarls are being reported too due to the highly-charged workers.
Trends: PTI leads in 110 seats, PML-N trails
Here are the current trends: Imran Khan's party is leading in 110 seats while the PML-N is trailing in 67 seats in the National Assembly. The Pakistan Peoples Party (PPP) is leading in 41 srats. These trends indicate a possible hung parliament, which could make former president Asif Ali Zardari kingmaker. Counting is underway for 272 seats of the Assembly — 70 other seats are reserved for women and religious minorities. A party needs 172 seats to win the election.
Update: Counting underway amid allegations of rigging
In case you're just tuning in, here's what going on: Counting is underway in Pakistan, and the results of the general election are likely to be announced later this morning. PML-N president Shahbaz Sharif has rejected the results after alleging "blatant" rigging. The party is among five others which have claimed rigging in the polls — the PPP, former president Asif Ali Zardari's party, has also made similar allegations.
Technical glitches reported during counting
The announcement of results may be delayed due to technical glitches, reports Geo TV quoting sources. The results are likely to be announced later this morning. According to trends right now, Imran Khan's Pakistan Tehreek-i-Insaf is leading on 110 seats followed by PML-N on 68.
PTI supporters celebrate as party leads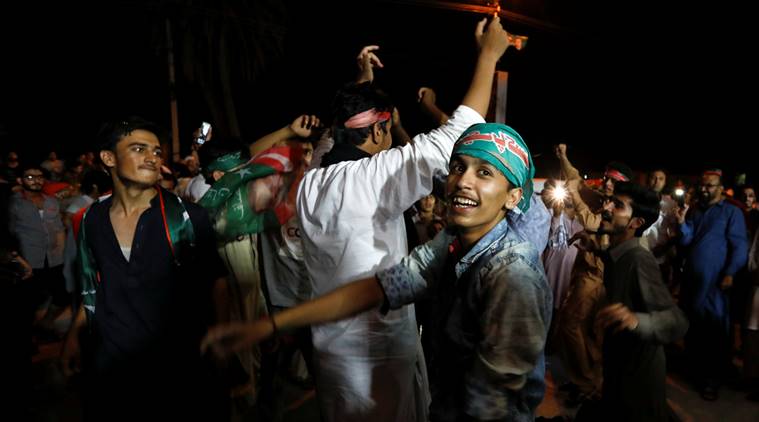 Supporters of Imran Khan, chairman of the Pakistan Tehreek-e-Insaf (PTI) political party, celebrate during the general election in Rawalpindi, Pakistan, July 25, 2018. (REUTERS)
Pakistan Muslim League (Nawaz) wholly rejects the results of General Elections 2018 due to manifest & massive irregularities. Form 45 was not given to our agents, results were stopped & votes were counted in the absence of our poll agents. This is both unbearable & unacceptable!

— Shehbaz Sharif (@CMShehbaz) July 25, 2018
PML-N calls for a press-conference
PML-N claims elections manipulated
Pakistan Muslim League-N president Shehbaz Sharif said his party would not accept the results of the 2018 elections at a mid-night press conference. The PML-N claimed that the elections were being manipulated.
PTI chairman Imran Khan leads the polls in NA-131 Lahore with 8,033 votes. Khan is trailed by PML-N heavyweight Khawaja Saad Rafique, who has so far attained 7,644 votes.
PTI's Jaffer Khan Leghari has won the polls in NA-193 Rajanpur-1 with 87,915 votes, while another candidate from PTI, Shah Mehmood Qureshi won polls in NA-156 Multan-3 by securing 93,500 votes, Pakistan media reported.
Pakistan locked in tight election between Imran Khan's PTI and jailed ex-PM's party
Pakistan was locked in tense election race Wednesday, pitting cricketer-turned-politician Imran Khan against the party of jailed former prime minister Nawaz Sharif in a process disrupted by a suicide bomb that killed at least 31 people near a polling station.
PTI chairman Imran Khan leads polls in NA-95 Mianwali with 29,228 votes, followed by PML-N's Obaidullah Shadikhel, who has so far bagged 6,008 votes.
Pakistan you have done it: Imran Khan's party
PPP co-chairman Asif Ali Zardari who was contesting elections from NA-213 constituency Surjawal is currently leading with more than 2000 votes. Meanwhile, Bilawal Bhutto leads with 1,155 votes in NA-246 Karachi.
PTI candidate Sadaqat Abbasi is leading with 6,394 votes in NA-57 constituency. He is followed by Shahid Khaqan Abbasi, PML-N candidate and former PM of Pakistan, with 4,677 votes.
Close battle between PML-N and PTI in Gujranwala
As per the latest report in Dawn, around 44 per cent of counting has been done in NA-79 Gujranwala constituency. PML-N candidate Nisar Ahmed Cheema is currently leading with 618 votes. He is followed by PTI candidate Muhammad Ahmed Chattha with 587 votes.
Bilawal Bhutto, Imran Khan lead from their respective constituencies
Bilawal Bhutto Zardari, son of late Prime Minister Benazir Bhutto and former President Asif Ali Zardari, is currently leading in NA-200 Larkana polls with 420 votes.
Meanwhile, PTI chairman Imran Khan is leading with over 3000 votes from NA-95 Mianwali constituency, he is followed by PML-N's Obaidullah Khan who has only managed to bag just over 400 votes.
PTI candidate Sardar Jafar Laghari is currently leading from NA-193 Rajanpur-1 constituency with 4343 votes.
PPP candidate Abdul Qadir Patel leads polls in NA-248 Karachi West with 61 votes.
Former Punjab CM Shehbaz Sharif's son Hamza Shehbaz is leading from the NA-124 Lahore-2 seat with 9,545 votes.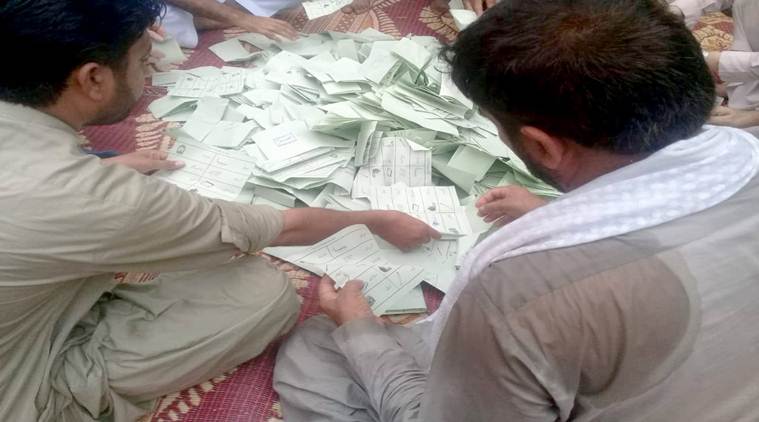 Counting of votes underway in Peshawar. (Image source: Dawn.com)
As per the early trends:
PML-N: 3 PTI: 2 PPP: 2
PML-N candidates Waheed Alam and Rohail Asghar is leading in their respective constituencies. Alam who is fighting elections from NA-125 Lahore constituency is currently leading with over 2000 votes, while Asghar has a mere lead of 88 votes in the NA-128 constituency.
(inputs from Geo TV)