Written by
Sushant Singh
| New Delhi |
Updated: July 1, 2018 5:44:20 am
India Saturday welcomed the Financial Action Task Force (FATF) decision to place Pakistan on its "grey list" for failing to curb terror financing and hoped that Islamabad would take "credible measures" to address international concerns on terrorism from Pakistan.
Pakistan's placement on the grey list, which was decided in February in Paris, took effect Friday after Islamabad committed to a 26-point action plan with the FATF to address the deficiencies over the next 15 months. The plan includes squeezing the finances of Jamaat-ud-Dawa, Falah-i-Insaniat, Lashkar-e-Taiba, Jaish-e-Muhammad, Haqqani network and the Afghan Taliban. Failure to negotiate this action plan would have led Pakistan to be featured on the FATF blacklist.
"We hope that the FATF Action plan shall be complied with in a time-bound manner and credible measures would be taken by Pakistan to address global concerns related to terrorism emanating from any territory under its control," said External Affairs Ministry Spokesperson Raveesh Kumar.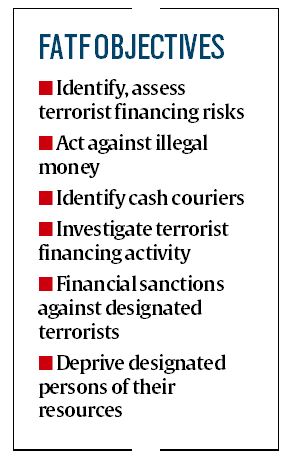 India has been seeking global action against Pakistan for allowing terror safe havens on its territories and has been pushing for action against Pakistan-based terrorists involved in a series of attacks in India, including the 2008 Mumbai attack.
"Pakistan has given a high-level political commitment to address the global concerns regarding its implementation of the FATF standards for countering terror financing and anti-money laundering, especially in respect of UN-designated and internationally proscribed terror entities and individuals," Kumar said.
"The freedom and impunity with which designated terrorists like Hafiz Saeed and entities like Jamaat-Ud-Dawa, Lashkar-e-Taiba, Jaish-e-Mohammed continue to operate in Pakistan is not in keeping with such commitments."
In February 2018, during the FATF plenary session in Paris, it was agreed at the insistence of the US, UK, Germany and France that Pakistan will be included in the grey list in June 2018. It had also been agreed in February that Pakistan and the FATF would negotiate an action plan by June.
The deficiencies identified in the Pakistani anti-money laundering and counterterrorism financing regime include inadequate monitoring and regulatory mechanisms, low conviction rate on unlawful transactions, poor implementation of United Nations Security Council resolutions 1267 and 1373 and cross-border illicit movement of currency by terrorist groups.
At its June 9 meeting, Pakistan's National Security Committee had extended its official commitment to implement the action plan being negotiated with the FATF. The FATF requires high-level political commitment from the country concerned to implement the needed legal, regulatory and operational reforms.
Following the FATF decision, a top US official told PTI that Pakistan has outstanding counterterrorism deficiencies consistently raised by the FATF and needs to take actions, including on the raising and moving of funds of UN-designated terrorist groups. "Pakistan has outstanding counterterrorism financing (CFT) deficiencies consistently raised by the Financial Action Task Force (FATF)," a US State Department Spokesperson told PTI Friday.
"Pakistan will need to take a number of comprehensive actions on CFT including the raising and moving of funds of UN-designated terrorist groups."
In a statement Friday, the FATF said that Pakistan had made "a high-level political commitment to work with the FATF and APG [Asia/Pacific Group on Money Laundering] to strengthen its AML/CFT [Anti-Money Laundering and Combating the Financing of Terrorism] regime and to address its strategic counter-terrorist financing-related deficiencies". According to the statement, the FATF will "closely monitor" Pakistan's efforts to implement its action plan to accomplish the above objectives.
The objectives include demonstrating that terrorist financing risks are properly identified and assessed on a risk-sensitive basis, apply remedial actions and sanctions in cases of AML/CFT violations, competent authorities need to take action against illegal money or value transfer services and authorities must identify cash couriers.
Pakistan also needs to show that law enforcement agencies identify and investigate the widest range of terrorist financing activity and that terrorist financing investigations and prosecutions target designated persons and entities.
With Agency inputs
For all the latest Pakistan News, download Indian Express App