Written by
Coomi Kapoor
| New Delhi |
Updated: March 9, 2015 2:20:07 am
As an editor Vinod Mehta never pulled rank, giving correspondents a free hand if he felt they had a valid story to tell, no matter the consequences. I recall in 1989, during the last days of Rajiv Gandhi's regime, the Mumbai-based Indian Post newspaper of which Vinod was then editor-in-chief and I was the Delhi bureau chief, was under considerable pressure for exposing scandals concerning the powers that be in the Capital. Vinod telephoned me to caution that things were looking grim.
READ: Former Outlook's editor-in-chief Vinod Mehta passes away after prolonged illness
The newspaper's flamboyant and spunky owner Vijaypat Singhania had been warned that if his newspaper continued to write against certain individuals close to the government his family's business empire could be in trouble. The list of holy cows included, apart from Rajiv Gandhi, others such as Satish Sharma and the late Lalit Suri. A few days later, The Statesman proprietor Cushrow Irani held a press conference accusing Satish Sharma of trying to close down The Statesman's Delhi office. I rationalised that since this was a press conference and not exclusive news it should be covered by the Delhi bureau, I left it to the head office how to handle the report. I had an uneasy feeling when the report featured as the lead story in the next day's newspaper.
My fears were confirmed. Soon afterwards Singhania announced that he was selling the Indian Post. Vinod did not reproach me for the offending story. He simply moved on. He accepted an offer to launch another paper the Independent from the Times of India stable, which was as irreverent as the Post and meant in fact as a counter to it.
Vinod was an iconoclast who brought a breath of fresh air into the fairly conservative world of journalism of the nineteen eighties. He had an unconventional approach towards editing newspapers, brimming with ideas he was shorn of any pomposity. He started out in the profession as editor of Debonair magazine, known then more for its steamy semi-nude centre spreads than its literary content. But Vinod introduced thought provoking articles to give the magazine a new character. From Debonair he went on to  launch a new Sunday tabloid , the Sunday Observer, whose chatty informal style and out-of-the-box approach to displaying stories, pioneered a new  form of Sunday reading. The political gossip column became a staple along with human interest pieces on the high and the mighty.
During his eventful career, Vinod launched several publications, including a revamped Indian Post, the Business and Political Observer, the Independent and the Pioneer. His formula for his publications attracted readers, but Vinod invariably got into hot water  with the owners and ended up losing his job.
As he grew older he yearned for stability in his career. When he was given the opportunity to bring out a new weekly from Delhi, the Outlook, he jumped at the opportunity. He  told friends that this time he was  determined to stay on. He did. But even here he went through a sticky patch when advertisements were withdrawn from his magazine because he dared to tread on the toes of the high and mighty by reproducing telling transcripts of telephone conversations between the high flying media manager-cum-facilitator Niira Radia and captains of industry over how to secure the 2G spectrum licences from the UPA government.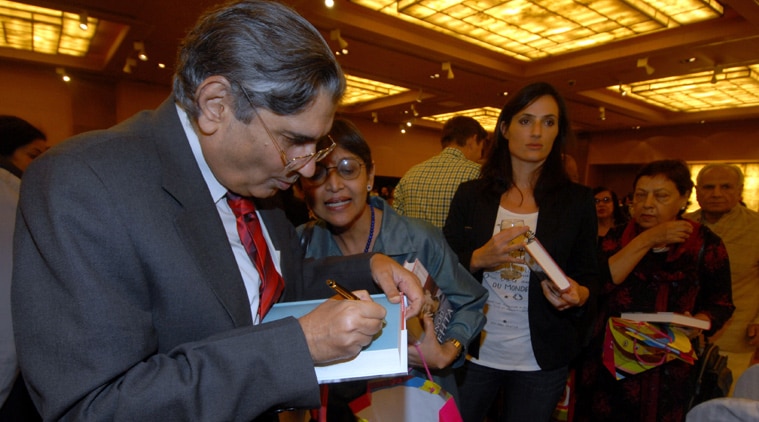 Vinod was always a source of inspiration to his editorial team who were accustomed to him pacing up and down the newsroom barking out orders and throwing up provocative ideas. The boy who grew up in Lucknow and made Mumbai his home during his mid-career eventually made a name for himself in Delhi, where more conventional media pundits had once dismissed him as an apolitical lightweight.
Vinod loved to speculate about the inner workings in the corridors of power and took a keen interest in the latest gossip in the media world. He sometimes telephoned me to get my take on a juicy bit of news he had picked up. He did not hide the glee in his voice as he revealed some interesting tit bit. He was delightfully irreverent towards authority and remarkably candid, never hesitating to make fun even of himself. Though some felt that as a TV commentator he was at times a bit in awe of the Gandhi family. Another characteristic of the man was his love for the stray dogs in his Nizamuddin East colony. This sometimes put him at odds with his neighbours who grumbled they had been nipped by strays cosseted by him and his wife Sumita. Vinod frequently mentioned his pet Editor in his very readable columns.
Vinod was delighted by the enthusiastic response to his  tell-all biography Lucknow Boy, which revealed among other sensational details the fact that he had fathered a love child out of wedlock and had abandoned the mother before the birth. He was so busy preparing for the book's sequel, "Editor unplugged", that he refused to visit the doctor for his persistent cough.
Just days before the formal release of his book in November he was hospitalised because of severe breathing problems. He had a serious lung condition exacerbated by Parkinson's disease. His other organs including the kidney and the heart slowly deteriorated forcing him to spend a painful three months in and out of the ICU with his courageous wife Sumita tending to him daily. Tragically, Vinod never got the full feedback of the successful release of his last book.
The Indian Express website has been rated GREEN for its credibility and trustworthiness by Newsguard, a global service that rates news sources for their journalistic standards.