Written by
Kavitha Iyer
| Mumbai |
Updated: August 24, 2016 12:41:40 am
Both Senas in Maharashtra — Raj Thackeray's Maharashtra Navnirman Sena and the Uddhav-led Shiv Sena — have declared that the coming Janmashtami festival on Thursday will be celebrated in Mumbai with the usual raucous crowds and trucks ferrying men who will attempt to form taller and taller human pyramids to smash the apocryphal pot of curd.
Except that there is no curd. In fact for many years now, contesting teams forming human pyramids do not really smash the pot strung up on high by organising mandals. The kid who clambers up a dozen human backs to scale new heights offers only "salaami", a salute, before the crush of bodies standing atop one another's shoulders disintegrates. But that is beside the point.
For now, it appears that the Sena, which rules the Brihanmumbai Municipal Corporation and is a coalition partner in the ruling alliance at the state level with the BJP, will thumb its nose at a recent Supreme Court order which upheld a two-year-old Bombay High Court order disallowing pyramids taller than 20 feet and prohibiting those younger than 18 years of age from participating.
The Sena mouthpiece Saamna responded to the order saying it was too close to a "Lakshman Rekha". "Ganeshotsav, Dahi Handi and Navratra festival are all parts of our beliefs. Courts which are now governing us should not cross the Lakshman Rekha at least on these issues," an editorial in Saamna said, going on to claim that there is "anger" among people because of such court diktats.
The Sena was actually responding a day late. The previous day, MNS chief Raj Thackeray complained that only Hindu festivals seem to get the attention of the courts. "Why are similar restrictions not placed on the Moharram procession," asked MNS chief Raj Thackeray at a press conference.
The all-important Brihanmumbai Municipal Corporation, the country's most powerful municipality with annual budget estimates of over Rs 37,000 crore, goes to polls in less than six months. So some rabble-rousing is only to be expected. But even without the looming presence of elections, the festive season launched by Krishna Janmashtami is annually a mega outreach programme for political parties.
For local leaders, organising a Dahi Handi or supporting/sponsoring the 'Govinda Pathaks' is a win-win situation: with several thousand people gathering, and local leaders offering mind-boggling cash prizes, it's an occasion to scout for, locate and test the abilities of party foot-soldiers. It's also an occasion to meet and greet thousands of prospective voters amid the sugary and cheerful festive mood when they're not whining about a broken sewer or overflowing nullah.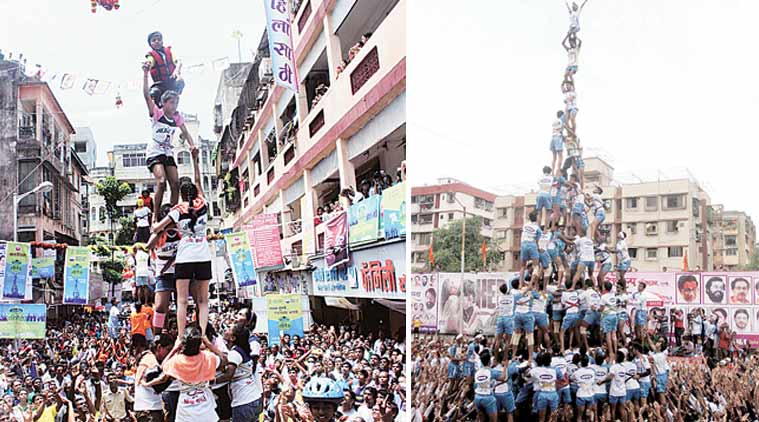 Numerically speaking, the Dahi Handi celebrations are not a patch on the Ganesh Chaturthi festivities in the financial capital, which follow soon after. There are an estimated 3,000 Dahi Handi organisers in Mumbai, 800 of them serious players including the 400 or so organised by politicians. Last year, a little less than 100 organisers offered prize money of over Rs 50,000. A slightly smaller number offered more than Rs 1 lakh. For the visibility gained, the investment of Rs 3 lakh to Rs 10 lakh is a trifle.
In fact the political gains to be made, along with the commercial interests, are the chief reason for the frenzied growth in size and scale of such annual festivities. The Ganpati festival in Mumbai, which hosted about 8,800 'Sarvajanik Ganesh Mandals' (or organisers of public Ganpati pandals) in 2005, now hosts about three times that number.
At each mandal, there's a dais, speeches to be made, team-leaders to be felicitated, slogans on the Marathi manoos to be raised, and more. In fact, before the 2014 Assembly polls in Maharashtra, aspiring legislators buttressed their support base by wooing and donating to Ganesh mandals and Dahi Handi groups.
The biggest organisers, or the organisers with the largest cash prizes which received the most media attention, are all politicians, legislators and ex-legislators cutting across party lines. Jitendra Awhad of the NCP, Sachin Ahir of the NCP, Ashish Shelar of the BJP, Ram Kadam of the BJP — they had the the tallest and richest Dahi Handis, as well as the largest spoils in using a brand of cultural nationalism for local-level political campaigning.
The Indian Express website has been rated GREEN for its credibility and trustworthiness by Newsguard, a global service that rates news sources for their journalistic standards.