Having failed to slow or stall the Mamata victory in West Bengal, and mindful of defections in Assam and Uttarakhand, the state Congress is taking out insurance against forces of attrition and acts of God by getting its MLAs to sign on the dotted line. Under the apprehensive eye of state party chief Adhir Chowdhury, they have given an affidavit on Rs 100 stamp paper promising not to attack the party, the party line and the Gandhis, or take their grouses to the media. Before they can do these exciting things, they must resign from the assembly.
However, the lack of a clearly stated notice period could invalidate the document, and the paltry denomination of the stamp paper shamefully devalues the commitment set forth therein.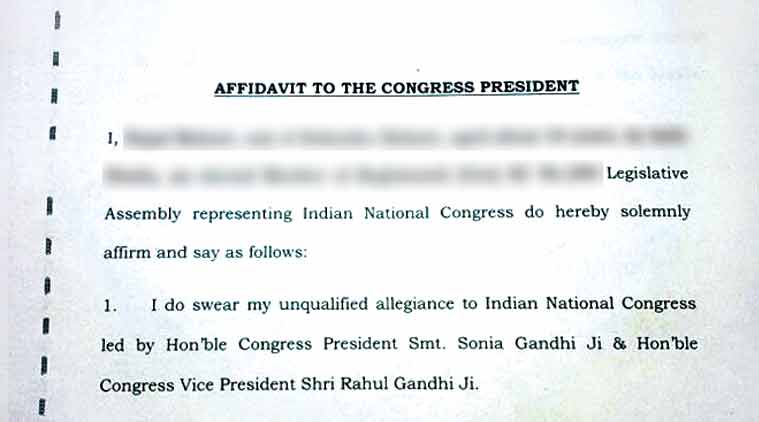 The deficit of inner party democracy has been eroding the prospects of the Congress over the decades. Party vice president Rahul Gandhi has tried to address the problem, though he is inconvenienced by the fact that his own office constitutes part of the problem. He must be mortified by Adhir Chowdhury's innovation, which is being derided all over the country as a new form of bonded labour.
If the affidavit is to be treated as a bond, what is the amount? The Congress, of course, protests that the document is a voluntary pledge. However, an upraised hand and the nearest holy book suffice to seal a promise. Typing out a pledge on stamp paper betrays the intention of making it justiciable. What would the party do if an MLA carped about Rahul Gandhi's dog, as one defector has, in another state?
Would it file suit for specific performance and claim damages? And will it, one day, expect all Congress voters to pledge their allegiance too, on Rs 10 stamp paper?
📣 The Indian Express is now on Telegram. Click here to join our channel (@indianexpress) and stay updated with the latest headlines
For all the latest Opinion News, download Indian Express App.