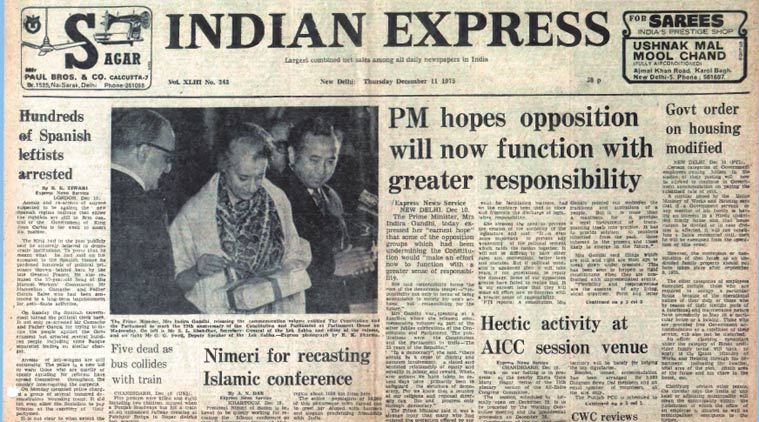 Mohammad M. Khurshid was announced as Pakistan's first ambassador to Bangladesh.
PM on Opposition
Prime Minister Indira Gandhi expressed her "earnest hope" that some opposition groups undermining the Constitution would "make an effort now to function with a greater sense of responsibility". She said responsibility forms the core of democratic temper, "responsibility not only in terms of being accountable to one's society for one's actions, but responsibility for the future". She was speaking at a function where she released commemorative volumes as part of the silver jubilee celebrations of the Constitution and Parliament. "In a democracy," she said, "there should be a sense of sharing and common involvement, a stated and unstated relationship of equity and equality in labour and reward. Whatever actions we have taken in recent days have been primarily to safeguard the structure of democracy. For we know that a country of our regional and religious diversity can live and progress only through democracy".
PM Wishes JP
Prime Minister Indira Gandhi wished Jayaprakash Narayan speedy recovery. Her secretary telephoned Shantilal Mehta, medical director of Jaslok Hospital, and asked him to convey to JP the prime minister's regards.
Sakharov Nobel
Yelena Sakharov received the Nobel peace prize on behalf of her husband, physicist and dissident Andrei Sakharov, who was refused permission by the Soviet authorities to travel to Oslo for the ceremony. Speaking at the Oslo University auditorium, she said due to "some strange characteristics'' of her country, her husband could
not be present. The peace prize ceremony was boycotted by the Soviet Union and
seven of its allies.