Written by
Coomi Kapoor
|
Published: September 8, 2013 2:59:16 am
Three hats
Gurdeep Singh Sappal,the OSD to the Rajya Sabha chairperson,was active in informing the media that the speech of the Leader of the Opposition in the House,Arun Jaitley,during the debate on the economy,as well as certain comments of Prime Minister Manmohan Singh,should be expunged. Because expunging of remarks is normally done on the floor of the House by the chairperson,the Opposition questioned Sappal's role. Sappal is accused of wearing three hats,causing a conflict of interest. Sappal,who was Vice-President Hamid Ansari's election agent,is the OSD to him in the latter's capacity as chairperson of the Rajya Sabha. Sappal is also the CEO of the Rajya Sabha TV channel. The Opposition claims that he performs a third role as adviser to the Congress and is seen with the powers that be. Incidentally,expunction of remarks in a parliamentary debate has in any case become redundant,since in the days of 24X7 television,these get telecast live anyway.
Successful search
BJP MP Smriti Irani was seen frantically searching the floor of Parliament's Central Hall for a valuable ring which had fallen off her fingers last week. When she could not find it,she rushed back to the House and discovered it lying on her seat. When she returned to the Central Hall,someone congratulated her on the retrieval of the jewellery. She retorted,"I always get what I am looking for. If someone asked me to find the missing coal scam files,I would have located them by now."
Banker rocks
At a farewell dinner for journalists in Mumbai,retiring RBI governor D Subbarao set aside such concerns as the falling rupee and let his hair down. He even good-naturedly danced to Munni badnam hui and sought to mimic steps of the Chennai Express's lungi song.
Campaign song
Despite a busy schedule,Law and Telecom Minister Kapil Sibal manages to spare time for his favourite pastime,which is writing poetry. Sibal,who has authored two books of poems,has also turned lyricist,getting his words set to music. His latest work is a poem taking potshots at Gujarat Chief Minister Narendra Modi,whom he accuses of posing as a hero when he is "a zero". Sibal hopes that once he has refined the words,the poem will be sung to a catchy tune and used in the coming polls.
One-upmanship
There was consternation in Haryana Chief Minister Bhupinder Singh Hooda's group when a recent report suggested that Minister for Social Justice and Empowerment Kumari Selja was to be appointed the PCC chief of Haryana. Selja and Hooda are known to be in opposing camps in state politics. The news,however,proved unfounded. Two weeks back Hooda was irked because Sonia Gandhi had summoned Selja to her side when she felt unwell in the Lok Sabha during the food Bill debate. Visuals of Selja assisting Sonia to her car and accompanying her to AIIMS were flashed,much to Hooda's annoyance. He rushed to AIIMS immediately and as soon as Sonia was allowed to meet visitors,was the first in line to greet her. He made sure that media was around to capture his presence.
Clearing the record
Ajit Jogi rushed from Chhattisgarh to Delhi after reports that the Congress high command was upset that he was throwing his weight around and unilaterally nominating people for party tickets for the forthcoming Assembly elections in the state. Jogi said that the rumours about him were malicious and untrue,and that he was merely holding rallies in the memory of "Mini Mata",who is a folk heroine of the Dalits in the state. At each rally he introduced four or five persons who were close to him and who had helped organise the function,he said. This did not mean he was mooting their names as candidates for Assembly elections,Jogi added. "How can you have five nominees from one constituency?"
Running scared
Central ministers from Seemandhra are in a quandary after the Centre's announcement on the formation of Telangana. Most of them,including M M Pallam Raju,Chiranjeevi and Panabaka Lakshmi,have not been able to visit their constituencies for fear of the wrath of their constituents. Even Andhra Chief Minister Kiran Reddy is not his usual submissive self and has talked of quitting. The Congress is believed to have sounded old faithful K Rosaiah on the possibility of playing an active role in state politics again. But the octogenarian has made it clear he is happy to continue as governor of Tamil Nadu.
For all the latest Opinion News, download Indian Express App
More From Coomi Kapoor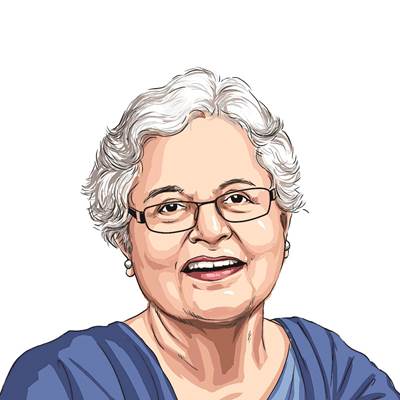 Will Prashant Kishore run Modi's 2019 campaign too?

Kishor took credit for Narendra Modi's success in the 2014 general election and Nitish Kumar's victory in Bihar in 2015. However, he had to eat humble…

Inside Track: Line of division

Clearly, Sushma Swaraj is not on the same side as the majority in the party, who feel she tweets for personal PR and not for…

Inside Track: Not so tweet

Sushma Swaraj was crudely and unfairly trolled by the Hindutva brigade because a Lucknow passport officer was summarily transferred on the basis of a tweet…