Written by
Khaled Ahmed
|
Published: May 31, 2013 3:45:03 am
As China and India expand trade corridors,Pakistan could use both to its advantage
After the visit of Chinese Premier Li Keqiang to India and Pakistan,the analysts have tended to exaggerate the scope of what transpired according to their biases. In India,what Li said was more or less ignored and what China did not say in Pakistan was focused on. In Pakistan,the length of the China-India joint statement was ignored,compared to the skimpiness of the one issued from Islamabad.
The Chinese premier was clearly wooing India; and his counterpart,Manmohan Singh,was not averse to being wooed. Both agreed to take the bilateral trade to the $100 billion level,China helping build the India-China-Bangladesh-Burma road and likely promising to vote for India's permanent seat inside the UN Security Council. Li linked the development of the western provinces of China,notably Xinjiang and Yunnan,with India's Look East policy. The less trusting analysts in India warned China was acting against Indian strategic interests by helping Pakistan in the nuclear field and by setting up a naval base in Gwadar.
Over 80 per cent of the people in India don't trust China and feel threatened by it; in Pakistan people trust China a hundred per cent. The message from an Indian strategic analyst was: "Prime Minister Manmohan Singh needs to make it clear [to Mr Li that China's current nuclear policy towards India is hostile and unacceptable." As if in reply,Munir Akram,former Pakistan ambassador to the UN,wrote: "India has been enabled by the US and others to pursue its nuclear ambitions in the belief that India's capabilities can serve to 'contain' an increasingly powerful China. They will rue this strategic miscalculation at some future date."
Ideological strangers and culturally alien,Pakistan and China are forced to use poetic metaphors to describe their bilateral equation. But that means nothing when you consider that China is willing to do more in India than in Pakistan in terms of investment. (Tragically,Pakistanis kill the Chinese wherever they see them in Balochistan,Khyber-Pakhtunkhwa and the Tribal Areas,which thwarts investment. Even the traditional Chinese restaurant-owning families are migrating to Canada.)
Gwadar is different because it is subject to two glosses. India thinks it is a part of the "string of pearls" military bases in the Indian Ocean with which the Chinese want to encircle India in the south,combined with the Karakoram Highway,the flanking lock in the north. The Pak-Chinese statement was bald,ill-composed,and didn't mention Gwadar,clearly because the Chinese didn't want to offend India. Not even the "economic corridor" that will link Gwadar to China through the Karakoram Highway featured in it.
According to Robert Kaplan,China and India are going to be the big powers of Asia,China expanding vertically and India horizontally. Gwadar is a part of the vertical outreach,now that Li Keqiang has favoured an "economic corridor" through Pakistan. According to one analyst: "China has earmarked $12 billion to develop the port of Gwadar on Pakistan's Arabian Sea coast. The idea is to create a place where petrochemicals piped down from Central Asia (Kazakhstan and Turkmenistan) and minerals shipped from Afghanistan can be loaded onto tankers and cargo ships bound for China."
India's prime minister,Manmohan Singh,favours a similar corridor through Pakistan to Central Asia,horizontally,to transform India from an "importing" economy to an "exporting" one. Pakistan army favours one corridor but not the other. The problem here is that Pakistan army is isolated inside the country on this issue. The PM-elect Nawaz Sharif sees benefit — together with all leading economists and the business community — in India's westward expansion. The warlike Pakistani mind doesn't see the "investment" underpinning this expansion.
When not suicidally isolationist,Pakistan can be the ideal strategically dominant "median" state,enjoying two trade corridors on its soil. If Nawaz Sharif somehow can't make headway with India on the "horizontal" corridor,and the "vertical" corridor gets going,Pakistan's economic development will suffer. Free trade with India will be more transformational for an imploding Pakistan than free trade with China. It will be beneficial in the same proportion as it will threaten Pakistan's ideology of "separateness" from India.
Strategic importance certainly derives from the existence of a trade corridor,not its prevention. Pakistan controls Afghanistan through its transit trade facility and prevents India from trading with Afghanistan across its territory. If this was thought to increase Pakistan's strategic "grip",it was misplaced wisdom. India built Chabahar port on the Iranian coast as an alternative ingress,thus decreasing Pakistan's influence on Afghanistan,both in respect of President Karzai and the Taliban. Pakistan had to cut port duties to rescue its perennially misused Afghan transit route from dying.
A more querulous Pakistani economist wrote in the Express Tribune (May 22,2013): "A look at the numbers suggests that the Islamabad-Beijing relationship has had very little benefit for Pakistan as a whole. In the 12-year period between July 2000 and June 2012,net foreign investment in Pakistan amounted to about $29 billion,according to the State Bank of Pakistan. Of that,just $0.8 billion came from China,and nearly all of that was China Mobile's investment in Zong." The US invested the most in Pakistan: $7.7 billion,or more than a quarter of all foreign investment in the country.
India and China are the big rising powers of the globe. From the speeches made by Li Keqiang and Manmohan Singh during the former's visit to India,it is clear that both want to cooperate rather than confront each other. This however is not favoured by some strident voices in the opposition backed by a hostile section of the Indian press. In Pakistan,friendship with China is measured by the degree of China-India hostility.
At times when the Chinese troops step back from areas along the Line of Actual Control (LAC) Pakistani strategists can hardly suppress their dismay. Discussions on TV seek to "separate" such moves from the referential framework of Kashmir: the Chinese territorial dispute with India is fundamentally different from the Indo-Pak territorial dispute,they say. When the Chinese leadership changes tack on Kashmir,implied complaints break surface from the "think tanks" in Islamabad.
In the coming days,two South Asian prime ministers will be on the move: Nawaz Sharif will go to New Delhi and Manmohan Singh will visit Beijing. India must make good on the extremely conciliatory feelings expressed by the Chinese prime minister in India. (Singh might clinch even India's membership of the "nuclear club".) And Nawaz Sharif must not go to India without the letter awarding the Most Favoured Nation status to India in his pocket. He and Manmohan Singh can talk at length about the roads they are so keen to build,making bilateral trade jump from $2.5 billion to $12 billion by 2015. Strategy can wait.
The writer is a consulting editor with 'Newsweek Pakistan'
express@expressindia.com
For all the latest Opinion News, download Indian Express App
More From Khaled Ahmed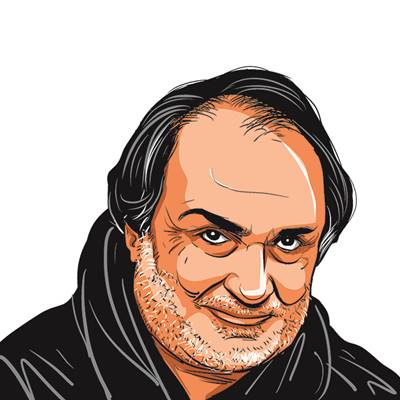 A Poll Outcome Foretold

When a Pakistan PM falls foul of the deep state, the Opposition, senior bureaucrats and the judiciary get together against him...

The Pakistan Paradox

Pakistan's persona non grata, ex-ambassador to the US, Husain Haqqani, in his book Reimagining Pakistan: Transforming a dysfunctional state, lists the reasons why Pakistan today…

Revisiting Benazir

A new biography looks back at the time when charisma reigned, as did corruption..