Written by
Charu Gupta
| New Delhi |
Updated: December 20, 2014 12:08:27 am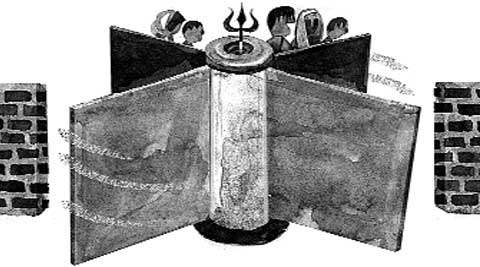 The synchronised vocabulary of anti-conversion by the BJP and that of reconversion by the VHP and Dharm Jagran Samiti, an RSS affiliate, reveals the intimate relationship between the two. Anti-conversion and reconversion are two sides of the same coin. Even though the Dharm Jagran Samiti has dropped its plan to "reconvert" Christians and Muslims in Aligarh on December 25, the day has strategic significance. Christmas Day has acquired a different meaning for the Hindutva brigade — the birth anniversaries of Madan Mohan Malaviya, one of the stalwarts of the Hindu Mahasabha, and Atal Bihari Vajpayee, the eminent BJP leader. Equally critically, on December 23, 1926, Swami Shraddhanand, the leading ideologue of the shuddhi campaign (a Hindu movement in the late 19th and 20th centuries to reclaim those who had converted from Hinduism to other religions) was assassinated by a Muslim fanatic, and on December 25, a condolence motion was moved at the Guwahati session of the Congress.
The twin strategies of anti-conversion and ghar wapsi have a long history. As part of their community- and nation-making rhetoric, the Arya Samaj and the Hindu Mahasabha launched the programme of shuddhi on a large scale in Uttar Pradesh in 1923. Various scholars have pointed to the communal character of the movement. A note prepared by the criminal investigation department at that time stated that though the movement had older origins, "its application to mass rather than individual conversion gave it a special prominence". Shuddhi came to be touted as a movement to reclaim "victims" and protect the "faithful". Reconversion attempts have since been a part of the agenda of various Hindutva outfits, and the present assertions should be seen in that context.
The combination of anti-conversion rhetoric with ghar wapsi powerfully invokes metaphors of exile and home. Ghar wapsi is flaunted as a return to the authentic origin, the abode of birth. It produces and enforces notions of a primordial religious identity, whereby all are declared Hindus. The shift from the whole world to the Hindu nation is swift, as ghar wapsi denationalises Islam and Christianity, facilitating their othering. Anti-conversion combined with ghar wapsi signals for the Hindu Right a shift from anti-national to national, exile to home, forced to voluntary, people to citizens, constructed to original, unnatural to natural, outsider to insider. One of the leading lights of the Arya Samaj in UP in the 1920s and 1930s, Ganga Prasad Upadhyay, wrote Humare Bichure Bhai (Our Lost Brothers) in 1923, in which it was claimed that the Malkana Rajputs of western UP, whom the Arya Samaj was trying to "reconvert", were returning to their roots. Thus he wrote: "Pyare bhai hain Malkane, uchh vansh ke hain ujiyare, Arjun, Bhim, Karn ke pyare (Malkanas are our dear brothers. Luminaries of high birth, they are dear to Arjun, Bhim and Karn)." Urging the reconversion of Dalits, another reformist poem in 1933 said: "Aapke bhai jo ban baithe hain Isai-ya-Mussalmaan, unko vaidik dharm ka amrit pilao Hinduon… kho chuke ho apni gaflat mein hazaron lal tum, ab luteron se na apna ghar lutao Hinduon (Your brothers who have become Christians-Muslims, Hindus, make them drink the nectar of Vedic religion… Due to your negligence you have lost thousands of sons, now do not let the robbers steal from your home)."
However, the claim of "home" was powerfully challenged by various anti-caste ideologues, like Phule, Periyar and Ambedkar, and in UP by Achutanand, Chandrika Prasad Jigyasu and Swami Bodhananda. They rejected Vedic Hinduism and constructed a pre-Aryan identity of Dalits as the original inhabitants — Adi Hindus — of India. They claimed that they had prior rights over its land and territory, and that there was a glorious history of Adi Hindu monarchy without caste, which was destroyed by Brahmanical Hinduism. They further stated that Dalits had been conquered by upper-caste Hindus through chicanery. This put a serious question mark over the supposed primordial Hindu religious identity of India's inhabitants. Related to this is another paradox in the anti-conversion/ reconversion rhetoric. Arguments of lure, force, fraudulence and material gains have been constantly made in anti-conversion laws and by the Hindu Right when opposing conversions. Reconversion, however, is claimed as a voluntary return. In the same breath, conversion is upheld as illegitimate in one case and legitimate in another, forcible in one case, voluntary in another. But how can a religion, into which one is born without any choice in the matter, be regarded as voluntary? And how do we define force or material gains? If one is converting in the hope of a better life, education and dignity, material progress, what is wrong with that? Moreover, if reconversion is indeed so "voluntary", then why, as per a pamphlet of the VHP, does a karyakarta require Rs 2 lakh per year to "work on a Christian" and as much as Rs 5 lakh for a "Muslim problem"?
The language of ghar wapsi is not motivated by a desire to promote spirituality and religious values, but by a strong anti-Christian and anti-Muslim overtone. Charged with a moral and communal fervour, it adopts an unrestrained anti-Christianity and anti-Islamic polemic. Simultaneously, the reconversion campaign is characterised by a creed of violence. The ghar wapsi movement asks Hindus to avenge supposed past humiliation and become warriors of a proud Hindu race.
Numbers have been critical to the politics of Hindutva. Mass conversions have been regarded as altering demographic equations. In this lament of constantly declining Hindu numbers, anti-conversion and reconversion are seen to increase Hindu numbers. Thus the RSS local unit in Aligarh has proudly claimed that it has carried out approximately 40,000 "reconversions" in and around Aligarh. There are, however, various contradictions in such contentions. First, various statistical studies have debunked theories of declining Hindu numbers. Second, many tribal and Dalit groups have objected to their accounting as Hindus. Third, even if in some remote future, Hindu numbers do decline, how is religious identity going to alter our basic constitutional and democratic fabric?
The strategies of anti-conversion and reconversion also harden religious boundaries while undermining religious plurality
in everyday life. Historian Richard Eaton has shown that conversions here (as elsewhere) do not signify a passive acceptance of a monolithic, outside essence. Rather, conversion to Islam and Christianity in India has entailed a creative and selective adaptation, and constant translation, whereby these religions have themselves been indigenised and "vernacularised". Christian and Islamic doctrines have interacted with Dalit and tribal cosmologies, and been moulded by them. Conversions have often signified mobility, flexibility and plurality. Many in India carry within them hybrid religious identities, where burial practices, for example, coexist with Hindu marriage customs. Such pliable and ambiguous religious identities, however, are an anathema to Hindutva.
The writer teaches in the department of history, University of Delhi
The Indian Express website has been rated GREEN for its credibility and trustworthiness by Newsguard, a global service that rates news sources for their journalistic standards.