Written by
Coomi Kapoor
|
Published: January 30, 2011 1:31:34 am
The PM's choices
Prime Minister Manmohan Singh was personally interested in Montek Singh Ahluwalia,Brajesh Mishra and Shyam Saran being honoured with Padma awards this year. They were rewarded for services in promoting the Indo-US Nuclear Deal and strengthening ties with the US. Saran was Foreign Secretary when the nuclear deal was clinched. Planning Commission Deputy Chairperson,Montek Singh Ahluwalia,whose wife Isher incidentally was awarded a Padma two years ago,played a key role in preparing the draft document for the deal.
Brajesh Mishra differed with his party,the BJP,in endorsing the nuclear deal. He even spoke in favour of the Civil Nuclear Liability Bill,long before the BJP agreed to support it. Some BJP leaders who resented Mishra,a virtual outsider,being given the top slot in Atal Bihari Vajpayee's PMO, now claim that Mishra bailed out the Congress more than once during Vajpayee's tenure.
One-upmanship yatra
The BJP's Ekta Yatra to hoist the tri-colour at Lal Chowk evolved from a modest programme of the BJP's Yuva Morcha to a major confrontation between the party and the government. This was due partly to the shrill over-reaction of the UPA and also because of competitive rivalry within the BJP's own ranks. When its youth wing chief,Anurag Thakur,proposed hoisting the flag at Lal Chowk,Chief Minister,Omar Abdullah reacted belligerently. The Union Home Ministry intervened to stop Abdullah from shooting off his mouth. In the process,the Home Ministry,and even Prime Minister Manmohan Singh,spoke out forcefully against the BJP plan.
With the UPA upping the ante,Arun Jaitley,who was earlier slated to speak in Jammu,opted to join the yatra. Parliamentary leader Sushma Swaraj promptly followed suit,as did Ananth Kumar. Unhappy to be left out,former BJP president,Rajnath Singh,donned a knitted bonnet and sat on dharna in Delhi. Swaraj provided regular updates of the ongoing tussle between the BJP leaders and the authorities on her new Twitter account,competing with media-in-charge Ravi Shankar Prasad,who regularly briefed journalists in Delhi on the same issue.
Weaving a story
One of this year's Padma Shri awardees is Gajam Govardhana,a craftsman from Andhra Pradesh whose family still produces the delicately woven Telia Rumal sari. Govardhana has won several national and international awards for continuing a weaving tradition which is almost extinct. His most famous customer is Sonia Gandhi whose Telia Rumal saris are of the finest quality tussar silk.
Incidentally,no practising journalist was included in this year's awards list. Some feel this is a fall-out of the Radia tapes. Others point out that because of an RTI application,all the names of journalists nominated for awards this year were made public and circulated widely through SMS. This made it embarrassing for the government to pick and choose from the list,as those left out would have felt offended.
Two prospective PMs
World Bank President Robert B Zoellick met Rahul Gandhi during his recent visit to India and had an unpublicised one-hour long private meeting with the Gandhi scion. The Congress youth leader is believed to have impressed Zoellick by referring to several rural development schemes launched by the UPA government and the Right to Information Bill. During his week-long stay in the country,Zoellick also flew to Bihar where he met Chief Minister Nitish Kumar and got a glimpse of the Kosi river cleanup operation. While chatting with Finance Minister Pranab Mukherjee,Zoellick remarked that he had met two prospective Indian prime ministers,Gandhi and Kumar,during his trip.
Overburdened elite
The long-awaited revamp of the Congress party organisation has been postponed yet again. It is three years since the organisation was re-vamped and the high command seems in no hurry to rectify the anomalies in which a few office bearers hold dual and even triple charges. In fact,some Congress leaders have been entrusted with even more responsibilities over the last fortnight. Oscar Fernandes,who is chairperson of the parliamentary HRD standing committee and heads half-a-dozen key AICC committee,including the central election authority,organisation of AICC meetings and CWC sessions,has been put in charge of Haryana and Jammu and Kashmir,which were earlier entrusted to Prithviraj Chavan. V Narayanasamy,who is now minister of state in the PMO,is also in charge of the parliamentary affairs,personnel and public grievances portfolios and looks after Chhattisgarh and some Northeastern states for the party.
For all the latest Opinion News, download Indian Express App
More From Coomi Kapoor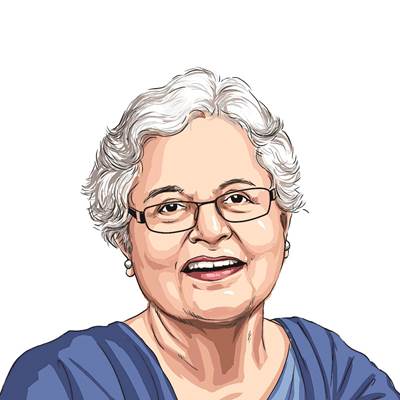 Will Prashant Kishore run Modi's 2019 campaign too?

Kishor took credit for Narendra Modi's success in the 2014 general election and Nitish Kumar's victory in Bihar in 2015. However, he had to eat humble…

Inside Track: Line of division

Clearly, Sushma Swaraj is not on the same side as the majority in the party, who feel she tweets for personal PR and not for…

Inside Track: Not so tweet

Sushma Swaraj was crudely and unfairly trolled by the Hindutva brigade because a Lucknow passport officer was summarily transferred on the basis of a tweet…