Written by
Khaled Ahmed
|
Published: April 7, 2018 12:17:42 am
In February 2018, the Lahore Literary Festival featured the great-granddaughter of Ruchi Ram Sahni. Neera Burra talked to us about her ancestor with rare objectivity and revealed facts about the great Sahni that his own book had left out. For me, the purple patch was Sahni's account of how he had a tiff with the great traveller-scholar of High Asia at the Government College Lahore. It shattered the idol of Aurel Stein I had nurtured after reading his tomes about the archaeology of what now is Chinese Sinkiang.
Sahni (1863-1948) was a scientist, educator, businessman, social reformer, politician, and public intellectual, who arose as a strongly-built Punjabi in Dera Ismail Khan, running cross-country as a teenager and presaging his later adventures in mountain-climbing. Sahni was simply incredible: He topped in chemistry and started teaching at the Government College, Lahore, the alma mater he was to patronise all his life.
Neglected in Lahore, he joined the great scientists of Europe under Niels Bohr, working on radioactivity. He was also active, after his return, in Lahore's governance, being a member of its governing council. He was a secular-liberal man, a follower of John Stuart Mill and that wonderfully liberal and eclectic faith called Brahmo Samaj. He was given the status of Rai Sahib by the British despite his rebellious nature. He returned the title after joining the Khilafat movement under Mahatma Gandhi.
Sahni's contribution later on to the popularisation of chemistry in Punjab was acknowledged by the Indian Chemical Society in 1927. The Tribune reported that Dr Duncliffe, president of the Society at the time, eulogised the services of Sahni' "who worked inside and outside the College for the progress of chemistry in its early stage". He even gifted a house to the Punjab Chemical Research Fund.
To return to the "incident" with Stein, Sahni was an examiner of the class of chemistry at GC when he discovered that a British paper-setter had leaked the questionnaire to his class. Sahni had the guts to report it. He was asked to see the head of the exams branch, Aurel Stein, and this is how he describes it: "Dr Stein was sitting in a chair on the dais with a table in front of him, while I had been standing on the floor below. There was no other chair in the room. Hearing the terrible words from my lips that his 'honest and straightforward examiner' was himself responsible for the leakage, Dr Stein flew into a rage. Suddenly, he came down from the dais, and stood as closely as possible face-to-face in front of me. I believe for once his nose touched my nose, but I would not be positive about it.
"'Lala Ruchi Ram,' he said in red hot anger, 'do you know what you are saying? You are bringing a most serious charge against a white man.' He added: 'It will be necessary for me to report this matter to the Vice Chancellor.' Unmoved by his angry words and unshaken by his threat, I said: 'Sir, I know exactly what I have said. This is not the first time that the questions were communicated to his own students beforehand'."
Sahni was superseded as head of the chemistry department in 1914 which compelled him to broaden his interests and go abroad. Retiring in 1918 from government service, he devoted the last 30 years of his life to public causes supporting Muslims on Khilafat and Sikhs on the Gurudwara Movement. He was a member of the Punjab Legislative Council (1924-6) and refused to succumb to communalism. The boy who walked 50 miles from DI Khan to the first means of transport to reach Lahore to study, ended his career as the most beloved Lahorite — in hindsight, as I celebrate him now — who remained unacknowledged till India issued a postage stamp in his name in 2014.
In Lahore's Al Hamra Hall, as Neera Burra talked brilliantly about Sahni, she was accompanied by Khalid Aftab, ex-vice chancellor of Government College University, who surprisingly knew more about Sahni than the other participants, and Lahore's well-known architect, Sajida Vandal, who was Neera's host in Lahore as she went about looking for documents bearing witness to the greatness of her ancestor. I thus met a most attractive young mind of India introducing a genius that Pakistan and India had forgotten. Lahore knew its "father" Ganga Ram, who simply couldn't be ignored because he as an architect had built most of its great buildings. Now it knows Ruchi Ram too.
The writer is consulting editor, Newsweek Pakistan
For all the latest Opinion News, download Indian Express App
More From Khaled Ahmed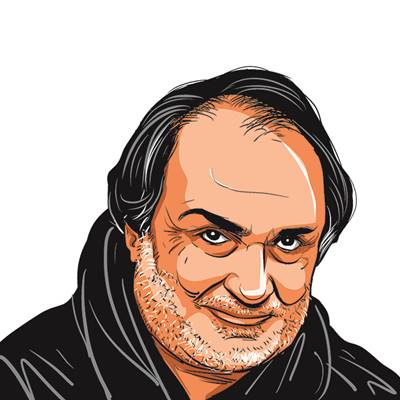 A Poll Outcome Foretold

When a Pakistan PM falls foul of the deep state, the Opposition, senior bureaucrats and the judiciary get together against him...

The Pakistan Paradox

Pakistan's persona non grata, ex-ambassador to the US, Husain Haqqani, in his book Reimagining Pakistan: Transforming a dysfunctional state, lists the reasons why Pakistan today…

Revisiting Benazir

A new biography looks back at the time when charisma reigned, as did corruption..