Written by
Khaled Ahmed
|
Published: September 2, 2015 3:53:08 pm
In Pakistan, his death was proclaimed as national tragedy; in India he was remembered as someone who did mischief in Kashmir and Punjab; in Afghanistan, he was lambasted as a friend of the Haqqani militia laying waste to half the country's provinces. In Lahore, religious lawyers called Al Umma were out in the street a week after his death, verbally flagellating themselves in grief. Competing messages of sorrow were sent out by the prime minister and the army chief.
Hamid Gul was an ISI chief for whom nothing went right even in victory if Pakistan claims "Soviet defeat" as a victory. But his vocal cords didn't let him down as he expressed his views about how Pakistan should proceed. He was the "talking general" par excellence, beloved of the Islamists with jihad uppermost in their minds, shaped by hatred of the West, in general, and India and the United States in particular.
His message resonated with the basic tenets of nationalism in Pakistan, it held aloft the mythology of the "doable" in a state that was less and less able to "do" the right thing with itself. His "truths" – upheld by most Pakistanis – separated Pakistan from the rest of the world.
He asserted that 9/11 had been done by Israel's Mossad and that the Americans were lying when they said Al Qaeda had done it. In fact, America wanted an excuse to fall upon the Muslims and destroy them. When the Americans shot Osama bin Laden in Abbottabad in 2011, he said bin Laden had already been dead elsewhere, and that the "theatre" of Abbottabad was a fib. Not even the findings of a judicial commission on the Abbottabad attack changed his mind. Most Pakistanis believed him.
He said democracy was a Western fraud palmed off on Pakistan to make it finish as a flop. Pakistan is still on a journey to discover itself within the paradigm of jihadi governance he recommended.
As ISI chief, he backed the Afghan warlord Hekmatyar who never once showed signs of doing Pakistan's bidding despite Gul funneling half a billion American dollars to him. Gul suffered withdrawal symptoms when Hekmatyar dwindled in power and the Taliban took over, invented by the government of Benazir Bhutto whose electoral defeat he had orchestrated.
He soon ate his words and lined up behind the Taliban, choosing the Haqqani group among them for special favours like sending his sons to them for "training". He was the ISI boss when his patron General Zia-ul-Haq was killed in an air-crash in 2008 after warnings that this might happen. His biggest failure was the defeat in Jalalabad after an operation he had planned against the Soviet-backed government of Najibullah in Kabul. He denied he was to blame.
Mohammad Taqi writing in Lahore's Daily Times (August 20) quoted Brigadier Yousaf, who was in charge of the Afghan desk in the ISI in his book, The Bear Trap: "General Gul was removed from his post at the ISI in June 1989, when it was clear to everybody that Jalalabad was a catastrophe. His two-year involvement with the jihad must have been a bitter experience for him. He came at a time when military victory was in sight; he left when mujahideen defeat was distinctly possible."
Once out of the ISI, he refused to keep his cool and tried, in tandem with army chief Aslam Beg, to topple Bhutto through bribed floor-crossings. The "operation" was called Midnight Jackals. Two ISI officers were caught red-handed trying to get some PPP members of parliament to defect. This is what the main culprit Brigadier Imtiaz Ahmad had to say about who was behind the conspiracy.
Journalist Aoun Sahi interviewed former Brigadier Imtiaz Ahmad in The News (August 2, 2009) and had him saying this: "In this incident my involvement revolved around the blind trust and one-sided loyalty that I accorded to my two senior-most superiors, General Aslam Beg and Hamid Gul. I was called by Aslam Beg, the then COAS, and told that the policies of this government regarding nuclear programme, Afghan Policy and interference in the matters of army, were creating problems for the country and sought my help in the matter. These two gentlemen, Beg and Gul, controlled the Operation Midnight Jackals while federal defense secretary Ijlal Haider Zaidi assisted them. Hamid Gul was serving as corps commander Multan at the time but he used to visit Rawalpindi every week without GHQ permission."
He was the inventor of the "India did it" syndrome. Civil servants learned to parrot it when crimes committed by Taliban and non-state actors were too risky to own. When Zia died in an air-crash, he said "India did it" in cahoots with the Americans. When Benazir Bhutto was finally killed – she had warned before her death in 2007 that Gul would kill her – he said with a straight face – guess what! – "India did it".
Punjab home minister Colonel (ret) Shuja Khanzada was recently revenge-killed for getting nonstate actor terrorist Malik Ishaq bumped off in a "police encounter". He was a Gul acolyte, addicted to the "India did it" routine. After his death, no one in Pakistan thought Khanzada was killed by India. Within the week, his killers were traced to Lashkar-e-Jhangvi, the gang Malik Ishaq had run in Punjab.
Hamid Gul must be the greatest strategist that ever lived. Sun Tzu never told us how defeat could be felt as a victory, and that, if defeats are repetitive, how they can be celebrated as victories. Has Pakistan learned any lessons from the death of someone who walked out of the pages of the textbooks children read in Pakistan – and who has walked back into them covered with glory?
The writer is consulting editor, 'Newsweek Pakistan'
For all the latest Opinion News, download Indian Express App
More From Khaled Ahmed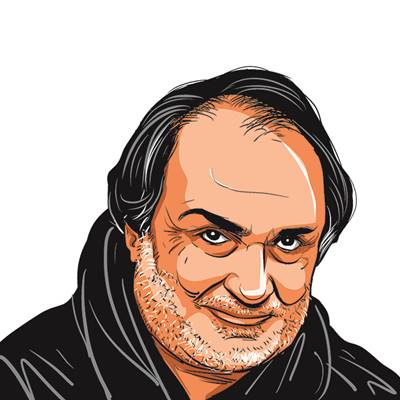 A Poll Outcome Foretold

When a Pakistan PM falls foul of the deep state, the Opposition, senior bureaucrats and the judiciary get together against him...

The Pakistan Paradox

Pakistan's persona non grata, ex-ambassador to the US, Husain Haqqani, in his book Reimagining Pakistan: Transforming a dysfunctional state, lists the reasons why Pakistan today…

Revisiting Benazir

A new biography looks back at the time when charisma reigned, as did corruption..