As the old year was fading,there were rumours that Manmohan Singh (MM) will be replaced by Rahul Gandhi (RG) even before the election. Last September,when RG tore up the crooked MPs' Bill,it was plausible to think that may be the time had come to give him a nine-month stint as PM with Manmohan Singh as a foreign minister and mentor. But it has become the style of the Congress to leave everything to the last minute. The change may perhaps come now.
Ever since the victory in 2009,Congress veterans have been trying to cut Manmohan Singh down to size,lest he think that he won those extra seats. In the Indira Congress,the first rule is: All success is thanks to the Family and all failures due to the followers. So there were constant rumours that Rahul baba was going to take over — perhaps mid-stream when MM had been kicked upstairs to Rashtrapati Bhavan. MM could flaunt his wisdom abroad. At home he had to be silent. His Cabinet disobeyed him,openly jockeyed for positions in the soon-to-be Rahul Cabinet. GoM and EGoM had to be convened for the smallest decision and even after all that,it was 10 Janpath which had the final say.
And so the Congress trashed MM for nearly five years. The party faces a meltdown and as we cannot blame RG,someone has to carry the can. So it has to be MM. But even more important is the problem that if he actually completes his full term,he will be the only PM besides Nehru to serve two full terms. Since all Indian history has to be Gandhi-Nehru or Nehru-Gandhi,how can one accommodate a Singh? Sack him before he completes his five years and history is saved.
When we look back at his almost 10 years,the puzzle is about how MM performed well during UPA-I and so poorly during UPA-II. It was his boldness in UPA-I and his firm stand on the nuclear power deal which thrilled urban India. He eliminated the Left as a serious force in Indian politics. The permanent contribution of MM will be the transformation of US-India relations. The MEA is currently trying its best to lose goodwill by defending a prevaricating IFS officer and may even succeed in destroying MM's greatest achievement. All those who hate the US and love NAM will celebrate the loss of US goodwill. Being anti-US is part of brand Indira Congress.
MM wanted to solve the Kashmir issue and establish peace with Pakistan,just as his predecessor Vajpayee tried,but did not quite succeed. But the MEA knows it will lose its major raison d'etre if India and Pakistan are at peace. It is not the BJP or RSS who would block it; Vajpayee was one of the best people for peace diplomacy. But the secularists have to be macho as they fear being considered 'soft on Pakistan'. So no peace with Pakistan while Indira Congress is in power. Thus,MM failed to realise his dream.
Then we come to Economics — his erstwhile strong suit. Here again,there were good results in UPA-I (perhaps thanks to BJP/NDA policies as much as his own). But come UPA-II,and even after overcoming the 2008 crisis,the economy slowed down after 2010. The NAC did not like GDP growth as it was thought to benefit only the urban middle classes. So rural India was massively subsidised using food price inflation as a weapon. Yet the benefits to crony capitalism had to continue to finance elections. Using MM's clean reputation as a shield,various scams were managed. Alas they were unearthed thanks to the very Act MM is so proud of,the RTI. Then not just MM,but the entire government was struck dumb. Policy paralysis resulted.
Why did MM not resign,many people ask. Because that is not his style. Had he been the resigning type,he would never have been picked in the first place. He is a loyalist,grateful that the chalice was handed to him. He will drink it to its dregs even if it poisons him. Which it will. And as he goes,he will thank the Family.
For all the latest Opinion News, download Indian Express App
More From Meghnad Desai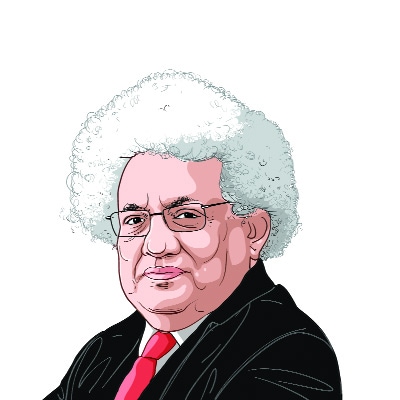 Out of my mind: Brexit decisions

Political divisions on this issue run through both the ruling party and the Opposition. The process of leaving has a time limit, which ends on…

Out of My Mind: IOU, RITA, TINA

In Malaga, there was a conference where they discussed topics such as the Index of Opposition Unity (IOU). Don't believe There is No Alternative (TINA)…

Out of my mind: Cross dressing

The Opposition has the one-item agenda of hating Modi. As in 1971, when the cry of the Old Congress was 'Indira Hatao', now it is…