Written by
Coomi Kapoor
|
Published: December 31, 2017 12:56:12 am
Poll doles TN Style
Political parties in Tamil Nadu came under intense scrutiny by the Election Commission and intelligence agencies during the recent campaign for the R K Nagar constituency. Elections to the prestigious seat, once represented by the late Jayalalithaa, were countermanded twice since cash running into tens of crores was recovered during the campaign. This time, political parties devised a novel method of avoiding getting caught for money doles. Supporters were handed a single Rs 20 note on which the booth number and a code number was written. The understanding was that after the poll you could encash the Rs 20 note for Rs 10,000 at a specified address, provided five family members had voted. The joke making the rounds in Tamil Nadu is that when a husband asked for the Rs 20 note he had left on top of the TV, the wife replied that she had bought milk. The husband wailed, "Your one milk pouch cost our family Rs 10,000.''
Blocking criticism
Minister for External Affairs Sushma Swaraj is quick to respond to tweets asking for help. She has earned a reputation as the saviour for stranded Indians abroad and for foreigners with problems in obtaining Indian visas. However, Swaraj is equally prompt in reacting to criticism, by blocking those sending uncomplimentary tweets. Recently, Congress MP Pratap Singh Bajwa wanted to know the fate of 39 people from Punjab who went missing in Iran in 2014. He was immediately blocked from her Twitter account. An indignant Bajwa felt it did not behove a minister to block an MP simply because he asked tough questions. Some right-wing trolls were also blocked after they questioned the need to liberally hand out visas to Pakistanis on humanitarian grounds at a time when Kulbhushan Jadhav is in a Pakistani jail and could be executed. At her annual year-end lunch for the media, Swaraj was willing to engage in light chit-chat with journalists but refused to respond to probing questions on foreign policy. She avoided inconvenient questions by simply moving to the next table. In contrast, the two ministers of state, M J Akbar and V K Singh, as well as Foreign Secretary S Jaishankar replied at length to questions relating to the ministry.
Not a narrow win
The BJP can take this comfort from its narrow win in the Gujarat Assembly elections: that its vote share paints a far more optimistic picture for the parliamentary polls. The figures suggest that in fact a parliamentary election would have seen a more positive outcome since the BJP's margins of victory were far higher than those of the Congress. For instance, while the BJP won 20 seats with a margin of over 50,000, the Congress did not manage such a large lead in any constituency. While the BJP won another 27 seats with margins between 25,000 and 50,000 votes, the Congress won only 13 seats with this margin. Out of the total 99 seats won by the BJP, the lead was over 10,000 in 74. The Congress has a similar lead in only 45 seats. According to the BJP's calculations, on the basis of the Assembly vote, out of 26 parliamentary seats in Gujarat, the BJP would have won 17 to 18 seats and the Congress only eight to nine.
Temple trail again
Congress strategists discovered that out of the 27 temple visits Rahul Gandhi made in Gujarat during the elections, the party won in 14 of the Assembly constituencies in which these are located. The Congress is keen to repeat the soft Hindutva card in Karnataka which goes to the polls by May next year. It has chalked out a campaign itinerary for Rahul which includes visits to numerous shrines and religious places. In the bargain, Congress Chief Minister Siddaramaiah has altered his own views. Earlier he prided himself on being a rationalist and atheist who had passed a law against superstition. Now he has started on a temple trail of his own even before Rahul visits the state and denies he was ever a non-believer.
Not in your face
Indian security could learn a lesson or two from the Americans on how to be unobtrusive yet effective. The US Ambassador to India, Kenneth Juster, visited Jodhpur on Christmas Day and watched a friendly polo match organised by the erstwhile Maharaja of Jodhpur, Gaj Singh. Although Juster has Z-plus security, few in the audience were aware of his presence. Unlike what happens in India, the Americans, who oversee the ambassador's security detail, do not believe in posting conspicuous gun-wielding uniformed men in large numbers, frisking guests and confiscating phones and purses. Juster was able to mingle with the crowd and take photos of the award ceremony and Santa Claus, just like any other tourist. His Indian security guards were incognito and unrecognisable.
For all the latest Opinion News, download Indian Express App
More From Coomi Kapoor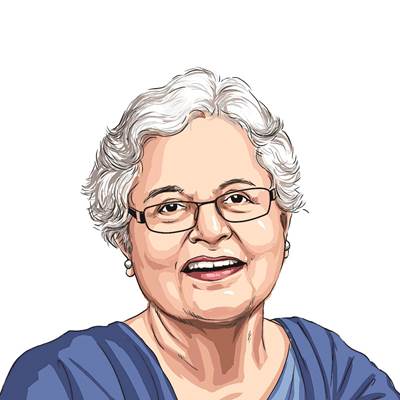 Inside Track: One for All

The Congress war room is working on a strategy that an anti-BJP alliance should field joint candidates for 403 seats in 15 states in the…

Inside Track: Age-old problem

Both Shatrughan Sinha and Yashwant Sinha have for all practical purposes left the party. If the elderly are back in the BJP, it may face…

Inside Track: Not overshadowed

During the recent inauguration of Phase 1 of the Delhi-Meerut Expressway (DME) and Eastern Peripheral Expressway (EPE), Gadkari was in an open car alongside the…