Written by
Coomi Kapoor
|
Published: June 17, 2012 3:29:24 am
Strange silence
Prime Minister Manmohan Singh was deeply hurt that the Congress took almost a day to contradict Mamata Banerjee's suggestion that he should be fielded for the President's job. Mamata's assertion triggered off conspiracy theories that this was actually the Congress's strategy to make way for a new prime minister. Singh reportedly indicated that he would not leave on Saturday for the G20 summit in Mexico unless the Congress clarified its position. The reason for delay in declaring that Singh was needed as prime minister is because the high command went into a protracted series of consultations as to whether it was better to remain silent or respond to Banerjee's bombshell. In the meantime,the party spokespersons went underground. The Congress should take a lesson from the BJP. Nitin Gadkari recently instructed spokespersons to be available in the party office from noon onwards in case the media required an urgent response on a hot topic.
Sleeping with enemy
The neatly printed posters praising Sanjay Joshi and taking a potshot at Narendra Modi which surfaced recently in Delhi and Gujarat were traced by the Gujarat Chief Minister's intelligence team to Gordhan Zadaphia's men. The one-time VHP activist,who has formed his own Mahagujarat Janata Party (MJP),invited Keshubhai Patel,Suresh Mehta and other known Modi baiters to address a rally for tribals where Joshi was defended. While it was legitimate for Zadaphia and Mehta to belittle Modi since they are no longer in the party,the octogenarian former chief minister Patel continues to be a member of the BJP. Despite his anti-Modi utterances,there is no move to expel him. This has confirmed Modi's suspicion that Patel and Joshi are backed by a powerful section in the BJP and the RSS,including Nitin Gadkari. The party president may have ditched Joshi temporarily,but it is a tactical retreat. He could be biding time,waiting to be elected president for a second term in December before showing his hand.
PR disaster
Three members of the group of Central ministers in charge of liaising with the media paid a visit to Bhopal on June 5. But what was intended to be an exercise in improving relations with the Madhya Pradesh media turned out instead to be a public relations disaster. P Chidambaram,Salman Khurshid and V Narayanasamy flew to Bhopal to address a press conference. Ministerial advisers forgot to alert their bosses that they would be addressing the Madhya Pradesh media on World Environment Day. Inevitably,the questions focused on the toxic waste in the Union Carbide plant and other embarrassing queries concerning the Bhopal gas tragedy,rather than the achievements of the UPA government. To make matters worse,all three ministers insisted on speaking in English to the largely Hindi-speaking journalists. The function ended at around 12.15 p.m. and the ministers left immediately for Delhi. They did not stay to share the special lunch arranged in their honour. By refusing to mingle with the local press,they only accumulated more minus points.
A single-handed approach
Minister for Rural Development Jairam Ramesh suggested to the Prime Minister that a Group of Ministers be constituted to tackle left wing extremism. Dr Manmohan Singh did not commit himself. When Jairam persisted with his idea,Singh said he would discuss the issue with other ministers. Ramesh waited for two months for a GoM on Maoism to be set up but when nothing materialised,he decided to take matters into his own hands. He has now started speaking to the media on the subject. After a recent visit to Odisha,he addressed a press conference where he talked about the need to adopt a new approach whereby Maoists could be persuaded to drop the gun and join the electoral process.
High-security zone
The Israeli embassy in Delhi has tightened its security drill after the car bomb explosion on an Israeli diplomat in February this year. A number of embassy personnel live in South Delhi's posh Vasant Vihar in close proximity to each other. A dozen armed commandos carrying walkie-talkies patrol the private colony,much to the irritation of local residents. The Indian government appears to have given special permission to the embassy not to use CD number plates on a large number of vehicles. Even before the car bomb attack,the Israelis had torn down the old embassy building on Aurangzeb Road to build a new highly fortified structure with sophisticated surveillance devices.
For all the latest Opinion News, download Indian Express App
More From Coomi Kapoor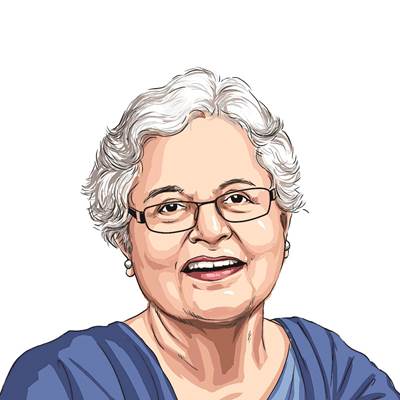 Will Prashant Kishore run Modi's 2019 campaign too?

Kishor took credit for Narendra Modi's success in the 2014 general election and Nitish Kumar's victory in Bihar in 2015. However, he had to eat humble…

Inside Track: Line of division

Clearly, Sushma Swaraj is not on the same side as the majority in the party, who feel she tweets for personal PR and not for…

Inside Track: Not so tweet

Sushma Swaraj was crudely and unfairly trolled by the Hindutva brigade because a Lucknow passport officer was summarily transferred on the basis of a tweet…