Last year on August 15, then Gujarat Chief Minister Narendra Modi was criticised for giving a public lecture against the backdrop of a makeshift Red Fort. Next Friday, he will 'realise' his dream by giving his Independence Day speech from the ramparts of the real Red Fort.
Symbolism is important to the Prime Minister. He bowed before entering the Central Hall of Parliament in a gesture which touched all. He invited all SAARC heads of government to his swearing-in, a move which had a powerful effect. He has been to Bhutan and Nepal, winning hearts and minds of neighbours speaking in their language. The first 80 days of the BJP/NDA government have signalled to the world that India's foreign policy will be the same as earlier, but with added vigour and symbolism.
The Ministry of External Affairs is lucky in having two Cabinet ministers looking after it, the PM as well as Sushma Swaraj. Defence and Finance have only half a Cabinet member each, although it is Arun Jaitley who can perhaps carry a third department and not flinch. But it should remind us all that the Cabinet appointed in those distant days of May was meant to be a holding arrangement. Many more vacancies have to be filled and some reshuffling of existing ministers must be on the cards.
It is not personnel but policy which is the issue. There are many things going on, many decisions being made and scores of civil servants losing sleep over inspections by Cabinet ministers as to whether they are turning up on time. Yet, there is still a sense of waiting for the big picture to emerge. Many projects which were stuck in a logjam are being extracted and moved ahead. But as yet there are no new projects which catch the eye. Perhaps the government is learning to walk before it can run. But the soaring visions offered during the election campaign are waiting to be articulated. Perhaps we will hear something on the Big Day.
The general message so far seems to be of continuity with added vigour; UPA-I with a more active PM. This is clearly a political choice by the PM who does not want to shake things up too much just yet and get bogged down in major controversies. The paradox is that, despite that, the government has been buffeted by several controversies on minor matters. It may be that the Opposition has nothing else to do, given its general weakness. There is also the problem that the PM is not playing up to the image of the ogre that he was predicted to be. So every little mistake by junior ministers is blown up and Parliament gets adjourned.
The latest UPSC fracas illustrates the problem. Examinees around the world want a soft exam rather than a tough one. They are bound to use any excuse to escape hard tests. The idea that examinees need a translation of steel plant into Hindi — good or bad — is shameful. To pander to such demands is worse. But to incite the anger of all regional language speakers by a gesture of surrendering to Hindi-medium graduates is a political blunder.
Whatever the BJP may think, Hindi is not a unifying force for the Indian nation. It is a language of the most populous parts of North India, of the largest minority but not of the majority. Were it not for Bollywood, even fewer Indians would understand it. The proposal to make it a national language passed the Congress parliamentary board in the Constituent Assembly by one vote. It was not an official but a private member's resolution which carried that contentious decision through. It practically broke the Union in 1965 till Lal Bahadur Shastri intervened. Since then, India has managed on the delicate compromise of the three-language formula — English, Hindi and regional language. If a day comes when IAS officers cannot handle two out of the three languages, India will begin to unravel.
The idea that a nation needs a single language is European. India is a collection of many such nations. It is bound together by democracy, not a single language. Maybe the Prime Minister should rally the nation by speaking in Hindi, Assamese and Tamil on Friday.
For all the latest Opinion News, download Indian Express App
More From Meghnad Desai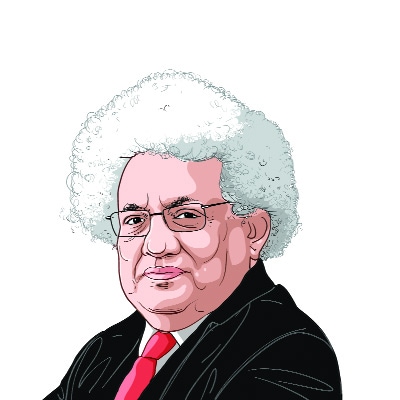 Groundhog state

A referendum in the Indian part of J&K should ask the people a simple question: Do you wish to stay in India or not?..

Avoid ideology

Narendra Modi devised an inclusive strategy in 2014. He reached out to the Dalit voters. He downplayed anti-Muslim sentiments. He modernised the BJP by remaking…

Chanakya 2018

Pranab Mukherjee rewrote history on Friday. He washed away all the sins of the RSS. From now on, no stigma attaches to the RSS even…