Written by
Coomi Kapoor
|
Published: March 31, 2013 2:44:59 am
Presidential diktat
President Pranab Mukherjee is keen to be a copybook president who follows norms and cannot be pushed around. The President believes that while Parliament is in session and during his visits abroad,no file should be sent to him. However,this means the government cannot undertake any Cabinet reshuffles,change business rules or modify portfolios during this time. Recently,the PMO was desperate to get Mukherjee's approval for a presidential order entrusting Panabaka Lakshmi additional charge as Minister of State in the Textiles Ministry. Parliament was in session and there was no one to answer questions put to the Textiles Ministry. So the file was sent all the way to Bangladesh for Mukherjee's clearance since he was on a visit to that country. An angry Mukherjee conveyed to the PMO that while he would make a one-time exception,in future he would not entertain such requests during a Parliament session. He signed the file only after his return from Bangladesh.
Ship may sail away
Union Minister of Shipping G K Vasan is being pressured by his cadres to revive the Tamil Maanila Congress which his late father G K Moopanar founded. With the DMK parting ways with the Congress,Vasan's workers see poor prospects for the party. Particularly as neither Sonia nor Rahul Gandhi has taken a strident line on the Sri Lankan issue. The AIADMK has already made overtures to Vasan. The minister has held two rounds of meetings with local leaders to explore the best time to launch his party.
Nitish's new talent
"Who is Pavan Varma?" queried Sharad Yadav,the JD(U) chief,recently in an acknowledgement of the fact that Nitish picks up talent from time to time from outside without others in the party knowing. Varma is a retired IFS officer and an author who has been appointed adviser to the Bihar government on culture and information with Cabinet-rank status. Varma also assists as the party's spokesperson in Delhi. Nitish is keen that Bihar's rich cultural heritage be better publicised. The CM who has read Varma's books became better acquainted with him when he visited Bhutan while Varma was ambassador.
Questionable gadgets
Gujarat PCC chief Arjun Modhwadia is hardly a match for Chief Minister Narendra Modi politically. So he specialises in filing RTI applications against Modi. One of his questions focused on the Chief Minister's bungalow in Gandhinagar and the state-of-the art gadgets therein. Modhwadia is convinced that the gadgets include a high-tech snooping device. Since it is a government bungalow,Modhwadia wants to know the type of hi-tech gadgets it has. As of now,he has received no reply.
Embarrassing question
A Hindi daily has embarrassed the Planning Commission with an RTI query. The question was how many members of the Planning Commission had recently visited rural India. Except Dr Mihir Shah,none of the other members of the elite think tank had made a trip of late to Indian villages,although they are entrusted with the task of rural planning.
Long and short of it
Secretary General of the Rajya Sabha Shamsher Sharif recalls that it was a matter of considerable pride in his family that three generations had served in the armed forces. When Sharif first joined the IAS,he was asked repeatedly why he had abandoned the family profession. Sharif's reply was that his height had worked against him. He joked that he was ineligible even for a short service commission. Today,Sharif has climbed to the top of the ladder of the civil services by becoming a full secretary to the government of India. The "general" attached to his designation must be a matter of additional satisfaction.
Undemocratic action?
In December last year,Meenakshi Natarajan,general secretary of the Youth Congress,called on Tamil Nadu leader G K Vasan and demanded that state Youth Congress president M Yuvaraj resign. Yuvaraj protested that he had twice been elected president in the state and the action would amount to a negation of the democratic process that the Youth Congress had undertaken. The allegation against Yuvaraj was that he was involved in the murder of a girl from his village. Yuvaraj protested that he did not understand how the Youth Congress sitting in Delhi had reached this conclusion when no FIR had been registered against him. Yuvaraj finally came to Delhi and resigned under pressure,but there is considerable heartburn in the state Youth Congress executive committee.
For all the latest Opinion News, download Indian Express App
More From Coomi Kapoor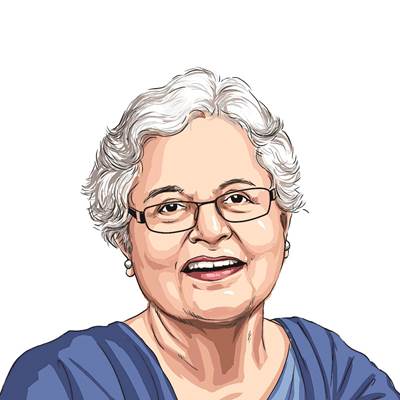 Will Prashant Kishore run Modi's 2019 campaign too?

Kishor took credit for Narendra Modi's success in the 2014 general election and Nitish Kumar's victory in Bihar in 2015. However, he had to eat humble…

Inside Track: Line of division

Clearly, Sushma Swaraj is not on the same side as the majority in the party, who feel she tweets for personal PR and not for…

Inside Track: Not so tweet

Sushma Swaraj was crudely and unfairly trolled by the Hindutva brigade because a Lucknow passport officer was summarily transferred on the basis of a tweet…