No fresh term 
President Pranab Mukherjee has indicated to close confidants that he is not interested in another term and, in any case, does not expect the BJP to re-nominate him. Mukherjee, 80, who completes his term next July, is already sorting out his papers and gifts presented to him during his presidentship, but the NDA government is still to decide on his replacement. The name of superstar Amitabh Bachchan was doing the rounds but that was ruled out after the Panama Papers exposure. Another speculation, which appears unfounded, is that Sharad Pawar, who is an ideal compromise candidate, could be in the running. The final decision will be taken by Prime Minister Narendra Modi in consultation with the RSS. Names being mentioned include those of Speaker Sumitra Mahajan, Minister for Social Justice and Empowerment Thaawar Chand Gehlot, the Dalit face of Modi's Cabinet, and governors such as Ram Naik and Draupadi Murmu, the first woman tribal to be sworn in as a governor.
Regional satrap
The BJP's Karnataka state president, B S Yeddyurappa, defied the party's central leadership, preventing Parliamentary Affairs Minister M Venkaiah Naidu from being re-nominated to the Rajya Sabha from the state. At the last minute, Naidu had to rush to Rajasthan to file his papers. Yeddyurappa holds a grudge against Naidu since he believes he ganged up with Ananth Kumar to force him to step down as chief minister in 2011. Both Naidu and Ananth Kumar were part of the L K Advani group, which felt that the powerful state chieftain had to be removed because the corruption charges against him were giving the party a bad name. Yeddyurappa's supporters were behind a social media campaign that projected that Naidu had done nothing for Karnataka as an MP and instead had even used his funds from the MPLAD scheme for Andhra Pradesh.
Ethical issue 
Dr Karan Singh, chairperson of the Rajya Sabha Ethics Committee, is upset at the manner in which former MP Vijay Mallya brought disrepute to the Rajya Sabha. To ensure that such a scandal does not occur again, the committee has sent out a questionnaire to all Rajya Sabha members reminding them of the Assets and Liabilities Rules, which state that MPs are obliged to notify if there is any change in their assets and liabilities furnished by them by June 30 every year. An accompanying form seeks details of loans raised from banks and financial institutions. On May 3, the Ethics Committee recommended the expulsion of Mallya, rejecting his defence of loan default of over Rs 9,400 crore. Hours after the committee's report was submitted, Mallya sent a fresh letter of resignation to Rajya Sabha Chairman Hamid Ansari, which was accepted, before the committee's recommendation could be taken up for action.
Chin chin chu 
At the state banquet for President Pranab Mukherjee during his recent four-day visit to China, the orchestra played several tunes from Indian films. But what got the Indian delegation clapping and cheering was the Gita Bali song Mera naam Chin Chin Chu, from the 1958 hit Howrah Bridge, in which Helen played Chin Chin Chu, a flirtatious dancer from Shanghai. Incidentally, while Indians sometimes stereotype the Chinese as enigmatic and unsmiling, this time in fact it was Chinese officials who were a bit taken aback that Mukherjee rarely smiled during the trip. The only time the President let down his guard and smiled broadly was when he was greeted by cheering school children during his welcome at the forecourt of the Great Hall, the official residence of Chinese President Xi Jinping.
Differing views 
Mamata Banerjee's swearing-in ceremony in Kolkata left the Congress divided over whether a party representative should attend it or not. Ambika Soni, general secretary attached to Sonia Gandhi's office, was selected to go to West Bengal. Since opposition leaders cutting across the political spectrum, including Delhi Chief Minister Arvind Kejriwal, Bihar Chief Minister Nitish Kumar, Uttar Pradesh Chief Minister Akhilesh Yadav, the National Conference's Farooq Abdullah, Finance Minister Arun Jaitley and Civil Aviation Minister Ashok Gajapati Raju of the TDP, were scheduled to attend the swearing-in, it was felt that the Congress should not keep out. However, Bengal PCC chief Adhir Ranjan Chowdhury protested to Congress vice-president Rahul Gandhi that party workers would be demoralised if any party leader attended Mamata's function considering the bitterness between the two parties during the elections and the violence by TMC workers even after the polls. Rahul promptly directed Soni to stay put in Delhi.
For all the latest Opinion News, download Indian Express App
More From Coomi Kapoor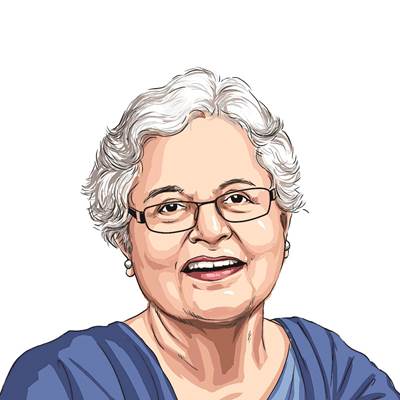 Will Prashant Kishore run Modi's 2019 campaign too?

Kishor took credit for Narendra Modi's success in the 2014 general election and Nitish Kumar's victory in Bihar in 2015. However, he had to eat humble…

Inside Track: Line of division

Clearly, Sushma Swaraj is not on the same side as the majority in the party, who feel she tweets for personal PR and not for…

Inside Track: Not so tweet

Sushma Swaraj was crudely and unfairly trolled by the Hindutva brigade because a Lucknow passport officer was summarily transferred on the basis of a tweet…