When Sonia Gandhi decided to become a politician,cruel gossips in Delhi's political circles said she spent many hours watching old videos of the first Mrs Gandhi before deciding to take the plunge. I dismissed the stories as unkind chatter until I attended her first public meeting in Sriperumbudur in January 1998. Having known her in her apolitical days,I was amazed by the transformation. I noticed that she had copied her mother-in-law's taste in saris,her skippy walk up the steps of the stage and even the shrill tone she used when she wanted to sound forceful.
But,perhaps because she was uninterested in politics in all the years she spent living in her mother-in-law's house,Sonia never discovered the real secret of Indira Gandhi's incredible success as a politician. Never learned that her political strength came from her tireless efforts to remain in constant touch with ordinary people. What is now abundantly clear is that Sonia's real weakness as a political leader comes from her aloofness. Not just from ordinary people but from the media and even from her political workers.
Aloofness does not work in public life and this should be obvious to her now that her government's economic and political chickens are coming home to roost. Last week was a particularly bad one on the roosting chickens front. Standard & Poor's not just warned that India's credit rating could come down to junk status,it went further and blamed this on the 'division' of political leadership in the Indian government.
Sonia's more strident spokespersons went instantly onto the nearest television channel to hysterically denounce this as rubbish. They pointed out that if India could grow at more than 8 per cent during the Sonia-Manmohan government's first stint in power then why not now. It should be clear what changed.
After the government won re-election in 2009,the ever obliging Dr Manmohan Singh moved into the shadows to allow the ground to be prepared for the Congress Party's heir apparent to take over. And,this was not all that changed. Suddenly,Sonia's National Advisory Council was given more leeway than ever before to make policy and to do this publicly. This left observant political observers in no doubt that Sonia Gandhi was now playing a serious role in making policy. But,she continued to play purdah politics,continued to pretend that real control was not with her.
Last week,Mamata Banerjee exploded this myth. Mamata is not this column's favourite politician but I believe she did India a service by lifting the purdah on her conversation with Sonia in 10 Janpath. The election of the next President of India should not be the subject of private conversations but because of Sonia's style of functioning it has been. Those who had the private conversations came out charging Sonia with behaving as imperiously as the late Mrs Gandhi without noticing that her mother-in-law had a full majority in Parliament. When prime ministers win elections with brute majorities,they can afford to exhibit a certain disdain for lesser political parties and the late Mrs Gandhi most certainly did.
The times have changed quite dramatically for the Congress Party since those halcyon days. Congress may have won more seats in 2009 than it has since 1991 but not enough to form its own government. But,because of the reverence and awe that continues to surround India's most powerful political dynasty,the constituents of the coalition Sonia leads have behaved as if they were part of a Congress government. All except Mamata. She appears to take perverse pleasure in defying Congress authority. In trying to contain her mutinous ally,Sonia has exposed the political limitations of aloofness as a policy. Once Mamata gave details of her private conversation with Sonia on national television,the aloofness mystique was shattered. Will this lead to the fall of the Sonia-Manmohan government? Can we expect an election before 2014? Perhaps. But,that is not the point.
What is the point,and it became brutally clear last week,is that India cannot be ruled by leaders who want political power but refuse to accept accountability. In three years,Sonia's government,and please let us start calling it that,has taken a booming economy and reduced it to an economic disaster. Politically the worst consequence of her purdah politics has been that the institution of the prime minister's office has been dangerously diminished.
These things have happened not because of Dr Manmohan Singh's personal weaknesses but because of Sonia's purdah politics. If she wants to do more than just superficially impersonate her powerful mother-in-law then here is her chance. It is in her hands and her hands alone to show whether she can heal India's broken polity and put the economy back on a growth path. If there ever was a time for Sonia to show leadership,it is now.
Follow Tavleen on Twitter @ Tavleen_Singh
For all the latest Opinion News, download Indian Express App
More From Tavleen Singh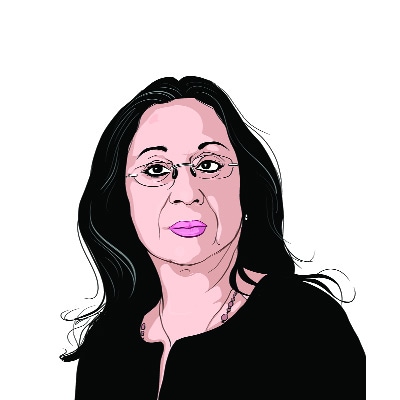 Towards a Hindu Pakistan?

If the BJP does manage to win a second term, the Prime Minister would do well to ask himself why we have violent Hindutva instead…

Back to old times?

For those Indians who gave Modi a full majority it was because the words 'parivartan' and 'vikas' came as music to their ears...

Fifth Column: What can Modi do now?

So can Modi do anything in the next few months that would restore the lustre that once made him seem undefeatable? There are those who…