Written by
Khaled Ahmed
|
Updated: October 14, 2017 12:16:57 am
Appearing on television on October 1, the ex-head of Pakistan's ISI, General (retired) Ehsan-Ul-Haq, put forth a worldview that was far more inclusive than is usually enunciated on TV by retired army officers. He was not rabidly anti-India and anti-America and broke the aggressive stereotypes that Pakistani intellectuals have grown familiar with. He was followed on October 6 by Air Marshal (retired) Riazuddin Sheikh who held that Pakistan should facilitate a passage for India to Central Asia through the China-Pakistan Economic Corridor.
While conceding that all states "used proxies", Haq's refreshing perception was that Pakistan had "problems within". Unlike the angry retired officers on TV channels, he said Pakistan needn't hate America now that the new Cold War between the US and China had pushed Pakistan out of the American ambit of influence. He thought the new Cold War was going to be different and Pakistan had to adjust to the new geopolitics.
Nothing infuriates the warrior in Pakistan more than seeing his country at the receiving end while he is being told not to react. The proponents of asymmetric rivalry in South Asia can't hear of "normalisation" of relations with India — they believe that trade and trade routes benefit only India. When China, their best "all-season friend", got together with India at the BRICS summit in Xiamen and talked about Pakistan's terrorist outfits like Lashkar-e-Taiba, these generals were infuriated and ready to embrace even more extremist views of what Pakistan should do. Given this scenario, an ISI general talking sense on TV is a great boon and could do Pakistan good, internationally.
Although it is clear that Pakistan has virtually no international support for its case on Kashmir, India is getting less and less good press abroad for the way it is tackling the unrest there. The country's ex-finance minister — who is also an ex foreign minister — Yashwant Sinha has found fault with the way India is seeking to pacify Kashmir: "We have lost the people emotionally. You just have to visit the Valley to realise that they have lost faith in us." Delivering a talk on "Kashmir now and way ahead" in Hyderabad, he said too much violence had taken place and too many lives lost, including that of the security forces, and "it's time to put an end to this".
It's the same Sinha who as foreign minister used to tell Pakistan how it could learn from India's attitude towards China and benefit from trade and investment. He used to talk about how the then chief minister of Gujarat, Narendra Modi, got "enemy" China to invest in his state.
By not talking much about them, India has managed to mothball its territorial disputes with China. The country's latest quarrel on the border in Bhutan with China actually culminated in Pakistan being issued a warning at the BRICS summit. This also underlines why Pakistani leaders like Nawaz Sharif want to identify "national interest" with the national economy by seeking to "normalise" trade with India.
Sinha speaks from within the party in power in India. He has attracted attention in a world already compelled to think critically about India. Another Indian genius, Arundhati Roy, has also addressed both India and Pakistan in her novel, The Ministry of Utmost Happiness. She writes: "The inbuilt idiocy, this idea of jihad, has seeped into Kashmir from Pakistan and Afghanistan. Now, 25 years down the line, I think, to our advantage, we have eight or nine versions of the 'True' Islam battling it out in Kashmir. Each has its own stable of mullahs and maulanas. Some of the most radical among them — those who preach against the idea of nationalism and in favour of the great Islamic Ummah — are actually on our (India's) payroll."
And about Musa, the Kashmiri terrorist, she writes: "He would be buried the way he wanted to be — a faceless man in a nameless grave. The younger men who would take his place would be harder, narrower and less forgiving. They would be more likely to win any war they fought, because they belonged to a generation that had known nothing but war."
The writer is consulting editor, 'Newsweek' Pakistan
For all the latest Opinion News, download Indian Express App
More From Khaled Ahmed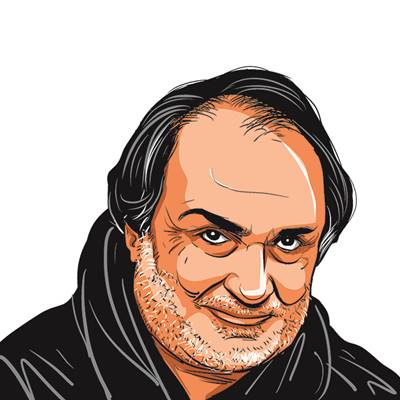 Ideology vs State

Wrangling politicians of Pakistan call themselves 'ideological'. What could they mean? ..

Remembering Charanjit Singh

Charanjit Singh was killed by those fed on an ideology that demonises non-Muslims in Pakistan ..

Unhappiest In South Asia

The unhappiness rankings need to take note: The lack of joy in Pakistan is palpable ..